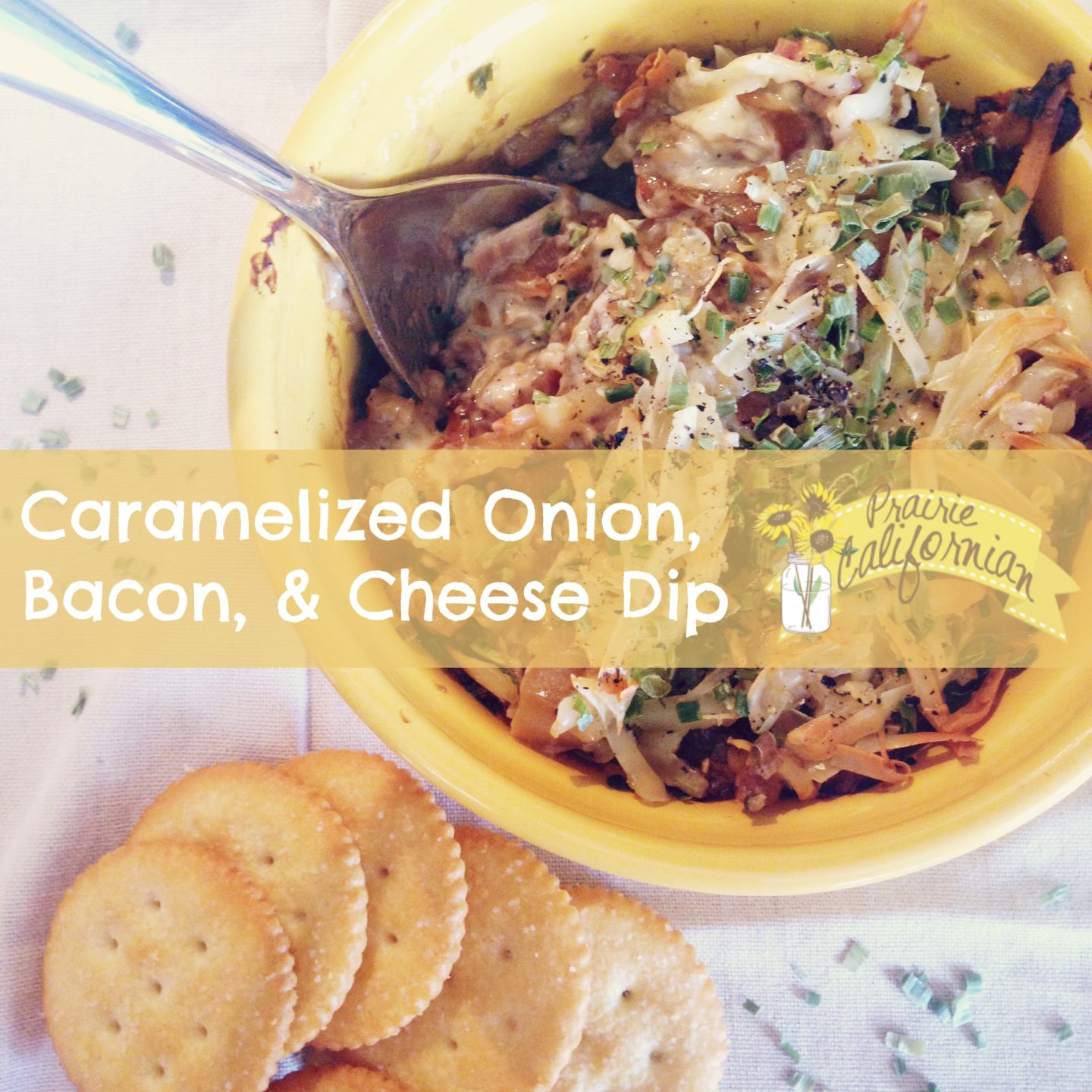 If you need a great appetizer dip everyone is guaranteed to love… look no further. Because who doesn't love caramelized onions, bacon, AND cheese all put together in one dip!? It's like a holy trifecta of deliciousness!
I serve this dip with some Ritz crackers, they are the hubby's favorite! But I think some homemade bread or even spoon it onto some toasted baguette slices would be lovely!
Caramelized Onion, Bacon, and Cheese Dip
2014-01-07 12:29:58
Serves 8
a quick, easy, and delicious appetizer dip for your next party
Ingredients
1 TBSP butter
3 medium onions, coarsely chopped
1/4 cup beef broth
1-2 TBSP brown sugar
5 slices bacon, cooked and chopped
2 ounces cheese, shredded and divided (Gruyere, Swiss, or whatever suits your fancy)
2 tablespoons fresh or dried chopped chives, divided
1/3 cup mayonnaise
1/3 cup sour cream
salt and pepper to taste
Instructions
Preheat oven to 425 degrees.
Heat a large skillet over medium-high heat. Melt butter in pan. Add onion to pan; sauté 5 minutes, stirring frequently until onions have begun to brown. Reduce heat to medium-low. Add beef broth and brown sugar. Cover. Cook 20 minutes or until golden brown, stirring occasionally. Allow the onions to cool slightly before mixing the dip.
Reserve 2 tablespoons cheese and 1 tablespoon of chives. Combine remaining cheese, caramelized onion, 1 tablespoon chives, chopped bacon, sour cream, mayonnaise, and salt and pepper in a medium bowl.
Transfer the mixture to a 1-quart glass or ceramic baking dish coated lightly with cooking spray. Sprinkle with reserved 2 tablespoons cheese.
Bake at 425° for 20 minutes or until browned and bubbly. Sprinkle with remaining 1 tablespoon chives. Serve with crackers or bread and enjoy!
Adapted from MyRecipes.com
Prairie Californian https://prairiecalifornian.com/