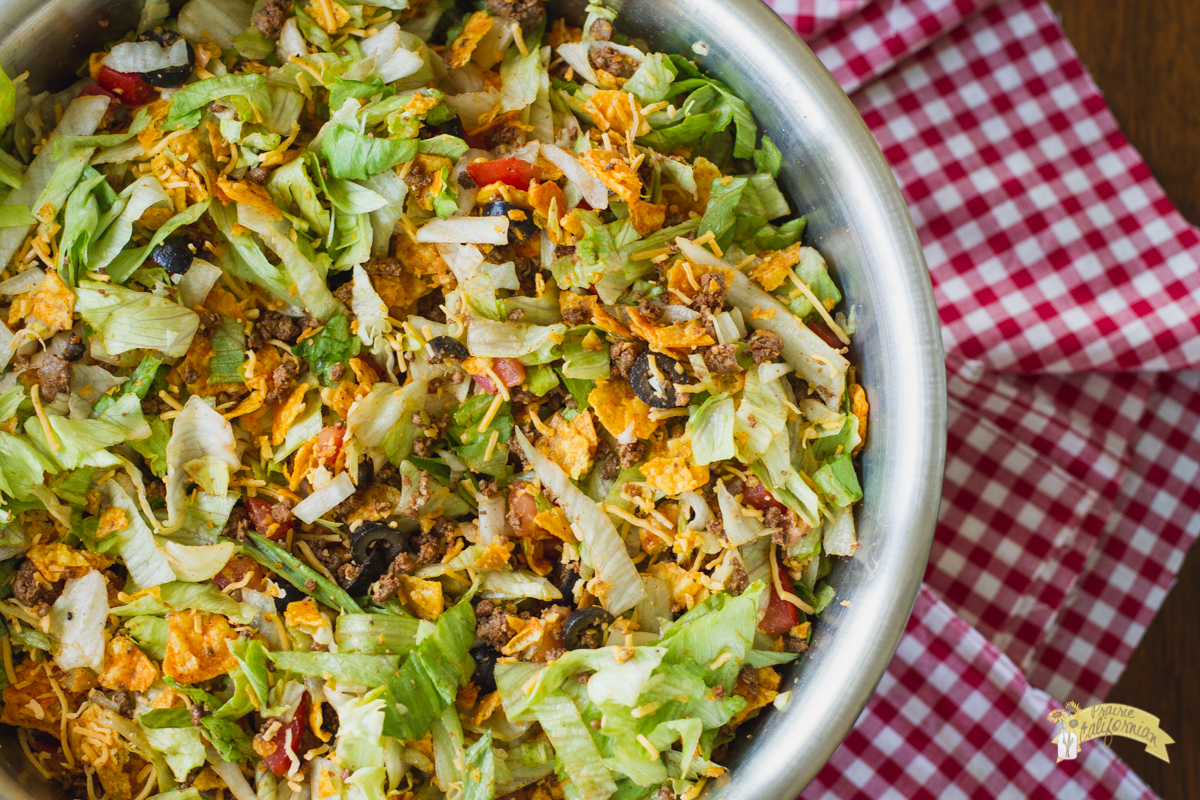 One of the things I love about small town Midwest is that whenever there is a need, whether it be a wedding, funeral, or just a significant event in the community, people come out in the droves with food. Small town America shows love in food, and especially small town North Dakota.
Shortly after finding my church home here in North Dakota, I became a part of one of our kitchen committees. It is clear that God has given me a gift of feeding people, so it is a great place for me to share the gifts I've been given by bringing salads, bars, and sometimes a hot dish to whatever event is going on at the church. I secretly think that many people don't eat in the days leading up to church potlucks because everyone knows there will be an abundance and the food will be great.
When I first got asked to bring something, I will admit, I was nervous. There are so many amazing women in our community who have years and years of experience feeding their families and feeding the community. I was pleasantly surprised and shocked when after a few times of bringing dishes, I was asked for recipes and praised on my creative ideas as well as delicious treats. I joke with people that "you know you've made it in a small town when the church ladies like your cooking". 😉 But in all honesty, they're such great women I am sure they would smile and praise me even if it was terrible. HA!
One of the things I've noticed is a favorite and does well at every church potluck is an extremely simple, yet delicious Taco Salad with crunched up Doritos. I am sure every seasoned potluck contributor has their own version of this, but I decided to make my own. And I was pleasantly surprised when the first time I brought it, it was gobbled up all the way down to the bottom of the bowl… Mission accomplished. 🙂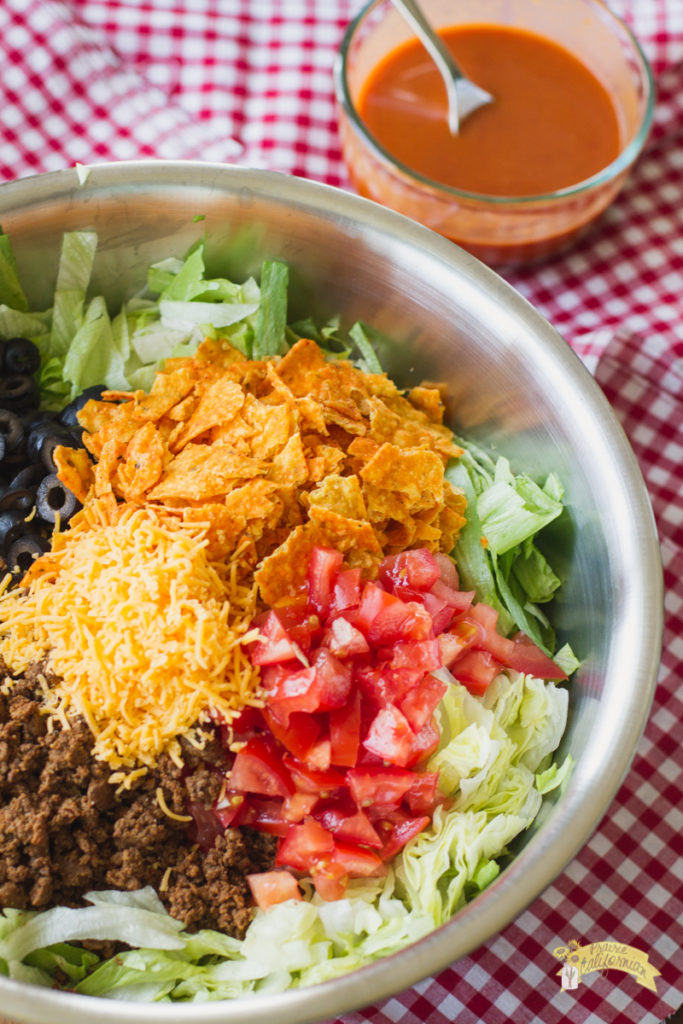 Feel free to use this recipe as a base for you salad and add ingredients… Or just make it as is! You can use whatever taco filling/seasonings you love, I personally love Crystal Cattle's Baked Tacos seasoning. Hopefully the next time you'll be asked to bring something to a potluck, you can carry on this Potluck Taco Salad tradition in your area.
Potluck Taco Salad
2016-07-12 10:33:55
Serves 10
large taco salad perfect for potluck or family picnic
Ingredients
1 pound ground beef
your favorite taco seasoning(s), mine is below
2-3 heads iceberg lettuce, shredded
3 cups tomatoes, diced
4 oz. (~approx) sliced black olives
2 cups shredded cheddar cheese
3 cups Nacho Cheese Doritos, crunched up
1 bottle of Western Dressing
1 bottle of Taco Sauce (mild or medium)
Instructions
Brown ground beef in a skillet over medium to medium-high heat. Once beef is browned, remove any excess fat from the pan. Add taco seasoning and mix well. If necessary, add about 1/3 cup of water and let mixture simmer over medium-low heat until water is dissolved. Remove pan from heat and cool. The taco meat can be prepared a day in advance and refrigerated until ready to serve.
Add all remaining salad ingredients to a large bowl. Add the cooled ground beef. Toss to combine all ingredients. Mix together equal parts Western Dressing and Taco Sauce for the dressing. To avoid soggy chips, be sure to wait until you are ready to eat to toss the ingredients together. I usually put my dressing in a small tupperware to the event and then dress when we are ready to eat. Pour dressing over the top and toss to coat. Enjoy1
Notes
My favorite taco filling/seasoning
1/4 cup chopped onion
1 small can of diced green chilies
1 recipe for Homemade taco seasoning
4 ounces of tomato sauce
Source: http://crystalcattle.blogspot.com/2013/01/hunk-of-meat-mondays-baked-tacos.html
Prairie Californian https://prairiecalifornian.com/