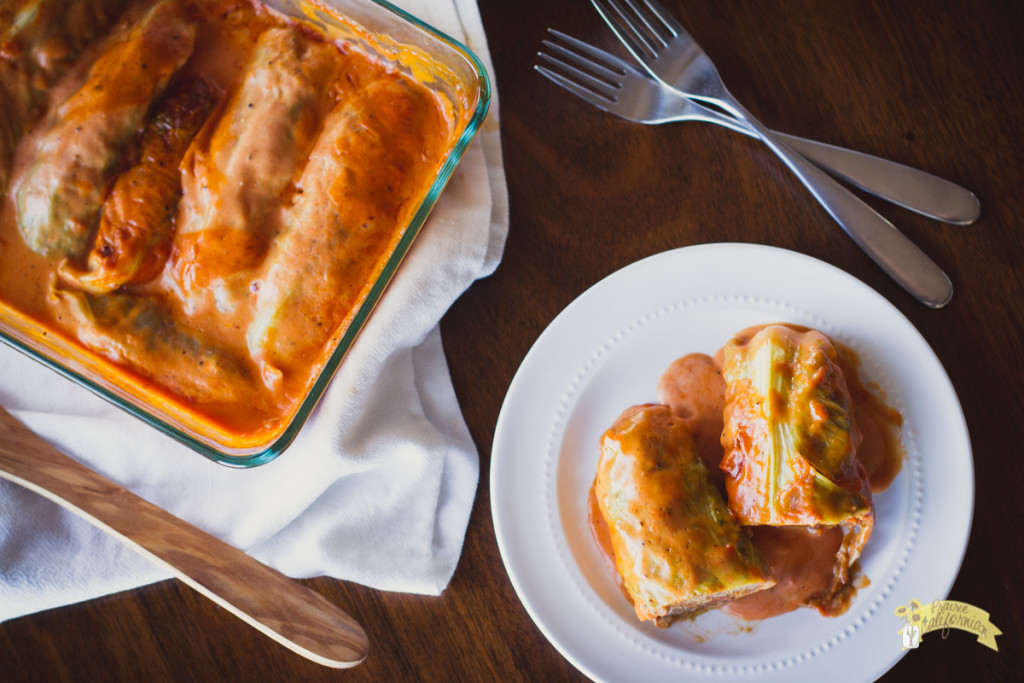 If you love my Lazy Halupsi recipe, you're going to love this one as well! Over on that recipe, I share the story about when I first moved to the Iron Curtain in North Dakota, I was told we were having "halupsi, you know…pigs in a blanket!" I pleasantly thought, OHHH yes, sausages wrapped in pancakes. Awesome!
Much to my surprised, I was served what looked like ground beef and rice rolled in cabbage. Still delicious, but totally not what I was thinking. Why this part of North Dakota calls cabbage rolls pigs in a blanket? I have no idea. Just another one of those Germans from Russia things. But I embrace it and call it what the locals call it.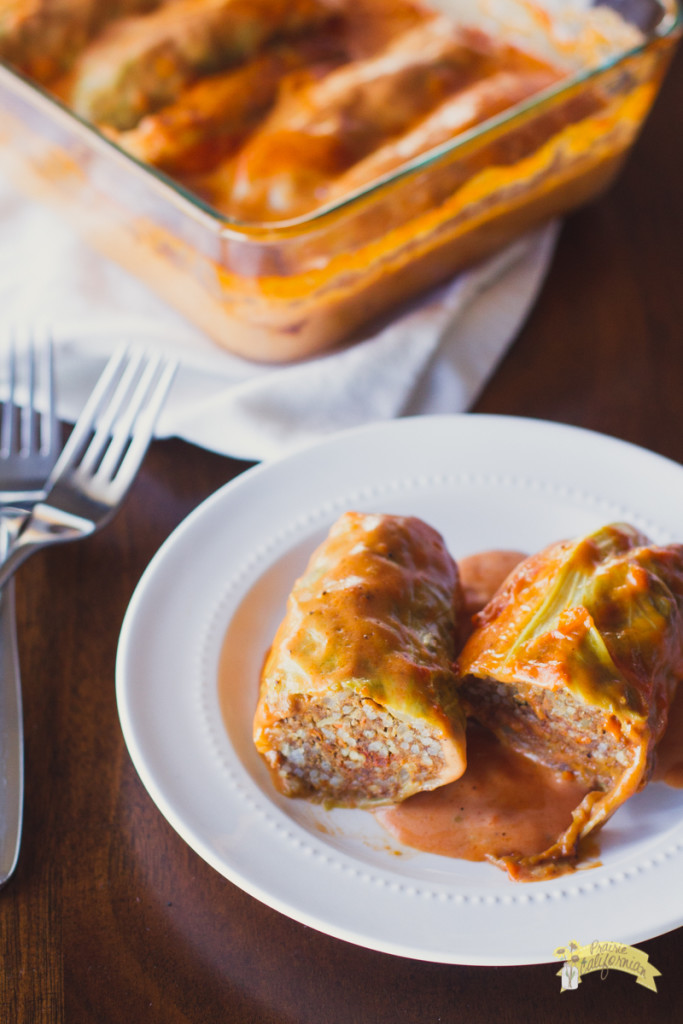 I've always struggled with getting the cabbage the PERFECT consistency to roll up… not too firm, not too hard. Until I came across this technique of boiling the whole head of cabbage (cored) and literally the leaves just SLIDE RIGHT OFF like magic. My world was changed! And this made making cabbage rolls much more simple! I lay my cabbage leaves (rolled up and empty) on a baking sheet as they come out of the boiling pot, but I love the lady's idea of a cold bath! I've also seen some videos and tutorials that will trim the large stem of the cabbage as well, as seen here.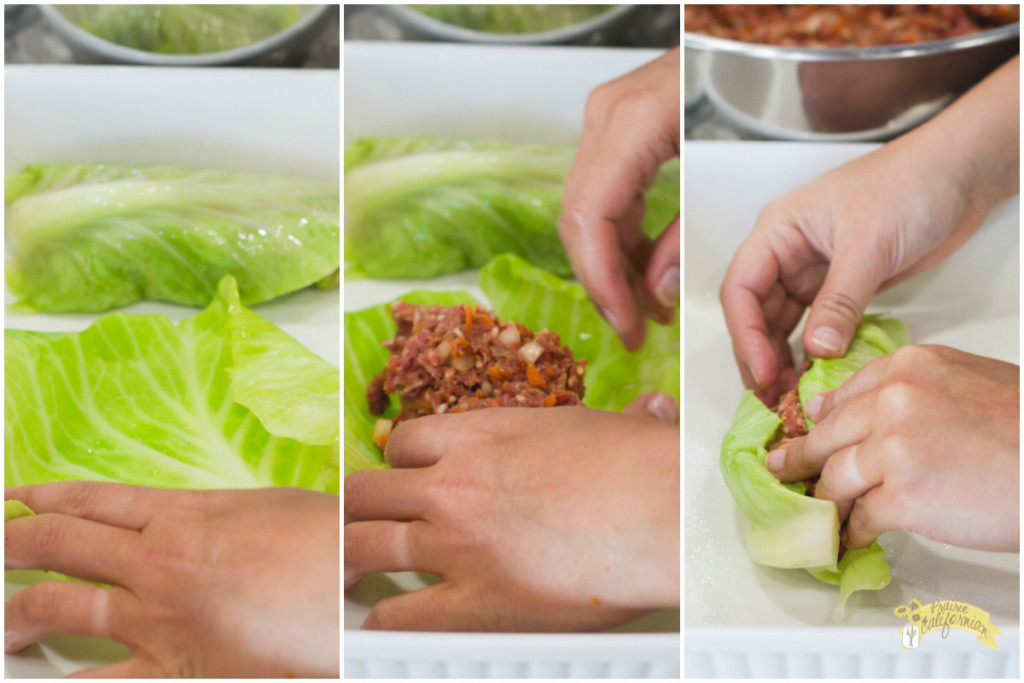 So I've shared with you the lazy version, now here's the full version of Halupsi or Cabbage Rolls! In the lazy version, you have to brown the ground beef. In this recipe, you mix all the ingredients together raw and cook it a little longer. That way, the ground beef holds together and forms a mini meatloaf inside of the rolled cabbage.
Halupsi (Cabbage Rolls)
2016-02-22 12:55:05
Serves 6
a Germans from Russia favorite, Halupsi also called cabbage rolls
Ingredients
1 1/2 - 2 lbs. ground beef
1 medium onion, diced
3 cloves garlic, minced
1/2 cup carrots, shredded
1 1/2 cups rice, uncooked
Salt and pepper
2 teaspoons paprika
1 large head cabbage, cored
2 - 10 oz cans tomato soup
Heavy cream
Instructions
Preheat oven to 350 degrees.
In a large stockpot, fill 3/4 full with water and bring to boil over high heat. While the water is coming to a boil, prepare filling.
In a large bowl, combine the ground beef, onion, garlic, shredded carrots, rice, and spices. Mix well to combine and set aside.
Once the water is boiling, take the cored cabbage and submerge into the boiling water. After a few minutes, the outside leaves will begin to pull away and become pliable. Remove softened leaves from the water with tongs and set on baking sheet or into cold water.
Take one cabbage leaf at a time, fill with meat mixture, and roll up placing seam side down in a prepared 9x13 casserole dish. Repeat until all cabbage leaves that can be used are used up.
Place in oven and bake for 1 hour at 350 degrees. Cabbage rolls will brown slightly over the top. Remove from oven and drain any fat or juices that collect.
In a medium bowl, combine the 2 cans tomato soup with 1 - 2 cans of heavy cream. Or however creamy as you'd like. Pour over the cooked cabbage rolls and put back in oven.
Bake for an additional 30-45 minutes or until sauce starts to thicken and form a crust over the top.
Remove from oven and enjoy!
Notes
Heavy cream can be omitted. Feel free to use any sort of tomato-style sauce over the top if desired.
Prairie Californian https://prairiecalifornian.com/