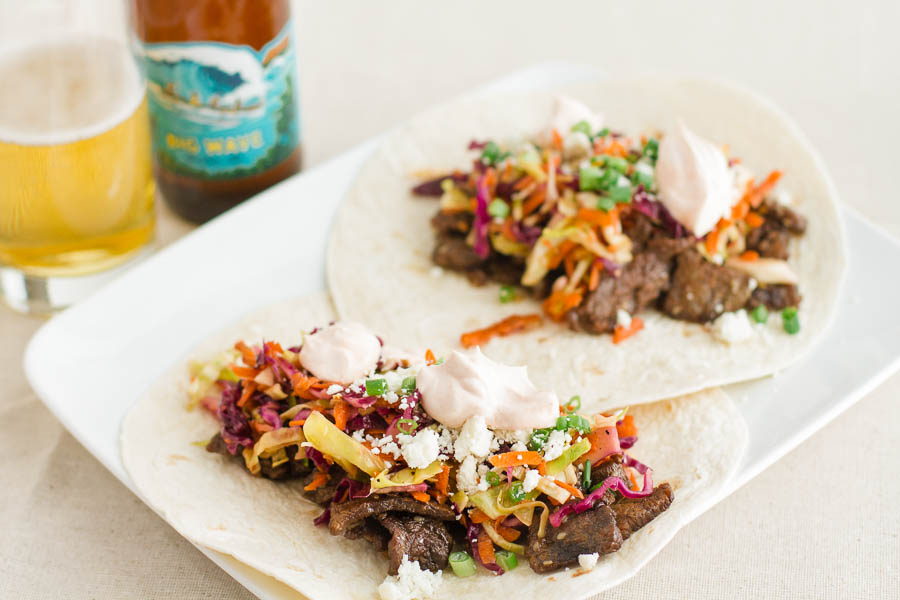 While we were in Hawaii, we hit up the famous Duke's in Waikiki. The place was packed and there was a huge wait to get in… Usually signs of a great place! We enjoyed drinks at the bar beforehand, HIGHLY recommend their Hawaiian Salt cocktail. It's honestly like Tang in a glass, for adults. Super good!
Anyway, once we got seated we enjoyed some awesome food. I had the fish tacos, but a friend of mine ordered these Korean Street Tacos and we traded one taco each. It literally was the best of both worlds because those Korean tacos were spicy and full of flavor, the fish tacos cooled things down with the mild salsa verde on them. But I couldn't get over those Korean tacos, they were so full of flavor! I said at the table that night that I would need to re-create them.
So when we got back to the mainland, I did. Of course these tacos were made complete here on the prairie by being served with a Big Wave Golden Ale by Kona Brewing Company. Aloha in a bottle, perfection.
I used flank steak to make these, but feel free to use any sort of meat that works great for fajitas. Skirt steak or sirloin thinly sliced could also work great in this!
Spicy Korean Tacos with Sesame Slaw
2015-03-02 16:03:55
Serves 4
spicy korean style beef with sweet sesame slaw
Ingredients
Spicy Korean Beef
1 lb. flank steak, skirt steak, or anything that makes good fajita meat
1/3 cup soy sauce
1/2 cup brown sugar
1 tablespoon sesame oil
3 cloves garlic, minced
1/2 teaspoon crushed red pepper
1/2 teaspoon ginger (ground or fresh minced)
2 teaspoons oyster sauce
1 tablespoon sesame seeds
1 - 2 tablespoons Sriracha
Sesame Slaw
1/3 cup rice vinegar
5 - 6 tablespoons honey
1 tablespoon soy sauce
2 teaspoons grated ginger
2 teaspoons sesame oil
3 tablespoons brown sugar
4 tablespoons vegetable or canola oil
6 cups thinly sliced cabbage (I used half regular, half purple)
1 cup carrots, grated
2 tablespoons sesame seeds
Sriracha Sour Cream
1/2 cup sour cream
2 tablespoons Sriracha
Instructions
For the Spicy Korean Beef: In a small bowl combine the soy sauce, brown sugar, sesame oil, garlic, red pepper flakes, ginger, oyster sauce, sesame seeds, and sriracha. Whisk together. Slice the meat into thin strips, make sure to slice against the grain if using a flank steak. Put the meat into the marinade and marinate at least an hour over overnight.
To cook the meat, heat a skillet over high heat. Pour the meat and marinade into the hot pan and cook, stirring as it cooks, until the meat is cooked through (about 5 minutes).
To make the Sesame Slaw: Whisk the vinegar, honey, soy sauce, ginger, brown sugar, sesame oil, and vegetable oil together in a small bowl to make the dressing.
Place the cabbage and carrot in a large bowl. Toss with the dressing. Sprinkle with sesame seeds.
For the Sriracha Sour Cream: Mix the sour cream and Sriracha together in a small bowl.
To serve, place the spicy korean beef on a small tortilla (flour or corn), top with the sesame slaw and Sriracha sour cream. Enjoy!
Adapted from The Stay at Home Chef
Adapted from The Stay at Home Chef
Prairie Californian https://prairiecalifornian.com/