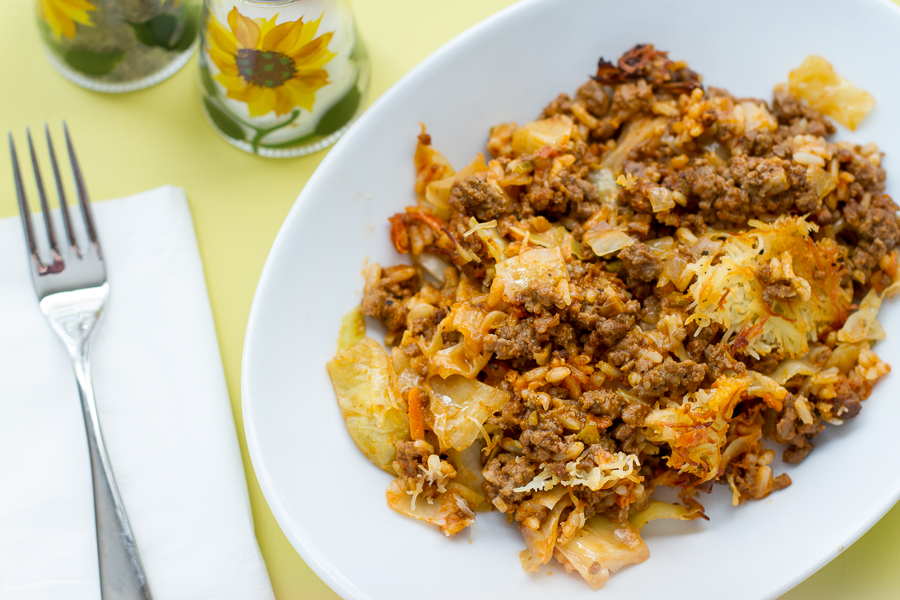 So when I first moved to the Iron Curtain in North Dakota, I can't remember who it was that said we were having "halupsi" for a meal. I am fairly certain I looked at them like they were crazy or that they had spoken another language. The individual than described to me "you know, pigs in a blanket!" I pleasantly thought, OHHH yes, sausages wrapped in pancakes. Awesome!
Much to my surprised, I was served what looked like ground beef and rice rolled in cabbage. Still delcious, but totally not what I was thinking. Why this part of North Dakota calls cabbage rolls pigs in a blanket? I have no idea. Just another one of those Germans from Russia things. But I embrace it and call it what the locals call it. I've made this dish once before and let me tell you, as with anything this delicious, it's a lot of work. Getting the cabbage the PERFECT consistency to roll up… not too firm, not too hard is a delicate task. I love the taste of this dish, mainly because I love cabbage. So when I stumbled across a lazy version of this, I HAD to try it out. Same great flavor without all the hassle? Perfection.
Lazy Halupsi (Cabbage Rolls)
2014-09-23 09:04:24
Serves 6
an easy way to make cabbage rolls, in a casserole
Ingredients
1 1/2 lb. ground beef
2 tablespoon butter
1 medium onion, diced
1/2 cup carrots, diced
1/2 head cabbage, chopped
Salt and pepper to taste
1 teaspoon paprika
1 teaspoon garlic powder
1 1/3 cup rice, uncooked
2 - 10 oz cans tomato soup
Heavy cream
Mozzarella cheese
Instructions
Preheat oven to 350 degrees.
In a medium pan, brown the ground beef. Drain off any fat. Empty into greased casserole dish.
In the same pan, add 2 tablespoons butter. Saute the onion, carrots, and cabbage until soft and translucent. Season with paprika, garlic powder, and salt and pepper to taste. Add the rice. Stir well. Remove and empty into casserole dish with the beef.
Mix the tomato soup with 1-2 cans of heavy cream (as creamy as you'd like it) and pour over casserole. Give it a good stir.
Bake casserole for 45 minutes. After 45 minutes, top with Mozzarella cheese and bake an additional 10-15 minutes.
Notes
Add cooked rice to reduce cooking time!
Prairie Californian https://prairiecalifornian.com/
If you are ever in need of inspiration on what to cook, feel free to visit my Pinterest Recipe board!
Follow Prairie Californian's board Recipes on Pinterest.