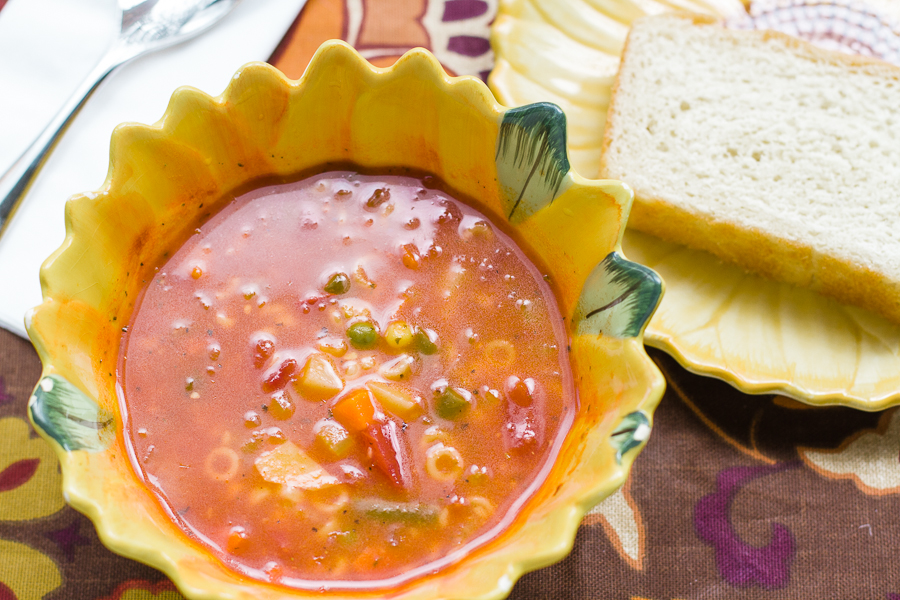 My husband's grandma Katie makes this delicious Vegetable Soup. It's seriously the best on a cold winter day. She even adds little ring noodles to the soup, perfect addition! While I haven't gotten the recipe from her, I did take to my kitchen to re-create it. And I must say, it's pretty spot on. So I give you… Vegetable Soup! Just like grandma used to make!
This one, as with many of my recipes, is easily adaptable. Sometimes I include lima beans, sometimes I don't. Sometimes I throw in potatoes, sometimes I don't. The type of vegetables you include is up to you. And I sure there are many different vegetables that would work great in here.
Vegetable Soup
2014-10-13 10:48:18
simple Vegetable Soup, just like your grandma's
Ingredients
2 tablespoons butter
2 cups onions, chopped
1 cup celery, thinly sliced
2 cloves garlic, minced
2 teaspoons Italian seasoning
Salt and Pepper to taste
3 - 14 1/2 ounces cans reduced-sodium chicken broth
1- 28 ounce can diced tomatoes
2-3 tablespoons tomato paste
3/4 cup small ring noodles
8 cups mixed fresh or frozen vegetables, such as carrots, corn, green beans, lima beans, peas, potatoes, and zucchini (chopped in small pieces)
Instructions
Melt butter in a large stockpot or dutch oven over medium heat. Add onions, celery, garlic, and Italian seasoning; season with salt and pepper. Cook, stirring frequently, until onions are translucent.
Add chicken broth, tomatoes and their juice, tomato paste, and 3 cups water. Bring mixture to a boil. Reduce heat to a simmer. Cook uncovered for 20 minutes.
Add vegetables to pot and small ring noodles. Cook uncovered, until vegetables are tender, 20 to 25 minutes. Season with salt and pepper, as desired.
Enjoy! Let cool before storing or freezing.
Adapted from Martha Stewart
Prairie Californian https://prairiecalifornian.com/
Next week I will be announcing a new blog series in the works! It is a mixture of two things I love: food and agriculture! Stay tuned!