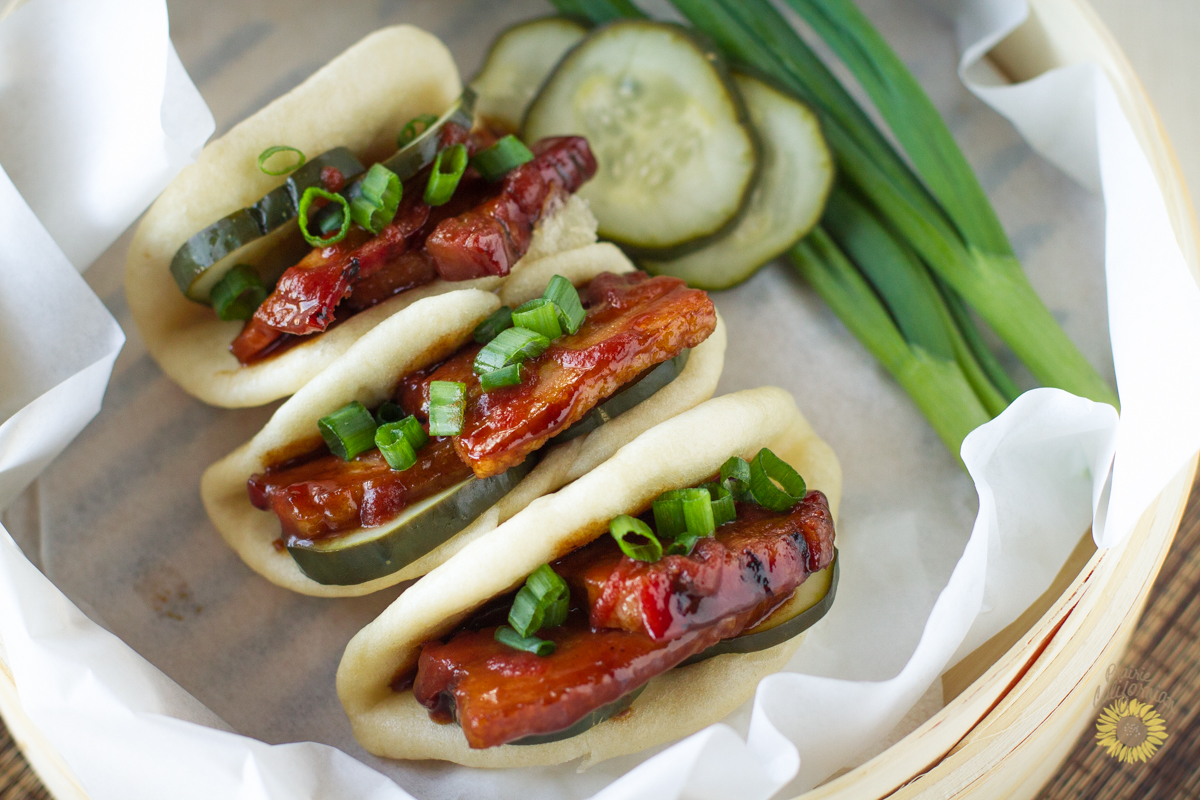 Bao buns have become the latest craze in the Americanized Asian food world. Delicate little buns steamed until fluffy and served with a variety of toppings. Think the Asian version of a taco!
We first tried these delicious buns while in California eating at our new favorite ramen house. And immediately I knew we needed to recreate them. Of course, I used one of the most savory of cuts of meat, pork belly! I paired the savory pork belly with a delicious hoisin-inspired sauce and some quick pickled cucumbers.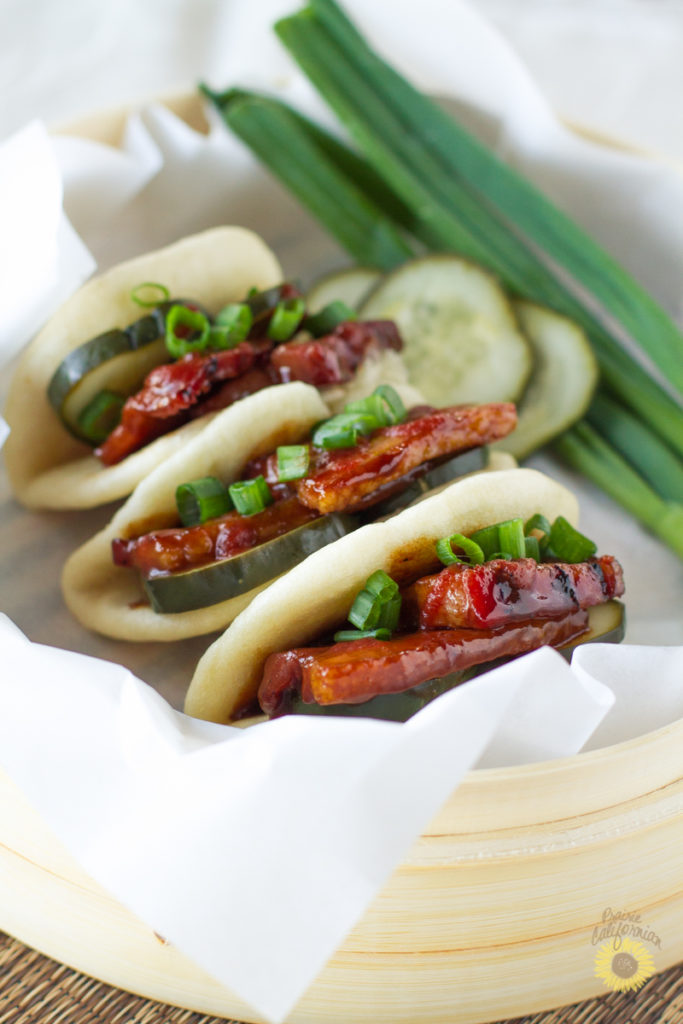 I made bao buns from scratch, however, if you can find bao buns frozen or pre-made, feel free to use those! Otherwise, I promise these aren't super difficult!! I steamed mine using my bamboo steamed (shown above) but before I purchased this, I used a steamer basket inside my largest fry pan with a lid. It worked just as well, I just couldn't fit as many inside as I can inside this bamboo steamer.
We served our pork belly bao with quick pickled cucumbers, recipe a la Serious Eats, a little sriracha, and you can also add some chopped scallions to garnish!
Pork Belly Bao Buns
2017-03-06 10:20:21
Serves 6
savory pork belly served with quick pickled cucumbers inside of fluffy steamed bao buns
Ingredients
Bao Buns
1 teaspoon yeast
1 teaspoon sugar
1/2 cup warm water
1/2 cup all purpose flour
1 1/2 cups cake flour (you can sub all purpose if you need)
1 1/8 teaspoon baking powder
1/4 cup sugar
2 1/2 teaspoons unsalted butter
1/4 teaspoon salt
Pork Belly
2-3 pound fresh pork belly (do not use cured or smoked belly)
1/2 cup brown sugar
2 cups water
1/2 cup soy sauce
2 tablespoons rice vinegar
2 tablespoons ground ginger
2 tablespoons Chinese Five Spice
2 teaspoons red chile pepper flakes
2 tablespoons cornstarch
Instructions
Bao Buns
Dissolve the yeast and sugar into the warm water and let stand for about 10 minutes to activate the yeast. Stir together all the dry ingredients in a large bowl or bowl of stand mixer. Add the melted butter and salt. Add the yeast mixture. Stir or mix together to form a soft dough. Knead until smooth about 8-10 minutes. Place in a well oiled bowl and let rise in a warm place until doubled, about an hour. Once risen, roll the dough into a log about 16 inches long. Slice into one inch pieces. Roll each piece of dough into about 3 inch by 5 inch ovals. Brush with canola oil and set aside. Prepare your steamer, either using a bamboo steamer or a steam basket in a pan with a lid. Line the steamer with parchment paper and steam the buns in batches until fluffy and no longer doughy, about 10-15 minutes. Do not crowd the buns in the steamer.
Pork Belly
Either in an oven or on a smoker, set temperature for about 250-300 degrees. Smoke or slow cook pork belly for about 2-2 1/2 hours or until internal temperature is 165 degrees. Remove and let cool slightly before slicing.
While belly is cooling, add all remaining ingredients to a medium bowl to make the sauce. Set aside.
Slice belly into thick slices, about 1/4 inch. In a large fry pan or wok, heat over medium high heat. Add pork belly and crisp in pan, working in batches if needed. Discard any fat and return to pan. Add sauce and cook about 5-7 minutes or until thick. Once thick, remove from heat and serve.
To serve, top with desired ingredients, we used quick pickled cucumbers, sriracha, and the pork belly.
Notes
Bao Bun recipe as per Kitchen Confidante
Adapted from Kitchen Confidante
Prairie Californian https://prairiecalifornian.com/