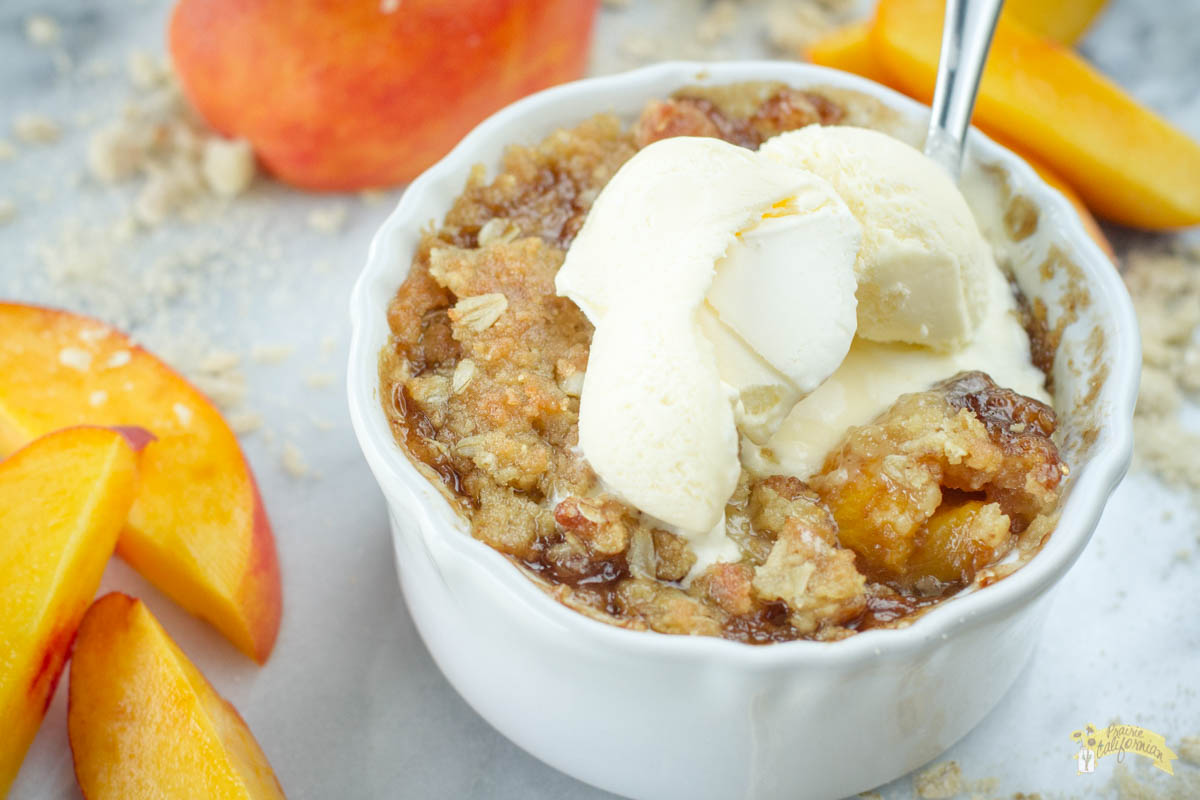 Summer has officially come to an end and while I love fall, I am not ready to let summer go yet. I am still soaking up every last ray of sunshine and every last dish coming out of my kitchen that screams summer. I made BLTs the other night and I also had a box of peaches that was just calling to be made into crisps!
If there is hands down one fruit I could eat every day for the rest of my life, it would be peaches. There is nothing better than a runs down your hands juicy ripe peach. And peach cobbler or crisp is probably one of my favorite things on this Earth. I usually make a crisp in a larger pan and for just the hubs and myself, we typically don't get it all eaten before it is mushy or goes bad. So I got creative and decided to cut my standard recipe down to fit two to three 9 oz. ramekins and bake them individually. Each ramekin is perfectly sized to share or if you're feeling indulgent, eat to yourself. The hubs and I shared one of these on our anniversary, I know, so romantic. I don't know about y'alls house but it is true love when you share your dessert with your spouse!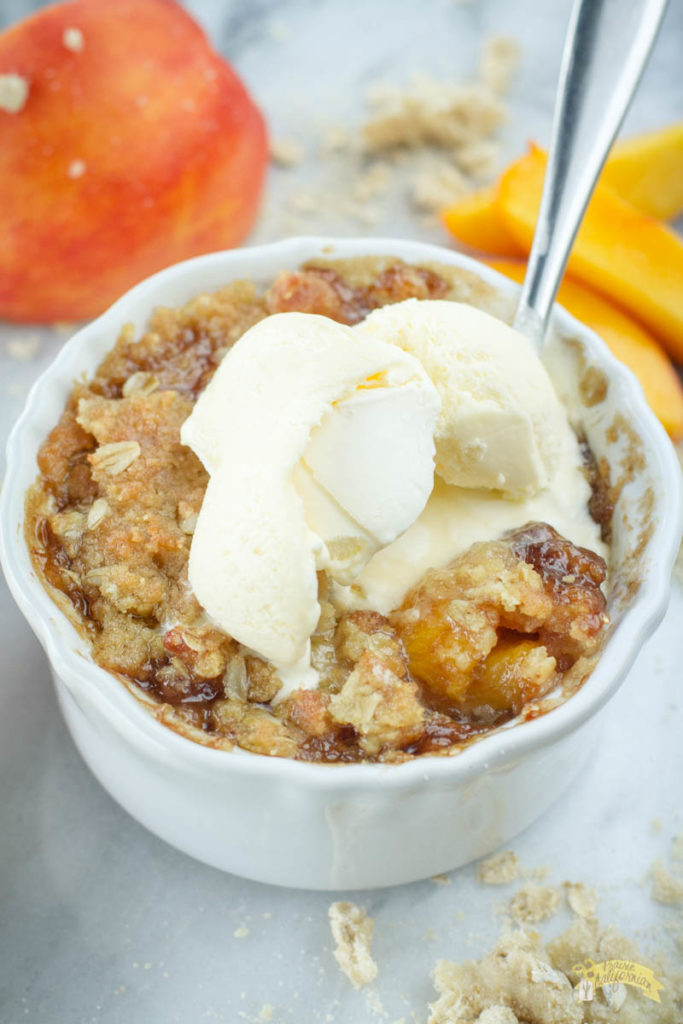 I used fresh peaches for this recipe, but you could use canned or frozen, thawed peaches as well. This crumble topping is my FAVORITE to use on ANY crisp I make, I use it with apples, berries, and even pears whenever I am feeling like a fruit crisp. Top with vanilla ice cream that melts over down into the crisp, it's pretty much heaven on Earth!
Classic Peach Crisp
2016-09-09 08:52:00
a classic peach crisp made for individual ramekins
Ingredients
Filling
3 ripe peaches, peeled, pitted, and sliced (approx. 3 cups)
1 1/2 tablespoons quick tapioca
2 tablespoons sugar
1 tablespoon balsamic vinegar
Topping
1/3 cup flour
1/3 cup quick oats
1/4 cup sugar
1/4 cup brown sugar
6 tablespoons butter, diced
Instructions
Preheat oven to 350 degrees.
In a medium bowl, combine the sliced peaches, quick tapioca, sugar, and balsamic vinegar. Stir well to combine and set aside.
In a large bowl, combine flour, quick oats, sugar, and brown sugar. Stir to combine. Add diced butter and cut butter in with a pastry cutter, two forks, or your hands until the mixture forms little pea sized balls of dough.
In individual ramekins, divide up the peach mixture. Top with the crumble. You can freeze these at this point for later baking.
Bake at 350 degrees for 35-45 minutes or until filling begins to bubble and the topping is golden brown.
Remove from oven, let cool slightly until warm. Top with vanilla ice cream while still warm and enjoy!
Notes
Depending on what size ramekins you use, you could yield a different number. This recipe makes three 9 oz. ramekins.
This crisp could be made using apples, berries, or pears too with the same topping.
Crisps can be made and frozen unbaked for later use.
Prairie Californian https://prairiecalifornian.com/
And for a quick how-to video on how easy it is to throw these peach crisps together, you can check out the video below! I am honestly pretty proud of myself for figuring out how to do one of these rapid recipe videos!
Feel free to share on Facebook too
!