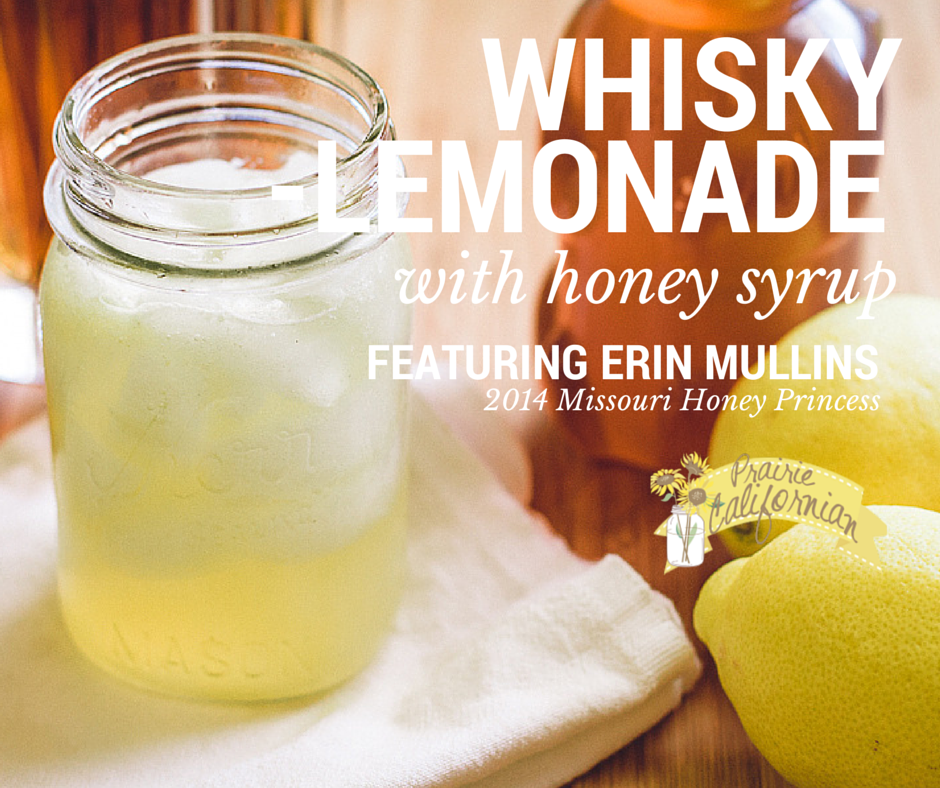 I don't think it gets much better than homemade lemonade. I love the tartness of the lemons mixed with the pulp. Add a little whisky? And you're got yourself a good time. Honey is such a universal sweetner and this honey simple syrup pairs perfectly to sweeten up this whisky lemonade. And who better to talk to us about Honey but the 2014 Missouri Honey Princess, Erin Mullins?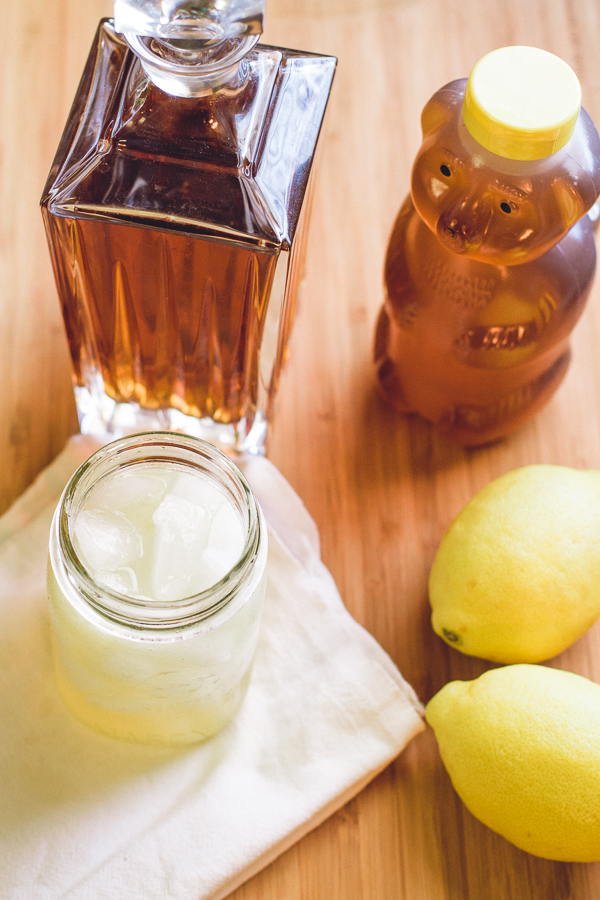 Erin Mullins
Northwest Missouri
What brought you into farming?
I grew up and still currently live on a small farm in Northwest Missouri. Growing up we have had cattle, goats, pigs, donkeys, horses, and even buffalo. I got into beekeeping about 5 years ago through a local club. They teach a beginning beekeeping class each January. I attended and fell in love with beekeeping. Since then I've become the Missouri Honey Princess and have been involved with promoting bees and honey at both a local and state level.
What message would you like to get across to the general public about what you do?
Beekeeping is a vital part of our agriculture that many people don't have a clue about. We can attribute almost $15 billion dollars in increased crop value to bee pollination! How amazing is that. Also if there were no bees on this earth we would lose many of our fruits, vegetables, and nuts and the ones still left would not be as bountiful without bee pollination. There is also great benefit in honey itself as well. Honey, if kept properly and if real, will never spoil. It also contains many good properties which makes it good for a multitude of health and beauty purposes. So for one little insect they are very important to our world and we need to help make sure that we do everything we can to keep them around.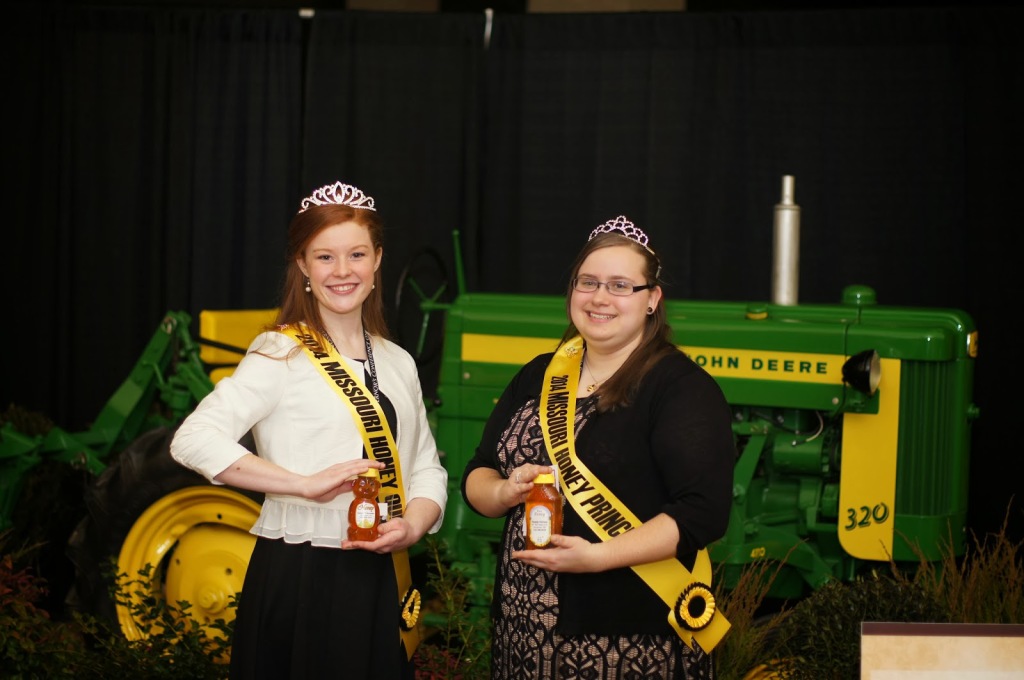 What is your favorite thing to do with the honey you produce?
Besides selling my honey I love to bake with it. The only problem with having bees is once people know you have fresh local honey you will have people calling all the time wanting some. You just have to make sure you save some for yourself!! When I make something with my honey it just makes it that much better. Not only does it add great taste and a healthier alternative to whatever I'm making it also gives me a sense of pride knowing that honey came from my bees.
What advice would you give to someone who wants to get involved with beekeeping?
My best advice for someone who is interested in beekeeping would be to find a local club and see if they offer a beginning beekeeping class. Or find a beekeeper in their area to mentor them. Most all of the beekeepers I know are more than willing to help out. We want more and more people to get involved and are always willing to help a beginner out. There are also so many wonderful books and websites out there that will help you understand the basics. I will tell you that there will be years you lose bees and want to quit but then there will be years you catch swarms (which are mostly free!) or have a bountiful honey harvest and you will just want to expand your operation and keep on going. It's an amazing interest to get involved in and there are some amazing people involved and you will be hooked for life!!
You can catch more of Erin over at her blog, Diaries from the Dirt Road, on her Facebook page, or follow her photos on Instagram @emullins93.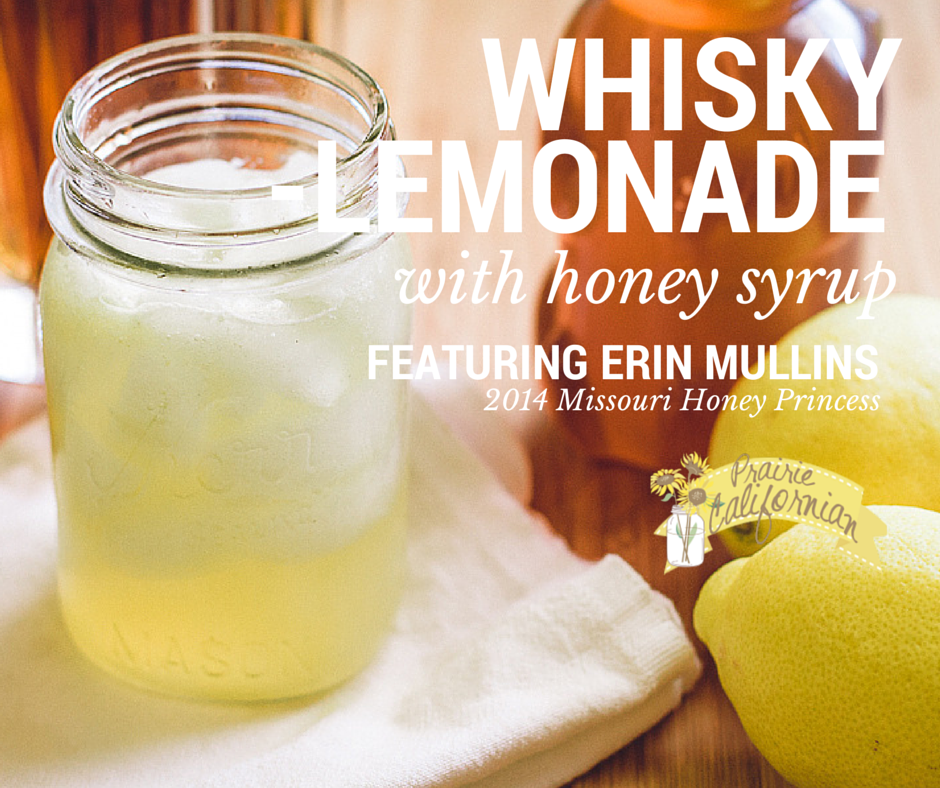 Thank you to Erin for giving us some insight into beekeeping and honey production! It is a topic that has always intrigued me! This honey simple syrup is extremely universal, it works great not only in cocktails but also coffee drinks or teas too! It is easy to make and stores well for several months. Feel free to sub vodka in this recipe if whisky just ain't your thing!
Whisky Lemonade with Honey Syrup
2014-11-01 20:21:15
The perfect amount of sweet and tart.
Honey Syrup
Honey
Water
Cocktail
1 shot whisky (I like Pendleton or Forty Creek)
juice of two lemons
club soda
honey syrup (recipe included)
Honey Syrup
Mix together 1 part honey and 1 part water in a small saucepan. Simmer for 20 minutes or until the honey has completely dissolved into the water.
Cocktail
Fill a pint sized mason jar (or cocktail shaker) with ice. Add the whisky, juice of two lemons, and fill the rest with club soda. Sweeten with honey syrup to taste. Shake well and pour into glass. Garnish with a fresh lemon slice.
Adapted from A Beautiful Mess
Prairie Californian https://prairiecalifornian.com/
This post is part of my Thirty Days of Food series where I am writing about food and farming for the entire month of November, to find out more about it all or how to follow along, visit my Thirty Days of Food page or click the photo below to find more great recipes with farmer features!