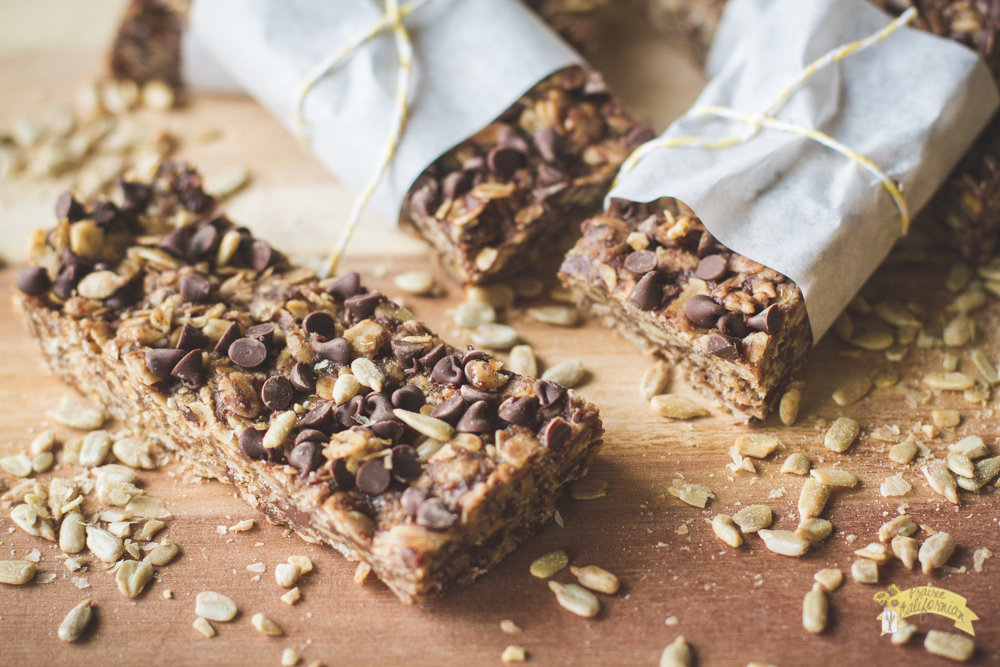 We have made it to our fourth and final crop for my Crop of the Month series! This one is one of my favorites simply because they are just so beautiful…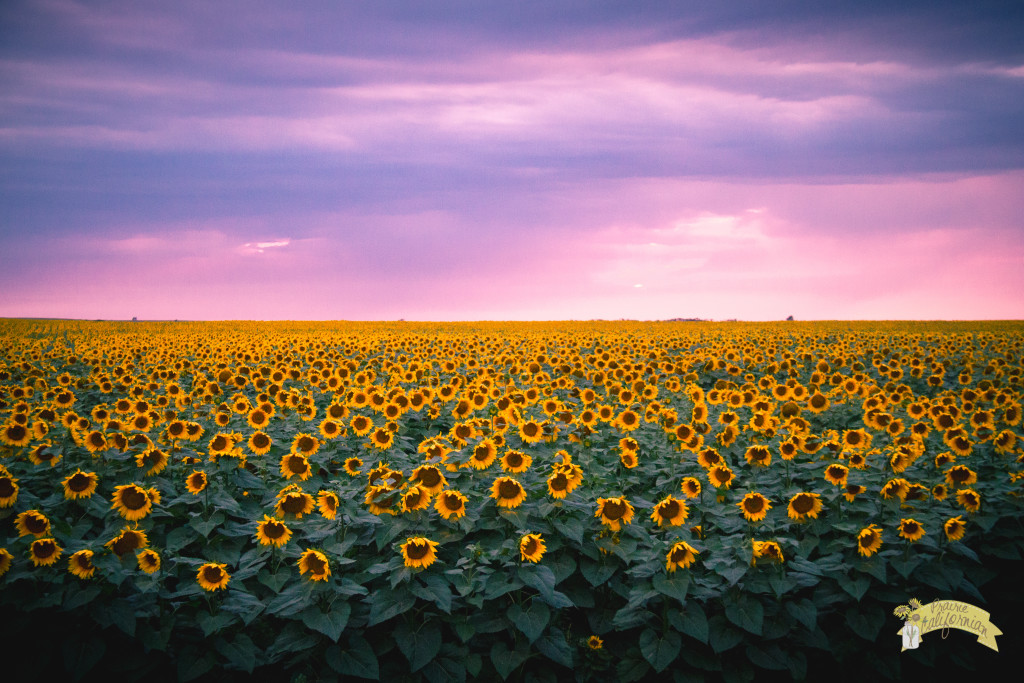 Yep our fourth crop is sunflowers! I cannot wait to share with you more about sunflowers. It seems that sunflowers are the crop we get asked the most questions about so I will be sure to address many of the commonly asked questions.
I've been having a lot of fun incorporating sunflowers in some recipes to share here on the blog. The first one out of the pipeline is sunflower granola bars. For these I used sunflower butter, you can certainly make your own. However I used a pre-made sunflower butter called SunButter.
Beginning in 2000, Red River Commodities (right here in North Dakota!!) began working with the Department of Agriculture to develop a sunflower spread as an alternative to peanut and other tree nut allergies. The result was SunButter, a spreadable sunflower butter (much like peanut butter). It was also during this same time that Red River Commodities also invested in new sunflower seed hybrids and specialized production areas for sunflowers. They formed SunGold Foods which created peanut-free and tree-nut free food processing, packaging, and distribution environments at both company's locations.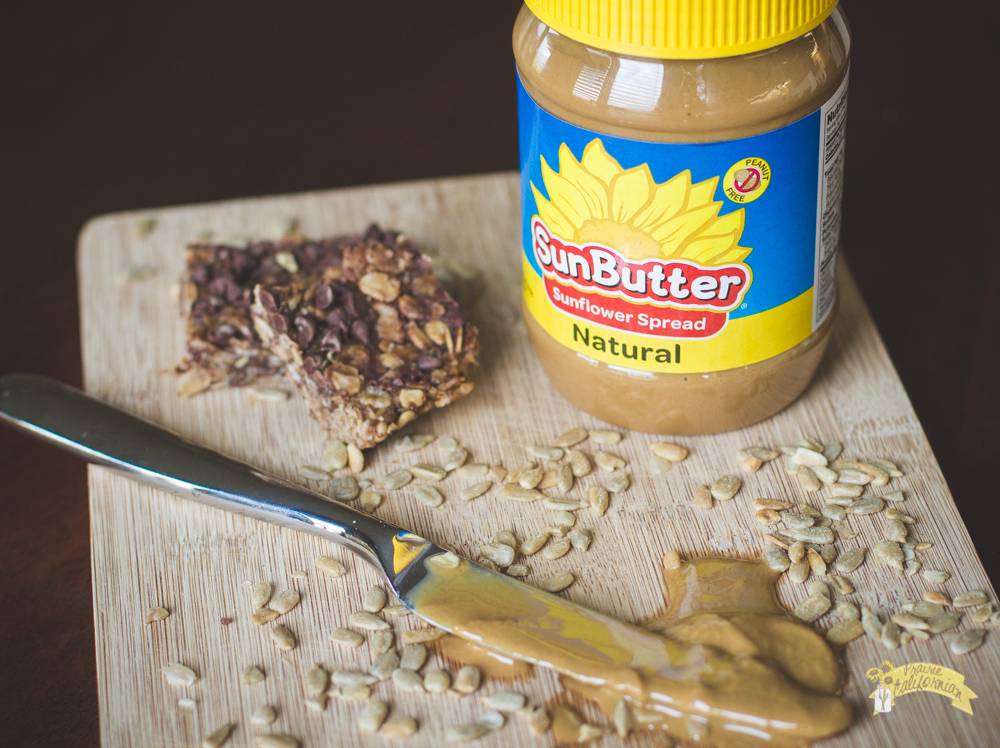 SunButter is currently used as an added ingredient in a variety of foods including energy bars, granola, and pre-made sandwiches. It is also available in a variety of flavors found in grocery chains across the country. It is also used in many institutional foodservice programs, including private and public school districts.
Since I love supporting North Dakota grown and made products as well as commodities we grow on our own farm, SunButter has regularly found its' way into my pantry! In this recipe I used the SunButter as a coating to form the granola bars.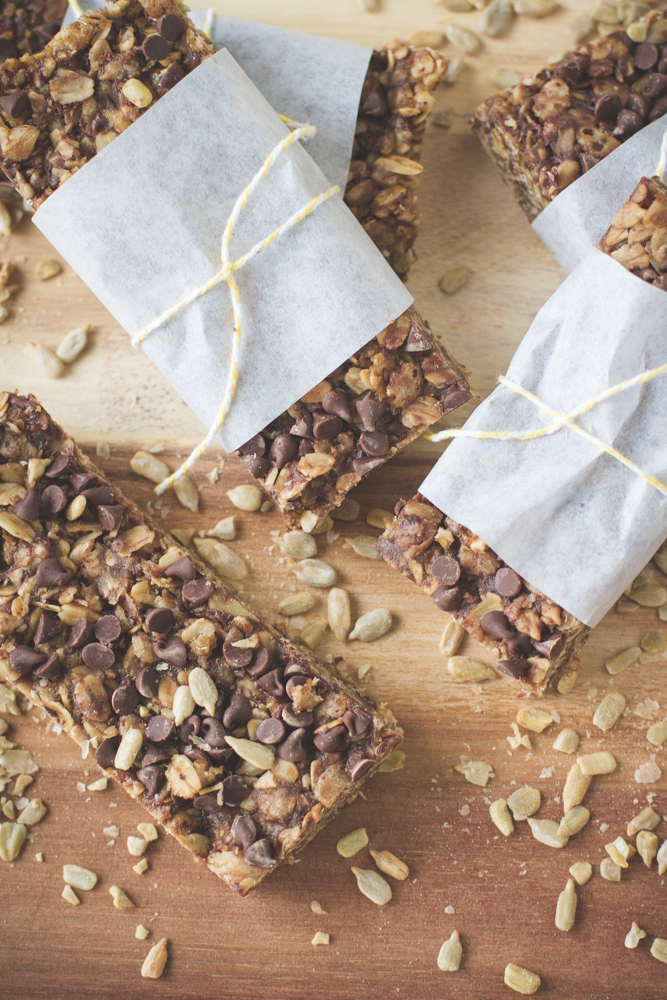 I also tossed in some sunflower seeds, for good measure. These are delicious. I've been enjoying them in the mornings and the best part, they were SUPER easy! Feel free to omit and add as necessary, I think you could X the chocolate chips and sub for some dried fruit or other nuts too!
SunButter Granola Bars
2015-10-06 08:37:49
a simple granola bar recipe using SunButter
Ingredients
2 1/2 cups old fashioned oats
11/2 cups puffed rice cereal
1/3 cup roasted sunflower seeds
1/4 teaspoon salt
1/3 cup coconut oil (or 2 tablespoons vegetable oil)
1/3 cup honey
1 cup SunButter sunflower spread
1/2 teaspoon vanilla extract
3/4 cup semi-sweet mini chocolate chips
Instructions
Line a 13" x 9" baking dish with parchment paper. You can also spray it with non-stick cooking spray.
In a medium-sized mixing bowl, mix together the oats, rice cereal, and sunflower seeds. Set aside.
In a small saucepan, whisk together the oil, honey, and SunButter over low-medium heat. Be sure not to scorch. Continue stirring for a few minutes until completely melted and creamy. Remove from heat and whisk in the vanilla extract.
Pour wet mixture over the dry in the medium bowl, mix until combined. Allow mixture to cool for about 10 minutes.
Fold in about ½ cup of the mini chocolate chips.
Pour mixture into the prepared baking dish, press it out into the pan evenly. Sprinkle the rest of the mini chocolate chips over the top. Press them lightly into the top.
Place pan in the fridge and allow it to chill for about 30 minutes (or longer). Once chilled, cut into bars or squares.
Notes
Chocolate chips could be omitted or subbed for dried fruit and other nuts.
Adapted from The Blonde Buckeye
Prairie Californian https://prairiecalifornian.com/