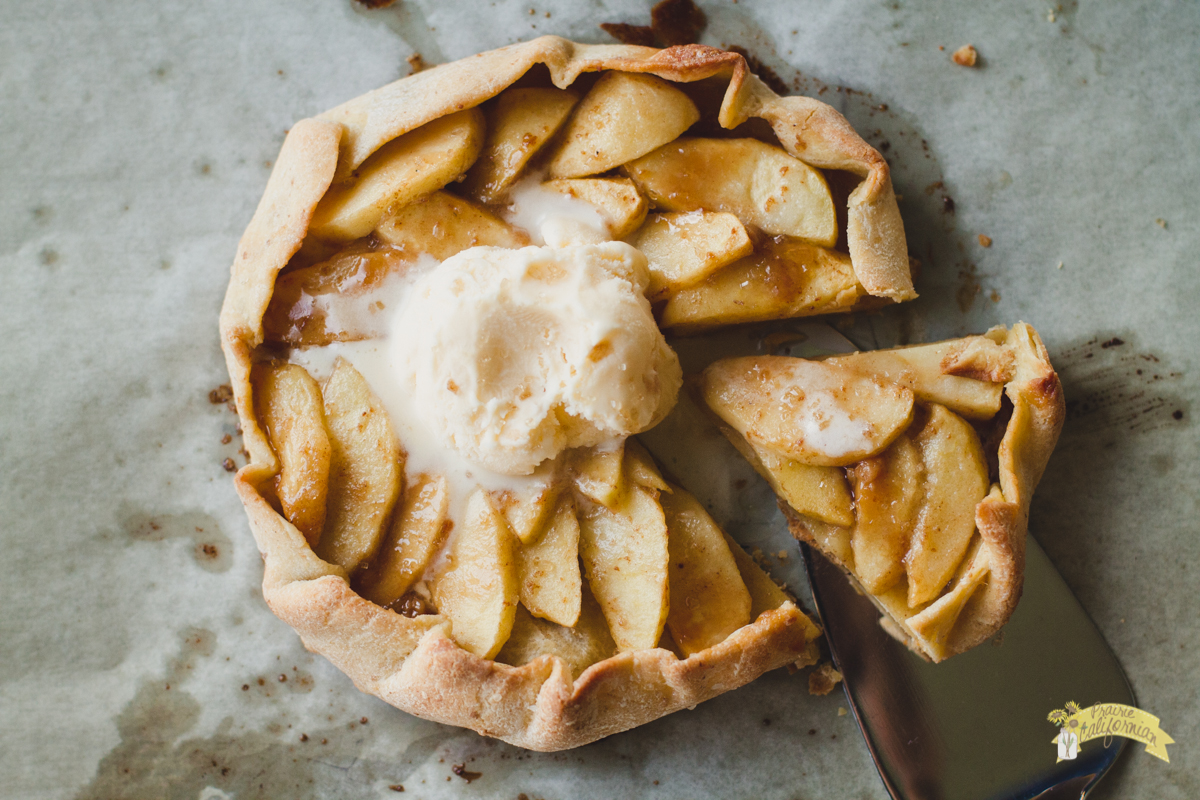 You may recall my love affair with galettes since making one for Thirty Days of Food last year. Most of you are probably like, what in the world is a galette? Sounds fancy but honestly, it is all the deliciousness of pie without the hassle. Essentially, it's a rustic pie that can be used with any filling sweet or savory. I decided to take some apples, top them with caramel, and tie them together in a gorgeous galette. Today, we have Leslie of The Fruit Wagon in Ontario joining us to talk apples!
LESLIE HUFFMAN BALSILLIE OF THE FRUIT WAGON


Harrow, Ontario, Canada
When did you start farming? What brought you into farming?
I grew up on a farm. Bought our farm in 1984. Most satisfying profession
What chores did you have growing up?
Planting, picking, packing, farm gate retail, tractor driving.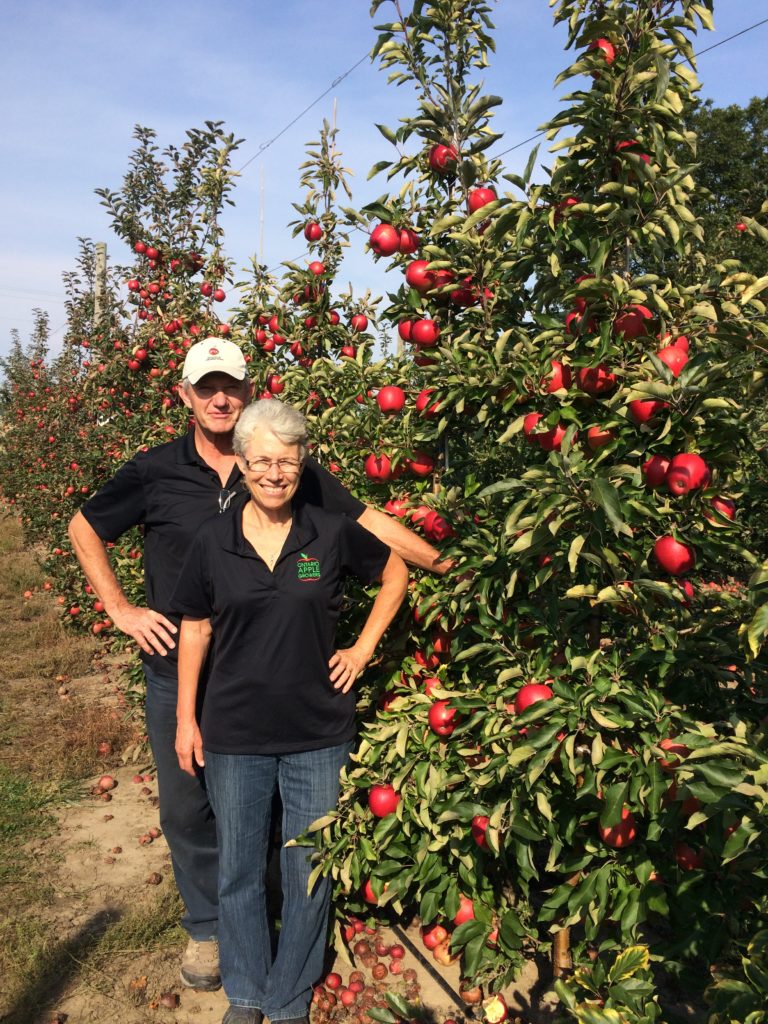 Who farms with you and what are their roles?
My husband Doug Balsillie. Occasionally my adult daughters when it fits into their career path. We all do everything – except Doug is the mechanic mostly
What has been the most satisfying part of farming for you?
Production of quality fruits, veggies, flowers and herbs. Most recently our apple cider vinegar, available in 8 flavours.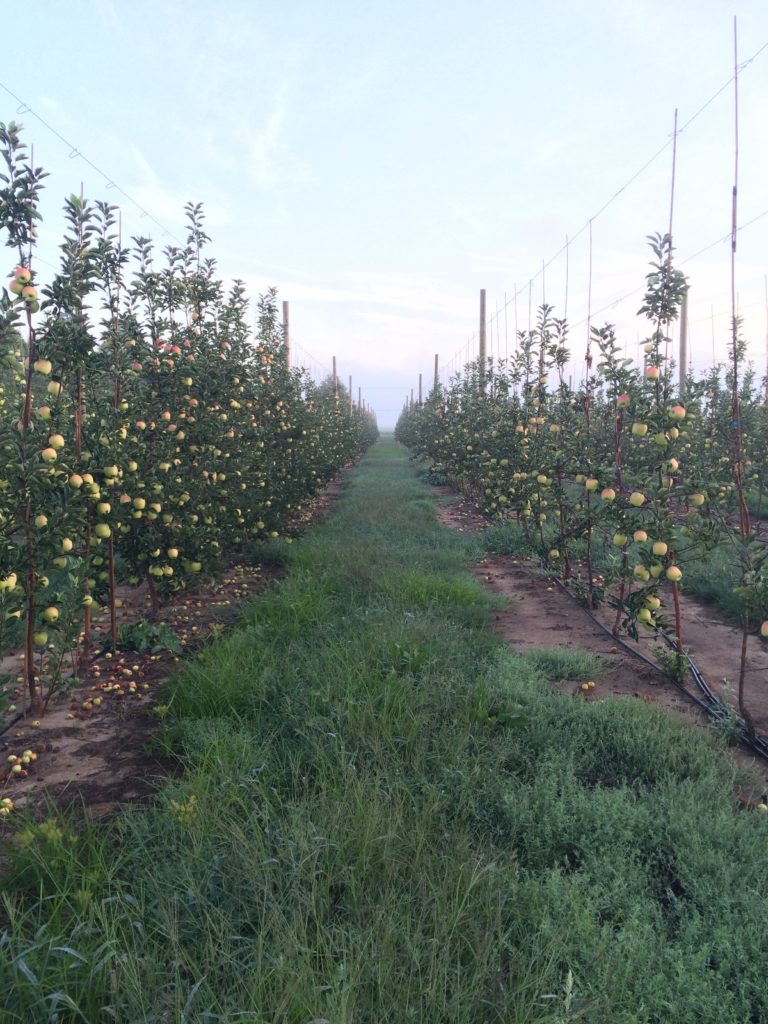 What crops (or animals) do you grow and why?
Apples, peaches, pears, plums, cherries, apricots, strawberries, raspberries, culinary herbs, market vegetables eg tomatoes, peppers, eggplant, tomatillos, squash, pumpkin etc.
What do you think was the most useful advance in farming such as machinery, genetics, chemicals, etc.?
Knowledge of factors affecting yield and quality. High density orchard, precision management, advances in integrated pest management.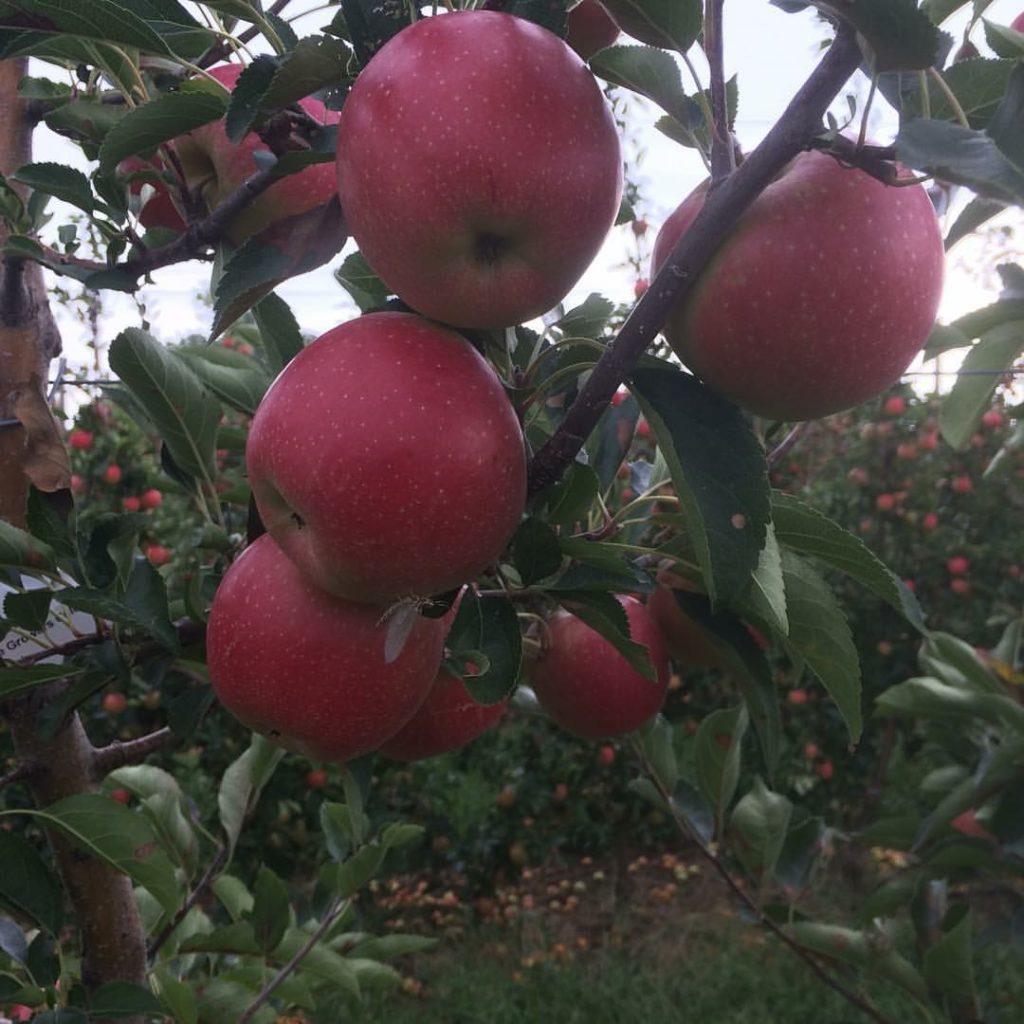 What is one thing you'd like to get across to the general public about what you do?
The passion of growers and the pride we have in producing great tasting, safe and healthy food.
What advice would you give to anyone interested into getting into your field?
Get your hands dirty and try every job.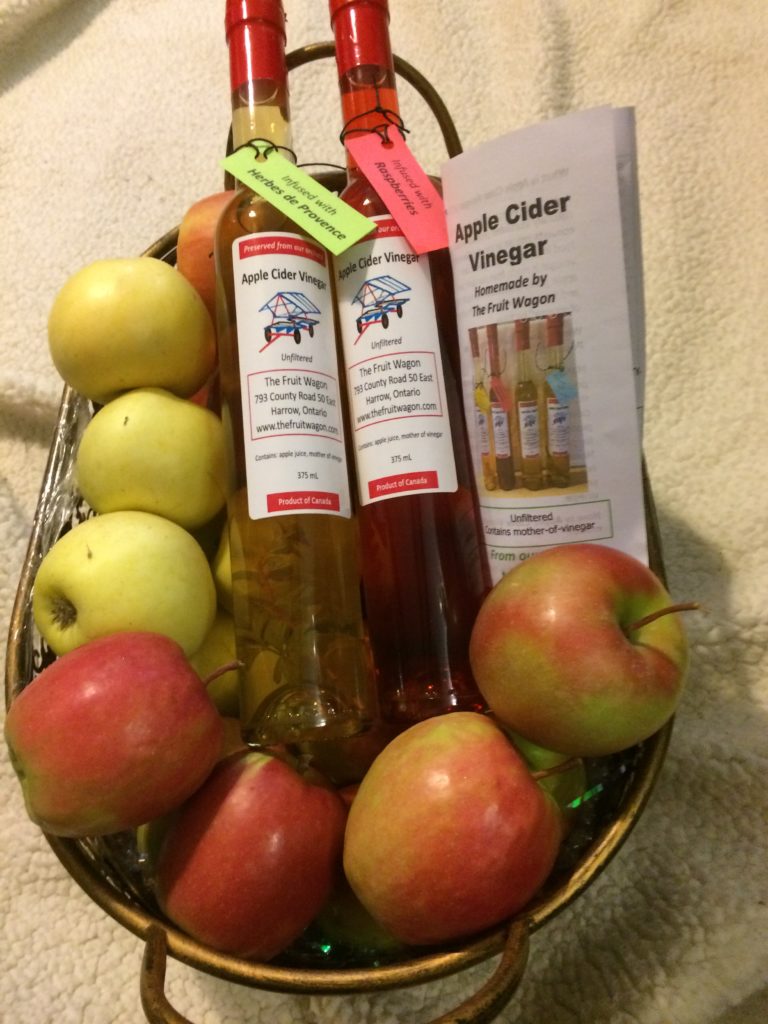 What is your favorite thing to do with the food crop you grow?
Apples – fresh cut with dip, crisp, pies, apple-squash soup, apple cider vinegar for cooking.
You can find more from Leslie by giving their Facebook page a LIKE, by following her on Instagram, or by tweeting with her on Twitter!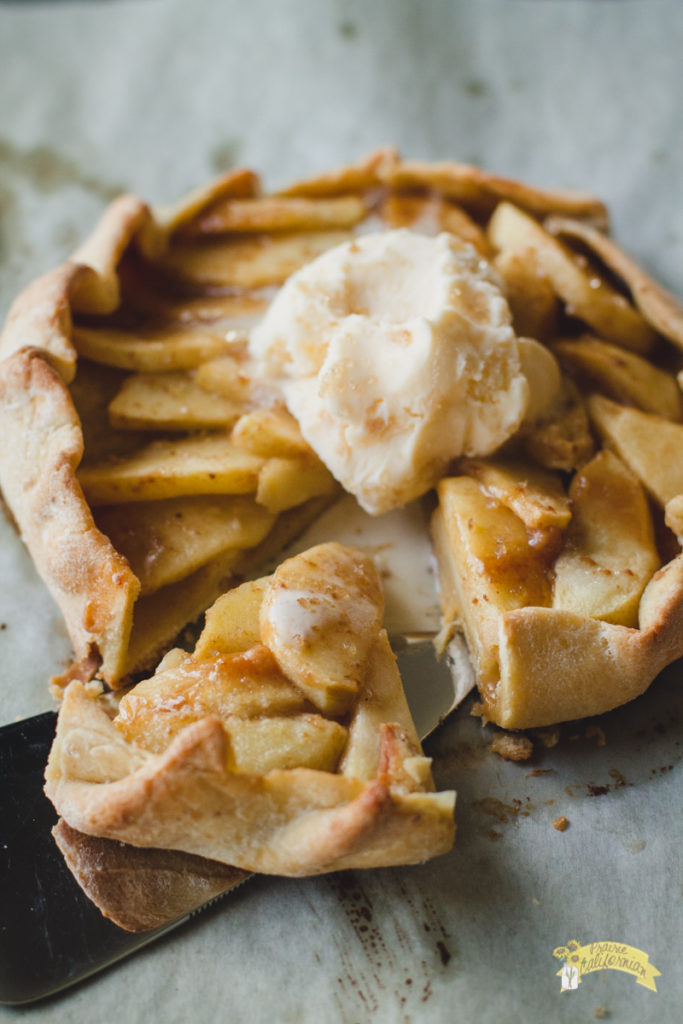 For this galette, I used a good quality baking apple. I recommend a honeycrisp, jonagold, granny smith, melrose, gala, or any heirloom or heritage variety that is good for baking. I used a pie crust that I had in the freezer, you can use a store bought or make one from scratch.
Caramel Apple Galette
2016-11-30 11:15:05
Serves 6
caramel and apples in a rustic galette
Ingredients
1 pie dough recipe (you can use store bought pie dough or homemade)
4-5 cups apples, peeled and thinly sliced
1/4 cup brown sugar
1 1/2 tablespoons flour
1 teaspoon cinnamon (can sub apple pie spice if you have it)
1/4 teaspoon nutmeg (omit if subbing apple pie spice)
3 - 4 tablespoons caramel sauce (homemade, recipe follows or store bought)
1 egg, beaten
Caramel Sauce
1 cup sugar
1/4 cup water
3/4 cup heavy cream
3 1/2 tablespoons unsalted butter
Instructions
Preheat oven to 425 degrees.
In a large bowl, mix the apple slices, brown sugar, flour, and apple pie spice or cinnamon and nutmeg until apples are well coated.
If using homemade dough, roll out the dough into a 12-inch circle. Transfer the rolled dough to a baking sheet lined with parchment.
Arrange the apples into the dough, leaving about a 2-3 inch border all around the outside. Fold the edges of the dough over the apples, overlapping as necessary.
Drizzle the caramel sauce over the filling. Brush the crust with the beaten egg and sprinkle with sugar if desired.
Bake 35-40 minutes or until crust is golden brown and filling is bubbling. Cool on baking sheet for 10 minutes before serving.
Top with vanilla ice cream while still warm, serve, and enjoy!
Caramel Sauce
In a medium saucepan, combine the sugar and water over medium-low heat until the sugar dissolves. Increase the heat and bring to a boil, without stirring. Boil until the sugar is a deep amber color, about 5 to 6 minutes.
Remove the sugar from the heat and carefully whisk in the heavy cream. The mixture will bubble. Stir in the unsalted butter. If desired, add some sea salt (about a teaspoon). Transfer the caramel to a dish and cool.
Notes
While I am peeling and slicing apples, I put the already prepared slices into a bowl of water with 2 teaspoons of lemon juice to help prevent them from browning while I peel and slice the rest. Be sure to towel dry the apples before use.
Prairie Californian https://prairiecalifornian.com/
This post is part of my Thirty Days of Food series where I am writing about food and farming for the entire month of November, to find out more about it all or how to follow along, visit my Thirty Days of Food page to find more great recipes with farmer features!