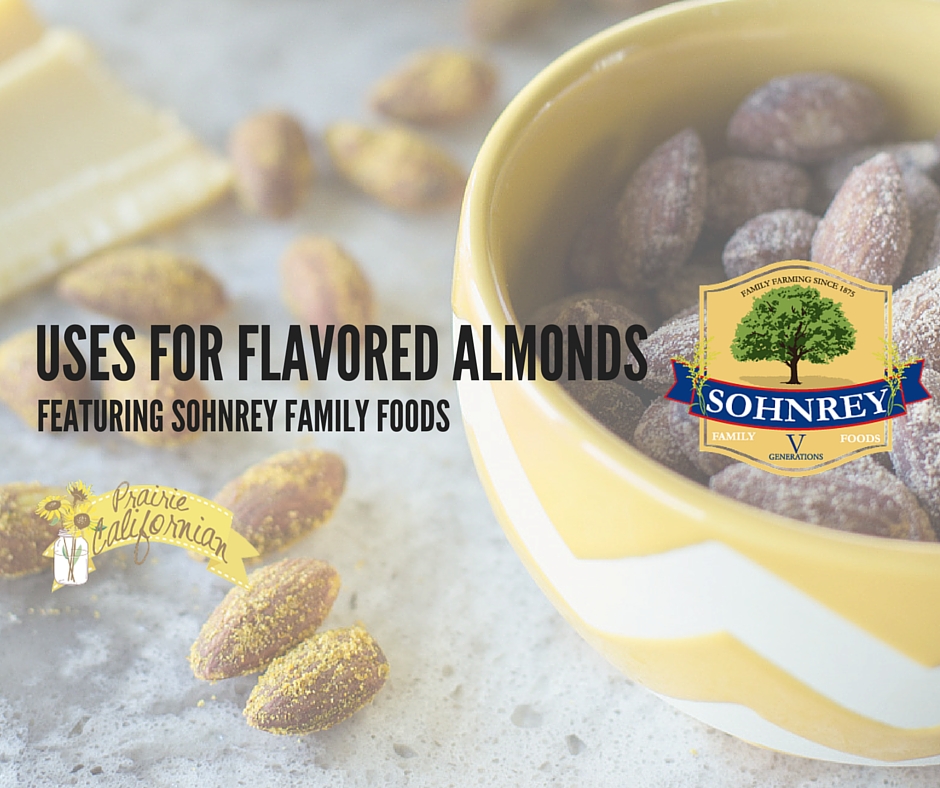 I grew up in the heart of almond country in California. Almonds, walnuts, pistachios, and other nuts were a staple in our house. I have fond memories of receiving candy mint chocolate almonds in my Easter baskets growing up. However, since moving to North Dakota, I've found it is totally not a Midwest thing to always put out a bowl of nuts. Around here it tends to be pickles… Always a plate of pickles out at any given social event. But for me, even though I am now a Midwesterner, it is still nuts. I have a whole tupperware full of various flavored nuts to put out whenever we have people over.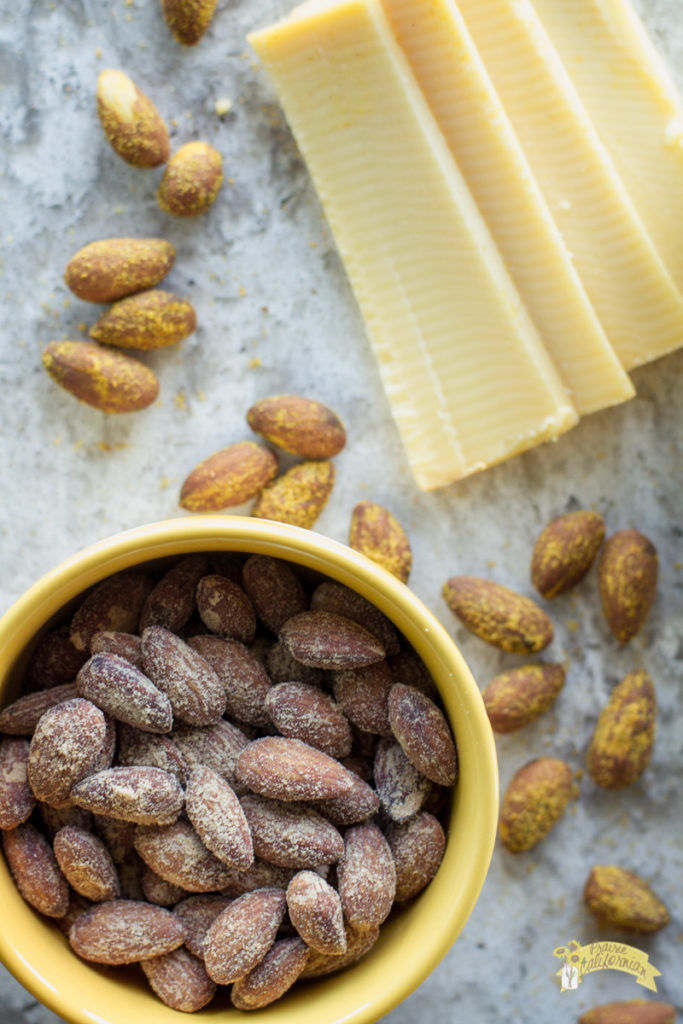 And whenever I go back to California, I stock up on all my favorites from our family friends. I love supporting and promoting their farms in California all the way from North Dakota. Last time I was visiting, I couldn't wait to visit Sohnrey Family Foods retail store. The Sohnrey Family has been farming for FIVE generations, however, it has been recently that the family has decided to offer the quality crops they grow as consumer products under their own brand! You may remember the Sohnrey family from when I featured them during my Thirty Days of Food series.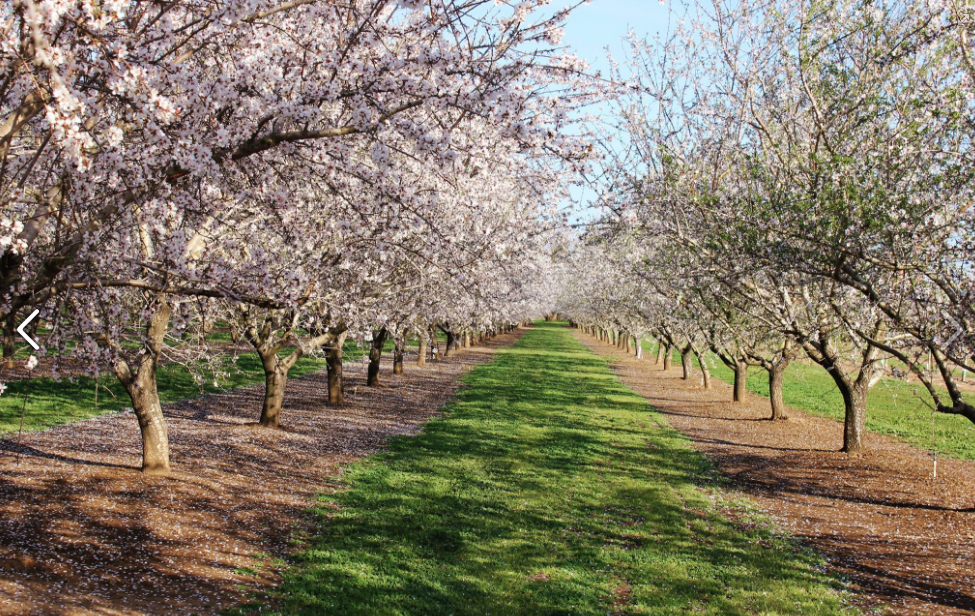 I was so excited when I first heard of this new venture because our family has a long history with the Sohnrey family. We grew up with them. The oldest son was in my graduating class in high school, the youngest was in my brothers'. We played in little league with them, we showed animals in 4-H with them. And I always knew the boys I grew up with were destined to farm. Much like my own farmer husband, it is just something that runs in your blood.
In 2015, the Sohnrey family finalized a new almond processing facility and retail gift shop located off of Hwy 99 at 41 Skillin Lane Oroville, Ca 95965. Their gift shop is gorgeous and they carry all sorts of fun local products including rice, soaps, honey, and olive oil. Last time I was in California, of course, I had to stop by! If you're looking for a unique local gift, check them out. And if you're reading this out of California, the good news is they've also opened up an online store! So you can purchase your favorites online and ship them anywhere in the U.S.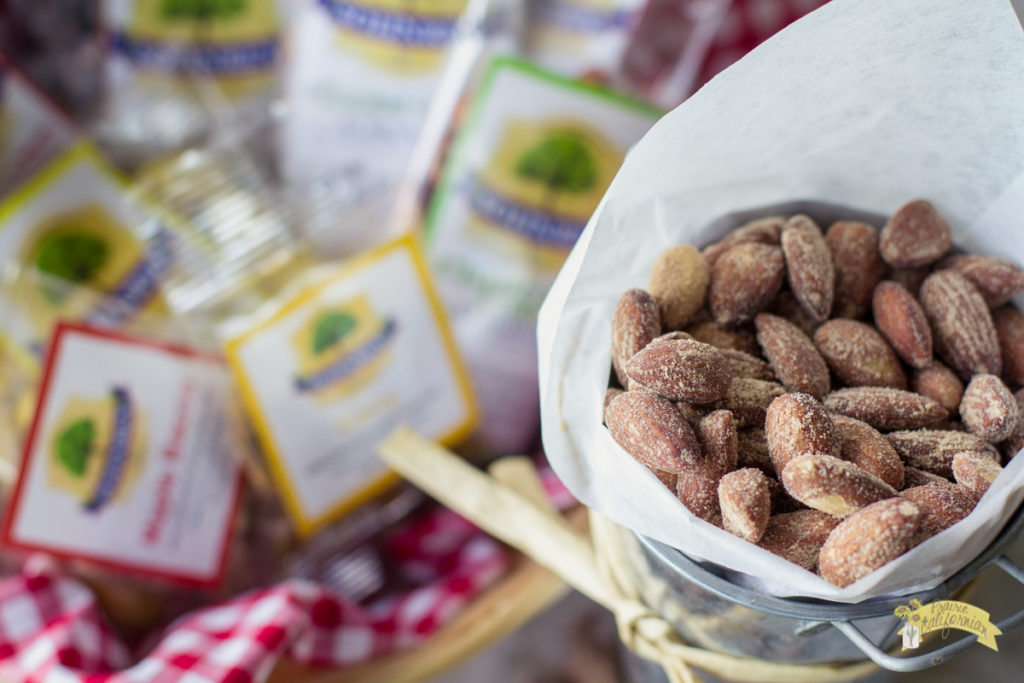 Sohnrey Family Foods has done an amazing job of developing flavored almonds that are truly outside the box. They've got such a wide assortment of flavors from curry to chipotle lime, roasted garlic to wasabi and soy sauce, and my favorites the maple bacon and balsamic herb. Of course, they also carry the more traditional smokehouse, roasted salted, and raw styles as well.
All the flavors of flavored nuts at Sohnrey Family Foods were developed internally. They source all spices and ingredients that they mix up themselves, whereas many food processors have other companies develop their seasonings and order them pre-mixed. Sohnrey Family Foods only uses the most recent year's harvest of nuts that they roast and season in small batches to ensure the best quality to you.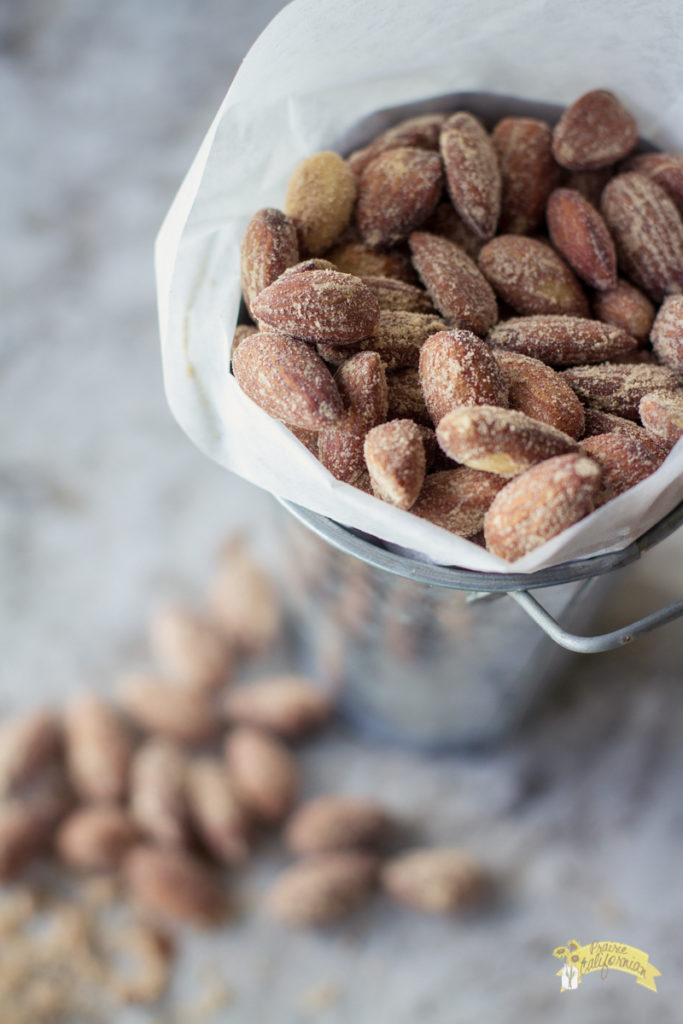 Now that you're craving some almonds… So some of you may be thinkin' what in the world am I going to use all of these flavored almonds for!? Here are some of my favorite uses.
Snacks
At any given time, you can honestly probably find nuts either in my purse or in the glove compartment of my pickup. You never know when there may be a hunger emergency. They are a great, shelf stable, on the go snack. Usually when I get home from work in the evening while I am cooking supper I am hungry. I will open a little package of nuts and eat a few to hold me over until we eat. They are quick and easy and also healthier for me than chips or crackers.
Cheese Board Accompaniment
One of my go-to appetizers for when company is over (whether it be a couple or twenty people) is a cheese board. I always like to serve a couple things alongside the cheese board, usually olives, something pickled, and NUTS! These flavored almonds have been fun to pair with different cheeses, there are so many different flavors and tastes.
Add to Green Salad
One of my favorite basic green salad recipes is as follows: 1. greens, 2. fruit, 3. crumbled cheese, and 4. NUTS! Top with a vinaigrette and you've got a simple yet fancy green salad. Everyone always loves my green salads and as with the cheese, it is fun to experiment with different flavor profiles.
Topping for Side Dishes
I love to use nuts as toppings for veggie side dishes. I've featured a green bean with walnuts side dish, but you can use almonds and even better flavored almonds for this. Just chop them up and top right before serving the side. Another easy way to dress up a simple side.
Use as Breadcrumbs
During Thirty Days of Food, I featured this Almond Crusted Chicken recipe where I used plain almonds for breading. But I think flavored almonds would take it to the next level. Some roasted garlic or heck, even curry almond breadcrumbs. The possibilities are endless. YUM!
What are your favorite uses for almonds or flavored almonds? Would love to add to this list!
You can find Sohnrey Family Foods online as well as order from their online store. You can also check out what they're up to on Facebook, Instagram, Twitter, and Pinterest.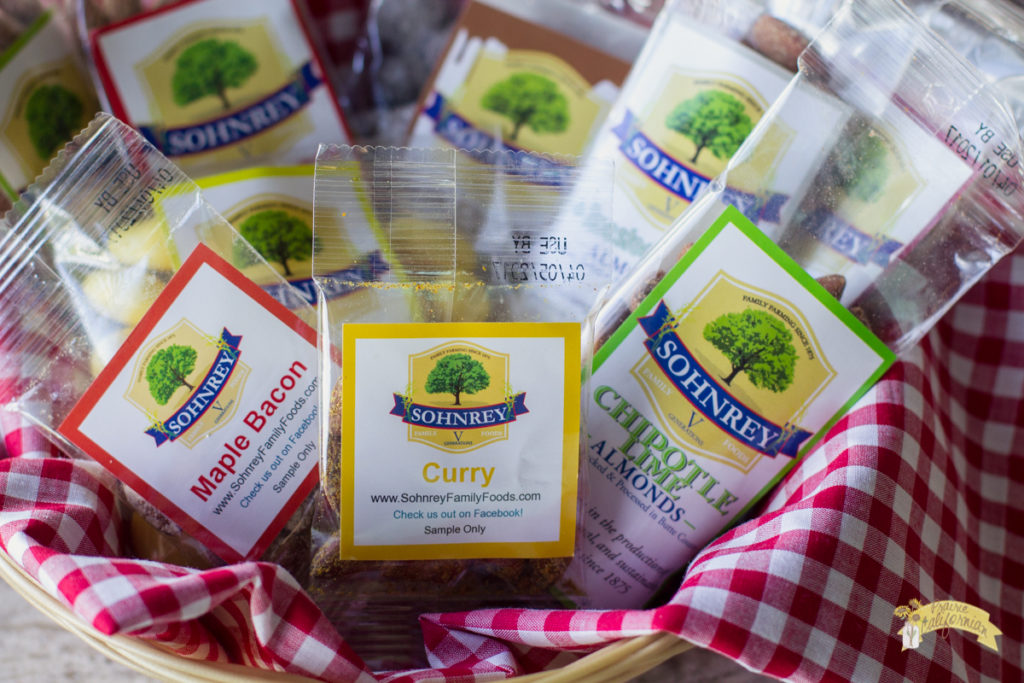 Disclaimer: I have to give a huge THANK YOU to Sohnrey Family Foods for sending me some almonds to try and feature here on the blog. While some samples have been provided, the content and opinions expressed are that of Prairie Californian. I honestly couldn't be happier to help support a family business I truly believe in and I wish them only the best with their operation!