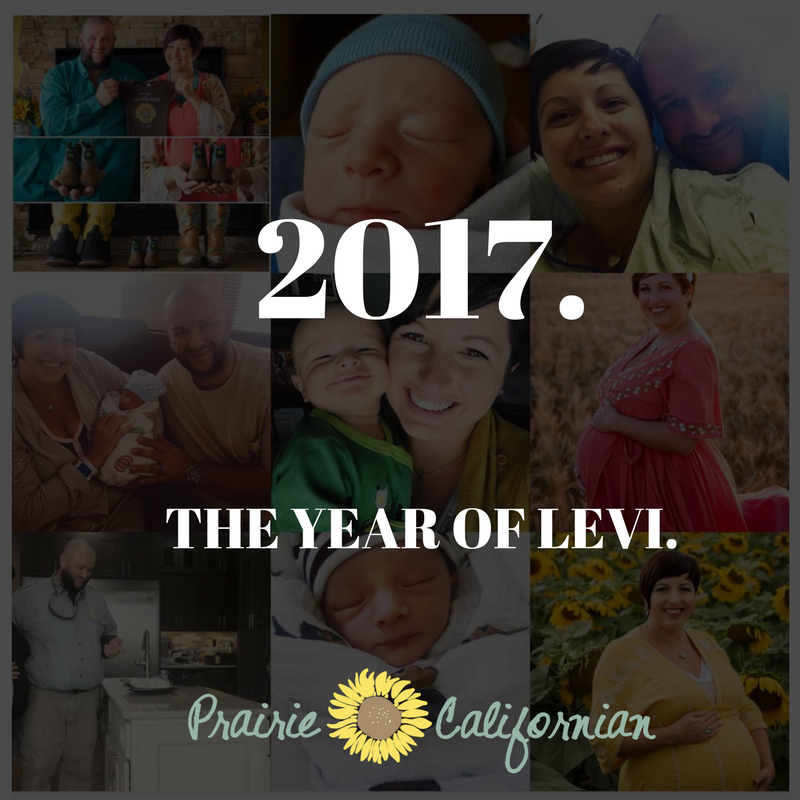 It's hard to believe I'm sitting down to write yet another end of the year wrap up. I can't believe I am writing the SIXTH one of these! 2011 was the year of social media and the year it all began… 2012 was the year of love. 2013 was the year of marriage. 2014 was the year of the home. 2015 was the breather year. And 2016 was the year of being present. 2017 is, without a doubt, the year of Levi.
We started the year off literally just finding out we were finally going to have a baby!! For those of you who know the story, you know what a shock and surprise this was to us. We literally could not wait to share the news with our families and friends!
Incubating and growing our little Levi proved to be quite the task for my body. I was exhausted. All. The. Time. Which made my travel for speaking engagements during the first part of the year when nobody knew I was pregnant very difficult! Luckily I hadn't booked too many commitments for 2017. God must have been looking out for me.
Last year was the year of being present and as I reflect back on this year, that goal carried into this year. We hosted friends for long weekends several times, we made a trip to visit friends in Indiana, I spent time with my family in California, and I made a trip to Savannah with my best friend.
Speaking of my trip to Savannah, I also joined the 30 club this year. Growing up, I always thought by the time I was 30, I would have a kid. Turns out, I would be pregnant… good timing on that one, God! I loved visiting the South and especially loved Savannah. I would go back in a heartbeat! Such a fun city and oh my gosh, the food!! And I had an awesome time welcoming in my 30th year with my best friend!
In April, we finally found out that our little miracle was a boy. Next to me telling Mark we were pregnant, it's one of my favorite moments of the year. His reaction to finding out we were having a little farmer was priceless!!
I spent most of the summer getting bigger and bigger as Levi grew, unsuccessfully gardening, sleeping my life away (boy I miss that), spending the last few moments of our time as two with the hubs, and preparing for the arrival of our little man!
The hubs and I enjoyed a little getaway to one of our favorite places ever, the Black Hills and also spent a long weekend at our friend's lake cabin for 4th of July.
Before little man made his arrival, we were able to celebrate with our North Dakota friends and family. My friend Nicole from Texas surprised the pants off of me by showing up on my doorstep and spending a few days with us for my shower.
September marked the arrival of our little miracle Levi. Giving birth to him was the most amazing and craziest experience of my life! He turns four months on the 3rd. The last four months have been a blur but some of the best months of our lives.
Motherhood has taught me so much about life. It's allowed me to slow down and enjoy every little moment. It's reminded me to give myself grace in the moments when I'm ready to pull my hair out. And it has taught me the value of balance and the importance of maintaining my own identity.
You don't have to be a mother to struggle with balance in life and striving to define yourself. We all struggle with these things in some way or form. Ive had a lot of time at nights, in the quiet while I nurse Levi, to think. To think about life and balance and who I am now that I've added the title mommy to my list. And I plan to continue to carve out my new identity and strive towards finding that perfect balance in 2018 now that we've added Levi to our lives.
It is my hope for you in 2018 that you take some quiet to think about the balance in your life. Take some time to define what it is that you need in order to be the best version of yourself and the many titles you carry. And in 2018 I hope that you strive to pursue it and pursue it with great success!
Even despite any hardship or the bad that pops up in life, in 2018, I hope it is all the year we prioritize and cling tight to the important things in life. I hope we define and then unapologetically pursue our best self. And I know because of it, we will all end up living our best years yet!
Happy New Year my friends!!