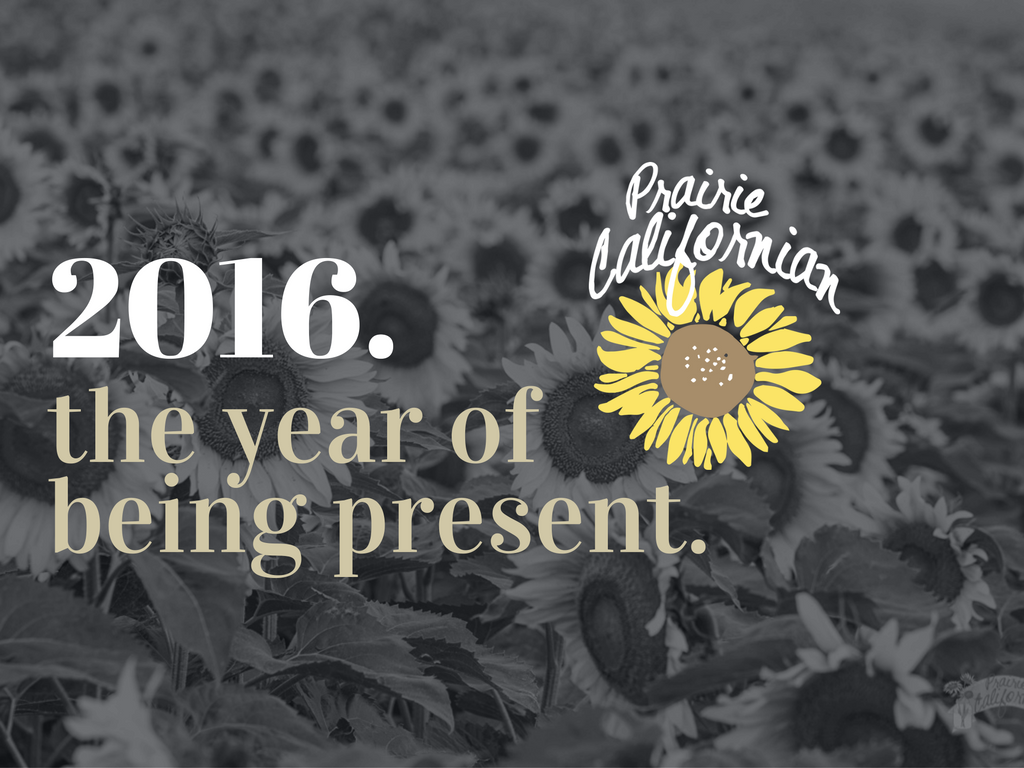 I can't believe it is already time again to sit down and reflect on the year that just flew by right before our eyes. It feels like I was just sitting down doing this. It's amazing the things you forget that happen in the course of the year.
Last year as I was doing my 2015 wrap up, I shared that in 2016 I wanted to try and be more present. To work on letting people in my life know what they mean to me as well as growing each and every friendship and relationship deeper. The busyness of life can suck so much joy and time from us. It pulls us away from the things in life that matter the most. And it isn't until we are shaken by pain or a loss that we stop to realize all the things we have missed. I don't want to be that person. Five years, ten years, and twenty years from now I want to look back and be completely fulfilled. To know I loved with every part of my heart, I made time for those I love, and that I built meaningful and deep friendships that stand the test of life.
And 2016 was the year I decided to embark on setting those habits. And as I look back, I think I got a pretty good start.
Learning when to say yes and when to say no is half the battle. I certainly learned this year the importance that can come with saying no. Sometimes saying no means we need to spend time refilling our own cup instead of spending endless amounts time filling other's cups with our own empty cup. Sometimes saying yes means filling your cup with way more than you every expected.
This time last year we were booking a rather last minute trip to Australia. Mark was asked to speak at a conference after a speaker had backed out and literally within three days we had to make a decision if we wanted to take the trip or not. We decided to take what turned out to be the trip of a lifetime. Aussies are some of the best people, we can't wait to go back!
In May I found some time despite planting and the busyness that comes along with that to fly out to California and visit my family for Mother's Day. I spent time with my extended family there as well as got lots of one on one time with my parents.
At the end of May, I agreed to teach Vacation Bible School for eight four year olds in our community. It was one of the most exhausting and most fulfilling weeks of my life. Just when I thought those kids would never listen, they'd repeat scriptures or things we learned about Jesus. Nothing is more fulfilling to help a young person find the peace and fulfillment I have found in my own relationship with Jesus.
Throughout the Summer, we said yes to many different friends who also decided to take leaps of faith and be more present. We hosted several couples for fun weekends combined with farming. We could have easily said no, but instead we decided to just go with the flow. And because of it, we cultivated friendships with some incredible people!
We made time to spend a weekend with our friend's at their lake cabin, to attend a supper we've been invited to time and time again but could never make work, and squeezed in an epic trip to Canada where we made stops to visit all sorts of social media friends.
We spent three different times hosting tours on our farm while the sunflowers were blooming. It was so fulfilling to be able to share about our family farm and what we do with people who were so excited and intrigued to learn more. While it was certainly something that at times was tough to juggle in our busy season, it was something already on the schedule again for 2017.
In October I took a leap of faith to attend a Women of Joy conference which will forever be engraved on my heart. The words God spoke to me through all of those women were powerful and things I needed to hear. I am so thankful for the friendships formed during our trip. There's something hugely powerful with being able to expose yourself in front of God and then come together and pray with people who love you for you. Imperfections and all.
One of my favorite yes' was all the time that we spent with Mark's grandparents. Mark's grandpa turned 90 this year. And in preparation for that, we spent several weekends talking with grandpa and grandma. We learned so much and were able to capture those memories for generations to come. I had the honor of writing an article in our local paper about grandpa's life and celebrating his ninety years. It was so special to us as we know they won't always be with us, so it is important we make the most out of the time we have left with them.
Looking back, we certainly said yes to a lot. In 2015, I travelled and experienced a lot professionally. It was so exhilarating to be able to grow myself and experience new things. This year those experiences kept popping up. And saying no to an amazing experience is hard. But the truth is I had to say no to a lot this year. I was forced and faced with having to prioritize what's the most important.
But as I scroll back on the photos and the moments replay in my mind, I end this year feeling truly fulfilled. The what ifs and worries about not pleasing those people I had to say no to fade in comparison to the deep love I feel for those we got to know better and more deeply this year. And certainly that isn't my own doing. God had a hand in that, no doubt.
While 2016 may be marred by all the tragedies and shit shows, my 2016 will be marked by the people who touched our lives and by the experiences we decided to say yes to and those we decided to say no to rather than running ourselves ragged. And because of it, I feel like we are starting 2017 refreshed, full of peace, and bubbling with joy.
Friends, no matter what 2016 brought you. I hope in 2017 you make a priority to be present. To cultivate deeper friendships, to take time to prioritize the things in life, to let the little things go, to not be afraid to dive into difficult topics, and to expose yourself in ways you've never done. I guarantee through all of it, you'll experience growth. You'll find the steps towards peace. And most importantly you'll find a deeper sense of fulfillment that you never have before.
It is my hope that none of us let life just go by. That we don't look back with regrets and wishing we would have made time for the important things in life. That is my prayer for your 2017 friends. Happy New Year!!!