Well it's that time of the year again where to take some time to look back on all that has happened in the course of a year before we wrap it up and say goodbye to another year. I don't know about you, but I personally love spending some time reflecting. I often forget the many things that happen or something I wrote during a part of the year. It is amazing how the mind can forget so much.
If you've followed me for any amount of time, you know year end reviews are nothing new here. I've been sharing my years ends since 2011 (before I met my husband and moved to ND!) and typically I begin my year end reflection with this blog and social media.
It is thanks to all of you 2016 continued to be a year of amazing growth here at Prairie Californian. When I started this blog, I had NO IDEA it would become what it is today. So THANK YOU for making it what it is today!
Here's what happened in 2016 here at Prairie Californian.

Facebook continues to be one of my fastest growing platforms. In just the course of one year, I've added over 1,200 of you to my Facebook page!! And for nearly five years running, Facebook continues to be one of the number drivers to this website! So thank you all for the shares!
This year, it settles the fact that Facebook LOVES video! Most of my top posts are native Facebook videos. I experimented a lot with video, which is a new medium for me! While it takes some time and preparation to shoot video, it is a fun and interactive medium that I look forward to utilizing more in 2017.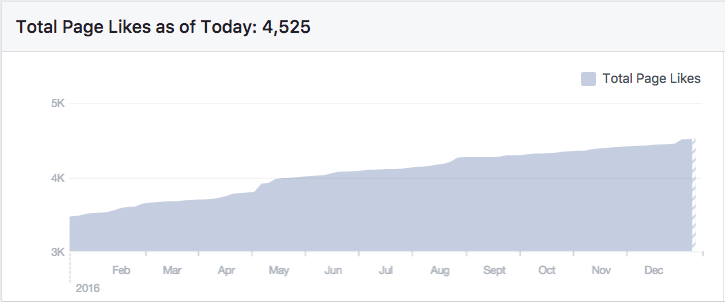 Top Facebook Posts for 2016:

2015 marked the year of less Twitter engagement and in 2016 that seems to have stuck. However even with my lack of engagement, my Twitter account seems to show consistent growth which is incredible! I added 637 of you Tweeters this year!
As always, I find the analytics Twitter maintains is incredible. I can check what percent of my followers education, average income, location, martial status, gender, cell phone carrier… It is QUITE creepy how much information is out there to advertisers utilizing Twitter and other social media platforms!
Here's a small snapshot of those analytics for @PrairieCA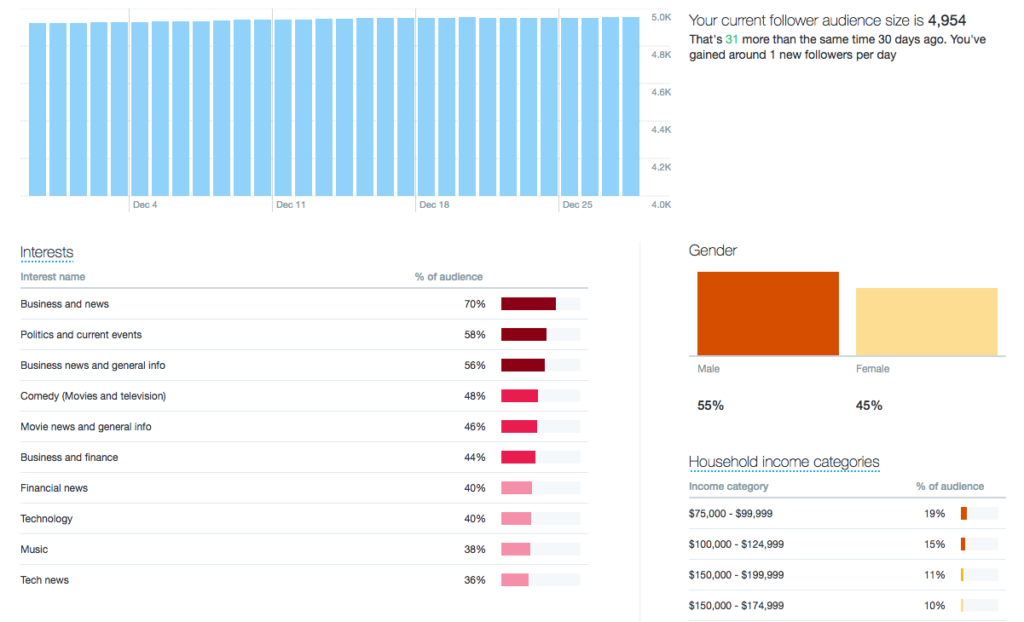 Top Twitter Posts for 2016:

I continue to LOVE instagram more and more. Even IF they are trying to be like Snapchat with their Live Stories… I'll keep my opinions on that one to myself! As always, all of the incredible photography shared on there keeps me inspired to continue shooting and perfecting my craft. Much of my IG feed isn't what you would call "curated", it is my real life shared in pictures. I constantly struggle with how to balance this as I honestly swoon over these beautifully curated feeds. But considering the growth I've seen in a year, I'll maybe just keep doing what I am doing!
Top Instagram Posts for 2016: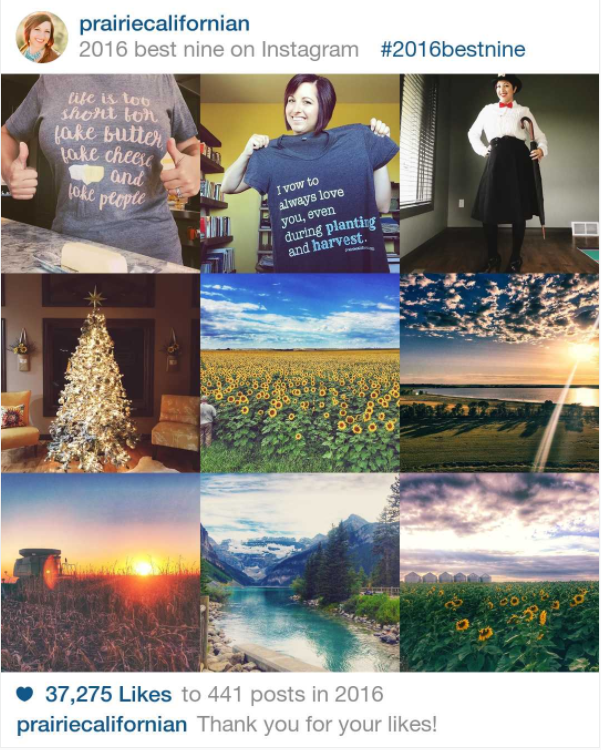 Well, hellloooo pretty new header!
2014 continues to mark the year of the largest growth for my blog.. However, this year I am SHOCKED at how consistent my pageviews remain even though my posting hasn't been consistent. Proof that good SEO keeps people coming to your page! I saw a yearly jump in page views of about 50,000 from last year which blows my mind!
Almost ALL of my top posts for the year are from previous years (another testament to SEO).
Top Blog Posts for 2016:
Top Referrers For 2016
Second year in a row search engines have been my number one referrer!! In the past typically Facebook takes this number one spot. I've really been trying to utilize Pinterest more and more and it continues to be in the top 5 for referrals.
1. Search Engines
2. Facebook
3. Cheeserank (Thanks to sharing my Lazy Cheese Buttons post)
4. Pinterest
5. Twitter
Weirdest Search Engine Terms for 2016
And in all this seriousness, let's throw in a little fun… Here are the weirdest search engine terms people used to find my blog…
farm wife support group

what tools do we use now days for seeding

south dakota recipes from grandma

how did chip and joanna gaines meet

coogan recipe (I guess a lot of y'all were trying your best to spell kuchen)
As 2016 comes to a close, I want to say to each and every one of you, THANK YOU… from the bottom of my heart.
This year, this blog, and all of you took me places I never ever knew were possible or within reach! I want to thank all of you for continuing to share, engage, and most of all, encourage me! I love all your messages, emails, and comments. And I appreciate all of your prayers more than you'll ever know!
Happy New Year and here's to 2017 on Prairie Californian!