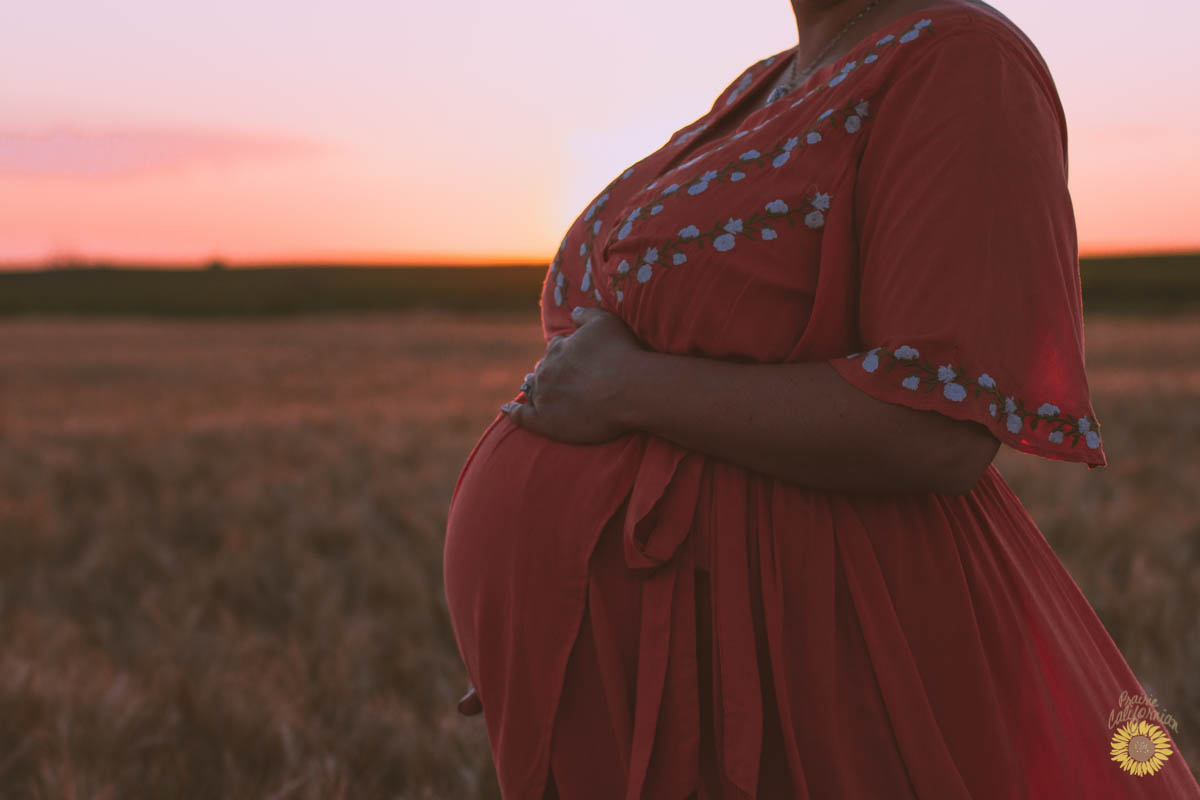 As a blogger, photographer, and creative mind, it should come as no surprise that photos are a big deal to me. I love having the big (and little) moments of our lives captured whether it be with a professional DSLR or even with the camera on a phone. I regularly make it a habit to try and keep up on yearly photo books, books from our trips, and especially photo books that document the important steps in our life.
Naturally, when I found out we were expecting, I had already begun planning a maternity session. I knew I would be pregnant in the midst of all of our crops growing and that I wanted some photos in them. I had expressed this idea to the hubs, who was insistent that we didn't need to pay someone to take photos, he would take them with my DSLR. I have to admit, I was hesitant. Anyone who is married to a farmer knows that asking your farmer husband to do anything for you, let alone set aside time to take PHOTOS in the midst of the growing season, is a lot to ask. But he was so insistent, I decided to let it ride and see how it went.
Fast forward to last weekend, we had just begun harvesting the early maturing wheat which meant that if I wanted photos in the wheat, it had better be sooner than later. I got a text from the hubs that he had some free time later in the evening and he would be willing to take some photos. I high tailed it home to get all purdy and fancy, steamed my dress, and waited for him to pick me up and head out.
If I am going to be 100% honest with you, I had imagined this entire scenario to end in a huge, all out fight between us. Instead, I was met with a huge surprise. Not only did he take photos of me in the wheat, he also wanted me to get some photos in the soybean and corn fields. He was patient and took my instructions from in front of the camera so well. Pretty soon, he was the one telling me how to stand, where to look, whether to smile or not, telling me when a pose looked awkward. He was playing with angles and learning how to capture a sun flare.
For anyone who has been handed a DSLR camera and told to snap some photos, you know the overwhelmingness of it all. There is a lot to pay attention to and process ON TOP OF paying attention to your model. And for being thrown a camera and given instructions from his model, the hubs passed with FLYING COLORS!
Now he gets to recreate these in our sunflowers, very soon!! HA!
These photos turned out so much more amazing than I could have ever imagined! And the best part is that we had a ton of fun taking them. We laughed, we made fun of my awkward faces, and most of all, we enjoyed the beautiful evening amongst our crops together.
When I look back on that evening, I can't help but get sentimental thinking about this time next year, we will be checking crops with a little helper. A future little farmer. My mind drifts to that reality every single time I watch my hubby walk out into his fields to check crops. And wouldn't you know it, little man goes wild in my belly. If he is anything like his daddy, he will be born with this passion for the life we live. And even if he isn't, we will love him and support him no matter what!
All of these photos are a reminder of how thankful to have the partner I do in this journey of becoming parents. He knows when to make it count and he loves me enough to sacrifice his time to do something that means the world to me. And I know because of that unconditional love and willingness to sacrifice for those he loves, he will be an amazing father to our little man! A part of me isn't sure what I am more excited about, being a mom or watching my husband become a father.
Either way, it won't be much longer!
Dress from Filly Flair
Headbands from H&M
Locket from Tiffany & Co.