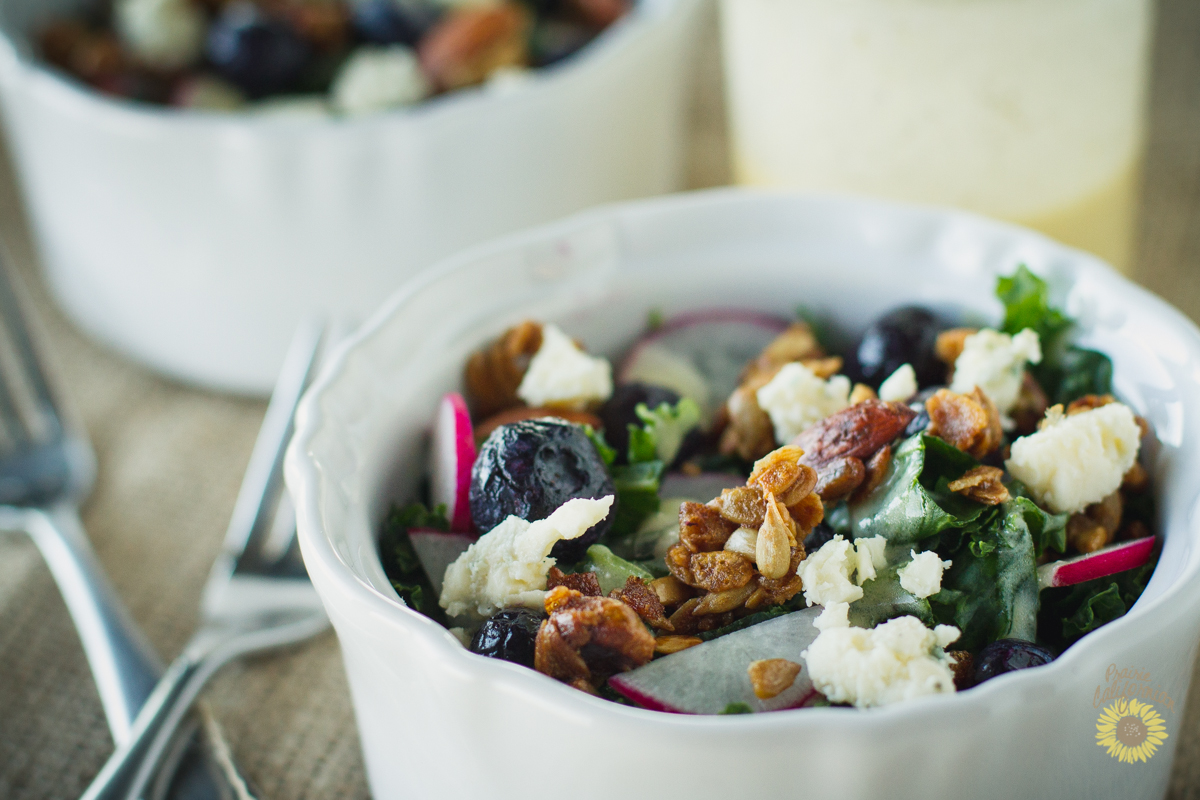 If you are anything like me, you don't necessarily like to buy into the fads and trends of the times. Fads and trends come and go sometimes quicker than we can blink an eye. Kale has seemed like such a fad food, albeit I know it is healthy for you. But I feel like we keep finding kale in places that it doesn't belong. Either way, I was hesitant to jump on the kale train but I found a couple recipes that looked amazing so I decided to give them a go.
Fast forward to a final dish that was barely palatable, bitter, and hard to get down. What in the world went wrong? And who are these people who claim a love for kale, especially in salads!? When it comes to tastes, I am very sensitive to anything bitter. I can barely eat a garden tomato raw without it just tasting too bitter for my liking. Kale was 100 times worse than that.
So I did some digging – to find out how to make kale more appealing and palatable. What I found was I was going about kale the wrong way. Kale requires a two things in order to make it shine in a salad. Once I learned these two methods, it was like night and day. I have officially become hooked! I seriously crave a kale salad every now and then and regularly will order a kale salad off a menu at a restaurant.
What are these two secrets to kale salads?
Chop the kale into small pieces and rough it up. Once I have all my kale chopped, I rough it up with my hands for several minutes until the kale turns a deep, dark green and softens.
Use an acid-based dressing and dress your salad before you are ready to eat. This can be anything from lemon juice to vinegar. And I know it sounds crazy, taking something that is already bitter and adding acid to it. But the acid helps cut the bitterness. It is also important that you dress your kale salad about 10 minutes before you like to eat. This is not a practice I usually do as I don't like wilted, soggy salad, but with kale it allows that dressing to go to work breaking down the bitterness.
So there you go! The secrets that have brought me into the world of being a lover of kale salads! Now for this recipe…
I am a sucker for any salad that a. includes fruit, b. includes nuts, and c. includes cheese – so naturally, this recipe is pretty much salad perfection.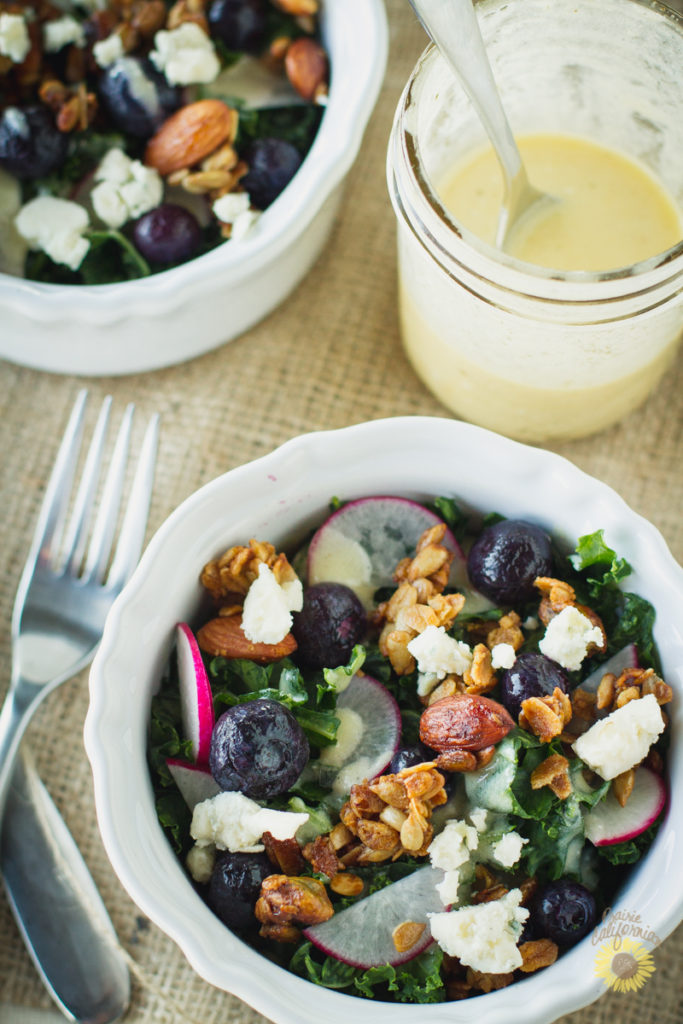 It is also a very adaptable recipe! Feel free to change up the berries in the salad or the cheese! I think any sort of crumbly, delicious cheese would be fabulous in it! For kale, I tend to enjoy a yogurt based dressing best (just my personal preference) but feel free to omit the yogurt if you'd like.
Kale Berry Salad with Granola
2017-08-02 14:25:15
Serves 4
kale salad with berries and granola
Ingredients
Granola
1/2 cup old fashioned oats
1/2 cup rice cereal
1/4 cup whole almonds
1/4 cup hulled sunflower seeds
1/4 cup pistachios, walnuts, or pecans
1 large egg white, beaten
2-3 tablespoons olive oil
1/2 tablespoon honey
salt to taste
pinch of cayenne pepper
Dressing
3 tablespoons olive oil
2 tablespoons lemon juice
1 tablespoon dijon mustard
1 1/2 teaspoons honey or maple syrup
1 1/2 tablespoons plain yogurt
salt and pepper to taste
Kale Salad
One medium bunch of kale, chopped and roughed up until tender
1/2 cup berries
4 medium radishes, sliced thin
2 ounces blue cheese, crumbled (gorgonzola would work too!)
1/3 cup granola mixture
Instructions
To make the granola, preheat oven to 350 degrees. In a medium sized bowl, combine the oats, rice cereal, nuts, and seeds. In a small bowl, whisk together the egg white, olive oil, and honey. Add to the granola mixture and toss well to coat. Transfer the mixture to a parchment lined baking sheet and bake about 15-20 minutes or until mixture is golden brown. Let the granola cool slightly before adding to the salad.
To make the dressing: In a small bowl (or half pint sized mason jar) add all ingredients and whisk (or cap and shake) to combine.
To assemble the salad: In a large bowl, combine all ingredients. Drizzle with salad dressing and toss well the combine. Let the salad rest 10-15 minutes before serving. Enjoy!
Notes
Granola recipe & dressing recipe makes enough for 2 batches of this recipe.
Adapted from Cookie and Kate
Prairie Californian https://prairiecalifornian.com/