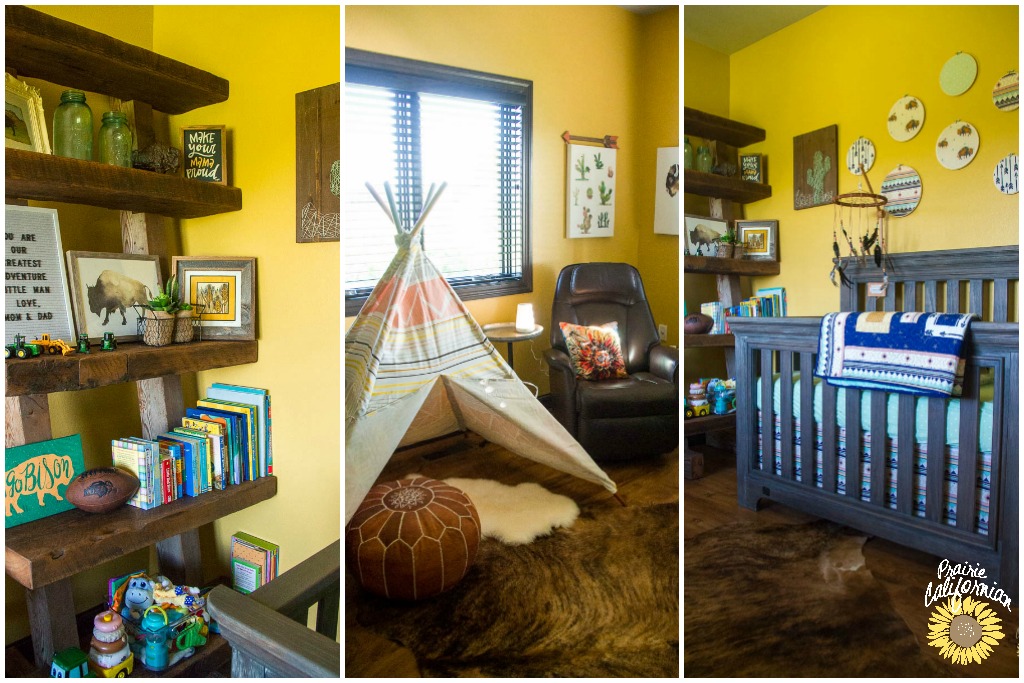 Many of you have been asking how Little Man's nursery is coming along and if I have it all ready for him. I have OFFICIALLY deemed the nursery as COMPLETE! It is ready and waiting for our little man to make his arrival. It is truly an idea turned to life. I had this idea in my head for a long time and I am thrilled with the way it turned out!
When I first found out we were pregnant, the idea of a southwestern, aztec, and sort of boho style nursery popped into my head and the project grew from there. It isn't your typical "nursery theme" so finding the perfect solutions for the project proved to be a challenge but resulted in a rather eclectic mix of textures, colors, and finishes. I had chosen a few items and begun planning even before we knew what we were having. I knew that depending on what colors I chose to focus on, the theme could easily be tailored to either a girl OR a boy. And the bonus is that if we do end up with a girl later on down the road, she can utilize the nursery without too much redecorating.
For those of you who know me personally, you know I have a degree in Interior Design. This came in handy when we were building our house, but it also means I take things to the extreme when I am working on a new "design" project. The first thing I did was make what is called an inspiration board. An inspiration board can include any products, colors, textures, existing furniture, inspirational photos, artwork… Basically anything that has inspired the "vision" for your project.
** Complete list of resources at the bottom of this post **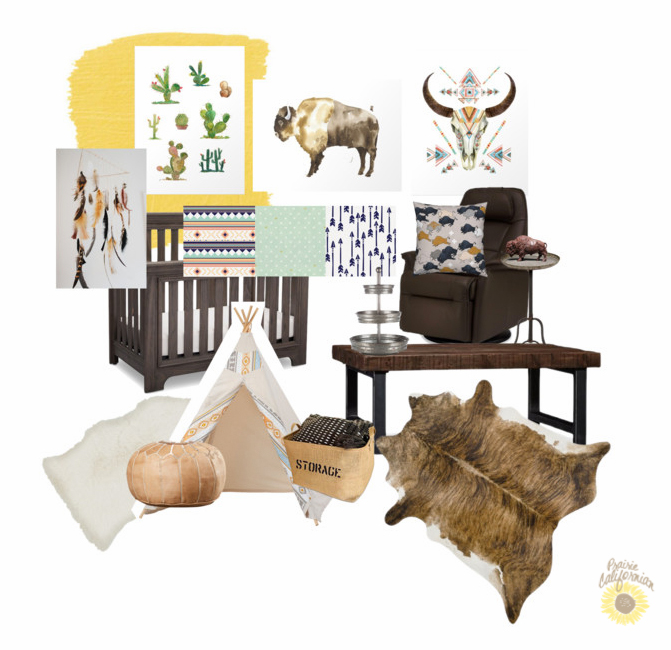 Back when I was in college, we would make a board like this by hand. Cutting squares and wrapping fabrics, cutting foam core to attach photos of furniture. With the advent of online programs like Polyvore, they make it simple and easy to throw together inspiration or material boards for any project! You can simply "clip" a photo from any website to utilize in your design or inspiration.
We built and moved into our house about two years ago and this bedroom has been functioning as my office since we moved in. That was the "plan" when we built the house, I would utilize this bedroom/nursery as an office until a baby came along and then I would move into a larger shared office with the hubby that is attached to our master suite across the hall. This bedroom is adjacent to a full bath as well which would be utilized once it became a nursery.
The existing wall color is Benjamin Moore Showtime, which is a great neutral mustard yellow. For more about the paint colors we chose in our house, you can check out the entire post on it. We did not plan on repainting, so whatever nursery we chose, it had to work with the existing wall color.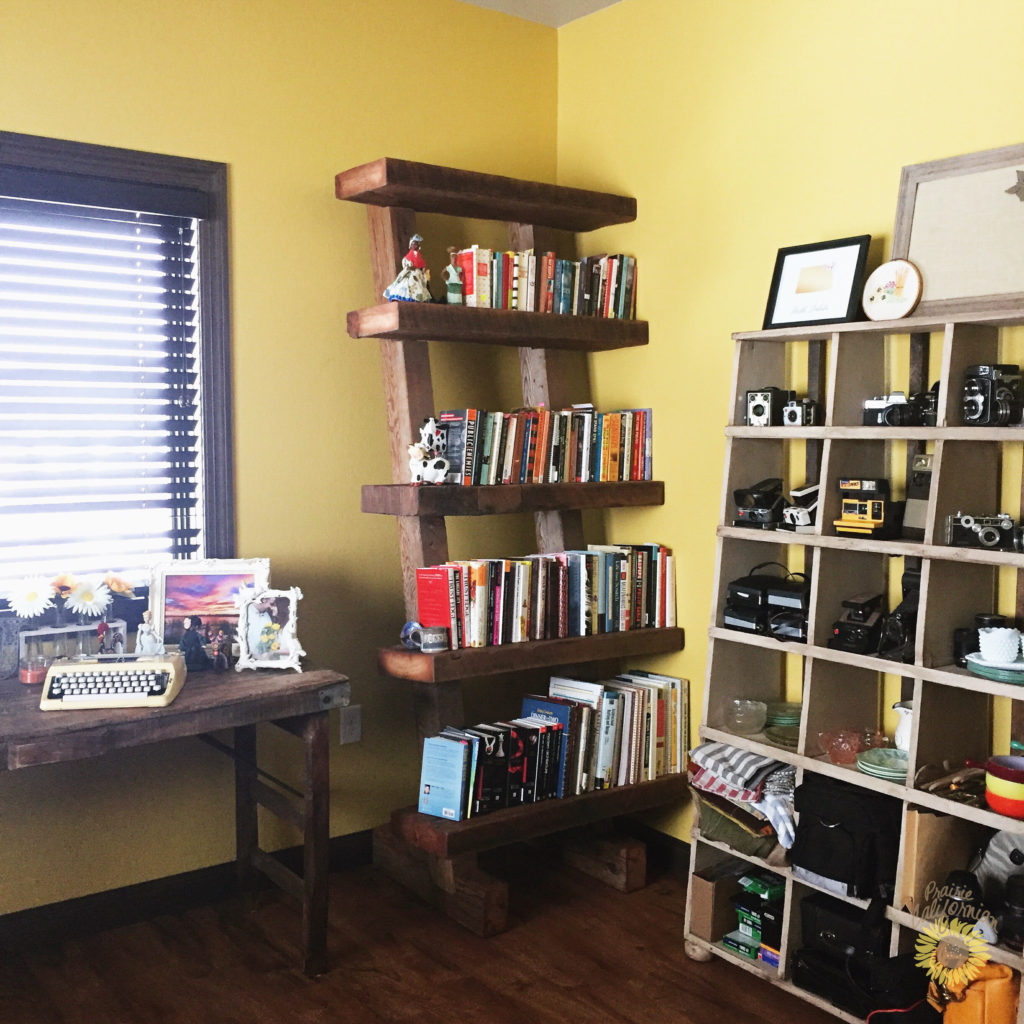 I had an existing handmade reclaimed wood table that was in my office and didn't have a purpose or plan in my new shared office with the hubby, so I decided to utilize it in the nursery for a changing table rather than buying a new piece of furniture.
I also had a handmade reclaimed wood bookshelf that housed all of my books safely and conveniently. I cannot tell you how many bookshelves I have broken because they are low quality and cannot take the weight. The bookshelf is gigantic and heavy as it is made out of the floorboards from an old grain elevator so the hubby and I both decided it was staying put in the Nursery as well.
Other than that, everything else was moved out and put into our shared office and we were left with a blank slate!
So here's the big reveal…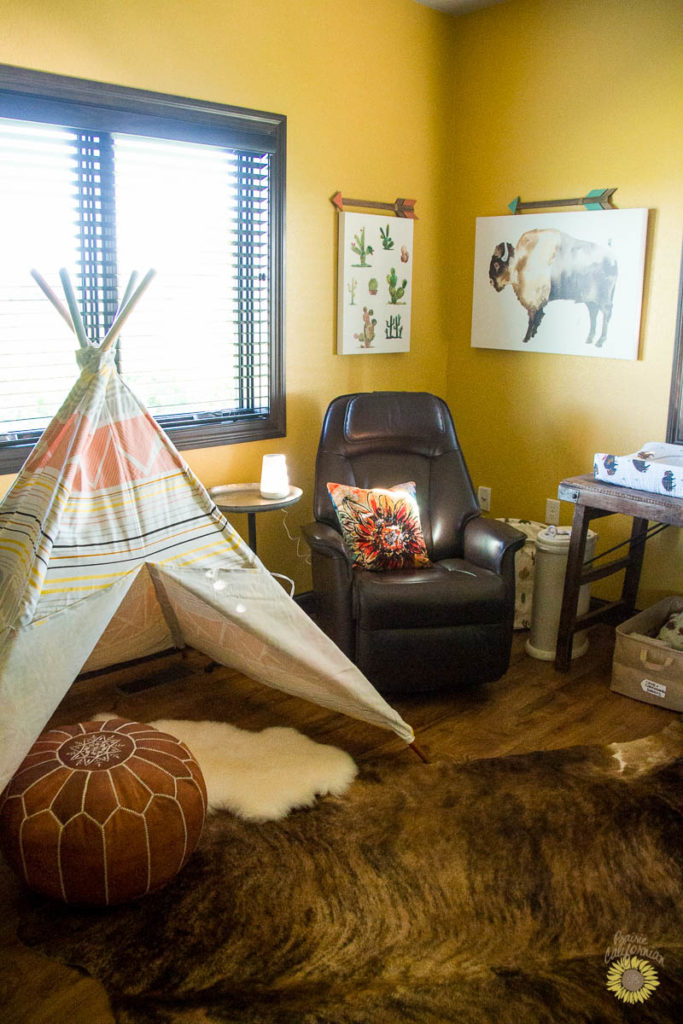 I knew I wanted a teepee in his room, the perfect "fort" and hideout to read or play in. And I ended up finding this one on sale from Land of Nod after the one I had originally wanted sold on Etsy, perfect. I had originally planned on putting the crib on this side of the room, but once I got his little teepee, it fit much better over here and balanced the room out much better putting the crib on the other wall.
We spent some considerable amount of time looking at/for rockers and recliners as I will be spending A LOT of time feeding our little man in it. We ended up spending more than we had planned on the recliner, but it is SO comfortable, incredible quality, and it will last. I also love that it is leather and not fabric, makes for much easier clean up when there are messes.
In the corner, I am utilizing one of my favorite pieces of storage EVER! That cart from Ikea is the second one I have purchased, I have a turquoise one in my office that houses much of my paints and crafting supplies. I love that it is functional and also can be wheeled from room to room. I plan to utilize this cart in our bedroom while he sleeps in there as well as in the bathroom when he is getting a bath. It is literally a one stop shop for everything baby!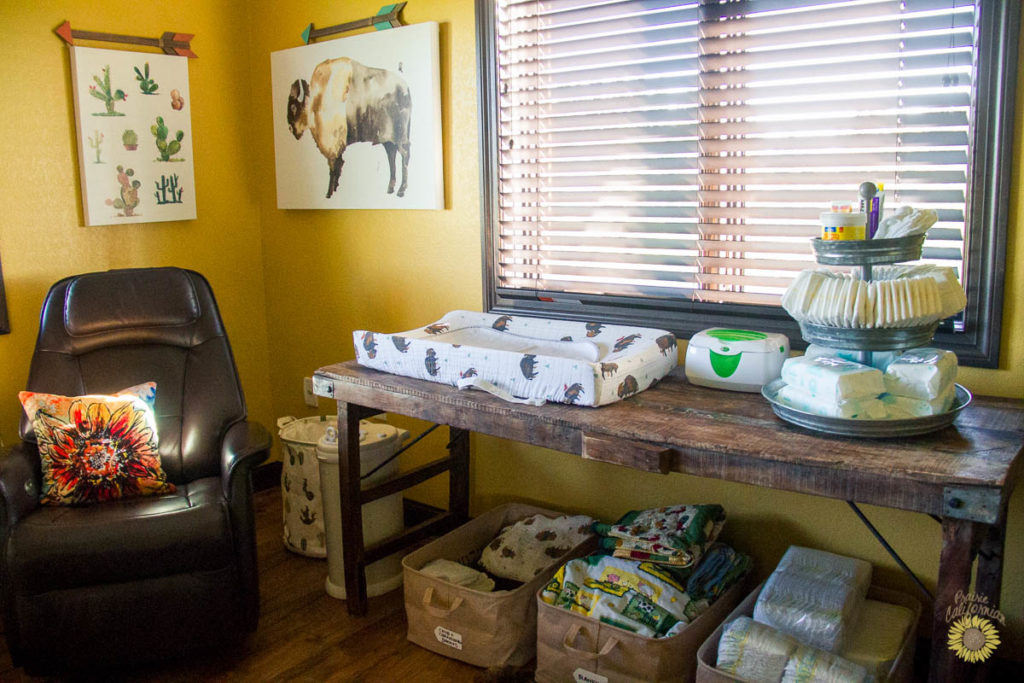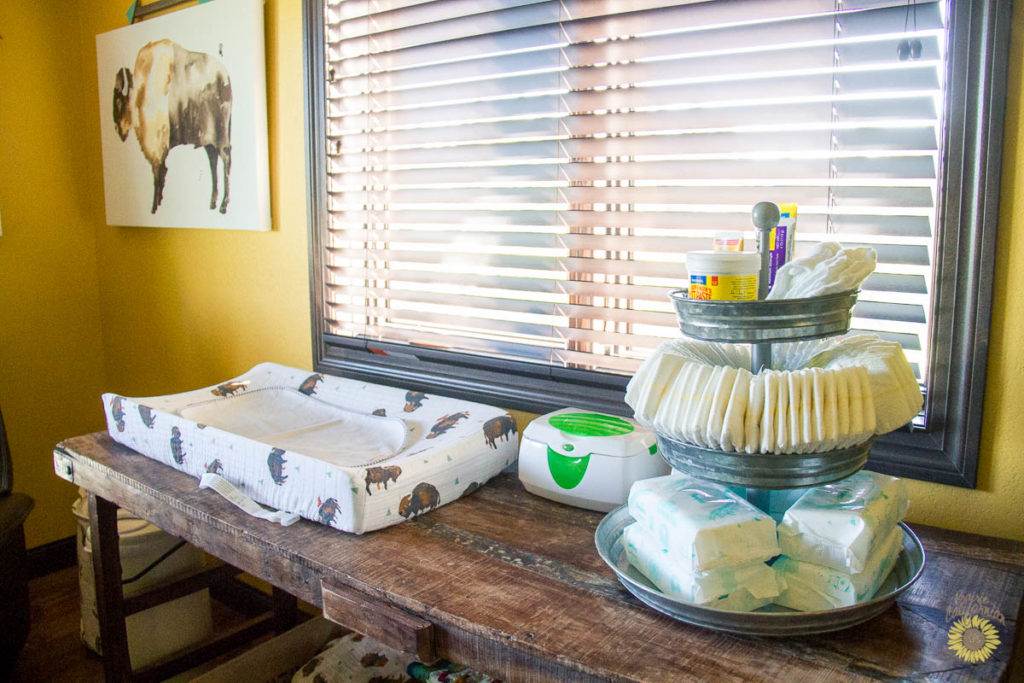 As I mentioned above, I am repurposing an existing piece of furniture as my changing table. Since it doesn't have drawers (most people use dressers), I needed some storage underneath. I found some large linen baskets on Amazon that work perfect to hold extra diapers, blankets, bedding, and changing pad linens. I found the idea for the three tier serving tray as a changing storage container via Pinterest and just LOVED it. I am honestly all about storage that is easily accessible and visible (because for me, out of sight equals out of mind) but is also functional and somewhat decorative. The three tiered storage tray TOTALLY fits the bill, I picked it up on sale from Pottery Barn.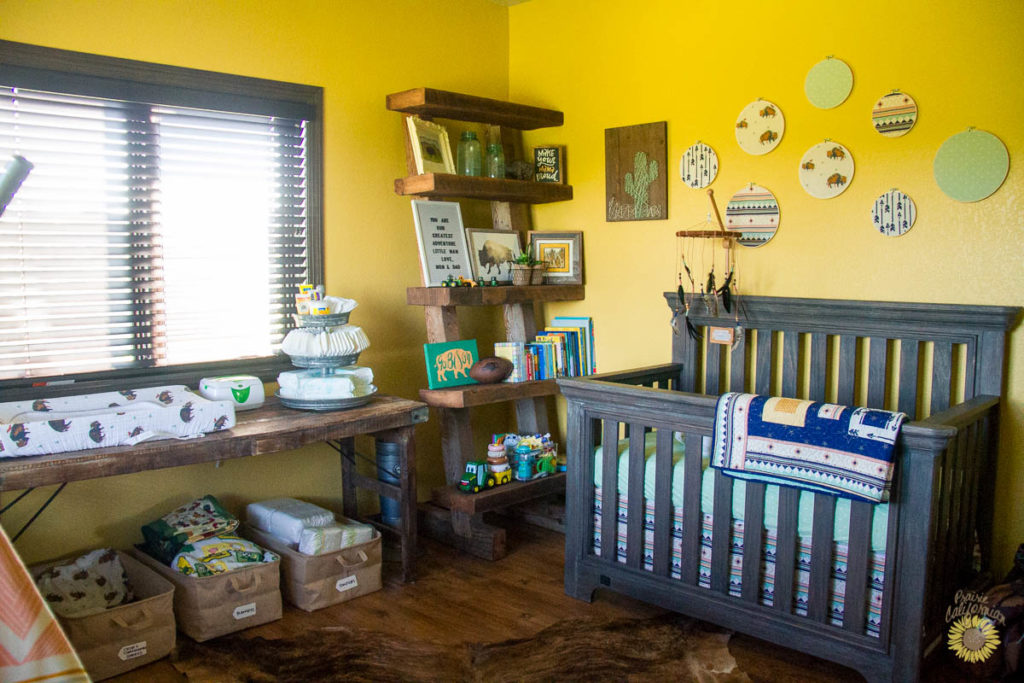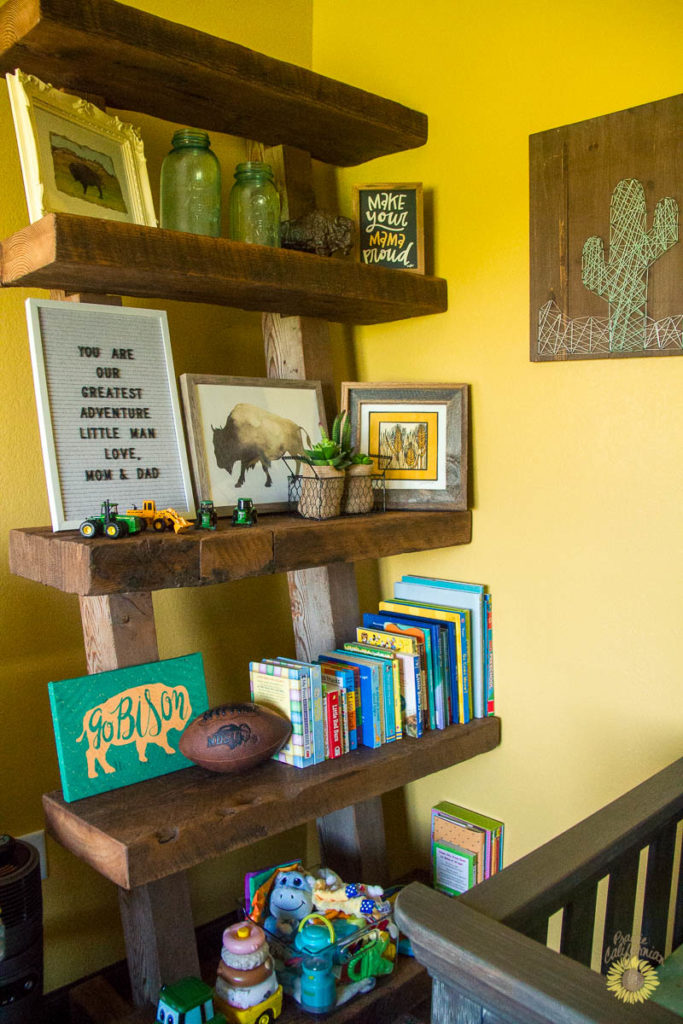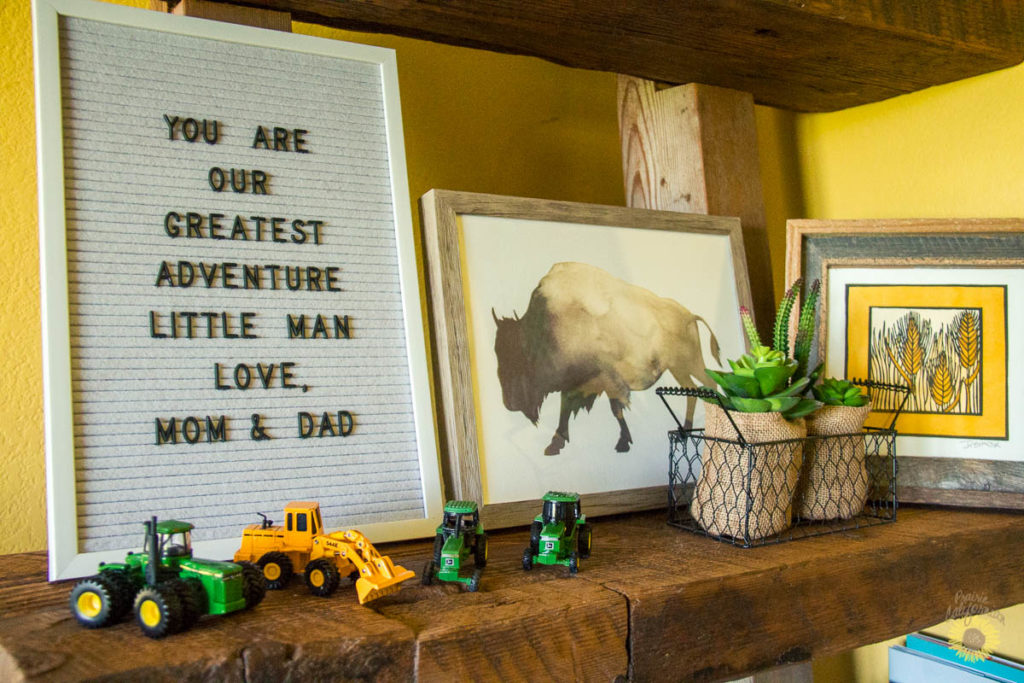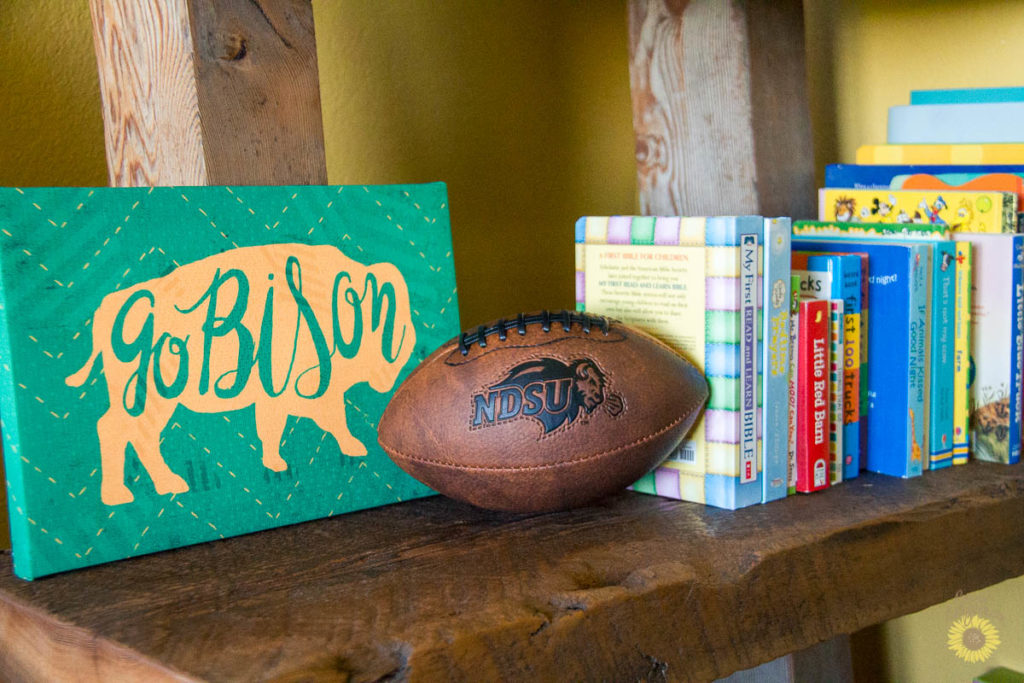 On that massive bookshelf that was existing, I decided to use it for part storage and part design. I found some fun pieces to place up there that represent all aspects of our lives from tractors to Bison to wheat. And hopefully they will all be things that our Little Man learns to appreciate and love just as much. Since we live in North Dakota and my husband is also a NDSU alum, Bison are a theme throughout the design. And I couldn't decorate our future little farmer's room without a few John Deere elements in there. For my shower, I asked for people to purchase their favorite baby/children's books so we could start on Little Man's collection which turned out to be a great idea! We are now fully stocked with books to read to our little guy at night! I hope he enjoys reading as much as his momma does!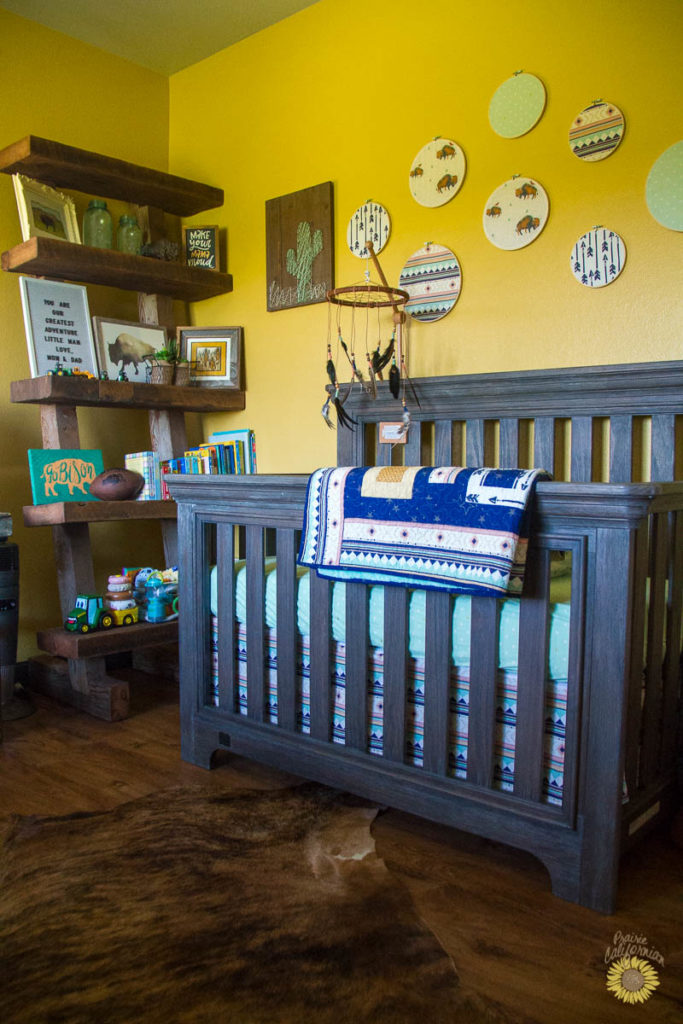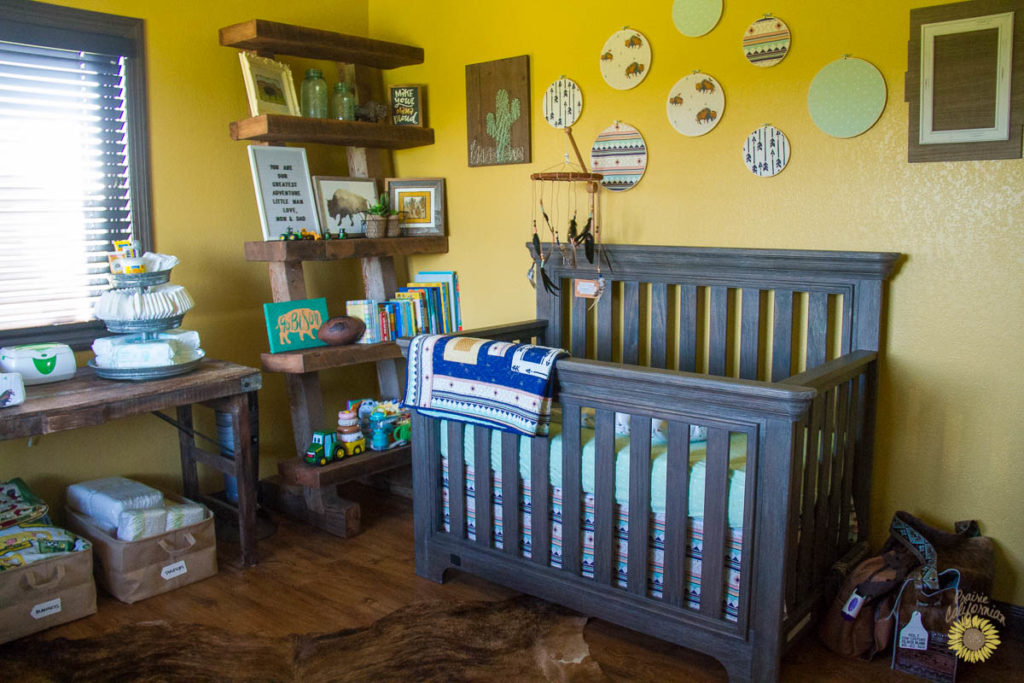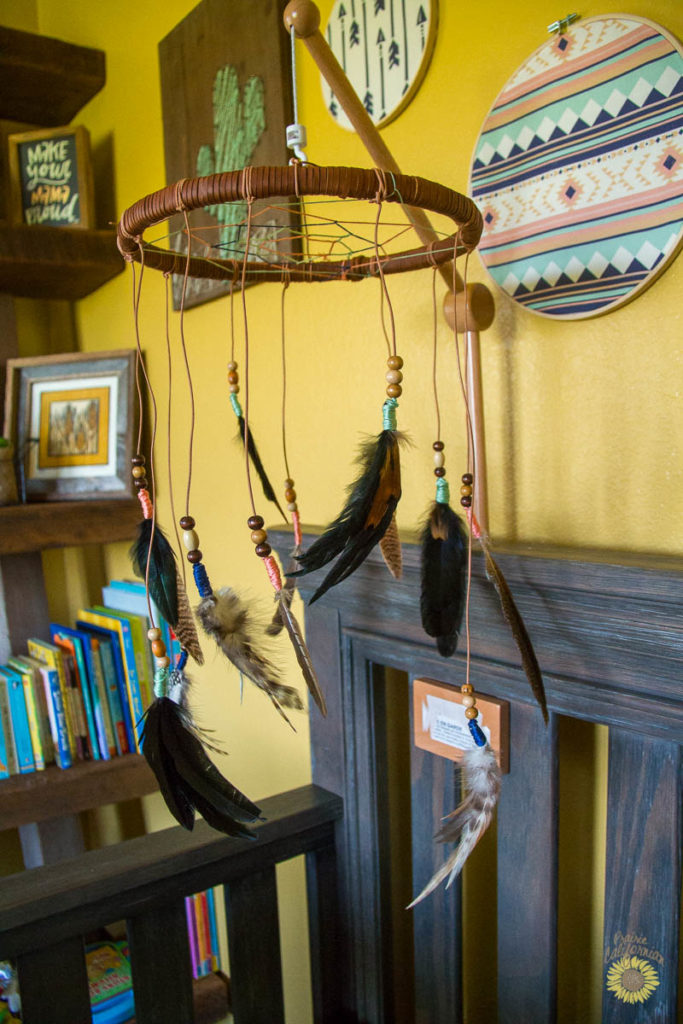 I love this crib from Serta. It literally matches our trim and windows, perfectly so it blends right in. It also fits nicely with the existing reclaimed wood furniture pieces we planned to utilize. It wasn't easy to find a crib that would work with those pieces as colors like white and gray tend to be popular for cribs. The bedding I picked out through Carousel Designs. I got to choose the crib sheet material as well as the skirt material all for cheaper than some of those full, handmade sets you see on Etsy. I ordered some extra fabric in order to make the wall art, which are simply fabric stretched on embroidery hoops. Whatever fabric I didn't use, I gave to Mark's aunt who wanted to make us a quilt and as you can see, she did an amazing job – matches the rest of the bedding PERFECTLY!
For the mobile, I knew I wanted to make it. I found the idea of using feathers in sort of a dream catcher design. I picked up all of the supplies from Hobby Lobby. I used another embroidery hoop for the frame and wrapped it in leather cord. Then I attached beads, feathers, and embroidery string for some pops of color.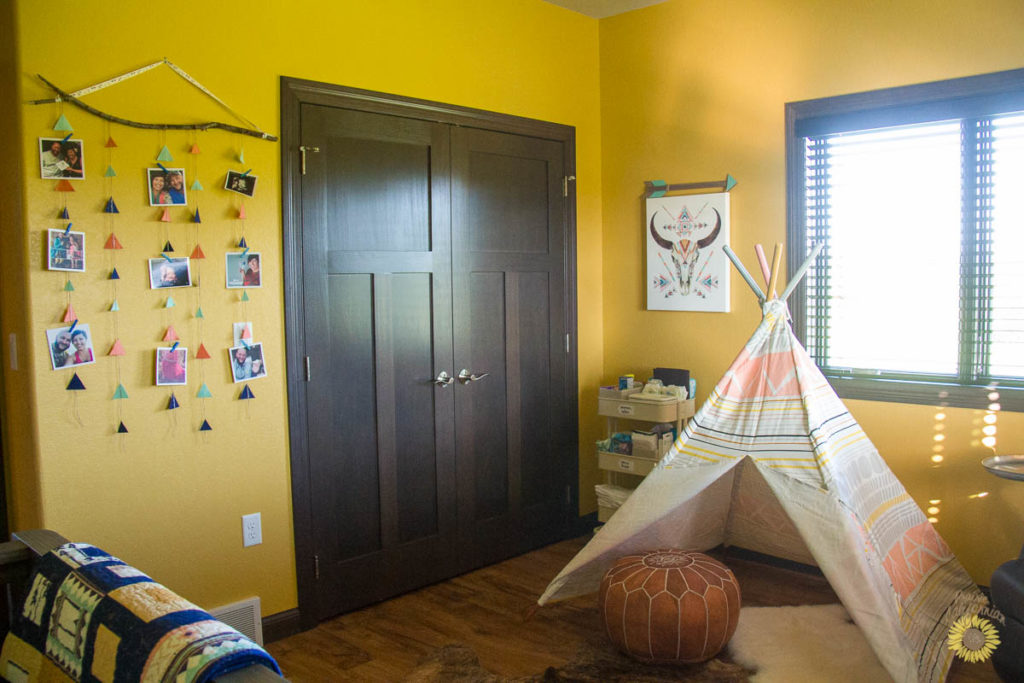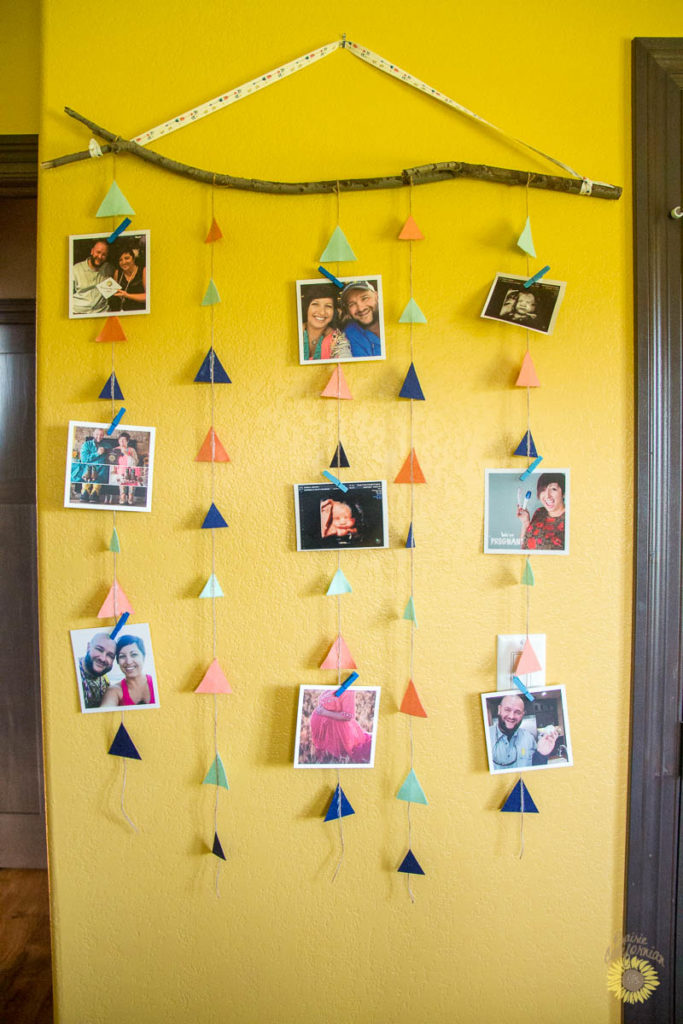 The other handmade element I knew I wanted to make was this photo mobile I found the idea for via Pinterest. I thought it was a fun way to display photos as Little Man grows and it also takes up the space on a small wall that would otherwise be blank. I cut the triangles from felt, hot glued them to some jute cord, and tied them onto a stick I found in our yard. I found small clothes pins on Amazon to attach the photos so that you can easily interchange them at any time.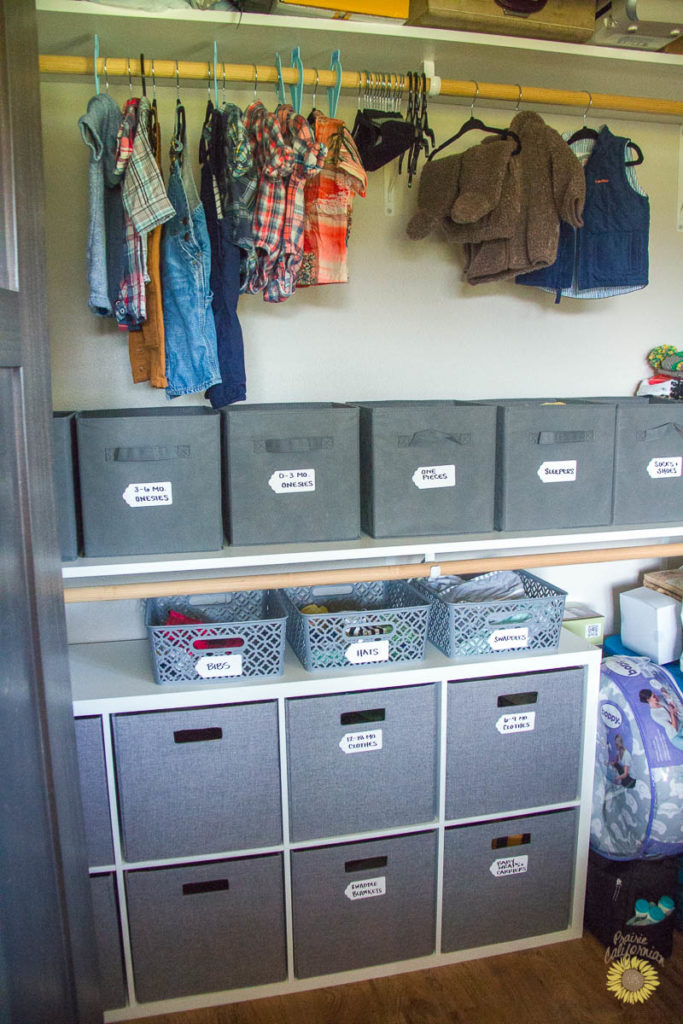 Since I don't have all that much storage in Little Man's room, I needed to maximize the storage inside the closet. I knew that I didn't want to spend a bunch of time hanging up tiny baby clothes (let's be real I can barely keep up with hanging my own clothes) so I knew a cube storage system would be my best bet. I ordered this cube storage shelf from Target that fits perfectly inside the closet under the second shelf and rod. I picked up most of the storage baskets via Zulily when they went on sale and labeled them with gift tags with double stick tape. My husband won't know where to put things away and my mom will be spending three weeks with us so I wanted to make it as simple as possible for anyone to be able to find whatever they need inside the closet as well as put things away.
I am totally thrilled with how the nursery turned out! It is without a doubt not your traditional nursery theme and it fits nicely with the rest of the design of our house. I hope Little Man will get good use out of it as he grows and can enjoy it as much as his Momma does. Not much longer and he will be here!!
Nursery Resources
(may contain some affiliate links)
---
Stockholm Power Swing Relaxer Recliner // Fjords by Hjellegjerde (purchased at local furniture store)
Tee Pee // Land of Nod
Cranston Galvanized End Table // Joss & Main (sold out)
Hatch Baby Rest Nightlight & Sound Machine // Amazon
Sheepskin Rug // Wayfair
Tamara Leather Pouf // Joss & Main
Brindle Cow Hide Rug // Houzz
Large Canvas Artwork // Society6
Raskog Utility Cart // Ikea
Reclaimed Wood Changing Table // Previously owned & Repurposed
Three Tier Serving Tray // Pottery Barn
Large Jute Storage Baskets // Amazon
Bison Muslin Changing Pad Cover // Little Unicorn
Ubbi Diaper Pail in Sand // Amazon
Cactus Linen Hamper // Amazon
Reclaimed Wood Bookshelf // Previously owned & Repurposed
Letterboard // Walmart (in store only & only $10!!)
Framed Bison Silhouette // Target
Go Bison Printed Canvas // Paulson Designs
Art Deco Wheat Print // Prairie Bungalow on Etsy
Faux Succulents // Hobby Lobby (similar product)
Cactus String Art // Hobby Lobby
Serta Langley Convertible Crib in Rustic Gray // Bambi Baby
Feather Mobile // DIY, supplies from Hobby Lobby
Aztec Bedding // Custom Made from Carousel Designs
8 Cube Storage Shelf // Target
Let me know if you have any other questions about where I purchased anything featured in the nursery!