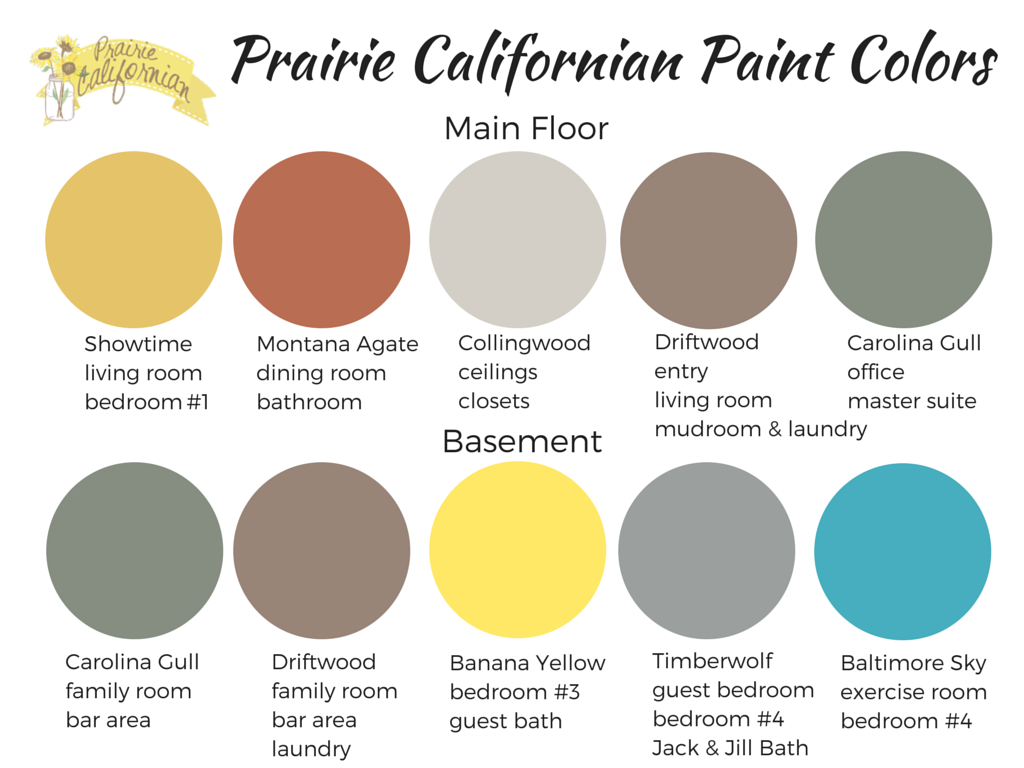 Now that the sheetrock has been put up and the walls have been textured in our house, the fun stuff is just beginning! Adding color to our house is the day I've been waiting for since the walls went up! It is amazing how much the house can change just from sheetrock to texture and finally paint.
I struggled with picking paint colors because to be honest, we are starting all over. Much of the furniture from our now bachelor pad won't be following us to the new home. So without furniture, how in the world do I pick paint colors to match?
Well, I used the elements that I already had picked out and I also enlisted the help of a professional when making selections. I know that picking paint colors can be a daunting task for anyone, so I wanted to compile a few of my paint picking tips!
1. Don't Be Afraid
I don't know why picking paint colors seems like such a permanant thing. The truth is, it may be an inconvenience, but it certainly isn't permanant. If you really don't like a color you've put up on a wall, it can always be re-painted. The gal I hired to paint our house has many fun ideas, some of them I can visualize and some of them I can't. She's been great at reminding me, if we don't end up liking it, I can just paint over it. Certainly this shouldn't be your go-to option when picking paint, having a strategy and establishing a color palette is important. But remembering that it isn't so permanant takes a little bit of the fear out of choosing.
2. Utilize Samples
If you really can't visualize how a color is going to look in your home or how two colors may look together, order a sample! Sample sizes are great for either painting on the actual wall itself or painting it on a cheap canvas to tote around various parts of the house. Lay it against the wall and be sure to check out the color morning, noon, and night. The color you've chosen will change throughout the day as the light moves through your house.
Painting sample also helps when establishing a palette for say a whole house. You can paint each canvas one color and then put them all together to see how the colors work together. This helps so much more than those small paint chips and is much more cost effective than painting walls to find out two colors don't look good together.
3. Don't Be Afraid of Color
Many people are so afraid of putting color in their house and get so overwhelmed that they end up with a house full of white walls. This is such a shame because color can bring so much warmth and fun to your home! You'll be amazed at the difference adding color to your walls will make in your house, even if you don't change anything else.
Don't be afraid to use the darker colors on the paint chip. For a long time, I was afraid of a color being too dark on the walls so I would err on the side of caution and pick a color from the top 1/3 of the paint chips. One hundred percent of the time, the color was way lighter than I wanted. As light pours into a room, it is going to brighten and wash out the color. The darker colors on the paint chips are your friend. If you are fearful of color, start by choosing one bold color. Paint it on the wall or even just an accent wall, I promise it will grow on you and you'll be a lover of color in no time!
4. Neutrals Are Your Best Friend
Still not sure about putting color in your house? STOP with the white. There are so many beautiful neutrals besides stark white. Grays and browns makes beautiful wall colors and give the hint of color without being overpowering to the eye. Plus you can always add a bold color with neutrals. Neutrals usually are defined by either warm or cool tones, but all of them can work with a variety of colors too. Since I am not fearful of color, most of the rooms in our house will be color, but all of the hallways, entry ways, and other utility rooms will be a neutral warm brown.
5. Utilize Your Materials
I don't have everything picked out for our house when it comes to furniture and bedding, but I did utilize what I do have picked out. This including getting samples of our cabinets, countertops, flooring, kitchen backsplash, shower tile, baseboard and trim color. Put together anything you've selected to put into your home to help guide you. If you aren't sure if you've already chosen warm or cool colors, put these items together and check it out. Not sure if a color is going to look good with these elements? Throw a sample board or paint chip next to it all.
I had not a clue what color I wanted to do for our bedroom and bathroom, turns out we ended up pulling a color out of our granite and finding a paint chip to match it. I knew I wanted a yellow in our living room to pull from my yellow kitchen backsplash tile so we found a yellow that matched the tile sample perfectly. Use your materials to help guide the color selections for you.
6. Still Not Sure? Enlist the Help of a Professional
When I first started researching color palettes and colors, I was like most people, overwhelmed. I sat down with the gal we hired to paint our house and let me tell you, she was so helpful! I had a few colors picked out but she helped me pick out the rest. People are professionals for a reason, because it is their job to put colors and textures together. Don't be afraid to use their services, even if it is just for color selection. Many interior designers offer consulting for a flat fee and it can be rather inexpensive for you to utilize when you're in a bind.
With that said, I suppose I should share our paint color picks! We are using all Benjamin Moore colors so you can find them all on their website. The paint company websites also make great resources for helping you pick color palettes, they give you suggested colors to match and even whole palettes for your home.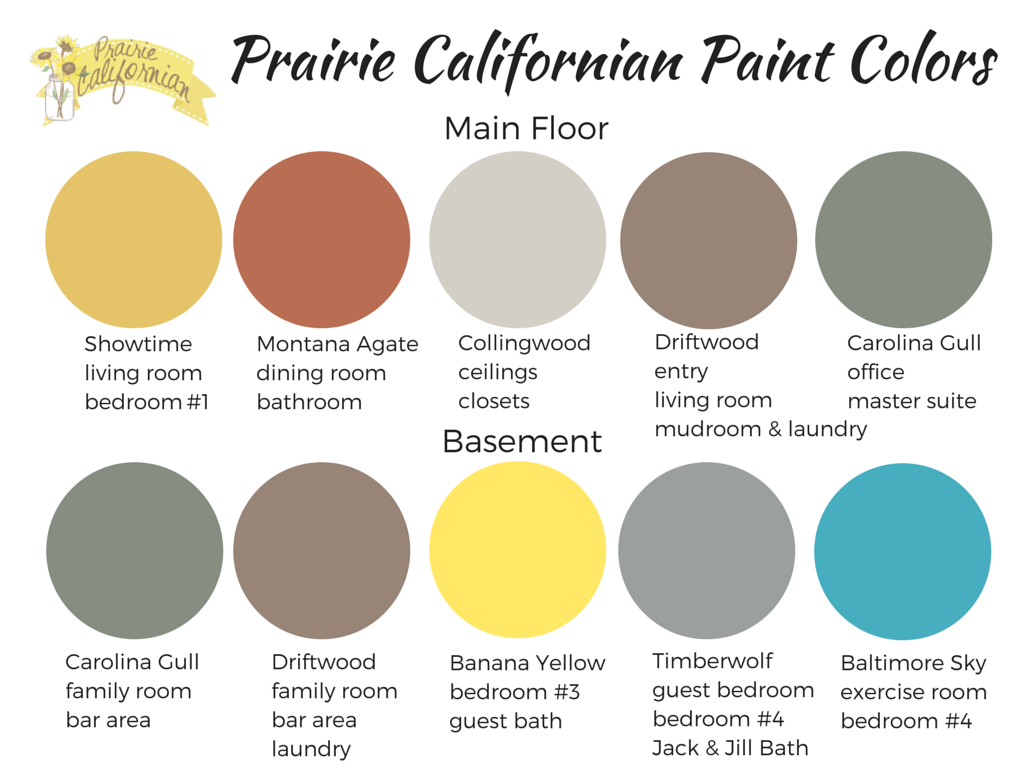 The main floor we are utilizing mostly warm and earthy colors. There will be quite a bit of exposed cedar beam woodwork as well as some rustic stone on our fireplace. The golden yellow color upstairs exactly matches a tile in my backsplash, the rust color was pulled from a color of the stone in our fireplace. The master suite green will be a great complement to all the copper we have in our master bathroom. And the warm brown will go wherever there isn't a specified color to tie it all together.
The basement we start having a little more fun and picked a few bold colors. Since the basement won't get nearly as much light as the main floor of our house, we also chose some brighter colors too. The family room will have repeated woodwork so we wanted to keep it warmer and actually brought some of the upstairs colors down to tie them together. Our exercise room is where the fun begins, I wanted a fun and energetic color to motivate me while working out down there. We chose that bright blue. The bedrooms downstairs will be the bright yellow, bright blue, and for a neutral we chose gray.
I am extremely happy with the colors we've chosen and I think they will bring so much warmth and character into our home. I've already seen the Driftwood on the walls on the main floor and I am in love! Can't wait to see that yellow or rust on the walls too!
And a house post wouldn't be complete without some progress photos. It has certainly come a long way, hasn't it?
Are you a lover of color? Or do you have a tough time picking paint? Have any more tips to add?