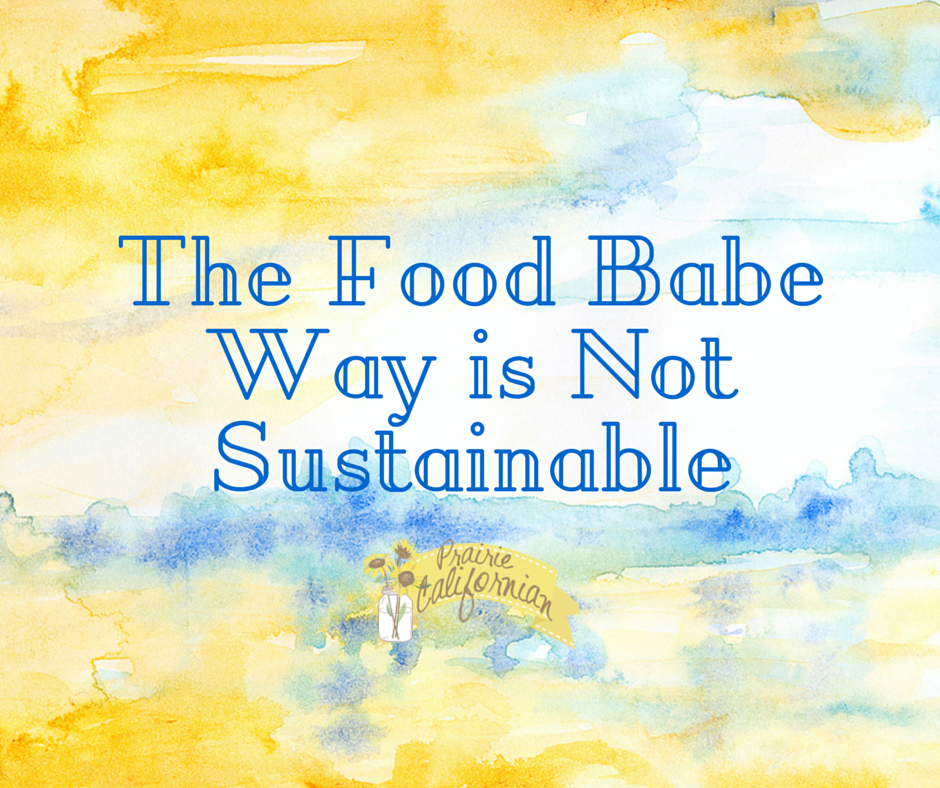 Lately it seems like the tables have turned on the Food Babe. Recently, a woman who coined herself the Science Babe wrote a post on Gawker entitled "Why the Food Babe is Full of Sh*t". Granted, I am not a fan of the language in the post, but the Science Babe exposes some honest truths when it comes to the Food Babe and what she stands for. It didn't take long before outlets like Cosmo, Elle Magazine, Vox, and even the Thought Catalog jumped on the bandwagon exposing the Food Babe for who she really is. Now calling out the Food Babe isn't anything new. Slate and even the New York Times have put our articles criticizing the claims of the Food Babe.
So what does the Food Babe stand for? Well according to her, we aren't supposed to eat foods that contain ingredients we can't pronounce, there are mountains of evidence that synthetic pesticides are carcinogenic and neurotoxic to human health and bad for the environment, and that she is full of heart, love, and hope for a better healthier food system.
This philosophy of exposing the dangers of the world and selling the masses a cure for it all is nothing new. We've seen this for years, centuries even. Does the term snake oil salesman sound familiar? The term dates back to the 1800s and "conjures up an image of seedy profiteers trying to exploit an unsuspecting public by selling it fake cures."
And since the 1800s, not much has changed. Ever time the next big "thing" is put out there, there is fear and people flock to possible solutions before even assessing if there is a real risk even there. Promoting fear in the masses has been a great business model for many self-proclaimed health companies. And many individuals have made it their life goal to tear down agriculture and our food system all in the name of good health. If you follow any of these people, it seems as if all the evils in the world are to blame on what we eat.
But here's the problem with that business model.
Those who live to tear down other people will always be exposed for who they are, eventually. Plain and simple, a life or career that thrives on ruining other people will never be sustainable. It may gain vast popularity for a while and it may hold some weight for a while, but eventually it will crumble. And those people who once had popularity and power will be left trying to pick up the pieces of their career that has been brutally destroyed.
Let's take the Food Babe for example:
First, I want to put out there, I fully agree there are problems with our food system. And contrary to what the Food Babe shares, there are some wonderful and qualified professionals out there looking to do amazing things in food and agriculture to better the lives of us all. The Food Babe also claims to be rallying her army to better the lives of us all. But the truth is that the Food Babe is not full of heart, love, and hope for a better, healthier food system like she claims. The difference between the qualified people and people much like the Food Babe is look that people like the Food Babe look to tear down our food system all while lining their own pockets.
And in the face of criticism, people like the Food Babe, also does not approach her critics with grace or love. Instead, the Food Babe regularly criticizes others for making personal attacks on her, yet she does the exact same technique in her blogs, even sometimes fabricating evidence in order to do so. Should this surprise us? Not really. Remember, her whole career thrives on attacking companies and other individuals.
Most of the time, when people seek defensiveness in the face of truth, it is because they already know that what they are trying to promote or sell is a fake or a lie. I am sure the Food Babe knows that her claims hold no weight in scientific community. So when a scientist comes out with a criticism of her work, the only thing she can do is attack them personally. This is both unproductive and unprofessional. And to be quite honest, I am surprised more people haven't been turned off by how disrespectful the Food Babe comes across in many of her posts. I'm sorry but you can't claim to be full of love when your actions and even words display the exact opposite.
Now don't get me wrong, I don't mean to be hating on the Food Babe. I know that many in agriculture spend hours on end trying to discredit people like the Food Babe. And we need those people but personally, I typically find that taking the high road in such interactions is always more productive for me. And I know that people like her will eventually be exposed. However, the Food Babe lends so well to the point I am trying to make about an unsustainable business model so I apologize for potentially damaging her character while using her as an example.
I know in our current food system it is hard to figure out whom to believe when it comes to our food. And I know so many struggle with who to trust, whether it be the Food Babe or not.
So if we can't turn to people like the Food Babe, whom can we turn to? Who can we trust?
It is pretty simple really. If you want to know the truth behind your food, ask the people who produce it. You want to know who is really full of heart, love and hope for a better, healthier food system?
Farmers of this country.
I know it is going to take some real faith to trust us, especially in the wake of the Food Babe's claims. But if you really want to know what happens on the farm, ask a farmer. With the advent of social media, farmers are literally a tweet away.
There are so many actively involved in writing about all facets of agriculture and our food system every single day, without getting paid in the thousands of dollars to share their story or without peddling some sort of product. We are here. And we are ready to have conversations.
We aren't trying to promote any sort of fear or special detox. We simply want to share with you what we do and why we do it. Unfortunately, the Food Babes of this world make it extremely hard when they fill everyone with fear regarding what we do and encourage everyone to second guess our motives.