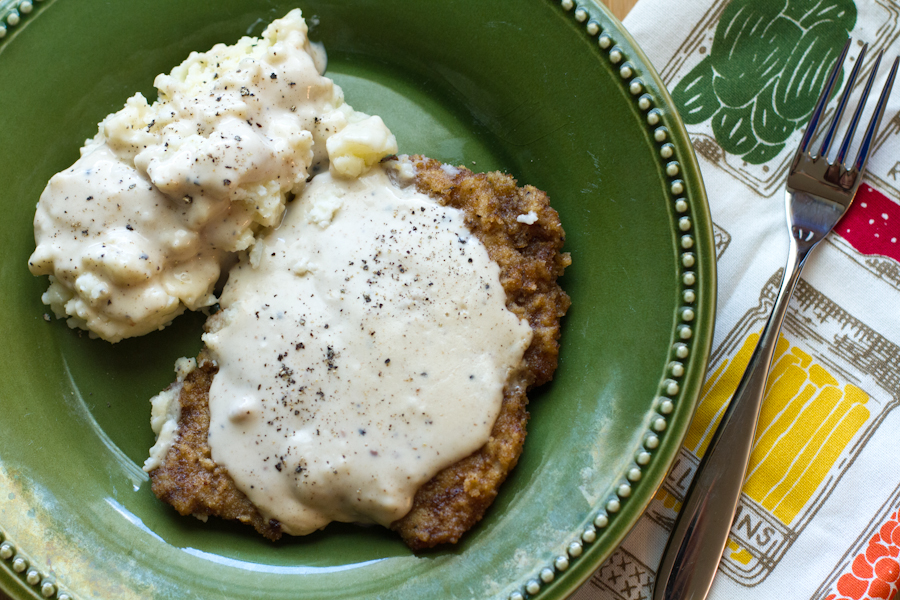 If there is one food I can't say no to besides macaroni and cheese, it is chicken fried steak. I am not sure if you can get much more comforting than a battered and fried cube steak with creamy gravy over the top. Just when I'm trying to be good, the idea to make chicken-fried steak takes hold in my brain and doesn't let go until the deed is done. So last week I finally gave in. I made this chicken fried steak.
But I have a secret to chicken fried steak… First of all, I use pork. Traditionally chicken fried steak uses beef cube steaks. Using pork adds a whole new level of deliciousness. Secondly, I use butter. None of this fry it in oil, oil is for the birds. If you are going to go, go all in. I have made this recipe many, many times but it is one of those recipes that I never measure. Please forgive me if you need to add a little more of a particular ingredient, I tried my best to quantify what I use. 😉
Chicken Fried Steak
2014-07-08 10:10:52
Serves 4
a traditional dish of fried steak and cream gravy
Ingredients
Chicken Fried Steak
1 1/2 pounds pork steak (you can use loin end chops, shoulder steaks, cutlets, cube steaks, etc.)
1 cup flour
2 eggs
1/4 cup milk
1 cup breadcrumbs
1 teaspoon garlic powder
1 teaspoon paprika
salt and pepper
2 tablespoons butter (or more if necessary)
Cream Gravy
4 tablespoons butter
4 tablespoons flour
3/4 - 1 cup chicken broth
1 cup milk
2 teaspoons Worcestershire sauce
Hot sauce to taste
Black pepper to taste
Instructions
If you pork steaks are not tenderized, use a meat tenderizer or mallet to pound pork steaks until 1/4" - 1/2" thick.
Preheat oven to 325 degrees.
Pour flour onto plate or into shallow bowl, season with salt and pepper.
Pour breadcrumbs onto separate plate or shallow bowl. If plain, season with salt, pepper, paprika, and garlic powder.
Crack two eggs into a small bowl, add milk, and whisk together.
Dredge the pork steaks (one at a time) in the flour, then the egg/milk mixture, and roll in breadcrumbs. Set aside.
Heat 2 tablespoons of butter in pan over medium high heat. Once the pan is hot, brown the pork steaks in batches on both sides until they are golden brown. Remove the pork chops to a baking sheet. If necessary, add more butter to the pan in between batches.
Place pork steaks in the oven while you prepare the gravy. In the same pan, turn heat to low.
Add more butter if necessary, there should be about 4 tablespoons in the pan. Add 4 tablespoons of flour and whisk together creating a golden-brown paste. Add more flour if it looks overly greasy; add a little more grease if it becomes too pasty/clumpy
Slowly add in the chicken broth and milk, whisking constantly. Add the Worcestershire sauce and hot sauce to taste and cook, whisking, until the gravy is smooth and thick, 5 to 10 minutes. Add plenty of black pepper.
Serve the steak alongside mashed potatoes and pour gravy over the entire thing!
Prairie Californian https://prairiecalifornian.com/