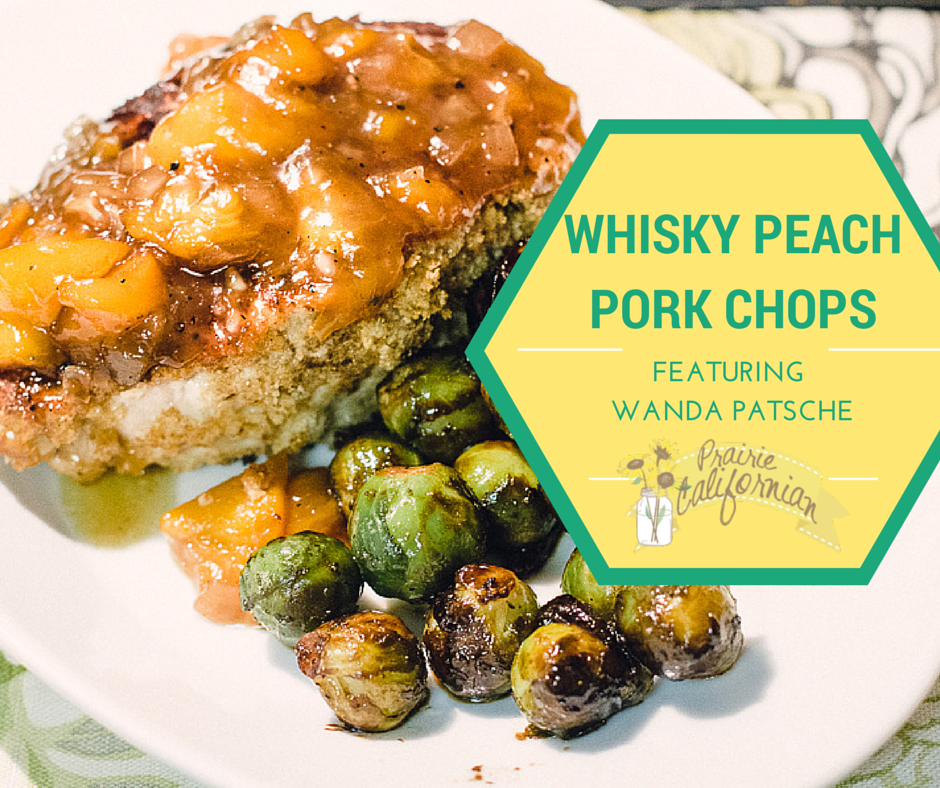 I was overjoyed when I got a couple pork producers to agree to be featured because honestly, we eat pork once a week at our house. My husband loves some pork chops. He is a purist in that he can just eat them, straight up. Me… I like to get a little more culinary with my pork chops. I am always looking for the perfect "addition" or sauce to go along with them. And so, these whisky peach pork chops were born! Wanda is our guest of the hour and she is a pork producer from Minnesota. Wanda is also a heck of an advocate for agriculture! If you haven't check out her blog, Minnesota Farm Living, do it! She's got some great messages and loves nothing more than to have a conversation with the people who buy her products.
Wanda Patsche
Welcome, MN
Personal History
When did you start farming? What brought you into farming?
I really never wanted to marry a farmer when I was younger. In fact, when I was in high school, my best friend lived on a hog farm and she would have to clean pig pens every Saturday morning. One Saturday morning I decided to watch her clean the pens and once she finished I told her, "I will never marry a hog farmer." Well guess what. That's exactly what I did! Lesson learned? Never say never OR God has quite the sense of humor!
Farming
What has been the most satisfying part of farming for you?
The most satisfying part is we are feeding other families. I have a sign at the end of my driveway that says, "Our family is proud to feed yours."
What crops or animals do you grow and why?
We raise pigs and grow corn and soybeans. I live in a county where we sell nearly 2 million pigs a year here. Pigs are a significant part of the farming culture here. We are actually nationally ranked based on the number of pigs we sell each year. Corn and soybeans are a great fit for this area. Both are used in livestock feed. In fact, the corn we feed our pigs is the corn we raise on our farm.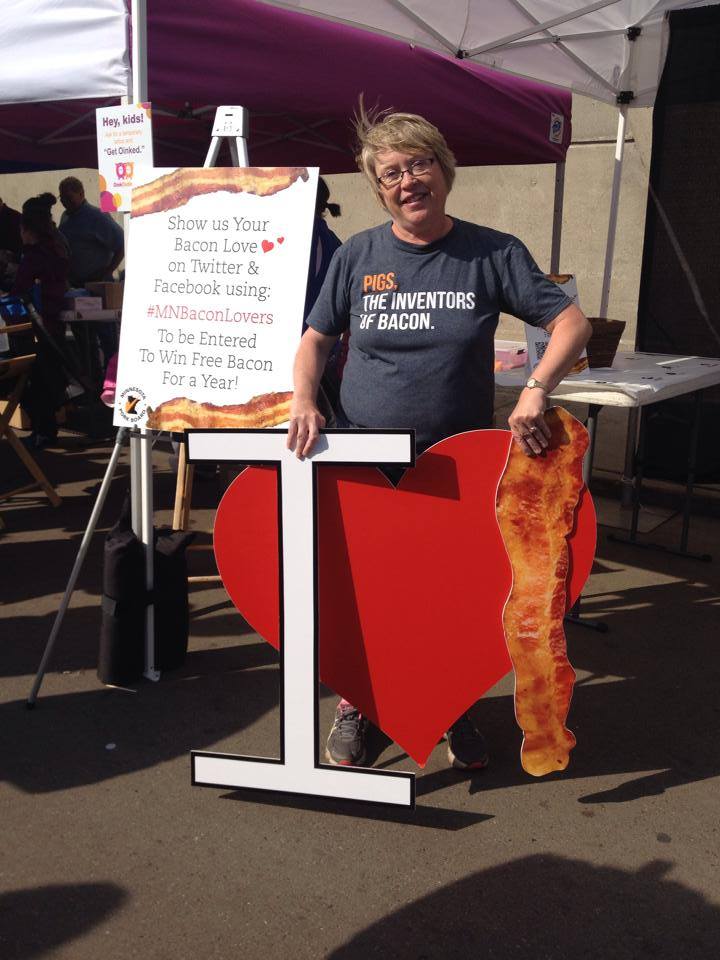 Food
What is your favorite thing to do with the food crop you grow?
There is nothing better than a thick pork chop off the grill! (Cooked at 145 degrees internal – that is the key to moist, tender and flavorful pork AND sprinkled with Martin County Magic Seasoning)
Future of Farming
What is one message you'd like to get across to the general public about what you do?
That we really do care for our animals. Everything we do is focused on providing the best care possible.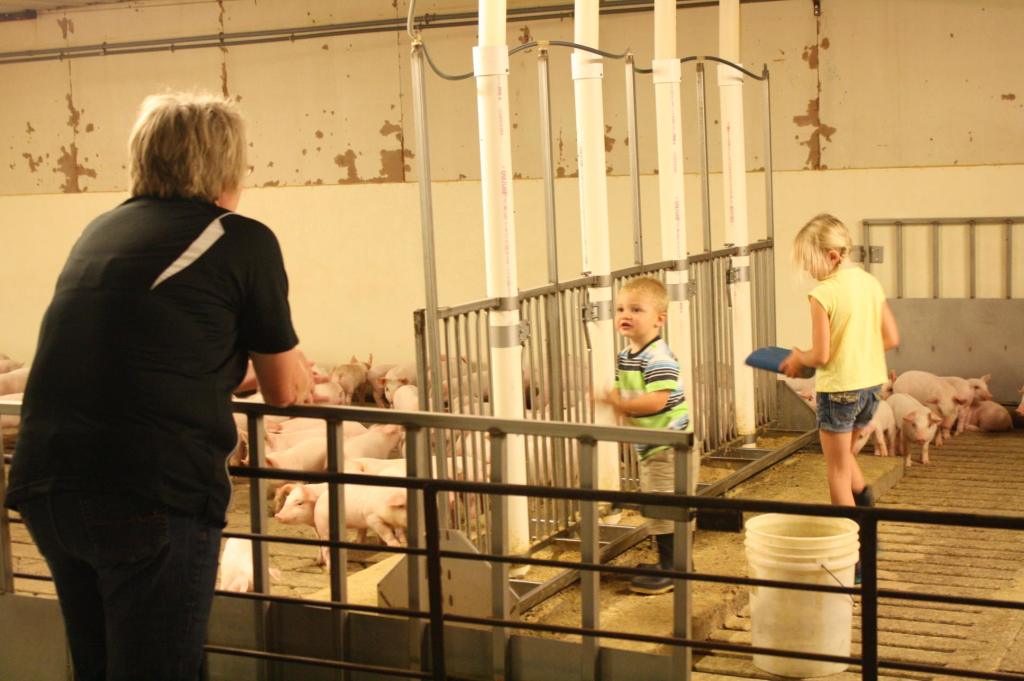 Thank you Wanda for sharing with us! I love the fact that Wanda shares about an industry that is regularly surrounded with misconception! The true love she has for her pigs is apparent in her writing and her posts. You can find more from Wanda at her blog Minnesota Farm Living, over on her Facebook page, and on Twitter @MinnFarmer.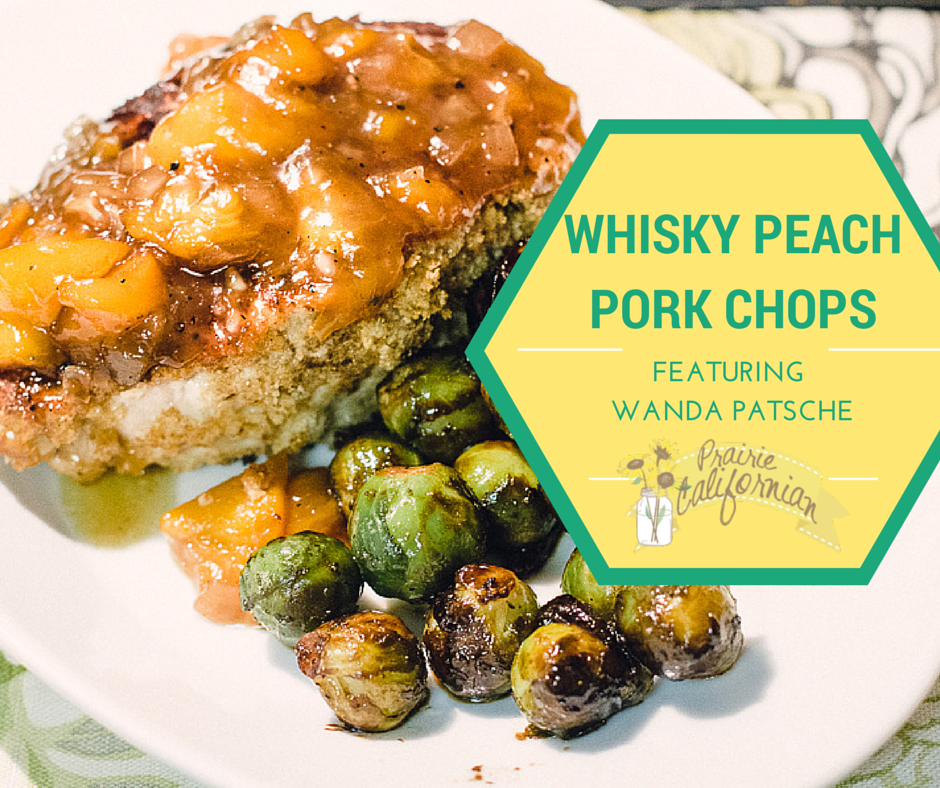 This is seriously one of my favorite pork chop "additions"… It's so yummy, you could almost eat these peaches by themselves! And plus, it's super easy to whip up while the chops are cooking in the oven (or on the grill). Whatever suits your fancy! I typically bread mine and bake them, but you could certainly sans breading and grill. Enjoy!!
Whisky Peach Pork Chops
2014-11-07 16:25:11
Serves 4
Pork Chops
4 thick cut pork chops
1/2 cup flour
2 eggs
1/4 cup milk or cream
1/2 cup breadcrumbs
salt, pepper, paprika, garlic powder
2 tablespoons olive oil
2 tablespoons butter
Whisky Peach Sauce
2 tablespoons butter
1 shallot, chopped or 1/2 yellow onion
2 peaches, peeled and sliced OR 1 (15 oz.) can peaches, sliced and drained
1/4 cup apple cider vinegar
1/4 cup whisky (I like Pendleton or Forty Creek)
3 tablespoons dark brown sugar
1 tablespoons Worcestershire sauce
2 tablespoons honey
1 teaspoon Dijon mustard
salt and pepper to taste
Pork Chops
Preheat oven to 350 degrees.
Pour flour onto plate or into shallow bowl, season with salt, pepper, paprika, and garlic powder.
Pour breadcrumbs onto separate plate or shallow bowl. If plain, season with salt, pepper, paprika, and garlic powder.
Crack two eggs into a small bowl, add milk, and whisk together.
Dredge the pork chops (one at a time) in the flour, then the egg/milk mixture, and roll in breadcrumbs. Set aside.
Heat oil and butter in pan over medium high heat. Once the pan is hot, brown the pork chops on both sides until they are golden brown. Remove the pork chops to a baking sheet.
Bake the pork chops at 350 degrees for about 20 minutes or until they reach an internal temperature of 145 degrees.
While the pork chops are in the oven, start the sauce.
Sauce
Heat a medium skillet over medium high heat. Add 2 tablespoons butter. Once melted and hot, add the shallot (or onion) and saute for several minutes until translucent. Add the peaches to the pan and saute for several minutes. Add the whisky. Let cook off for a few minutes. Add the cider vinegar, Worcestershire sauce, honey, dijon mustard, and salt and pepper to taste. Turn heat down to low and let reduce until the pork chops are done. If necessary to thicken, add 1 teaspoon of cornstarch to water to form a paste, add to the sauce. Repeat until you've reached desired consistency.
When ready to serve, plate pork chops and pour peach sauce over the top. Enjoy!
Notes
If you don't want to bread the chops, feel free to grill them instead!
Adapted from The View from Great Island
Prairie Californian https://prairiecalifornian.com/
This post is part of my Thirty Days of Food series where I am writing about food and farming for the entire month of November, to find out more about it all or how to follow along, visit my Thirty Days of Food page or click the photo below to find more great recipes with farmer features!