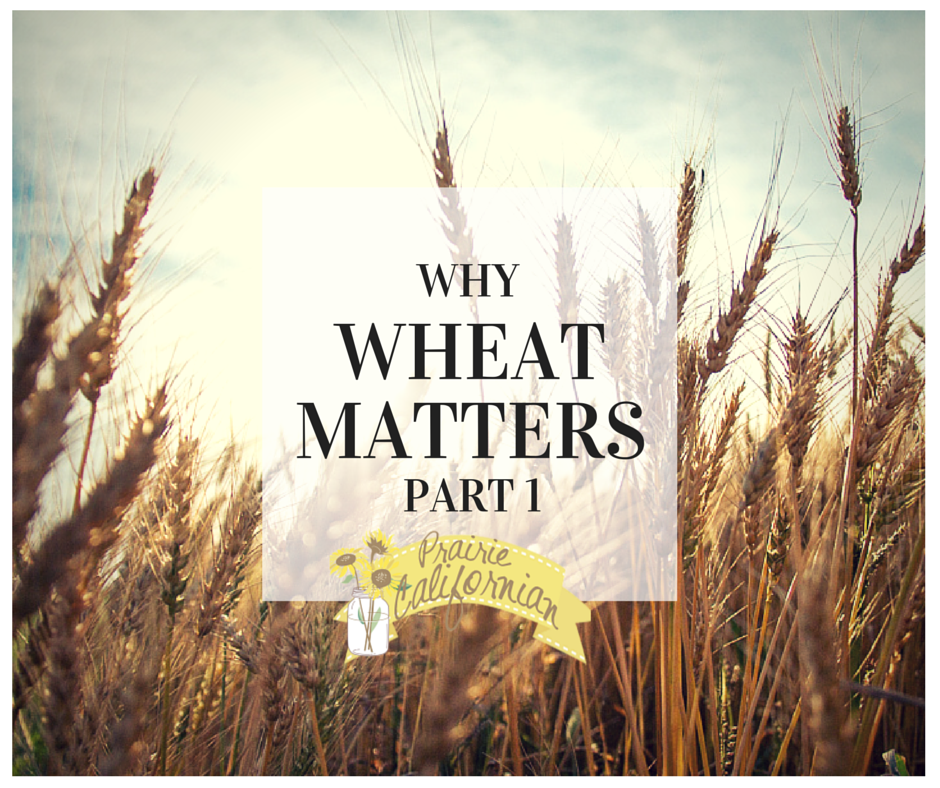 Since I've begun this journey on speaking up for wheat, many people have criticized me in doing so. Why in the world would I stand up for a product that has been deemed by many to be "toxic" and "unhealthy"?
Well here's why. Wheat matters. It matters locally, it matters nation-wide, and more importantly it matters globally.
It is extremely easy for all of us to sit here and be critical of a product that we think doesn't affect our day to day lives. But the truth is that it does. Wheat affects our lives, whether we like it or not. So I want to take a look at how wheat affects our lives, starting with a small perspective looking locally. And eventually with part two and three I will emcompass a larger perspective more nation-wide and globally.
So let's start small.
Wheat Matters to our Farm
We currently grow four crops on our farm: wheat, corn, soybeans, and sunflowers. Wheat works in our crop rotation because it is a short season grass that does well after a full season crop like sunflowers. Putting wheat in our crop rotation also allows us a rotation between two broadleaf crops and two grass crops. We cycle the through in rotation from grass to broadleaf and repeat. A rotation like this also allows us to change modes of herbicide action so that we aren't putting the same herbicides on the field time and time again.
But even outside of agronomy reasons, wheat has an important legacy on our farm. It is one of the only crops we continue to grow today that was grown on the farm when it was started. And in the ever changing world of agriculture we are living in, that is important. Wheat has been a stable and consistent crop on our farm. Through the three generations of our farm, wheat has paid the bills, put a roof over our heads, and put food on the table. And it continues to do so for the next generation.
Wheat Matters to our Community
Moving outside of our farm, wheat has been an important crop to this area for generations. In fact, for many years, Eureka, South Dakota (which is 30 miles to the south of us) was known as the "wheat capital of the world". It still says it on the sign when you drive into town even though the town no longer holds that title.
But at its' prime, Eureka, South Dakota became the funnel into which the wheat fields of the Dakotas emptied. In 1892, it was the largest primary wheat-shipping point in the world and kept its' title for nearly 15 years. In 1897 alone, two thirds of the world's wheat crop entering the commercial market was shipped from Eureka. Eureka and surrounding towns were crowded day and night with horses and wagons loaded with sacks of grain. Farmers hauled their wheat, often by ox team, from 75 miles around. Eureka boasted 42 grain elevators handling 4,000,000 bushels a year. Eureka became the Milwaukee's most profitable station, with earnings of $100,000 a month. In 1902, however, the railroad moved north, and new towns along the track were more convenient to many farmers. The wheat boom years ended for Eureka, but farmers in the area still continued to grow and produce wheat.
Along with this wheat boom came trainloads of immigrants looking for a new life in South and North Dakota. Many who already had a background in agriculture staked out claims, built sod houses, and broke prairie to farm wheat. Others worked in town or at the local elevator. It is documented that day and night, some 200 employees of the grain buyers were needed to keep up with the influx of wagons during the boom. These pioneers thrived, as Eureka is clearly a testament to, and they raised families here. It is wheat we have to thank for bringing people here to these prairies and giving them a way to make a living, free from the harsh government rule they experienced in Russia and Germany.
Wheat Matters to North Dakota
I know thanks to the oil boom, when most people think of North Dakota, they think of oil. But agriculture is actually the leading revenue-producing industry in North Dakota, accounting for about one-fourth of the state's economic base. And in that industry, wheat reigns supreme. I mean it wouldn't be on the license plate if it wasn't important, right?
Wheat is North Dakota's chief agricultural commodity both in acreage and total value. Wheat is grown on approximately 8.5 million acres and all but one county in North Dakota typically grows at least 1 million bushels of wheat annually. In fact, North Dakota farmers produce enough wheat annually to make 13.5 billion loaves of bread. North Dakota typically ranks second to Kansas in total wheat production in the United States. However, in 2009 and 2010, North Dakota was the top wheat producing state in the nation.
A strong wheat industry is very important to the viability of North Dakota. For example, the average farm level wheat price in 2010 was $6.50 per bushel ($239 per ton), and the size of the crop was 362 million bushels (9.9 million metric tons) making the direct cash value $2.2 billion, which generates an additional $4.5 billion in indirect commercial activity. – North Dakota Wheat Commission
Here's another fun fact that has to do with wheat: The North Dakota Mill and Elevator is the only state-owned flour mill in the U.S. It produces Dakota Maid flour, which is sold across the nation and in the Caribbean.
So What Does This Have to Do with You?
So you may be saying, what does this have to do with me? We don't grow wheat in our state.
Wheat may not be an important crop in your state, but there has to be one crop that is. As a consumer, it is important to be aware of what agricultural crops are staples for your area or state. And as a consumer, it is important to ensure that the food choices you are making support those communities around you. For us here in North Dakota and many other Midwest states, it is wheat. We have agriculture to thank for many of our town histories and even our ancestors first settling here.
So when I step into the grocery store, I vote with my dollar. I purchase products that we grow here on our farm. In fact, I regularly purchase Dakota Maid flour even though often times it is more expensive. I believe as farmers of the actual product, it is important we actually put our money where our mouth is and support those products we put so much time and hard work into producing.
So I hope you spend some time today researching what crops are staples in your area and learning more about what makes those crops in your backyard important.