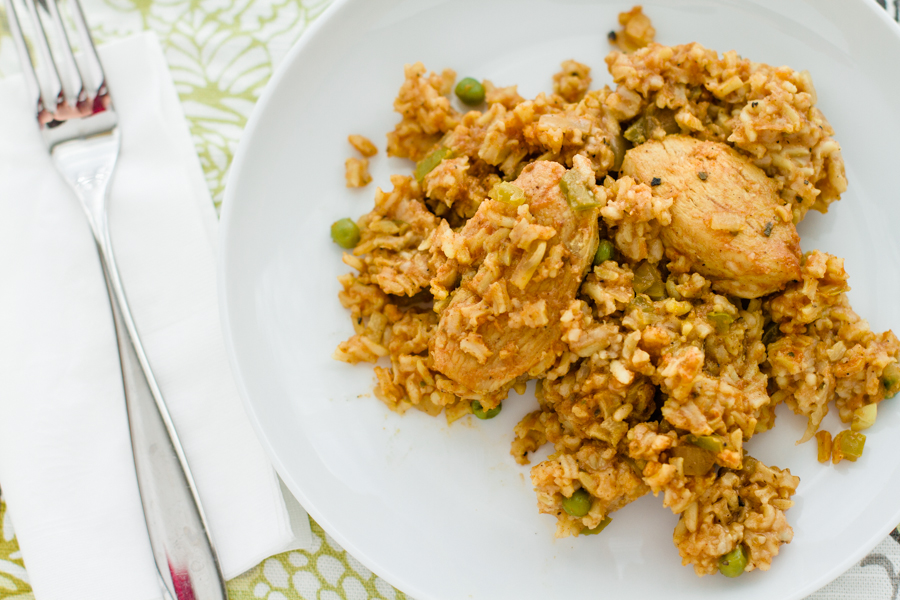 I was in heaven over our Thanksgiving in California watching the Food Network at my parent's house. The hubs and I got rid of our cable since we don't watch tv much if at all and I must say Food Network and the Cooking Channel are one thing I miss. I can honestly watch it ALL DAY LONG and then want to cook EVERYTHING! Anyway, Guy Fieri from Diners, Drive-Ins, and Dives was at some local cuban joint in Queens, NY. They made Arroz Con Pollo (Chicken and Rice for those of you non-Spanish speakers) and it looked heavenly. I knew I needed to re-create it, so when we got home, I did!
I tried to find the recipe, but unfortunately Food Network didn't give one, so I made up my own. Traditional Arroz Con Pollo uses bone-in chicken thighs, but my husband isn't a thigh man chicken thigh guy, so I used chicken breasts instead. It is sort of cuban and Arroz Con Pollo sacrilegious but what can you do? This dish was honestly AMAZING. So flavorful and the perfect amount of heat.
Arroz Con Pollo
2015-01-05 18:34:06
Serves 6
a traditional chicken with rice dish, cuban style
Ingredients
1 1/2 lbs. chicken breast, sliced into 1 1/2 - 2 inch chunks
To taste salt, pepper, and cumin for chicken
1/4 cup olive oil
1 large onion, chopped
1 large green bell pepper
4 cloves garlic, minced
3/4 cup white wine
1 12-ounce bottle beer
3 1/2 cups chicken broth
1 (8-ounce) can tomato sauce
1 teaspoon paprika
1 teaspoon tumeric
1/2 teaspoon cayenne pepper
1 bay leaf
2 teaspoons oregano
2 teaspoons ground cumin
1 1/2 teaspoons salt
1/2 teaspoon black pepper
3 1/2 cups parboiled rice
1/2 cup frozen green baby peas
Instructions
Preheat oven to 375 F degrees.
Add olive oil to a large dutch oven or skillet with a lid. Heat over medium-high heat. While the oil is heating, season chicken with salt, pepper, and cumin.
Place the chicken in the skillet and brown well. Remove chicken from skillet and set aside.
Add onion to skillet and cook for a couple minutes until onion is translucent. Add garlic and bell pepper. Add white wine. Let cook for several minutes.
Add beer, chicken broth, tomato sauce, paprika, tumeric, cayenne, oregano, cumin, salt, pepper, and the bay leaf.
Add the rice and chicken back to skillet and stir.
Cover the skillet with a lid and place in the oven. Bake for about 20-25 minutes.
Add peas, stir to combine. Cover and bake for another 5-10 minutes.
Garnish with roasted bell pepper & enjoy!
Adapted from Three Guys from Miami
Prairie Californian https://prairiecalifornian.com/
I am also super excited to have received a box FULL of citrus from California!! I have awesome friends! I've got meyer lemons, blood oranges, kumquats, and a buddha's hand!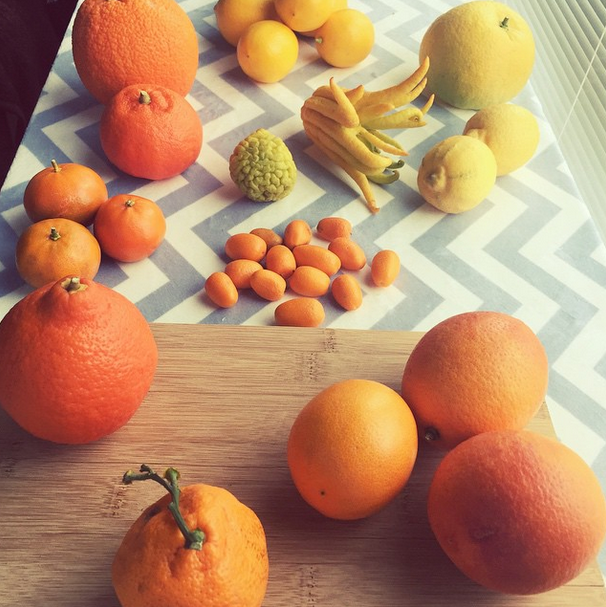 I will be playing around with some citrus-related recipes this weekend and need some inspiration! Feel free to share your favorite recipes using citrus below!!