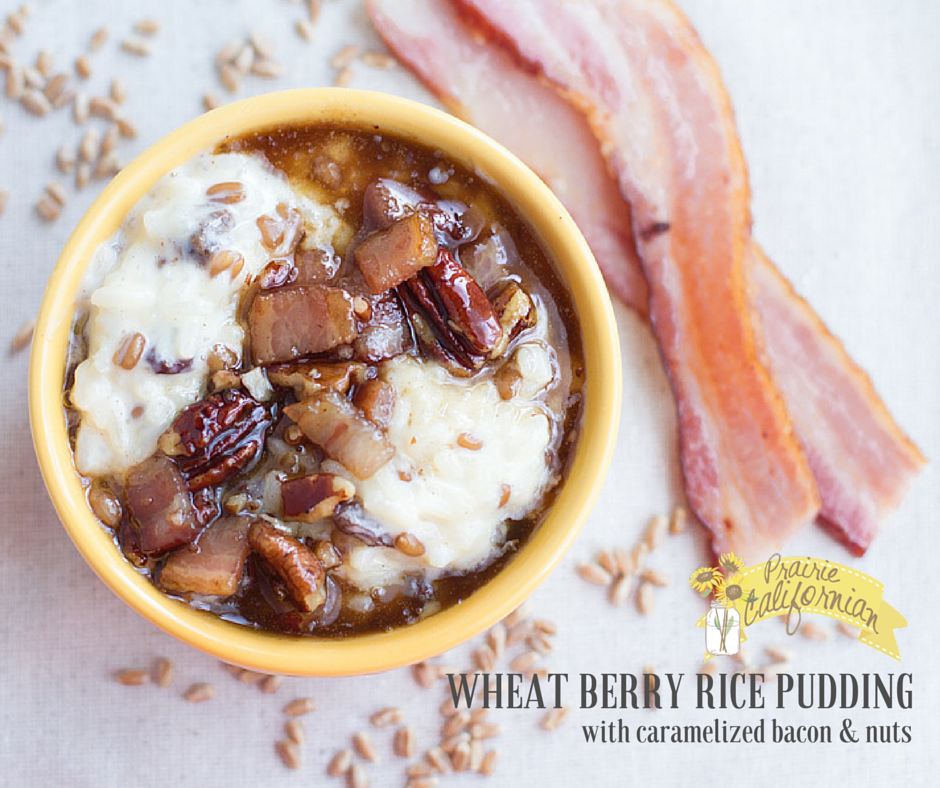 I love pudding anything… Bread pudding, rice pudding. There's just something about that gooey delicious-ness that makes your soul feel comforted. When I knew I was going to be sharing recipes involving wheat as whole grains for my Crop of the Month series, I immediately thought of wheat berry pudding!
So, I took a classic rice pudding recipe and halved the rice, added the wheat berries… Then I upped the ante by adding caramelized maple syrup, bacon, and nut topping. Yep, it is pretty much dreamy. Take a look…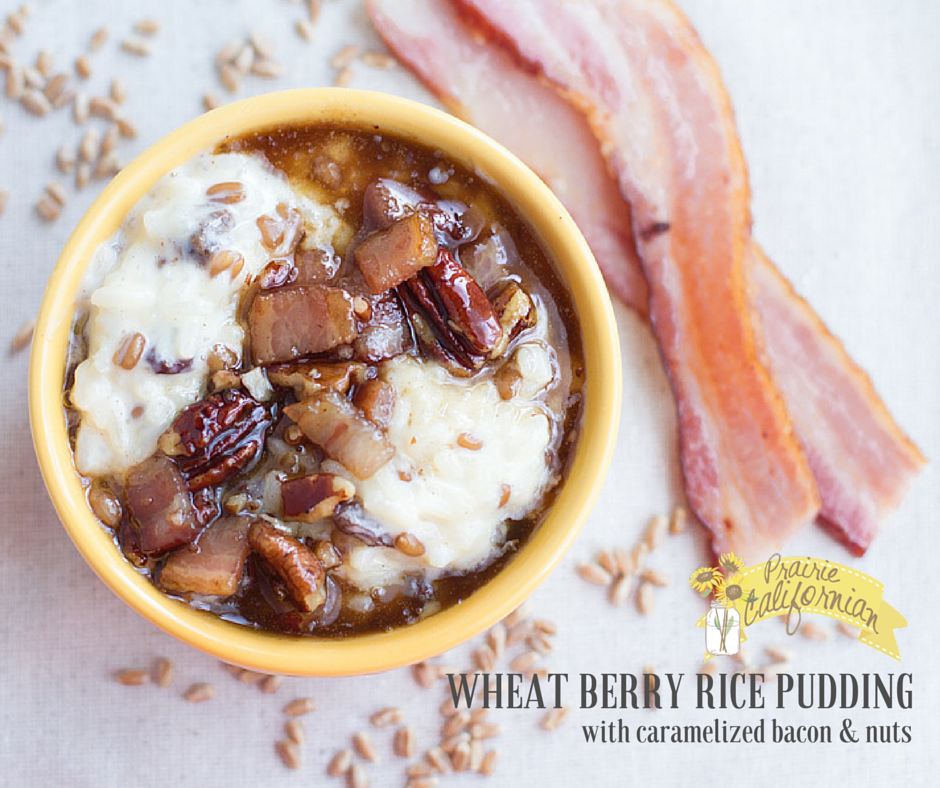 The salty of the bacon pairs perfectly with the sweet rice pudding. I mean, the rice pudding is delicious as is, but the sauce is just like icing on a cupcake. Feel free to add whatever kind of nut you like, I used pecans and it paired very nicely! I think walnuts or even almonds would be lovely as well. It totally adds a great crunchy texture to the fluffy rice pudding.
Wheat Berry Rice Pudding with Caramelized Bacon & Nuts
2015-06-30 09:23:46
Serves 6
simple and easy rice pudding with wheat berries and caramelized bacon & nut topping
Ingredients
Pudding
1/2 cup raisins
1/2 cup whisky
1/2 cup medium grain white rice
1/2 cup wheat berries, pre-cooked
1 cup water
1 cup milk
2 tablespoons heavy cream
1/2 can (11 oz) sweetened condensed milk
dash of cinnamon & nutmeg
1/2 tablespoon vanilla
1 egg, beaten
Caramelized Bacon & Nuts
3 slices bacon, cooked & chopped
1 tablespoon bacon fat, reserved
5 tablespoons unsalted butter
1/2 cup brown sugar
1/4 cup 100% maple syrup
1/4 cup light corn syrup
1/2 cup nuts, chopped (I used pecans)
Instructions
In a small bowl, combine the raisins and whiskey. Set aside for up to one hour.
In a medium saucepan over high heat, combine the rice, wheat berries, water, milk, cream, butter, and salt. Bring to a boil, cover, and reduce heat to low. Simmer for 20 to 25 minutes, stirring periodically. If the liquid is absorbing too quickly, cut time down to 18 to 20 minutes.
While the rice is cooking, make the caramelized bacon & nuts: Combine bacon fat, butter, brown sugar, maple syrup, and light corn syrup in a pan. Heat the mixture over medium-low heat, allowing it to bubble for 5 minutes. Stir in chopped bacon & nuts. Remove from the heat and set aside.
Once the rice is cooked, ddd the sweetened condensed milk, cinnamon, nutmeg, and vanilla. Stir well and cook for another 5 minutes.
Remove the pot from the stove and stir in beaten egg. Drain the raisins and fold them in. If it's too creamy, return to the stovetop and cook for another 3 to 4 minutes. Let sit for a few minutes.
Serve in a small bowl with caramelized bacon & nut topping.
Adapted from The Pioneer Woman
Prairie Californian https://prairiecalifornian.com/