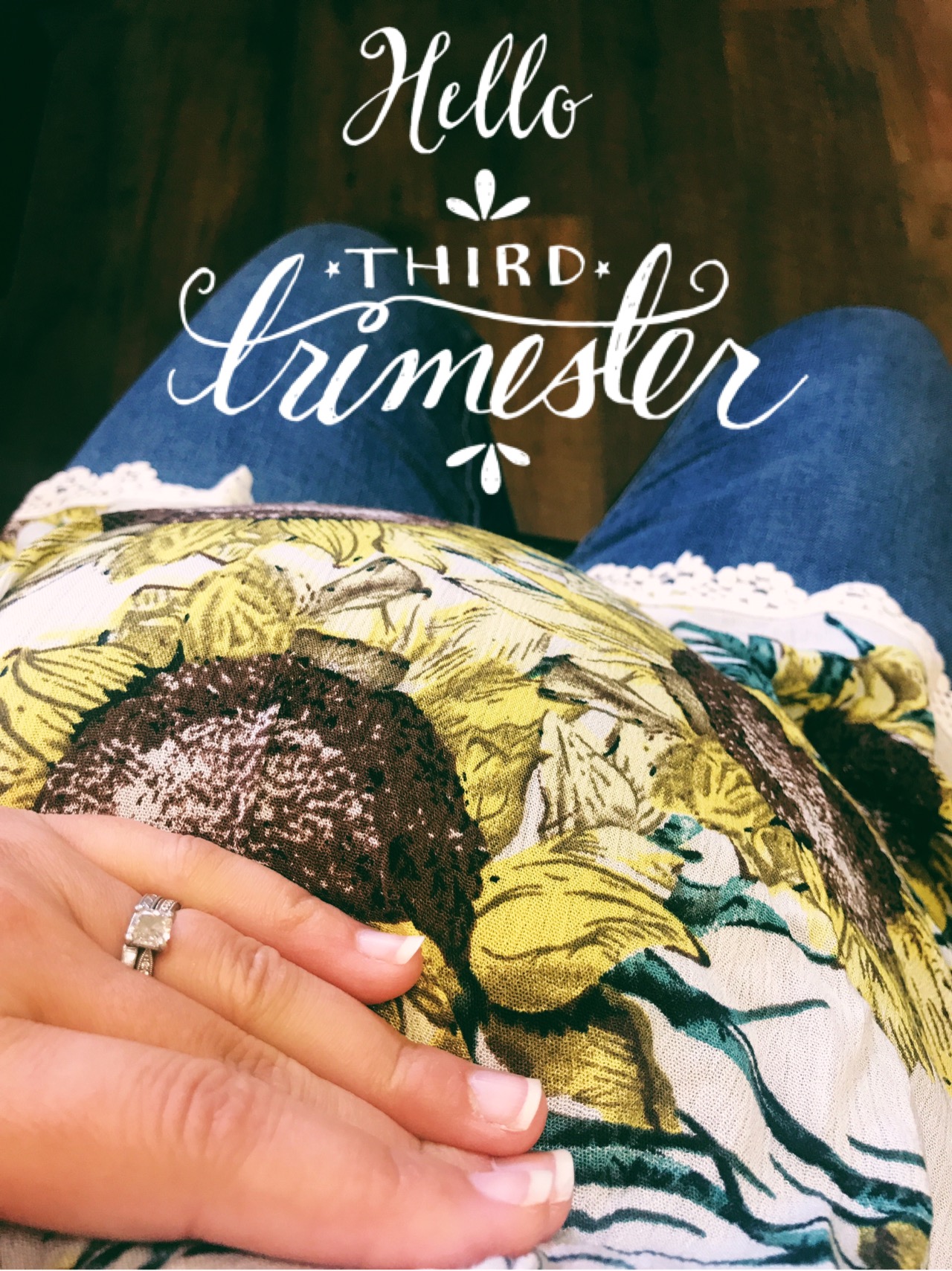 Time just seems like it is FLYING by… It won't be very long before our little man will be here!! That leaves me both equal parts excited and scared. That's normal, right?
There's been quite a bit that has happened since I updated y'all last. We had to follow up on a heart concern, I had my lovely glucose test, AND I have begun setting up the nursery!!
First, the heart concern. During my 20 week anatomy scan, our little man was hanging out wayyyyy down low. Not out of the ordinary, however, this made it difficult for the tech to get good pictures of his little face and parts of his heart. Because they weren't able to check all of the anatomy they needed in order to gauge his health and growth, they scheduled me for another ultrasound at my next appointment with hopes that maybe he would be in a better position and get some better images.
At that second anatomy ultrasound, the tech questioned whether or not she saw a small hole between the bottom two ventricles of his heart. Our OB couldn't tell for sure from the images from the ultrasound. But she wanted to follow up, just to be sure, if there was something there we would know. And if there wasn't something there, we would also know. She referred us to a pediatric cardiologist who specializes in, you guessed it, the heart! While we didn't walk away from that second ultrasound particularly concerned, we were thankful that my OB wanted to seek out a second opinion rather than brush it off. Both my OB as well as many friends and family assured us that this was actually more common than you'd think. And in many cases, small or even large holes in the heart will grow together as the child grows and ages.
Yesterday, we saw the pediatric cardiologist and they performed a fetal echo on our little man. He was as active as ever thrashing around and even had an episode of the hiccups. Both the tech and the cardiologist were excellent to work with as well as very thorough to make sure they checked every angle and portion of his heart and blood flow. The cardiologist concluded that based upon what they saw, he feels confident that nothing is there. He said he did not see any gross or minor abnormalities, the blood flow moves through the heart well, and he couldn't see any mixing of blood. Praise the Lord for that clean report!!
With the good news this week, also came some bad news… I went in for my one hour glucose challenge test. For those of you who aren't familiar, basically they make you drink a sugary drink and then test your blood sugar to see how your pregnant body is processing sugar. Having just had a full blood work up a week and a half ago with a nearly perfect fasting blood sugar, I was pretty confident that I would be within range. WRONG. I failed by ONE POINT!! Talk about disappointment and a kick in the gut. This next week, I am scheduled to go through the three hour glucose hell. Prayers for Momma to get through that!
Other than that, here's an update on everything else that has been going on!
How far along? 28 weeks today! Helllooooo Third Trimester, what!?!?
How big is baby? about 16 inches and weighing about 2.5 lbs! Momma can definitely feel him!!
Maternity clothes? Undeniably yes. I cannot fit into anything else! Thankfully it is becoming dress season so I can phase out of maternity pants and just be comfortable in dresses! I also cannot live without kimonos, y'all they are so flowy and free… And ahem, hide the fact that this belly just keeps getting bigger and bigger. I will say that it has been a change of pace for me to be able to wear more snug fitting tops and dresses around my mid section. Pre-pregnancy that was NOT my style AT ALL mostly because I tend to be a little soft around the midsection. But the good thing about a pregnant belly, it doesn't matter!!
Sleep: Sleep has been CONTINUED to pretty consistent which I am forever grateful for. Most nights, bathroom wake ups have started to become a two time a night thing instead of one. Some nights if I am lucky, I can get away with one. It IS getting harder to get out of bed and shift from side to side when I am in bed, but it is still totally do-able. I just tend to grunt a lot while doing it, that helps right!? I have been seeing my chiropractor regularly throughout my pregnancy and honestly I believe this has been a HUGE game changer for me to be able to continue sleeping and moving around.
Best moment this week: Continually enjoying watching and feeling our little man move around in there. He is one active little guy. The other good news of the week was a clean bill of health from the pediatric cardiologist! While we hadn't gotten our concerns up yet, we are thankful for that we followed up and found out the concern turned out to be nothing serious.
Movement: Feeling our little man thrashing around in there is an all day, every day deal. He doesn't just kick, he thrashes. I tell Mark that if he will be as active outside of the womb as he is inside of the womb, we will have trouble on our hands! But if he is anything like his daddy, he won't sit still for long. I mean, he already looks JUST like his daddy!! Check out the ultrasound photos below, He's got the Rohrich head for sure and those cheeks!!!
Food cravings: Still haven't really felt this intense need to eat anything continually. I also haven't felt this intense need to eat at weird times of the night, etc. I did go through maybe a growth spurt for him where the hunger was REAL, especially around lunch time. I could just eat and eat and eat, but that hasn't stayed consistent. Still sticking to the, if I am hungry I eat, if I am not hungry I don't eat mantra. It works for me.
Food Aversions: Still none. It is just if something doesn't sound good, I don't eat it.
Pregnancy Symptoms:
Physically: Heartburn and indigestion has continued to be a constant. I am living off of Tums and Zantac, which Praise the Lord, still work! It doesn't matter WHAT I eat, I will get indigestion. I honestly thank my short torso for that, there is probably no where else for my poor stomach and intestines to go. Seriously, I swear they are hanging out in my throat… Other than that, physically I have been feeling pretty good. As I get bigger, moving is becoming more challenging, but it is do-able. I just have to take my time.
Mentally: Mentally my mind has been preoccupied with what is to come. Birth. I am honestly not necessarily fearful, I know God, my husband, and the medical team will be with us every step of the way. But I just feel like I know nothing when it comes to having a baby, so I want to be informed. I want to be given the information so that when the time comes, both Mark and I can make informed decisions versus feeling pushed or pressured into a situation just because it is what is standard or normal. I have been reading a wonderful birthing book that has honestly put me in a great frame of mind. If there is ANYTHING I've learned in my life, it is that God has his own plan and most of the time it is VASTLY different from what the idea in my head is, so I am best to just trust in God's plan and know that His plan is perfect. This will also be my mantra for birth. 😉
Other than being weirdly obsessed with all things birth, I have also found myself becoming increasingly more emotional. I wouldn't say I am to the could cry at the drop of a hat or crying over spilled milk stage, but I do notice that I get weepy a little easier than I have since I've been pregnant. If anything, I feel like I've been more emotionless during my pregnancy versus full of a wide range of emotions. Pregnancy is weird, y'all.
What I am looking forward to: Looking forward to meeting and holding this little thrashing bundle of joy in my belly. We regularly talk to him and give him little pats and pokes in there as he thrashes around.
Weekly Wisdom: Week after week, I keep reminding myself to enjoy every moment. It has seriously gone by so quickly I already feel like I've missed out on sharing and capturing so much. I was listening to a sermon this week where the pastor was talking about truly loving the stage you are in versus continually looking towards the next stage. And boy did that hit home, right now it is easy to long for the next stage and not appreciate this stage we are in right now. It makes me want to slow down and truly cherish this stage, after all, it will be the last time in our lives it is just the two of us, Mr. Sunflowerfarmer and me!
Milestones: Continued movement, clean bill of health on our little man, and buying ALLLLL the baby things!!