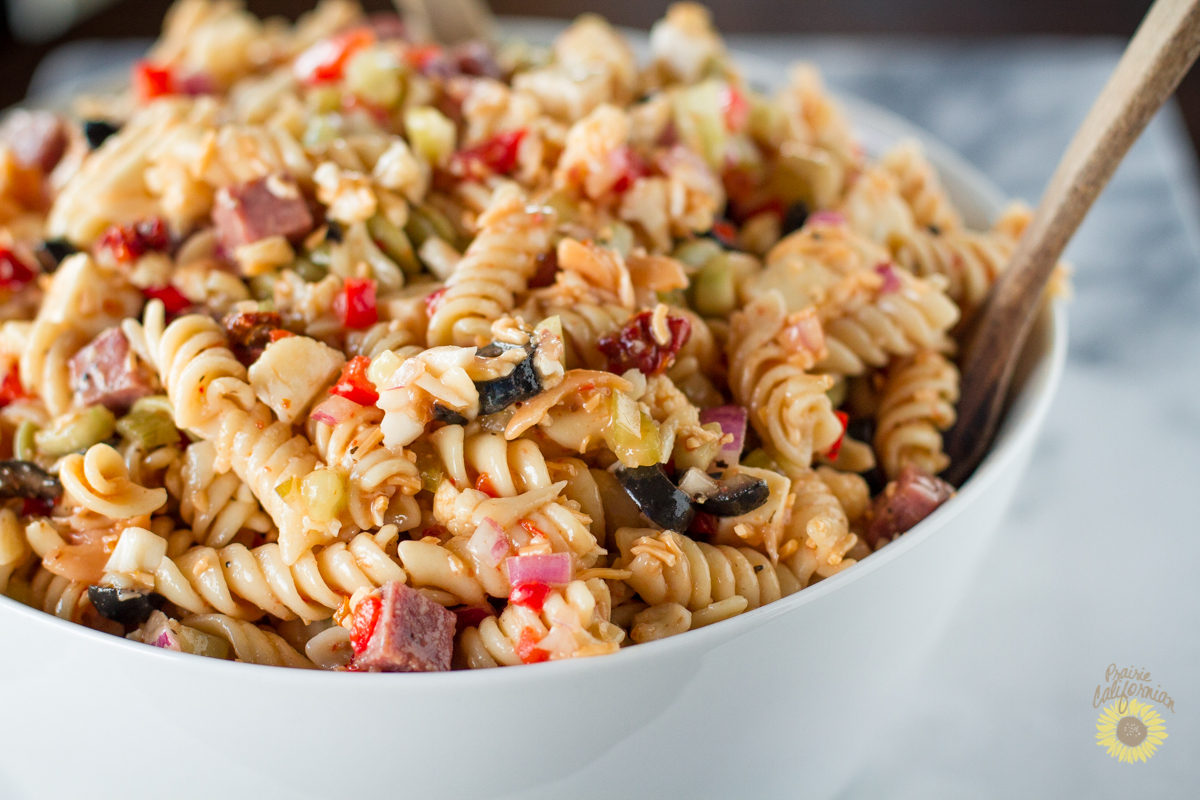 Last week, I got the phone call.. Someone in our community had passed away and it was our turn to show love in food and service. Serving at events like funerals in the basement of our local church always gives me a renewed sense of faith in our small towns. I don't know about where you live, but in small town America, we show love in food. There are many salads and bars that are brought to nourish the hearts of those who mourn and sometimes of those who celebrate. This is one of my favorite go-to salads to bring, the perfect potluck pasta salad.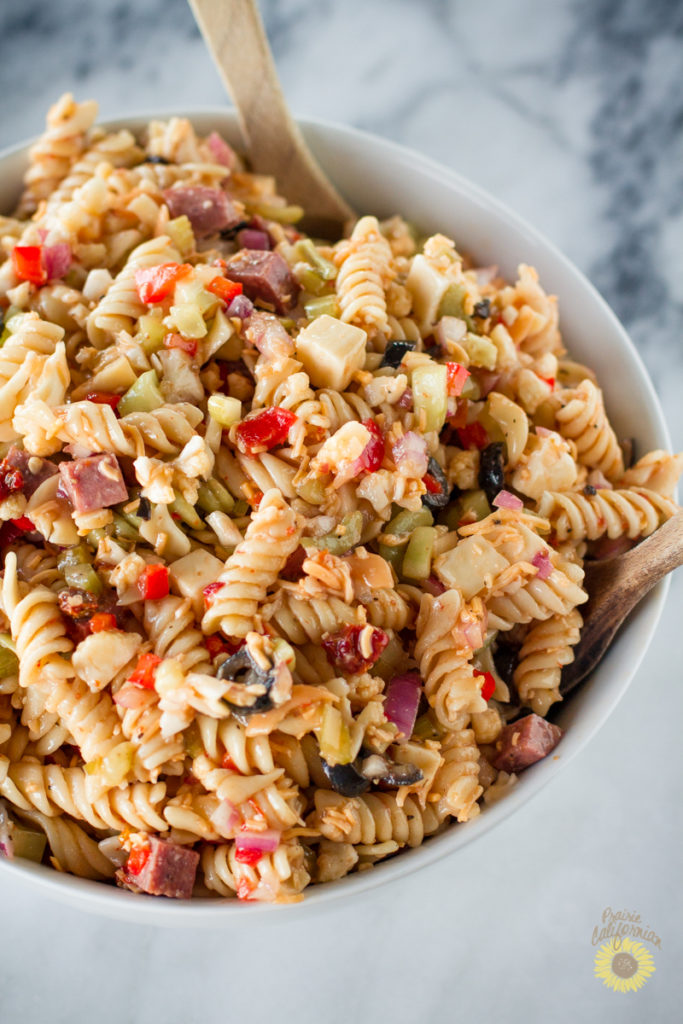 The best part about this salad is that it can utilize a variety of vegetables and inclusions. It can be adapted and changed as necessary. My mother-in-law makes a version of this salad every single year for an event we have at work, it is ALWAYS a crowd favorite. Feel free to use whatever you have on hand and whatever you like.
Potluck Pasta Salad
2017-06-19 15:42:37
Serves 8
the perfect potluck pasta salad
Ingredients
1 pound garden (rainbow) rotini pasta
1/2 small red onion, diced
1 medium cucumber, peeled and diced
1 red bell pepper, diced
1/2 head cauliflower, diced
8 ounces provolone or mozzarella cheese, diced
3 ounces salami, diced
1/3 cup sundried tomatoes in oil, drained and chopped
2 small cans (2.25 oz) sliced black olives
1/2 cup grated cheddar cheese
1 - 2 bottles Kraft Roasted Red Pepper Italian dressing
Instructions
Cook noodles according to package instructions. Drain and rinse under cold water until cool. Drain any excess water and transfer to a large bowl. Toss with 1/4 - 1/3 bottle of Roasted Red Pepper Italian dressing and set aside.
Prepare and dice up any ingredients needed. Add all chopped ingredients to bowl. Stir to combine. Feel free to add any additional chopped vegetables or other inclusions.
Pour Roasted Red Pepper Dressing to taste over the top and stir to fully coat. Refrigerate several hours before serving.
If making the day before, you will need to add a little additional dressing before serving.
Notes
This can be made the night before!
Prairie Californian https://prairiecalifornian.com/