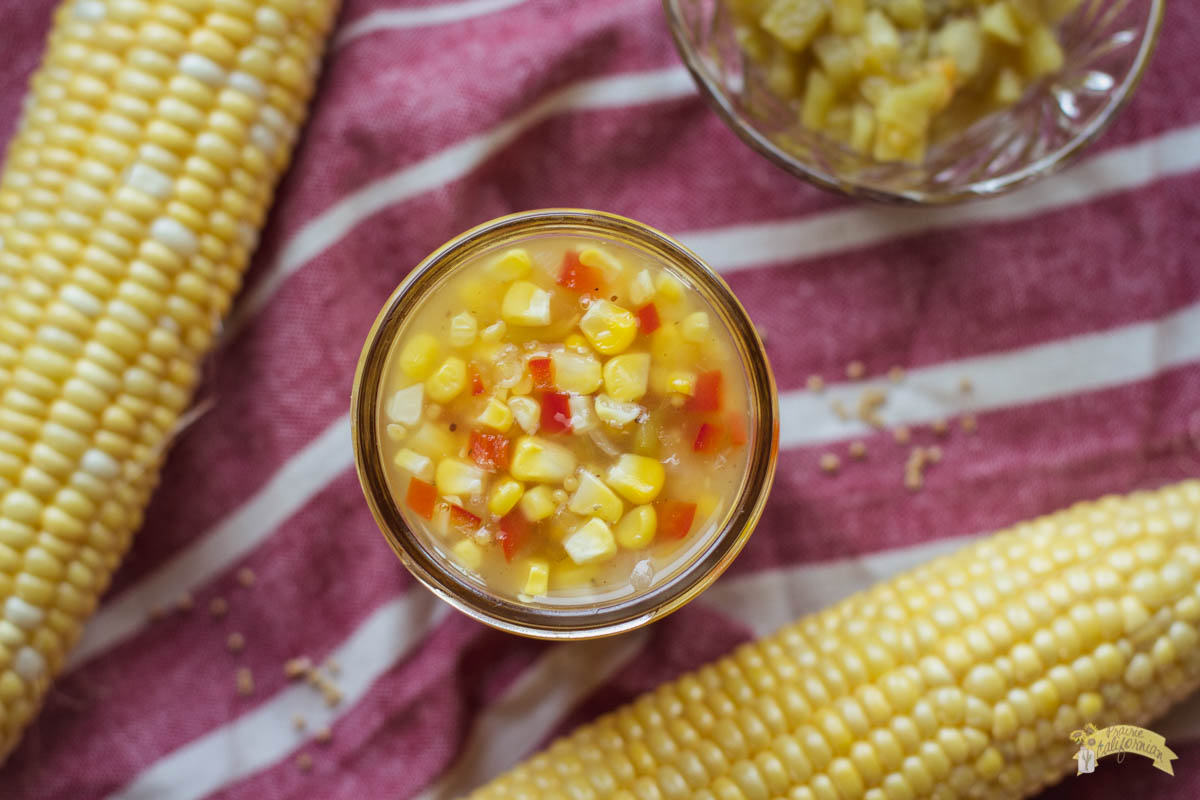 Hi my name is Jenny and I am addicted to canning. No joke I think I have nine different kinds of jam in my pantry. And let's not even get into pickled items…
Last year when our sweet corn patch was going full force, a family friend of ours brought us a jar of corn relish she made from the sweet corn we gave her. She said it was her mother's recipe and remembered eating it as a young girl. I had never even heard of such a thing as corn relish. But once I tasted some, I knew I needed to try it this year.
Apparently it is a traditional southern side dish that was very popular during the 50's. Corn and peppers in a slightly tart, slightly sweet liquid. It is delicious with chips, on salads, mixed with veggies, and even as you'd eat your traditional relish. I love the colors too!
I used fresh sweet corn from our sweet corn patch in the yard, but you could use canned corn for this recipe and it would come out just as lovely! Feel free to experiment with different peppers to give it a little different flavor. I like the green chiles in mine.
Old Fashioned Corn Relish
2016-09-20 14:52:31
traditional 1950's corn relish
Ingredients
10 - 12 ears sweet corn kernels, blanched (approx. 8 cups)
2 large red bell peppers, diced
2 medium onions, diced
1 can (4 ounce) chopped green chile peppers
2 1/2 cups distilled white vinegar
1 1/4 cups sugar
2 teaspoons mustard seed
1/2 teaspoon celery salt
1/2 teaspoon crushed red pepper
2 teaspoons kosher salt
black pepper to taste
2 tablespoons cornstarch mixed with 1/4 cup water
Instructions
In a large bowl combine the corn, red pepper, onion, and green pepper. Set aside.
In a large heavy bottomed pot, combine the vinegar, sugar, mustard seed, celery salt, crushed red pepper, and kosher salt. Over medium-high heat, bring to a boil and add the corn mixture. Reduce heat to low and simmer uncovered for 15 minutes.
After 15 minutes, scrape off any foam on top. Add the cornstarch slurry to the pot. Turn heat to medium and cook for an additional 4-5 minutes or until mixture begins to thicken.
Ladle into 4-5 sterilized pint jars. Leave 1/4 inch headspace and process in a water bath for 15 minutes. You can also refrigerate and use within a couple weeks.
Adapted from A Farm Girl Dabbles
Prairie Californian https://prairiecalifornian.com/