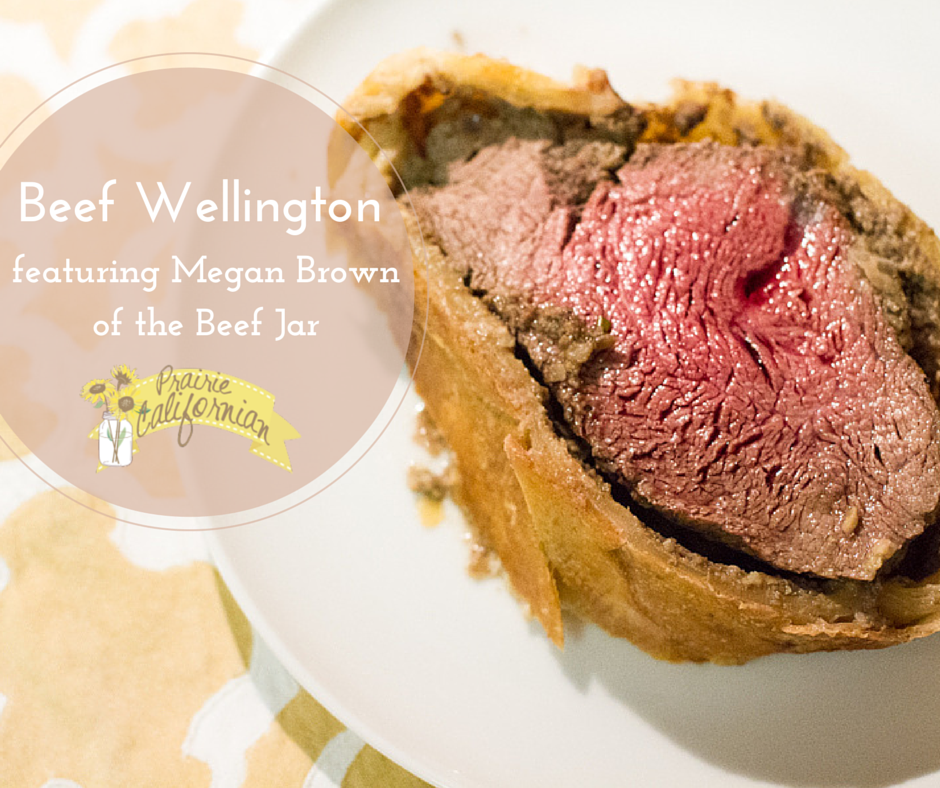 I have Megan to thank for getting me involved in this thing we call blogging and social media. It was over three years ago, she told me "you need to get on Twitter". I had no idea what a Twitter was or how it worked. Funny how life ends up.
Anyway, Megan has been a friend of my family for a long time. She grew up on a beautiful commercial cattle ranch in the foothills of Northern California and continues to work on the ranch today. She started her blog The Beef Jar so she could share about ranch activities as well as share some amazing recipes, especially for canning! Megan does a wonderful job of bridging the gap between consumer and farmer/rancher as she regularly invites people out to the ranch and welcomes people to truly get involved in ranch life. So in celebration of Megan, I wanted to do something big with this beef feature. So I went big and attempted Beef Wellington. It turned out amazing! If you're looking for a special Holiday recipe, give this one a try!
Megan Brown
Northern California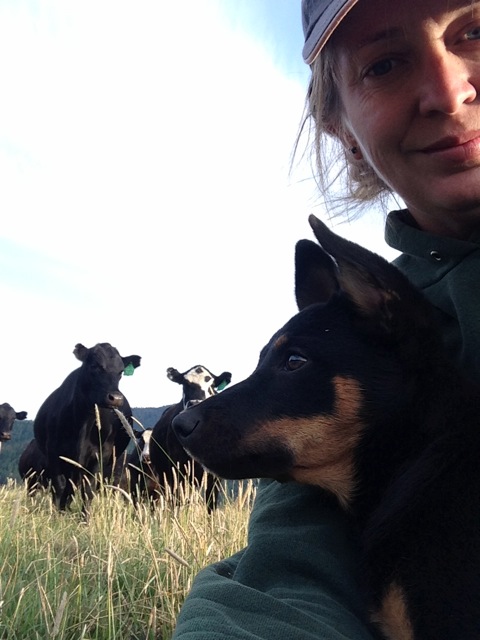 When did you start farming? What brought you into farming?
Brown ranch is a commercial cattle ranch. Our family has been raising beef in California for six generations. Growing up, there was never a time where I didn't want to be on the ranch and continue this grand legacy. Being among the less than 2% of our population that gets to be in production agriculture is an amazing life.
I'm trying to diversify the ranch by expanding and raising heritage hogs. Being around cattle and hogs makes life worth living for me. Having the responsibility of my own operation brings a new set of challenges and I am very excited to see what the future holds.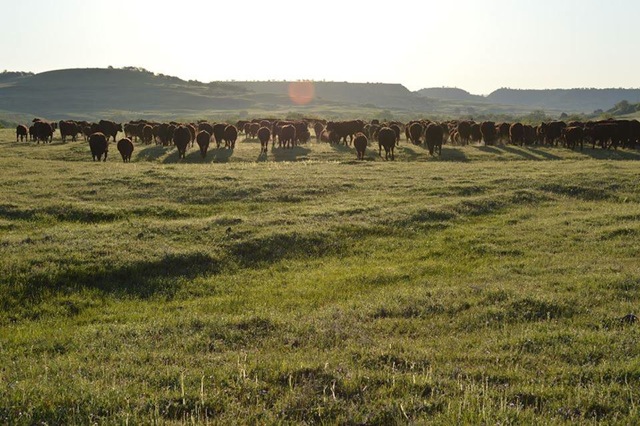 What crops (or animals) do you grow and why?
We mainly raise black angus beef on our ranch. We think raising beef is the best use of our land. The poor soil and high rock content make it perfect for cattle rangeland. Our ranch is actually two different ranches located about two hours from each other. One ranch is in the Sacramento Valley and the other is in the Plumas National Forest in the Sierra Nevada Mountains.
We have two ranches for many reasons. In the summer, the grass dies in the Sacramento Valley, and it isn't as nutritious. The insects and weeds annoy and cause disease in our cattle. The extreme heat is not conducive to cattle weight gain and health. Basically, the cows would have to work too hard for them to be comfortable and the calves wouldn't have the high weight gains that we are proud of. We also have to deal with fire danger, because in our area of California, summer wildfires can be a very big problem.
By using this method of cattle production, we feel like we are doing the best for our cattle and our land. Our land is healthier than it's ever been and our cattle have the highest weaning weight the ranch has ever seen. One of the best feelings in the world is knowing and seeing the positive impact we are having on our environment and providing food for our country.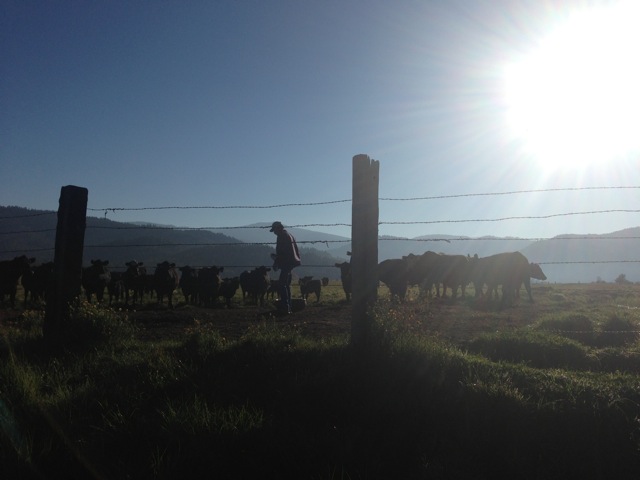 What do you think was the most useful advance in farming such as machinery, genetics, chemicals, etc?
In the beef industry I can think of two advances that have totally changed how we run our ranch. The first is the use of genetics. When I was a small girl, we'd wean calves at around 600 pounds. By learning how genetics work, and using them to our advantage, we now wean calves at around 900 pounds. An 300 pound difference, just by understanding some basic biology has made our ranch far more efficient and therefore sustainable.
The second advance is people like Dr. Temple Grandin teaching us how to better handle our cattle. Her teachings and corral designs has made working our cattle less stressful for everyone and everything. Happy cattle equal healthy cattle, and removing as much stress from their lives as we can is the most beneficial thing we can do.
What is one message you'd like to get across to the general public about what you do?
One message I would like to share is those of us in agriculture want the same things as our consumers. We want our families to have access to safe, nutritious food. We want our environment to be healthy. We want our food animals to have a good life. We might not have always done a great job is sharing this message, but, as an industry, we are trying to get better. If you have questions about production agriculture I urge you to seek out farmers and ranchers in your area to learn more.
What advice would you give to anyone interested in getting into farming?
It's easier to marry into it, oh, did I mention I'm single?
You can find more of Megan over at her blog The Beef Jar, by giving her Facebook page a LIKE, or by tweeting with her on Twitter @MegRaeB.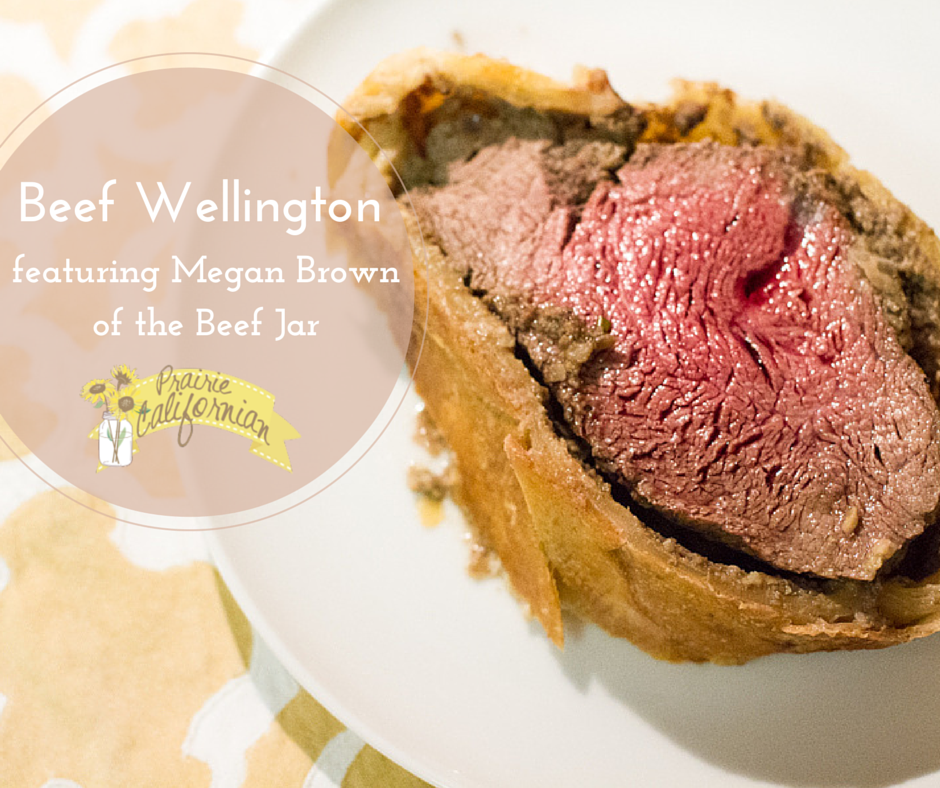 Beef Wellington is something that I have always loved the look of making, but it always seemed way too hard or intimidating. Well, I finally gave it a go and it wasn't as hard as I thought. In fact, it was quite easy. It just took some time. Not familiar with Beef Wellington? It is basically a beef filet roast (beef tenderloin) wrapped in puff pastry and baked. Prety much heaven rolled up in dough.
Beef Wellington
2014-11-23 14:29:35
Ingredients
2 lb. beef tenderloin, tied by your butcher (or yourself if you're feeling fancy)
salt and pepper
3 tablespoons olive oil
1 lb. mushrooms
4 tablespoons butter
1 shallot, minced
2 tablespoons heavy cream
2 tablespoons dried breadcrumbs
2 teaspoons rosemary
2 tablespoons Dijon mustard
1 1/2 tablespoons horseradish
1 large egg
1 sheet frozen puff pastry (17.3-ounce package), thawed
Sea salt
Instructions
Salt and pepper the roast generously on both sides. Heat 2 tablespoons of olive oil in a large skillet over high heat. Brown/sear the beef on all sides in the hot skillet. Remove to a clean plate and cool completely.
While the roast is cooling, add half of the mushrooms to a food processor and pulse until they are very finely chopped. Remove the finely chopped mushrooms to a bowl and continue with the other half of the mushrooms.
Heat the butter and one tablespoon of oil in the skillet over medium-high heat. Once melted, add the shallots and cook until softened. Add the mushrooms to the pan and saute until they release all their moisture, about 10 minutes. Add the heavy cream and simmer until thickened for a few minutes. Turn off the heat and stir in the breadcrumbs and rosemary. Remove the mushrooms to a small bowl and chill in the refrigerator for at least 1 hour.
Once the meat has cooled, combine the Dijon mustard and horseradish in a small bowl. Snip off the butcher's twine and discard. Spread the mustard and horseradish mixture all over the roast. Place in the refrigerator to chill for 1 hour.
When ready to bake, adjust a rack to the center of the oven and preheat oven to 400 degrees. Line a baking sheet with parchment paper.
Dust the work area lightly with flour. Roll out the puff pastry with a rolling pin so it is 3-4 inches longer than the tenderloin and 6-7 inches wider. Crack the egg into a small bowl and beat well. Brush the edge of the pastry with the beaten egg.
Spread and pat the mushroom mixture all over the top and sides of the roast. Lay the beef in the center of the pastry. Tuck the 2 ends of the pastry into the beef and then fold up the other sides. Place the beef seam-side down on the baking sheet. Brush all over with the egg wash. Cut 3 slits on the top of the roast and sprinkle lightly with flaky sea salt.
Roast until a thermometer inserted into the beef reads 120 degrees F, about 40 minutes. Remove from the oven and rest for 20 minutes before slicing into 1-inch-thick pieces. The temperature will rise to 125 degrees F as it rests. Enjoy!
Adapted from Nancy Fuller
Prairie Californian https://prairiecalifornian.com/
This post is part of my Thirty Days of Food series where I am writing about food and farming for the entire month of November, to find out more about it all or how to follow along, visit my Thirty Days of Food page or click the photo below to find more great recipes with farmer features!