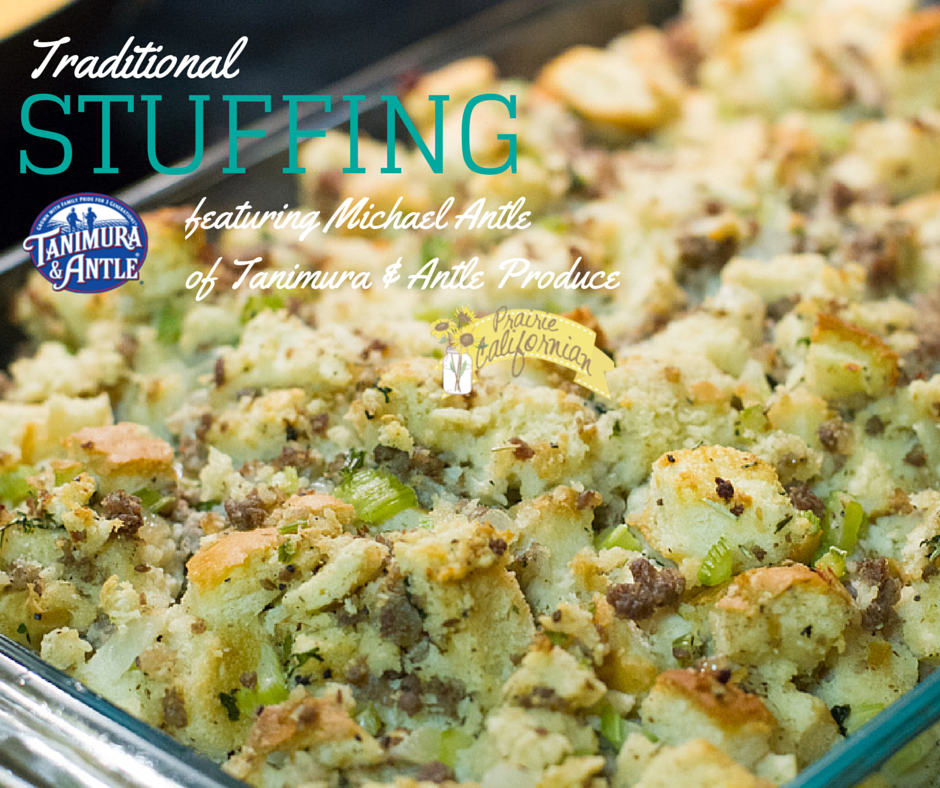 My next guest totally went above and beyond just being featured. They sent me a whole freaking box of their featured ingredient! It was extremely generous of them and I was delighted to share celery with my family and friends here in North Dakota straight from the field in Salinas, California. It doesn't get better than that!
Michael has been involved in produce farming since he was born, beginning helping with irrigation at the age of thirteen. He has some wonderful things to share in the feature below. Of course since I received a bunch of celery, I made my absolute favorite thing about Thanksgiving (or anytime for that matter) STUFFING! This recipe is classic and so easy to make, I love it.
Tanimura & Antle Produce
Michael Antle
Salinas, California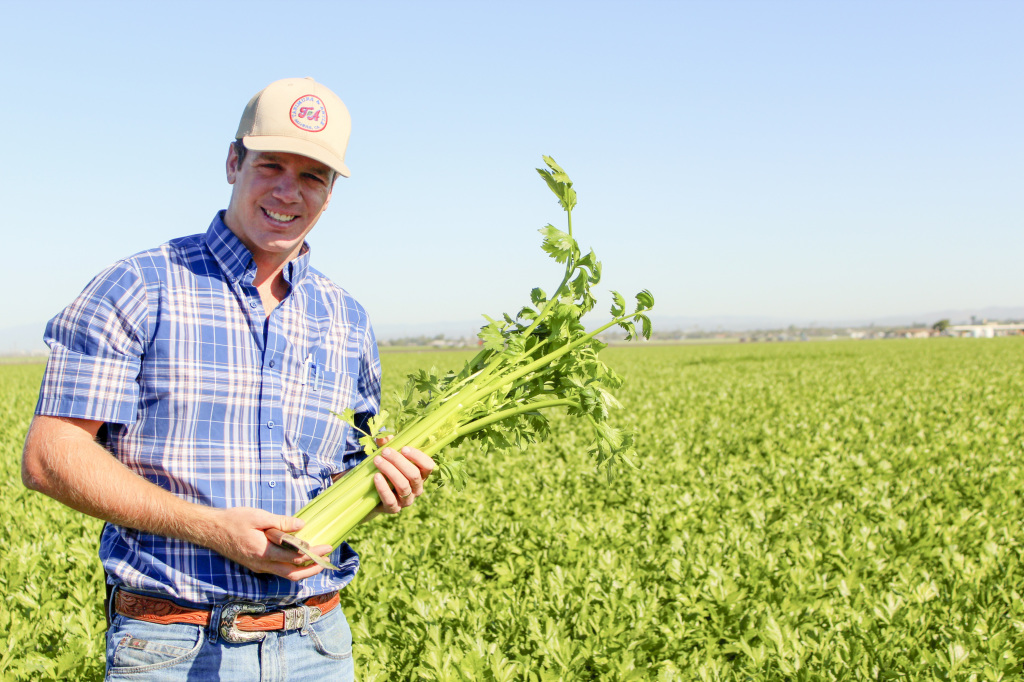 Personal History
When did you start farming? What brought you into farming?
13 years old – I moved irrigation pipes during the summer before football practice started for usually about 4-6 weeks every summer.
I always knew I wanted to be a farmer. There was never a question in my mind. I LOVE tractors and my favorite past-time is driving around the fields with my dad, Mike Antle and my Grandpa, Bob Antle.
What chores did you have growing up on the farm?
Moving irrigation pipe and driving tractor.
Are there any differences between your farm now and your farm when you were a kid?
Not much has changed other than the improved technology. Sometimes the "old" ways are the best ways for farming!
Who farms with you and what are their roles?
Mike Antle = Father, COO and Executive VP
Rick Antle= Uncle, CEO and Executive VP
Caitlin Antle Wilson= Older Sister, Sales and Marketing Manager
Brian Antle= Older Cousin, Harvest Manager
Jeff Antle= Older Cousin, Production Manager
Farming
What has been the hardest part of farming for you?
Managing people is difficult especially during tough times. I am fluent in Spanish and really try to speak the first language of a lot of our work force, so there are no issues with communication. Without our workers, we have nothing! So, I always do everything I can to show them how important I think they are and speaking the same language really helps.
What has been the most satisfying part of farming for you?
Watching the crop grow-up all the way to harvest- I am so proud of the end product! I also love that I am able to develop such a close relationship with my family through work. We take a lot of pride in the fact that our name is printed on every box that goes out to our customers.
What crops do you grow and why?
I am learning how to grow everything that we offer to our customers from lettuce to red onions. I am currently growing Celery for Thanksgiving!
What do you think was the most useful advance in farming such as machinery, genetics, chemicals, etc?
Drip tape for a more accurate irrigation application and to help conserve water. I also love to use GPS every day in my tractors to help make sure the rows are straight and evenly spaced- this also helps us to save fuel in being able to get it right the first time and not make multiple passes in the fields.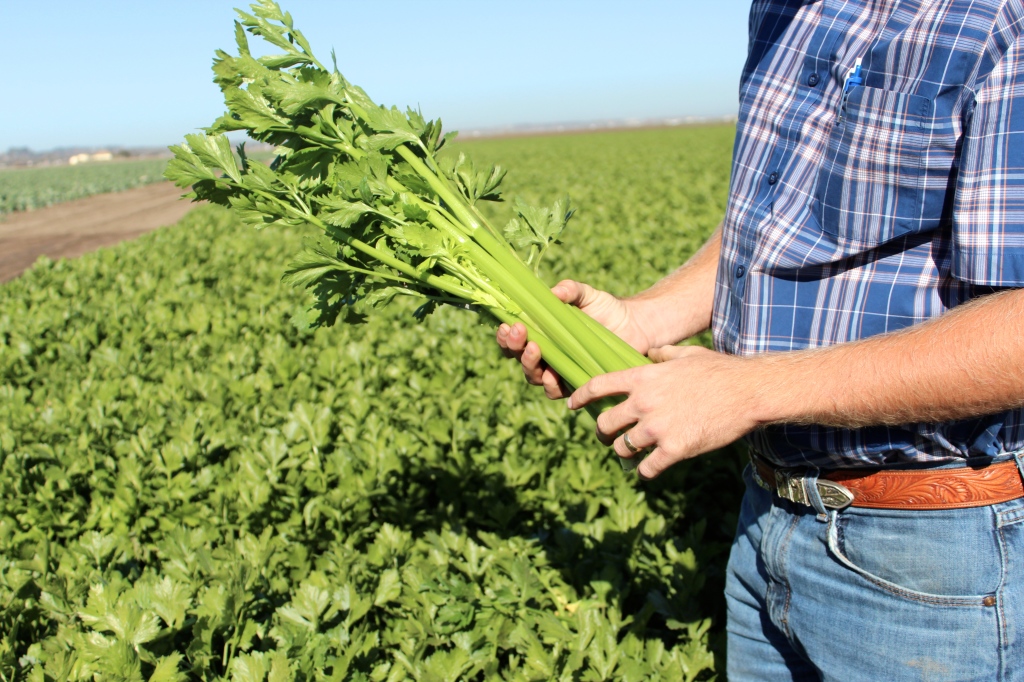 Food
What is your favorite thing to do with a food crop you grow?
Mashed up Cauliflower- I think it tastes better than regular "mashed potatoes".
Any memories you want to share about this feature ingredient?
Celery- We always go to Arizona for Thanksgiving because this is when we are usually almost wrapped up with transition from Salinas to Yuma for the winter with our crops. Stuffing is my favorite part of Thanksgiving and Celery is the best part of any stuffing!
Future of Farming
What is one message you'd like to get across to the general public about what you do?
Tanimura & Antle is a sustainable and natural vegetable grower, packer and shipper of high quality and fresh American grown products. We have worked with the same land for over three generations. Smart and responsible conventional vegetable growing is not bad for the environment. We only use safe and effective pest management tools and we prefer to take advantage of natural habitats near our crops to help create an ideal growing environment.
What advice would you give to anyone interested in getting into farming?
Be prepared for some very long hours but very rewarding work.
Tanimura & Antle Produce does a fantastic job of being present on social media. You can check out their BEAUTIFUL website at taproduce.com, you can give their Facebook page a LIKE, you can tweet with them @taproduce, you can find some inspiration for their products on Pinterest, AND you can follow their wonderful photos and videos on Instagram!
I have to say, I LOVED this video of celery harvest they posted on Instagram. Did you know celery is harvested like this!?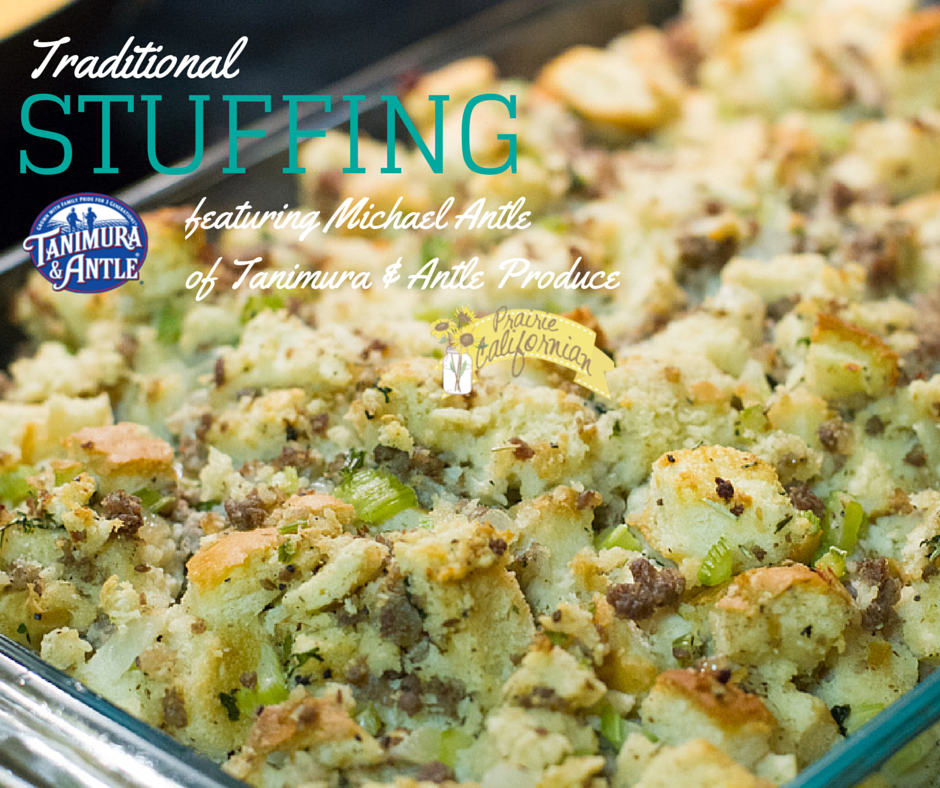 This recipe makes me think of my Dad's Thanksgiving feast every single time I make it. There are so many wonderful varieties of stuffing out there and I love every single one. But this one is honestly my favorite. It's classic, it's traditional, and it is so easy!
Traditional Stuffing
2014-11-23 09:16:12
Serves 10
Ingredients
2 loaves french bread
1 lb. bulk breakfast sausage (I love a sage-based spice flavor)
1 stick butter
1 whole onion, diced
2 cups celery, chopped
4 cups chicken broth
1/2 teaspoon thyme
2 teaspoons rosemary
3 teaspoons parley
salt and pepper to taste
Instructions
Chop the loaves of bred into 1-inch cubes. Spread them out onto baking sheets and let them dry for 24 hours. If you didn't do this, you can always pop the trays in a 275 degree oven for 10 or until hardened and dry.
Heat a skillet over medium-high heat. Brown the sausage and break up into small pieces. Remove from pan and set aside.
In the same skillet, melt 1 stick of butter. Add the onion and celery, cooking for a few minutes until onions are translucent.
Add 4 cups of chicken broth and bring to boil. Add your spices. Stir until combined.
Place all of the dried breadcrumbs into a large bowl. Gradually ladel broth into the bread, tossing lightly as you go. Keep gradually adding the broth mixture until gone or the bread has been saturated enough.
Taste the stuffing and add any more salt, pepper, or herbs if necessary.
Bake at 350 degrees for 20 to 25 minutes or until golden brown on top.
Notes
This can be made up to one day ahead.
Prairie Californian https://prairiecalifornian.com/
This post is part of my Thirty Days of Food series where I am writing about food and farming for the entire month of November, to find out more about it all or how to follow along, visit my Thirty Days of Food page or click the photo below to find more great recipes with farmer features!