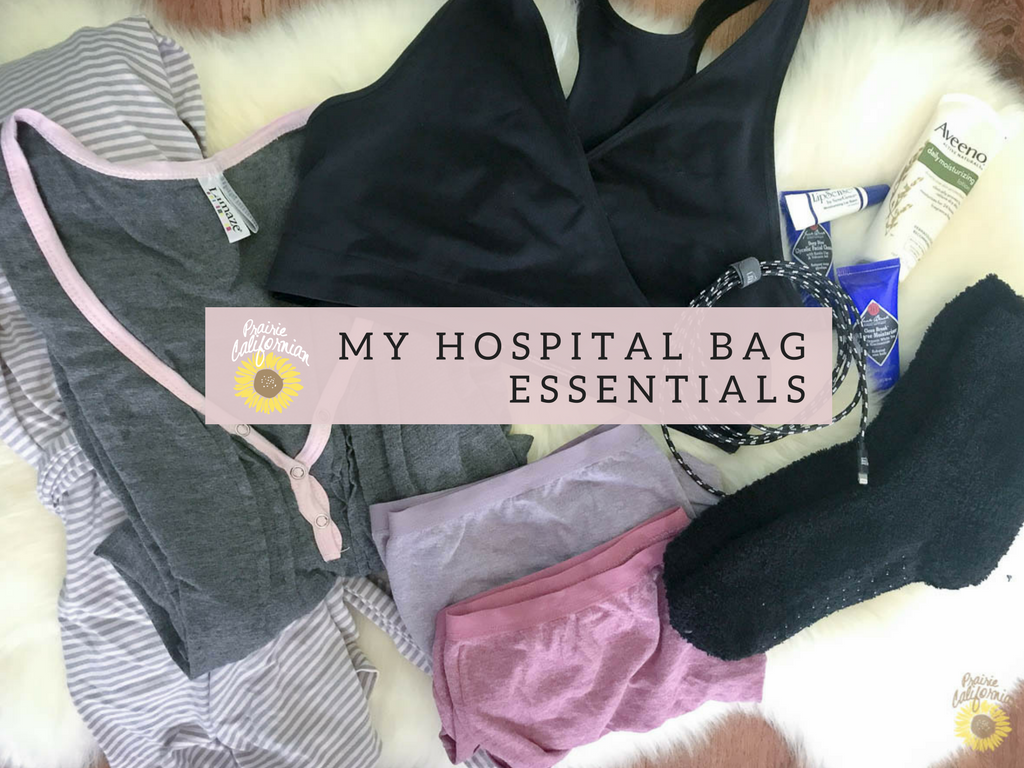 You guys… Newborn life is no joke. I've literally sat down at the computer for two weeks trying to get this post done. I'll have to give you an update on our little man sometime soon, but I wanted to share this post. It is one that I got asked quite a bit to do, especially from my first time pregnant friends. I know I spent a considerable amount of time researching what to bring to the hospital in my hospital bag for labor, delivery, and recovery and I really didn't find much good information. Of course, I found some bits and pieces here and there. So I wanted to share, post labor, delivery, and recovery what I found to be helpful while in the hospital and what stayed in my bag.
In case any of you missed it, I shared Levi's birth story in the previous post. We honestly couldn't have asked for a better birth and recovery experience, I have been very lucky. Due to gestational diabetes, I was required to stay in the hospital two nights. Several moms also recommended that if our insurance would cover it, to stay the second night. I will be honest, my hospital stay was not my favorite. I didn't sleep well AT ALL and I just wasn't comfortable there. My hospital bed (while it was nice to be able to go up and down) was like sleeping on a brick. We were also right next to the nursery and nurses station so I could hear every little noise outside the door, which didn't help my trying to sleep. I will say, however, that all of my staff (nurses, doctors, etc.) were wonderful and did their best to make sure both myself and Levi were well cared for!
That third day, nothing felt as good as being able to come home with our little man and start into a routine as a family together. It was magical. And I know my husband was happy to get out of the hospital, he doesn't do well indoors for days on end. Must be a farmer thing.
Anyway, I'll start with what I found useful and essential during my stay in the hospital. Hopefully you first time Mommas find it helpful!
My Hospital Bag Essentials
Nightgowns & Robe – I had invested in a bunch of these while I was still pregnant and they were PERFECT for recovery in the hospital. Especially right after delivery, nurses come in to check you multiple times a day. Having a flowy dress/nightgown on made it simple for them to massage my tummy and do the rest of their checks without having to take any sort of bottoms off. The robe was perfect for when we had visitors, I could throw it on on top of the nightgown so I wasn't letting it all hang out.
Sleep Nursing Bra – Nursing is hard enough to begin with, make it easy on yourself with a comfy and easy to whip it out sleep nursing bra. I love the Medela brand ones, so comfy and cozy!
Long Charging Cord – This one I found on a couple different threads and it was an essential. You spend a lot of idle time and for me that meant I was on social media a lot. Of course, as in any hotel or hospital room, the outlets weren't in the most convenient places, so having a long charging cord was perfect. I bought a 6 ft cord that I think I am also going to start traveling with as well.
Snacks – Going from my gestational diabetes routine of eating every 2-3 hours to delivery and recovery where your schedule is completely thrown off kilter, I battled with some pretty serious hunger headaches. Almost every night in the middle of the night, post nursing in the hospital, I would be starving. Having some snacks sitting around was a God send to help me fend off those headaches and get me back on a normal eating routine.
Your Own Underwear – Some moms told me they didn't mind the mesh hospital underwear. But their one size fit all did not fit my post-pregnant lower half well AT ALL. Seriously, God bless my sweet labor and delivery nurse who helped me pull those suckers up before she took me to recovery. Talk about a humbling moment. A friend recommended these Fruit of the Loom cotton boyshorts, they were perfect.
Grippy Socks – This was the ONLY thing I used during labor and delivery out of my bag. I remember being heavy into contractions that felt like they were on top of each other, but my feet were cold. My sweet husband retrieved my socks and put them on my feet for me as I labored on the birthing ball. At some point prior to pushing when things heated up, they were ripped off. But I was glad I brought them along as we kept our labor room pretty cold.
Your Own Towel – Hospital towels are like trying to dry off with a coarse hand towel. And honestly, that first shower is a little piece of heaven. Enjoy it with your own towel.
Treat Yourself Toiletries – I had no shame in my game in packing my makeup, travel blow dryer, and straightener along with some fancy travel bath soap. For me, getting dressed helps me feel better and gives me a sense of normalcy. And let me tell you, nothing felt as good as that first shower, so enjoy it!
Your Own Pillow – If I didn't have my own pillow, I probably would have slept worse than I already did. Having my own pillow was just a little extra comfort.
Nurses Thank You Gifts – A couple people recommended this to me and I am so glad I took the time to prepare these for our nursing staff. I baked monster cookies which I put into little bags and attached a thank you gift tag onto. I brought ten gifts that lasted us well into our second day nursing shift. These were a HIT with every single nurse and doctor we saw. And seriously, they deserved every bit of them. So much is happening out of your control during labor and delivery (and even recovery) and they take care of it, all while smiling and telling you it's all okay and you're doing a great job. God bless those nurses!
Hospital Bag Items I Didn't Use
Any Items I Brought for Labor and Delivery – I had several things that I had brought to potentially wear or use during labor and delivery and every single one of them (except socks) stayed in my bag. My delivery went so quickly and was so intense that I honestly didn't have time and couldn't even think about needing anything else. It was all it took for me to just make it through. However, had my delivery been a long, slow marathon process, I probably would have appreciated my delivery playlist and some of the other comfort items I brought along.
Extra Pads – Our hospital was awesome when it came to supplying me with what I needed for recovery, except for their one size fits all mesh undies, I didn't need anything I brought for recovery. They kept me stocked up with large pads, ice packs, mommy spray, and my squirt bottle to use the bathroom. I didn't need to use anything I brought until I got home.
Slippers – I brought my slippers thinking I would use them, they stayed in my suitcase the entire time. When I would walk around, I would slide on my flip flops. And when I was in bed, my feet stayed cozy warm under the blankets.
Nursing Pads– My milk didn't come in until I was settled at home so I didn't have any use for these. They stayed in my bag.
Other items in my Hospital Bag
Going Home Outfit – I donned the classic mom outfit of yoga pants (these Zella leggings are amazing!), a long neutral tee, and a cardigan. Seriously, since becoming a mom, my cardigan game is strong.
Camera – This was a given.
Extra Towels (in the car) – This was the hubby's idea and let me say, best idea ever since my water broke in the car.
SHOP THE POST
---