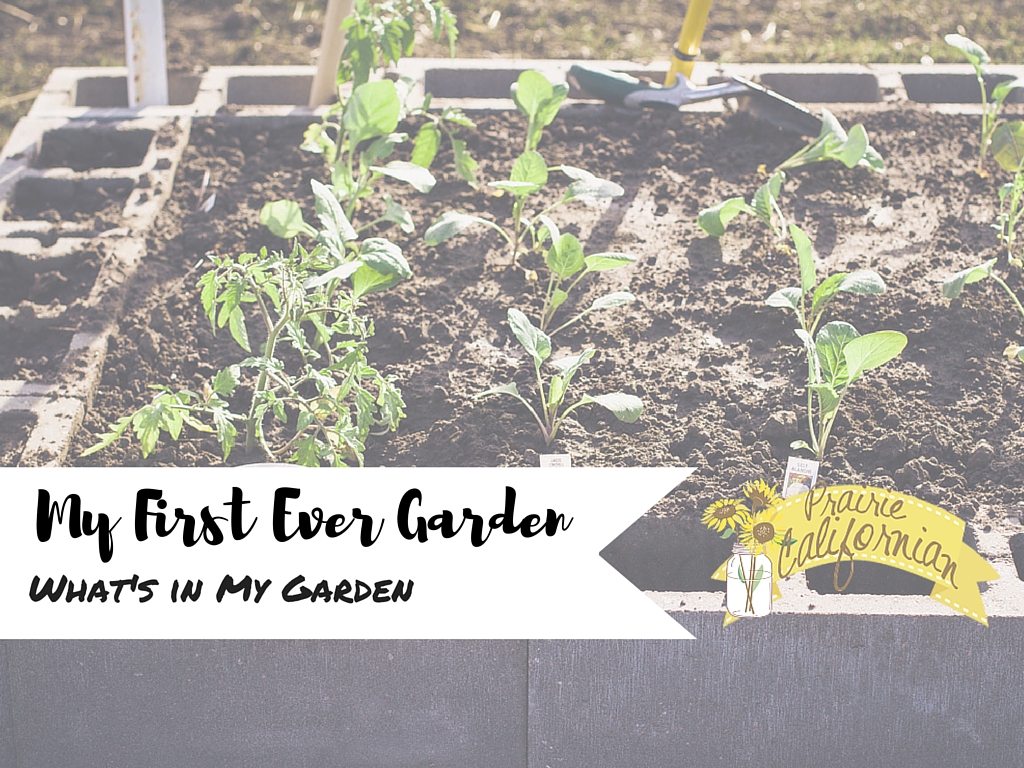 Welcome back to my series all about my FIRST ever garden! It's been so exciting learning and experimenting in my garden. I have enjoyed spending time outside with my garden in the evenings. I swear it changes so much even in one day. It has been so exciting to watch all of the seeds come out of the ground and watch their progress as they slowly start their growing.
Last week I shared some tips and resources I used to figure out what the heck to plant in my garden. This week I finally share what I planted and how it is doing!
So what in the world did I plant!?
Because this is TOTALLY new to me, I looked up what seeds are best direct sow and what seeds are hard to start from seed and purchased seedlings for those. I used this resource from About.com to help me decide and then I made a trip to the nursery to pick some things out. Of course, we ended up with some varieties that aren't the best suited to our area. And we ended up with a few things that we didn't even plan to plant. The nursery was just so exciting and had so many cool things, it was literally like MUST BUY ALLLLLL THINGS!! 😉
I also got a lovely little care package from the folks at Monsanto as part of their Hey Let's Grow Blogger project. I received some hand tools, an adorable little canvas bag to hold them, a gift card to offset some of my gardening costs, AND get this… SOME SEEDS!! I don't think most people realize that Monsanto Company has a huge vegetable seed brand called Seminis. For more than 150 years, Seminis has worked hard to provide vegetable seeds that help growers and also offer consumers options and quality in the grocery store.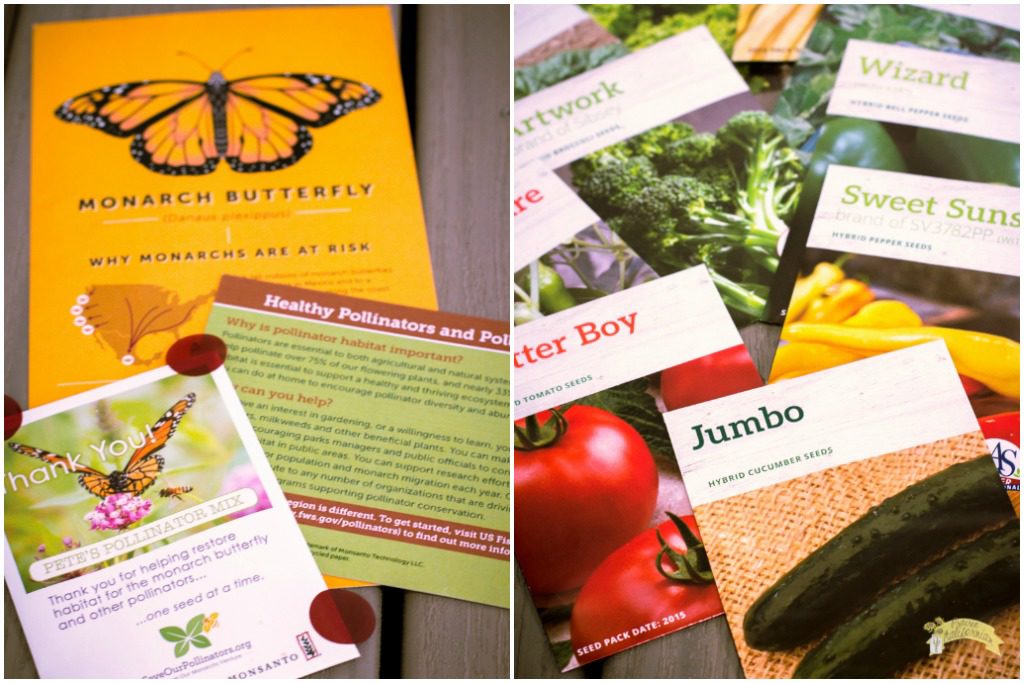 Here's what I put in my garden:
Beets, Bull's Blood (started from seed)
Carrots, Scarlet Nantes (started from seed)
Yellow Onions (I didn't look at the variety, I bought them as sets)
Lettuce, Little Caesar & Salad Bowl (started from seed)
Peppers, Habanero (planted seedlings)
Cauliflower, White Blanche (planted seedlings)
Broccoli, Packman (planted seedlings)
Brussels Sprouts, Jade Cross (planted seedlings)
Eggplant, Black Beauty (planted seedlings)
Tomatoes, Beefsteak & Big Boy (planted seedlings)
Here's what my garden looked like just after it was planted.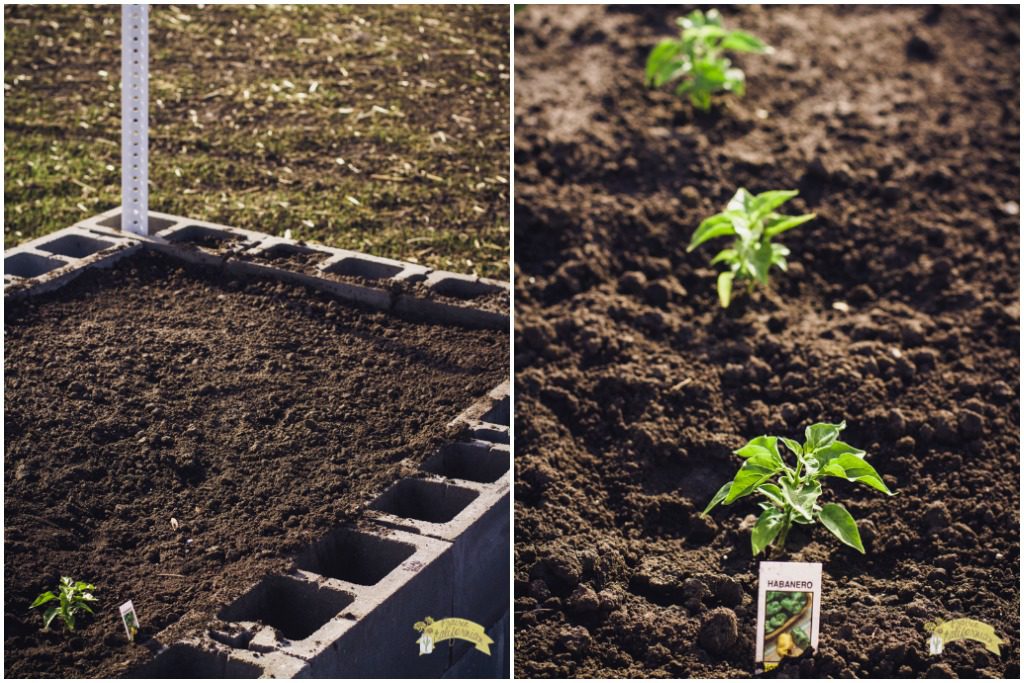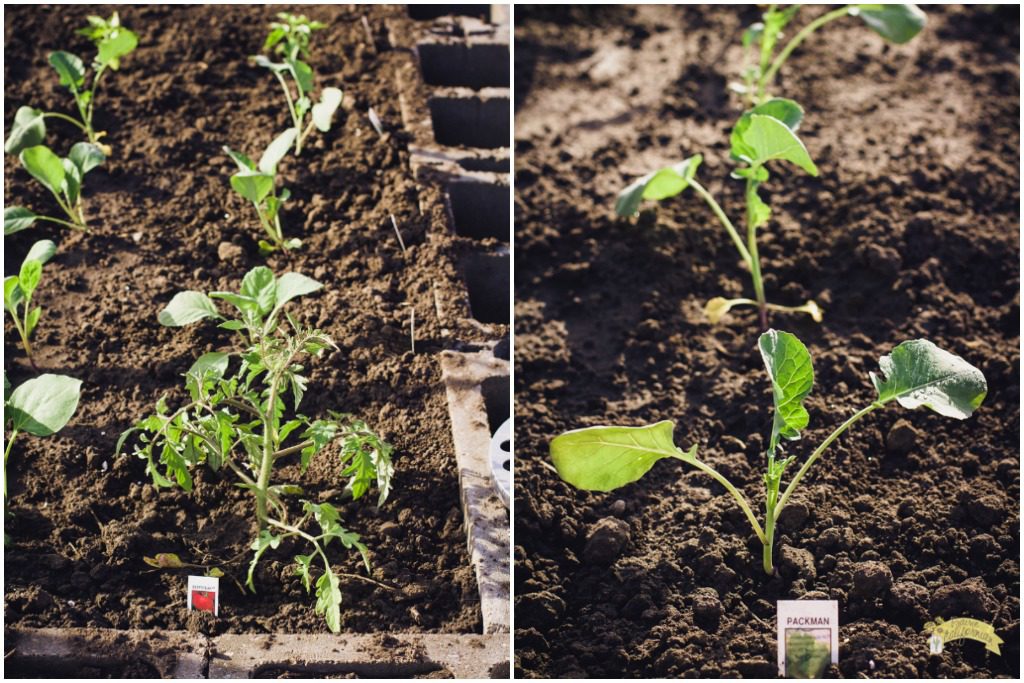 I also purchased some rhubarb and asparagus to start and establish in my yard. Rhubarb and asparagus are both plants that do extremely well in our area. Asparagus will actually grow wild in the ditches in the spring. And rhubarb takes off like crazy around here. The rhubarb has been doing amazing, I cannot wait to harvest it in a year to two!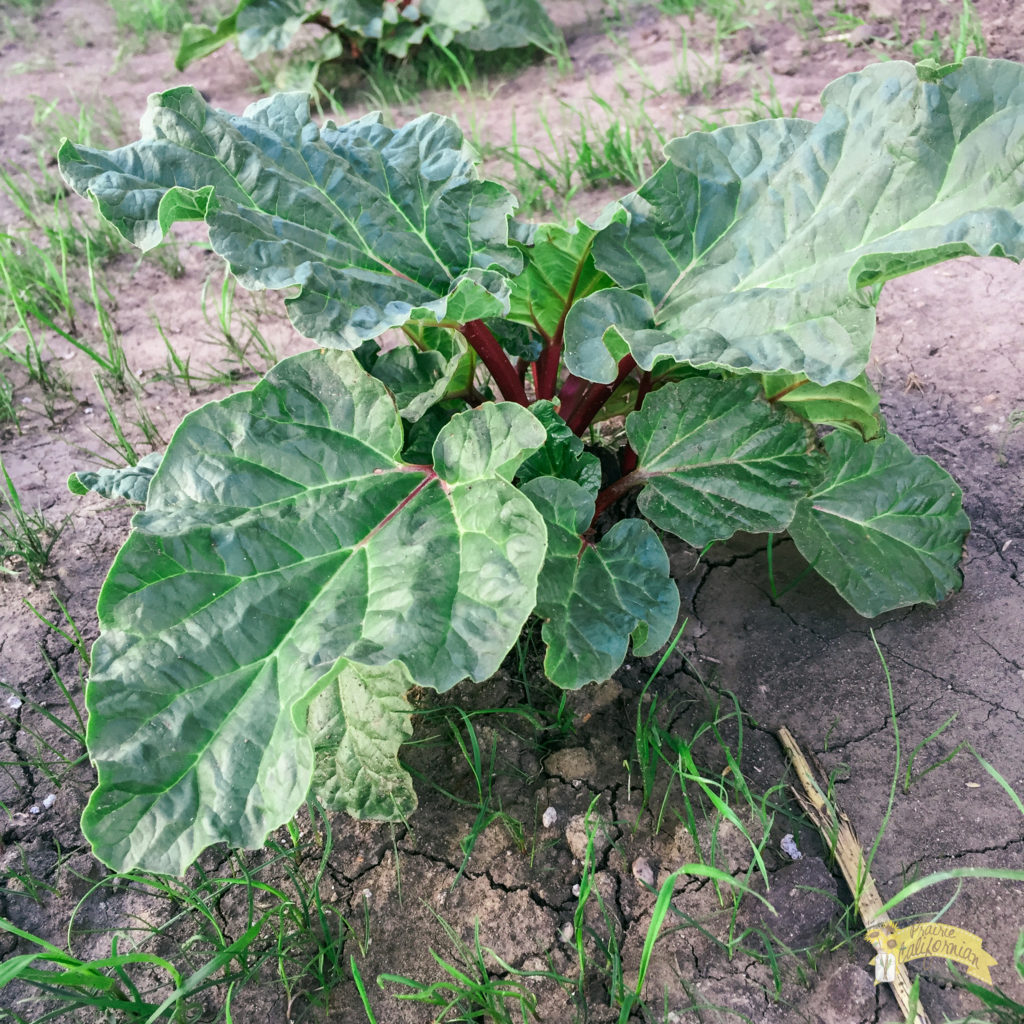 I planted my garden on May 1st (my birthday!) with the help of my hubby. That is a little early for North Dakota which can experience frost and other dangerous weather in the spring. Luckily, we didn't get TOO much adverse weather. I have been joking that I am excited for the warm nights so I won't have to "put my garden to bed" by covering it to prevent any frost damage. The past two days we've been receiving lots of sunshine after a pretty good shot of rain, I can totally see a difference. Most of the plants have shown tremendous growth in the past two days.
Here's what my garden looked like last night! One of my tomatoes is already putting out a couple tomatoes!!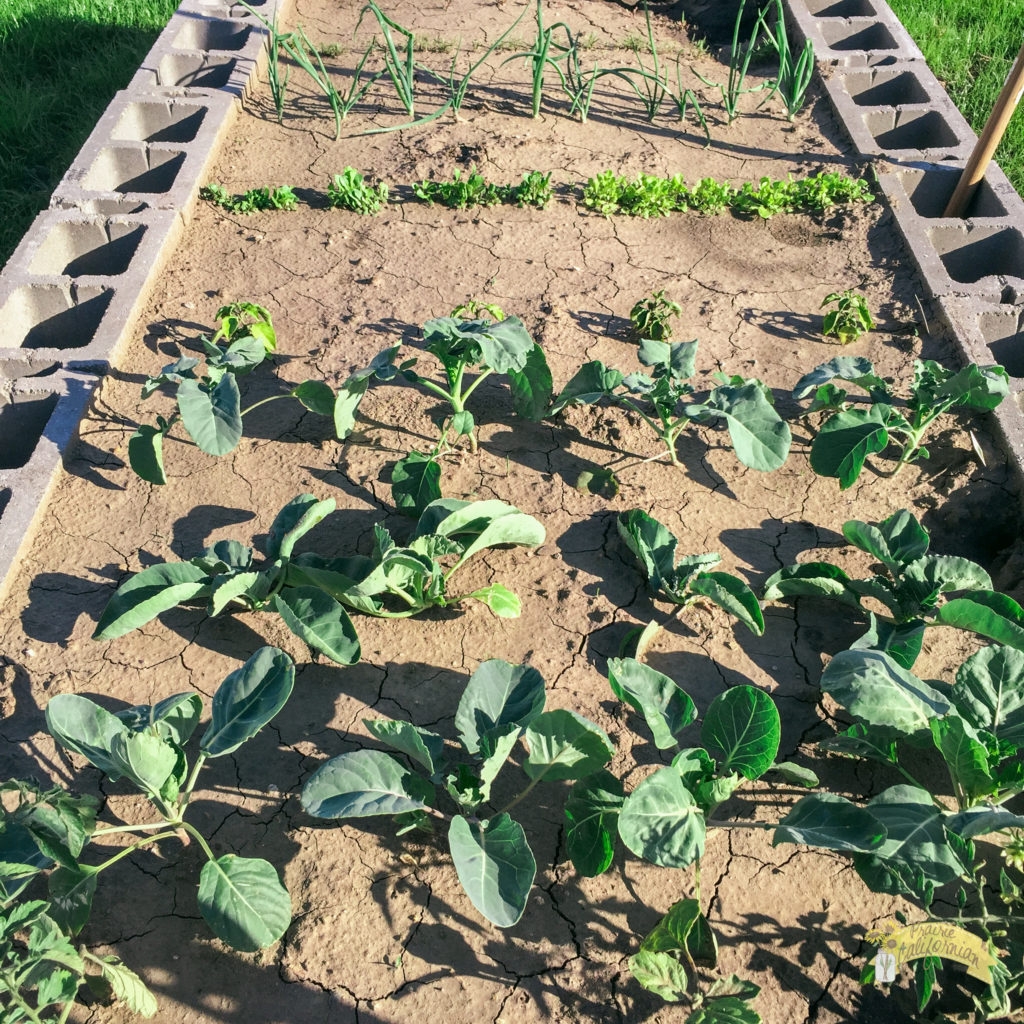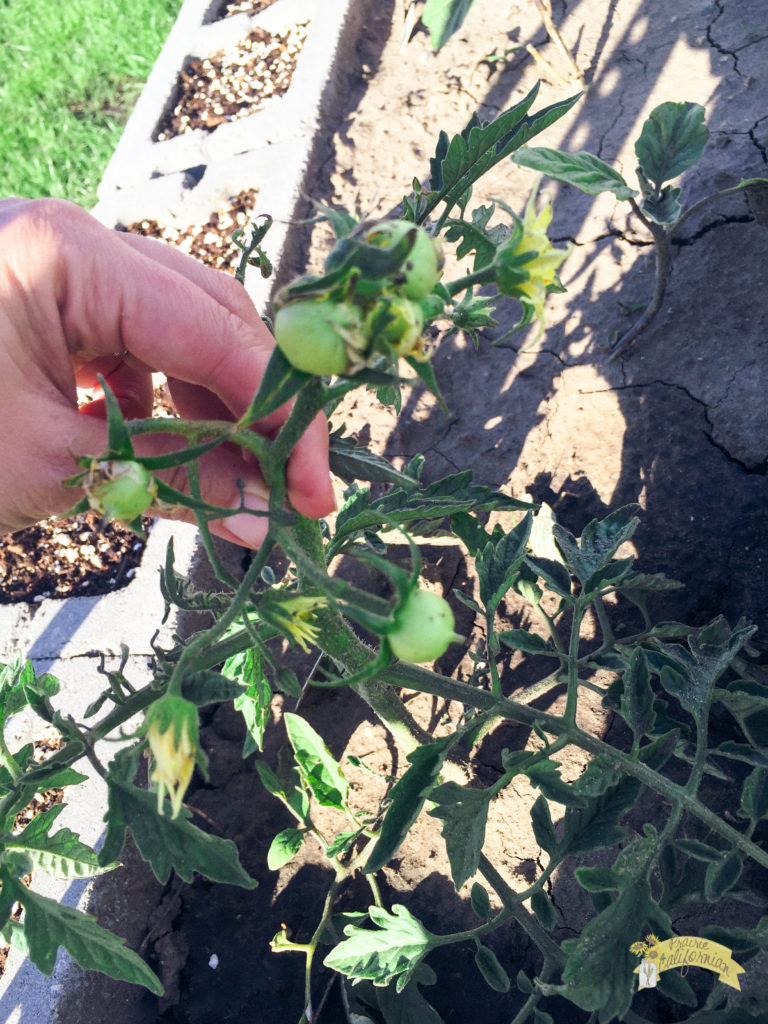 Everyone keeps telling me that gardening/planting is addicting… And I have to agree.My hubby keeps joking with me, "Hunny don't plant more than your heart can handle killing." Since planting my garden, I have started some seeds indoors (Spinach and Sweet Sunset Peppers from Monsanto) and added two large nutrient bucket planters with tomatoes (Romas and Celebrity) to my back porch.
You may remember me saying my plan to plant herbs in holes of the cinder blocks. This weekend I planted: dill, chives, cilantro, parsley, basil, and fennel in those holes. I also started some thyme and sage indoors that I plant to put out there too.
I also dabbled in a fun little weekend project on my back patio. I had some leftover cinder blocks from my garden, so I stuck some chalk paint on them and planted some flowers and other annuals in the holes. AND I LOVE IT, check it out!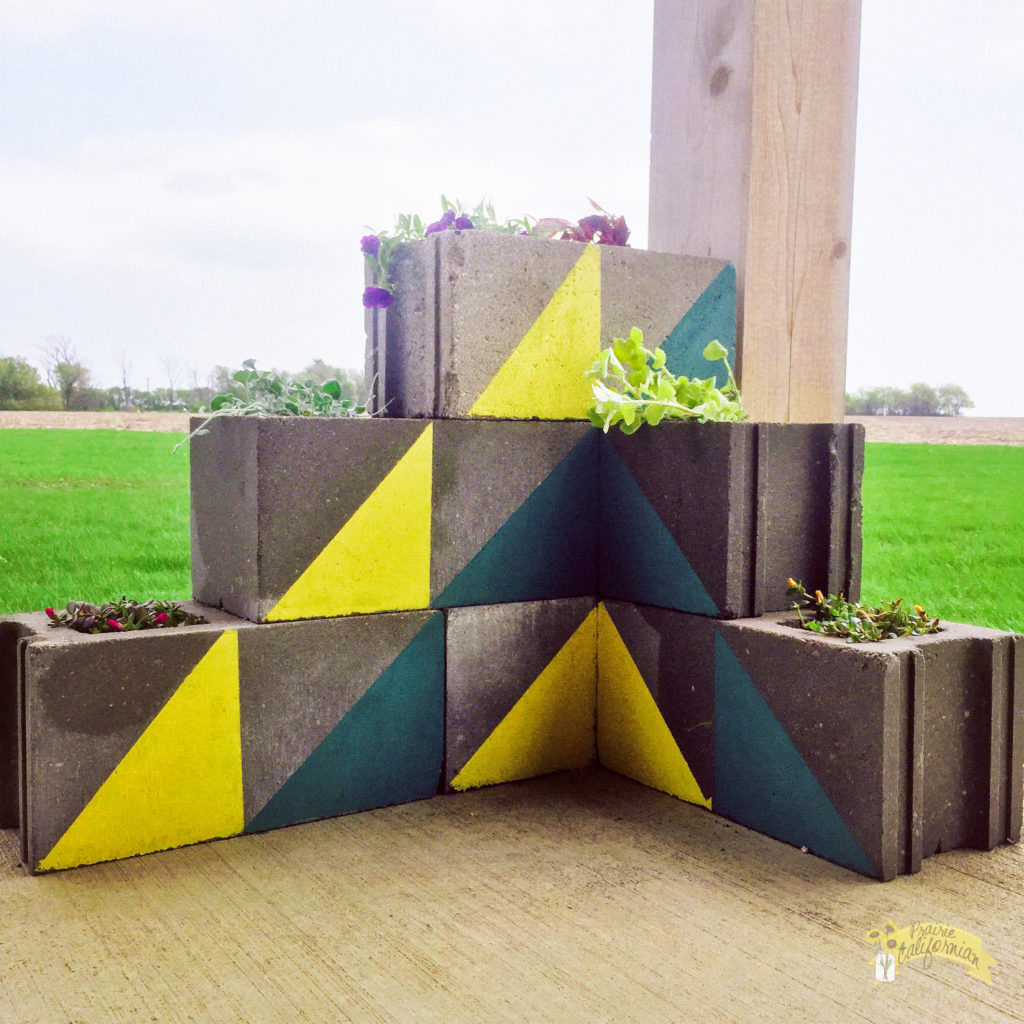 Needless to say, I never thought I'd become a person who loved planting and taking care of a garden or flowers, but it is indeed addicting.
If you're up North, have you planted your garden? What do you have planted in your garden? And for all the rest of y'all, how's your garden doing?
Disclosure: Some materials and vegetable seed in this series has been provided by Monsanto. However, the content and opinions expressed are that of Prairie Californian.
More posts from My First Ever Garden Series
Resources
To check out some first hand experiences from blogger trips to Seminis research plots, visit these awesome blogs: