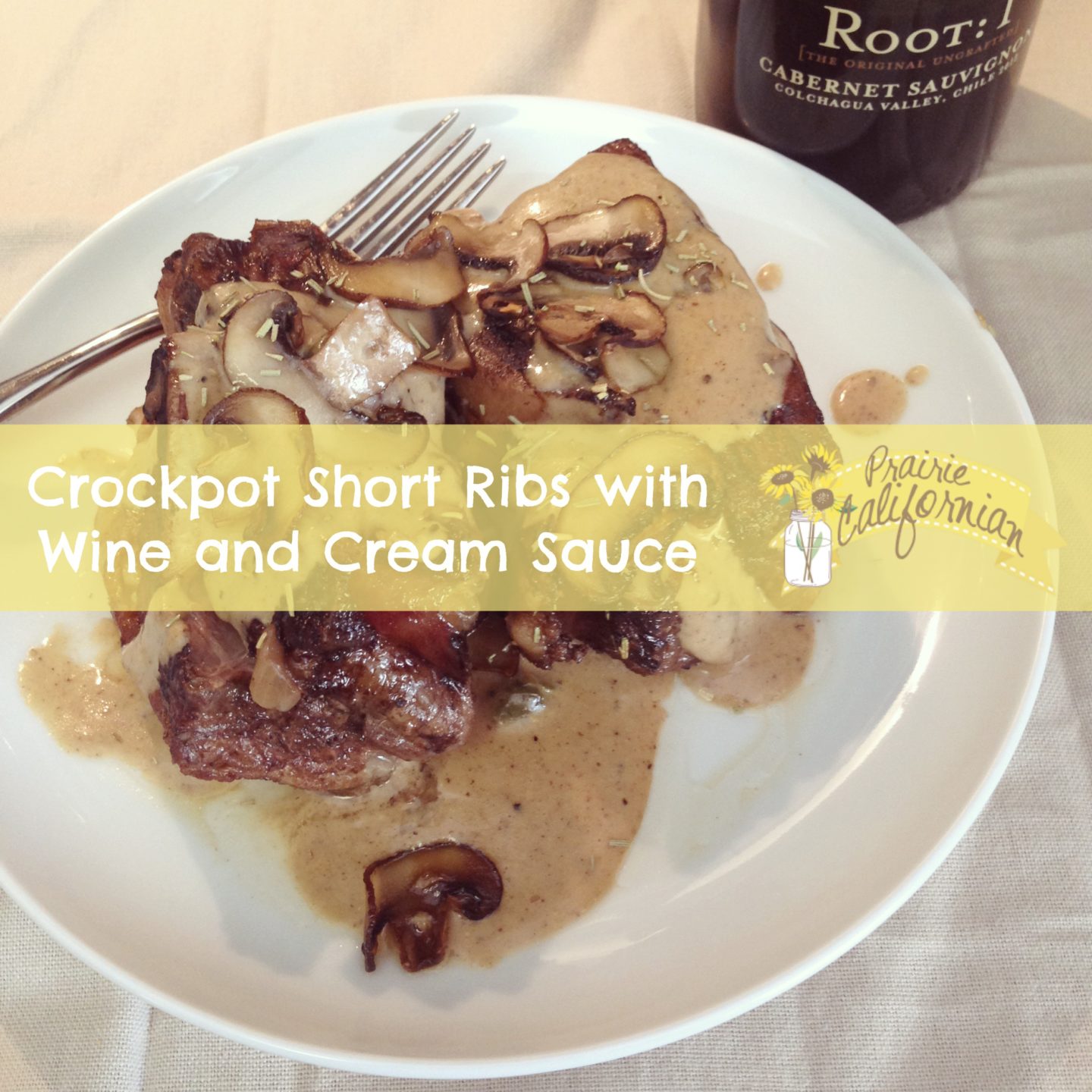 This week I stepped it up a bit and took on my FAVORITE cut in the whole wide world when it comes to beef. Short ribs! Short ribs are like heaven on a plate, you can have your filet mignon, I will take short ribs any day! They are simple, they are easy, and they are fork tender delicious!
Most of the time I make mine in the crockpot unless it's the weekend and I have time to let them cook on the stove or in the oven for 3 to 4 hours. Oh and if there is one thing you learn about crockpot cooking, it's that you ALWAYS brown the meat before it goes in. Seriously, that's where all the flavor comes from! Okay, you don't HAVE to… but I promise, you will want to!
In case you missed it on Saturday, the video is above. And if you are here for the recipe, here it is
Short Ribs with Wine and Cream Sauce
Crockpot Short Ribs with Wine and Cream Sauce
2014-01-15 10:32:13
Serves 6
Simple and easy crockpot short ribs with a yummy wine and cream sauce!
Ingredients
12 short ribs
1 onion, chopped
Salt and pepper to taste
3 tbsp olive oil
1 cup Red Wine
1 can Beef Consommé soup
32 ounces Beef Broth
2 tbsp rosemary (fresh or dried)
2 tbsp brown mustard or Dijon
1 ½ cup heavy cream
2 tbsp capers, drained and rinsed
16 ounces mushrooms, sliced
Instructions
Start your crock pot on low. Add the beef consommé, beef broth, and rosemary.
Heat a pan over high heat, add olive oil to pan. Sprinkle the short ribs with salt and pepper. Brown the short ribs in the hot pan using tongs to flip them. Add them to the crockpot.
Add onion to the pan and saute for 2-3 minutes. Pour the wine into the pan to deglaze. Dump the drippings and onion into the crock pot.
Cook the short ribs on low for 5-6 hours (up to 8 hours) or until fork tender.
Once the ribs are done, preheat the oven to 400°. Place the mushrooms on a baking sheet and drizzle with olive oil. Roast the mushrooms for 15 to 20 minutes until golden brown. Set aside.
Once the short ribs are done, remove the short ribs to a plate. Pour the drippings and broth from the crockpot into a pan. Stir in the mustard, cream, and capers. Raise the heat and allow the sauce to thicken and bubble. Add more salt and pepper if needed. To thicken sauce, use 1 tbsp cornstarch mixed with water.
Serve short ribs over mashed potatoes, add a spoonful of mushrooms, and drizzle cream sauce over. Garnish with extra rosemary if you'd like.
Adapted from The Pioneer Woman
Prairie Californian https://prairiecalifornian.com/