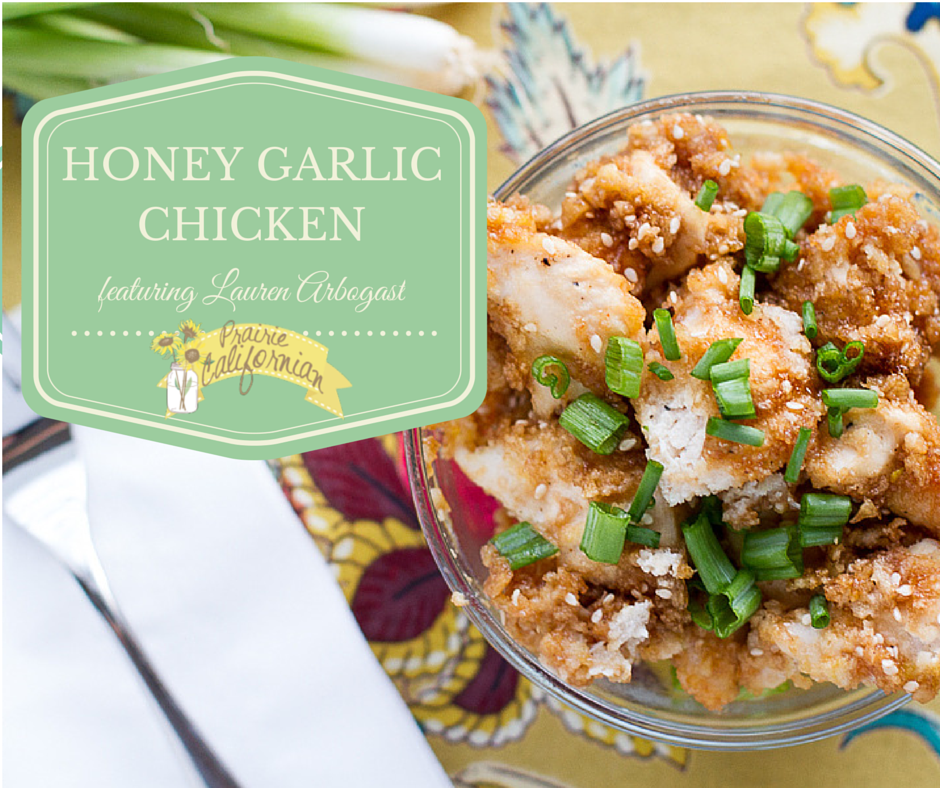 If you don't know Lauren, let me tell you, this gal is a whole ton of fun! She blogs over at Paint the Town Ag and she's always full of energy and great information! Lauren and her husband raise beef, poultry, and sheep, along with a few crops on their farm in Virginia! I decided to do something a little non-traditional with a chicken breast for Lauren's feature. This honey garlic chicken is slightly spicy, slightly sweet and Asian inspired.
Lauren H. Arbogast
Shenandoah Valley, VA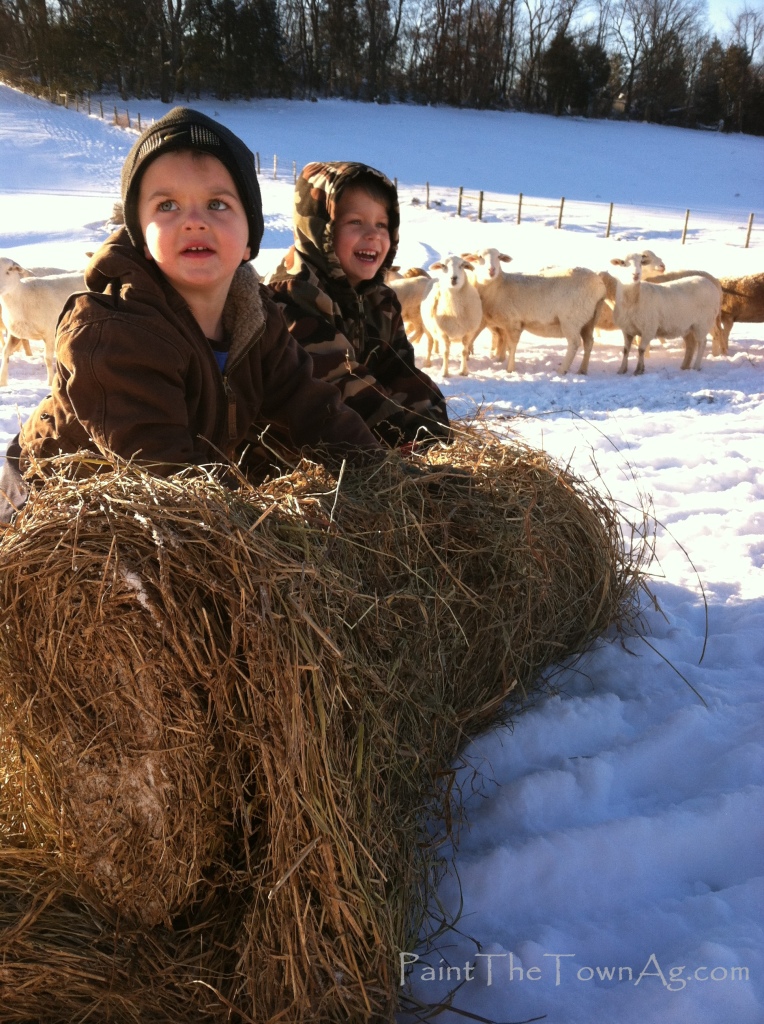 Personal History
When did you start farming? What brought you into farming?
I grew up in a city on the eastern side of Virginia with my toes literally in the sand. I came to the Shenandoah Valley (western Virginia) for college, and ended up being set up with a local farmer. Our first date was in a tractor, and I've been hooked ever since! Now a decade later, I help around the farm as much as my job and my 2 mini-farmers permit.
Who farms with you and what are their roles?
Our farm is a partnership with my husband, his brother, and their parents.
Farming
What has been the hardest part of farming for you?
The hardest part of farming is adjusting to the absolutely-crazy, no-words-describe-it farm life. Hours are never regular, important life events get missed, and I RSVP "1" to a lot of events since I never know what Farmer will be up to on any given day!
Another difficult (but can be a positive/satisfying) part is my "testimony" in farming/agriculture. Since I have a city background and now a rural perspective, I think that it allows me to speak into different situations, and with a different perspective, than those born into agriculture. Both perspectives are needed and valued in order to accurately depict agriculture for our country and world.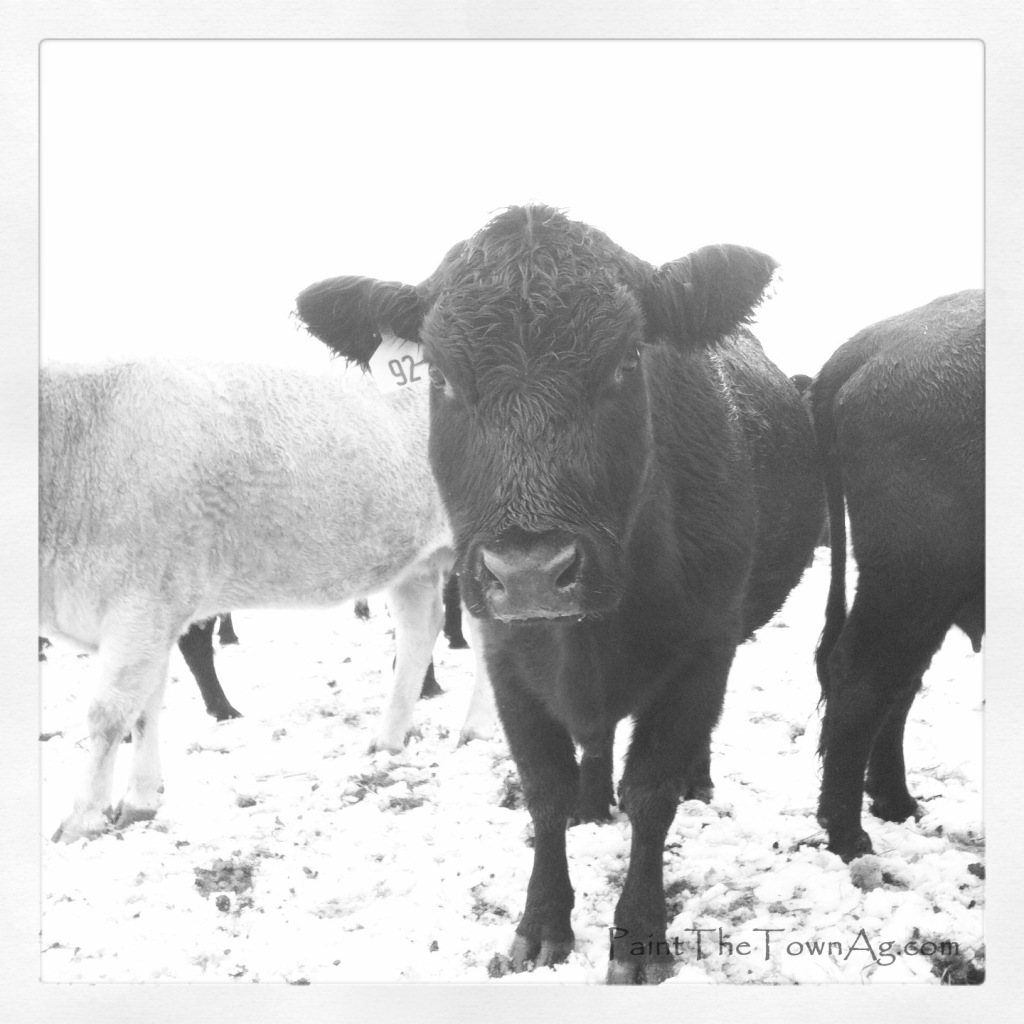 What has been the most satisfying part of farming for you?
The most satisfying part of farming (it may sound cliché!) is doing our small part to provide the country with a safe & reliable food source.
What crops (or animals) do you grow and why?
We have poultry, beef, sheep, and crops (hay & corn): The climate here in VA, especially in the fertile Shenandoah Valley, is good for livestock/animals, as well as crops. Although the hills are rolling and the soil is sometimes rocky, it's a great place to farm! Our county is ranked #1 in Virginia for dairy, poultry, and beef.
What do you think was the most useful advance in farming such as machinery, genetics, chemicals, etc?
I think that the evolution of farming overall – whether with regards to science or engineering – is absolutely The advances in each area have led to a safer, more reliable food source.
Food
What is your favorite thing to do with a food crop you grow?
Whether you use beef or pork – my favorite way to cook it is on the woodstove in the dead of winter! I love a cast iron pot and a dish that has simmered all day on a hot stove!
Chicken: (on woodstove or regular cookstove): take a whole chicken, peel off skin and take out giblets. Put in large pot, cover with water. Add 1 orange, quartered, 1 onion, quartered, poultry seasoning, and pepper. Bring to a boil and simmer for 1-2 hours until meat falls off bone. Take chicken out, cool on plate and then de-bone. Take out orange + onion, discard. Add meat back to chicken stock. Add 1 cup rice, 2 cups corn. Simmer for 30 minutes more.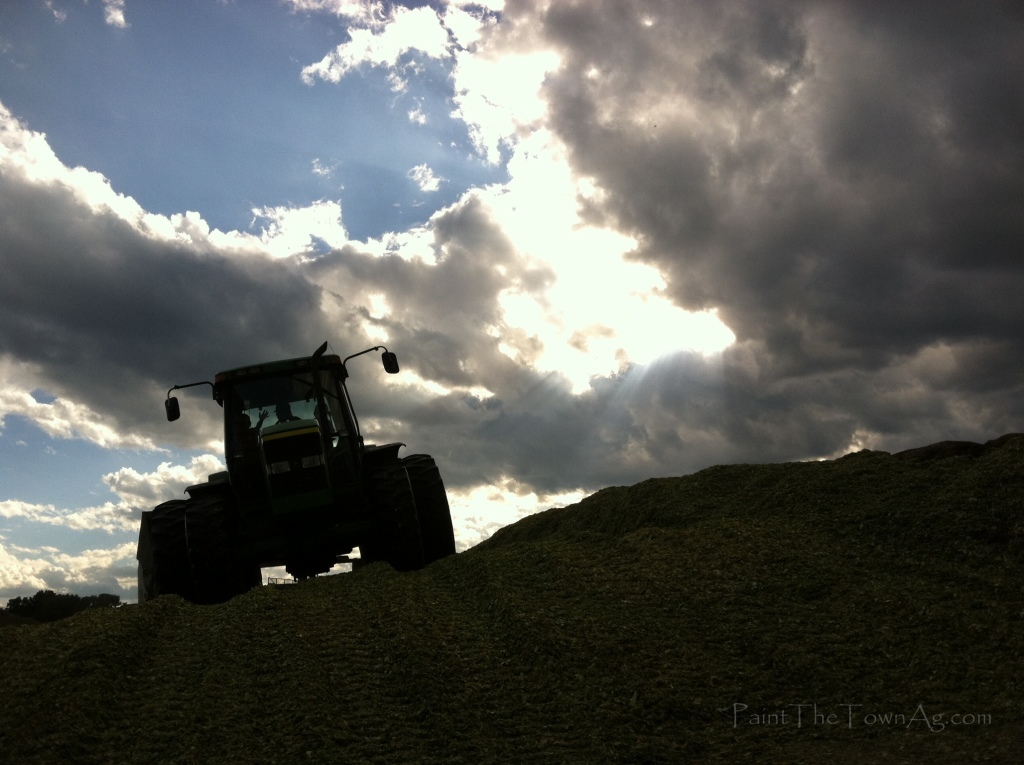 Future of Farming
What is one message you'd like to get across to the general public about what you do?
Regardless of your (public) stance on labeling, GMO's, chemicals, etc, etc., please know that farmers care for their farm & everything on it. They put in long hours and thoughtful decisions into their farm and its specifics. They want to do what is best for their farm, family, and products. The size of the farm does not correlate to care.
What advice would you give to anyone interested in getting into farming?
Brace yourself. This is not a job for the weak!
You can find more of Lauren over at her blog Paint the Town Ag, on her Facebook page, tweet with her on Twitter @PaintTheTownAG, or follow her lovely photos on Instagram @paintthetownag.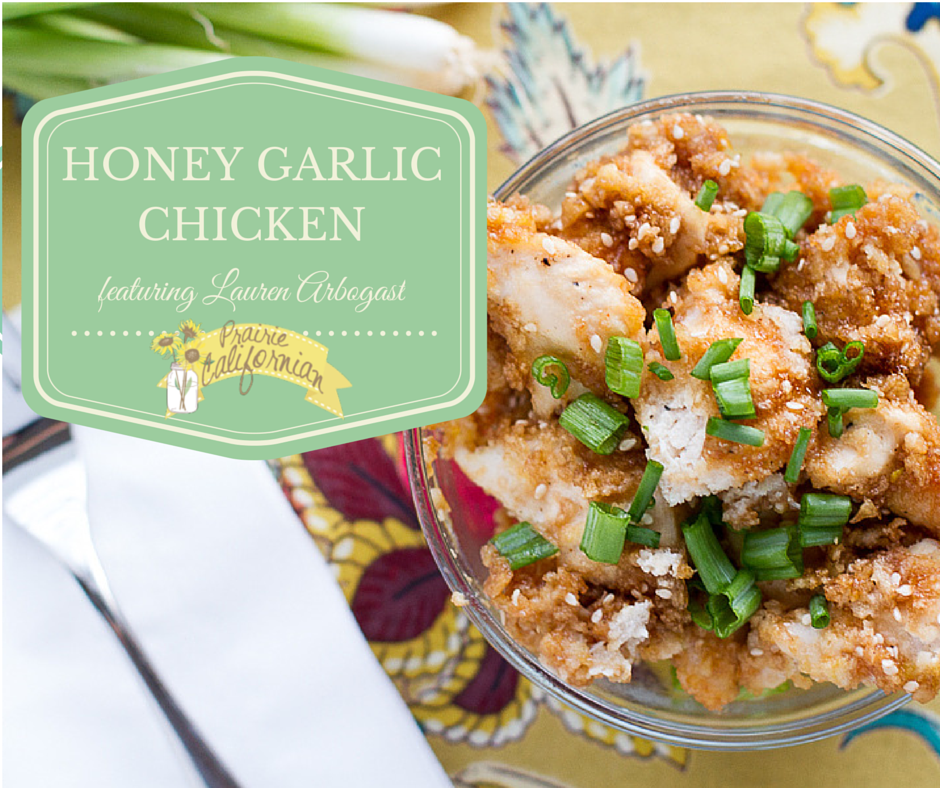 I love me some asian inspired food! This recipe takes a spin on the traditional general tso's flavored sauce, but makes it a bit healthier by baking the chicken instead of frying it. Serve this over rice or just enjoy as is!
Honey Garlic Chicken
2014-11-13 15:36:11
Serves 4
Chicken
1 lb. boneless chicken breast, cut into 1 inch cubes
salt and pepper
2 eggs, beaten
1 cup panko bread crumbs
Sauce
1/3 cup honey
4 cloves garlic, mined
1 tablespoon ginger, minced
2 tablespoons soy sauce
1 tablespoon Sriracha garlic sauce
1 tablespoon cornstarch
2 green onions, sliced
2 teaspoons sesame seeds
Chicken
Preheat the oven to 400 degrees F. Grease a baking sheet with nonstick spray.
Season chicken with salt and pepper. Working in batches, dip chicken into eggs and then coat in breadcrumbs. Add chicken to prepared baking sheet. Place into oven and bake until golden brown about 15-20 minutes. While chicken is cooking, prepare sauce.
Sauce
In a small saucepan over medium high heat, combine honey, garlic, ginger, soy sauce, and Sriracha. In a small bowl combine the cornstarch with 1/4 to 1/3 cup water. Stir cornstarch mixture into sauce. Cook until thickened about 2-3 minutes. Stir in chicken and toss to combine.
Garnish with green onions and sesame seeds. Enjoy!
Adapted from Damn Delicious
Prairie Californian https://prairiecalifornian.com/
This post is part of my Thirty Days of Food series where I am writing about food and farming for the entire month of November, to find out more about it all or how to follow along, visit my Thirty Days of Food page or click the photo below to find more great recipes with farmer features!