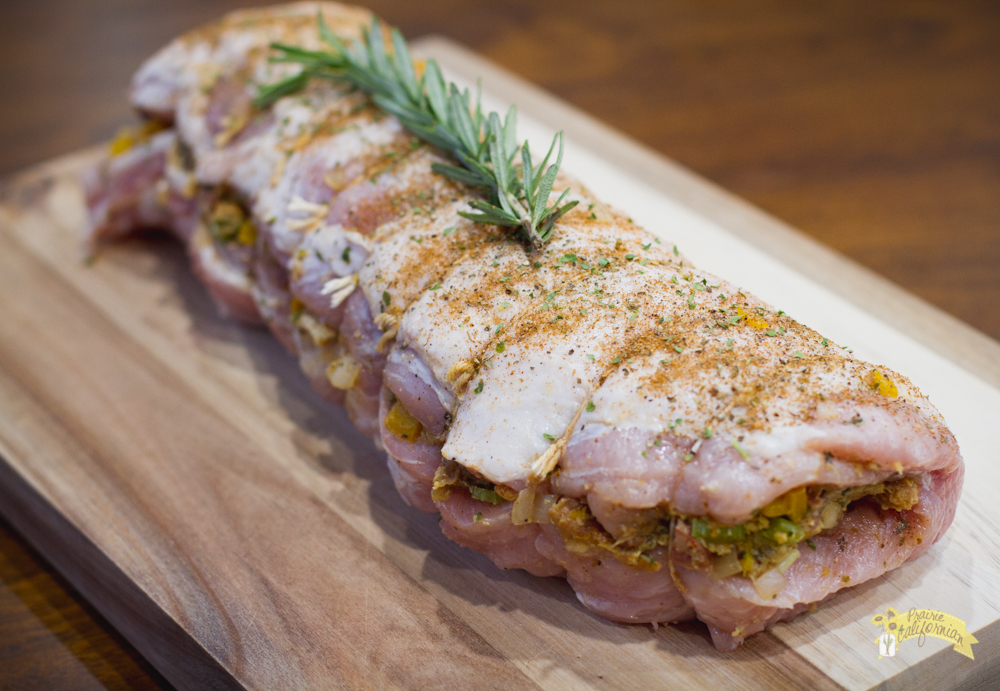 My husband is a meat and potatoes guy.. What this means is that on any given evening we have to have some sort of animal protein with our supper. Pork is a regular staple in our household and one of my favorite ways to make a pork loin is to stuff it or feature it with some sort of sauce. Because honestly, who doesn't love a fancy sauce or stuffing with their meat!? I found some andouille sausage in the freezer while I was digging for a pork loin and behold, the idea to Cajun stuff the pork loin hit me. Today, we get to hear from Thomas Titus who is a hog and crop farmer from Illinois. I am sure this pork loin will be right up his alley too!
PORK: THOMAS TITUS
Illinois
Who farms with you and what are their roles?
I farm with my wife, Breann and her family where we have 4 generations actively involved on the farm nearly on a daily basis. From Breann's grandfather who helps during harvest along with many electrical plans, to 4 under the age of 5 who spend as much time in a buddy seat in a tractor cab or caring for animals building core character values as they do in a school classroom.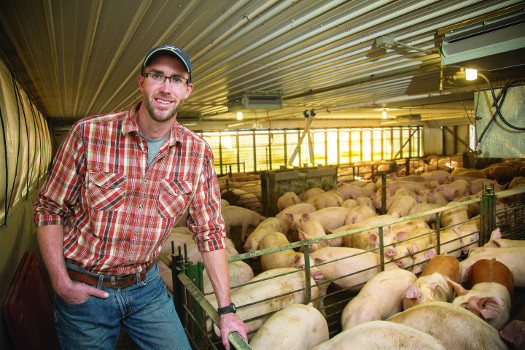 What has been the most satisfying part of farming for you?
The most satisfying part of farming is being able to share my passion for animal care and stewardship of our land with our next generation. We try to involve the next generation at any possible moment whether in a buddy seat in the tractor cab or caring for our animals. The ultimate fruit of our labor is the day when that opportunity presents its self for the next generation to join the family farm.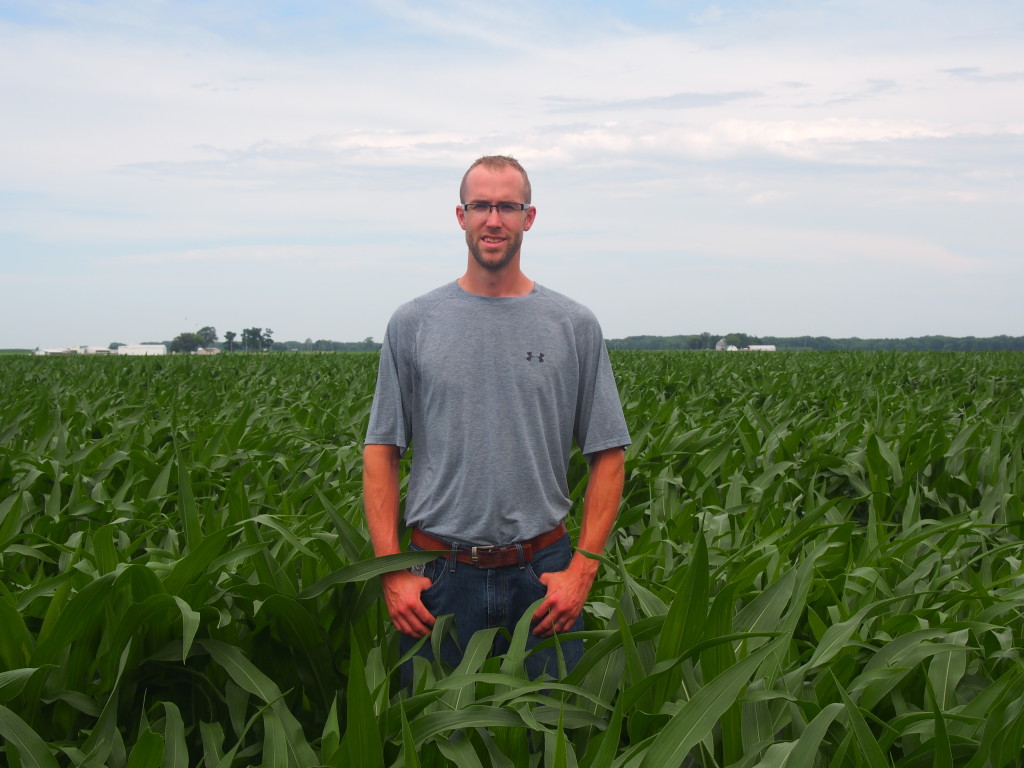 What crops (or animals) do you grow and why?
On our farm we grow corn, soybeans, hay, cows and pigs. However, I always state the most important thing we grow on our farm is our kids. Our farm is a bit more diversified than many today as we have used various business enterprises to make an opportunity for the next generation to join the farm. To be able to continue this legacy into the next generation I am certain that our farm will continue to hold the same principles and values, but may have continued to diversify to provide greater opportunity for more families to join the farm.
What is your favorite thing to do with a food crop you grow?
As a pig farmer, our favorite thing to do with pork is to fry up a beautiful pan of bacon or cook marinated pork tenderloin.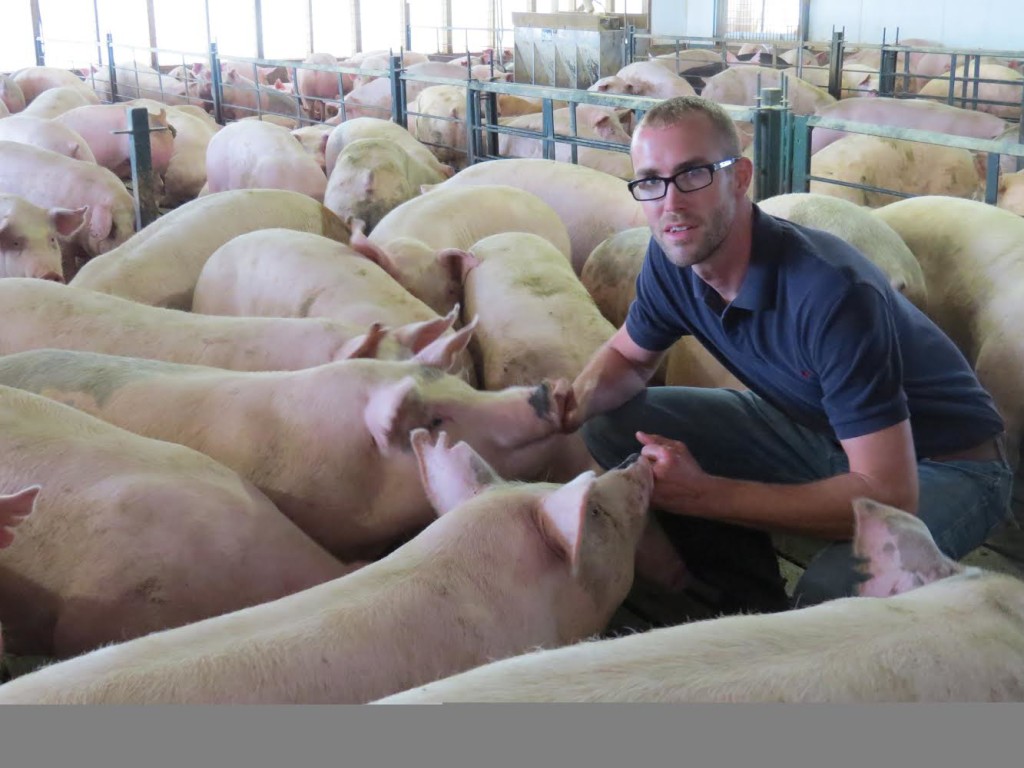 What is one message you'd like to get across to the general public about what you do?
As only 2% of the population, knowing a farmer is not nearly as easy as it once was of generations past where a parent, uncle or grandfather may have been involved in agriculture. In today's age, there is so much information accurate/inaccurate available at our finger tips via social media, search engines ect that one can become consumed and unsure what to believe about where their food comes from. I encourage consumers to reach out to some of those more active famers on social media to ask questions about how food is grown as raised.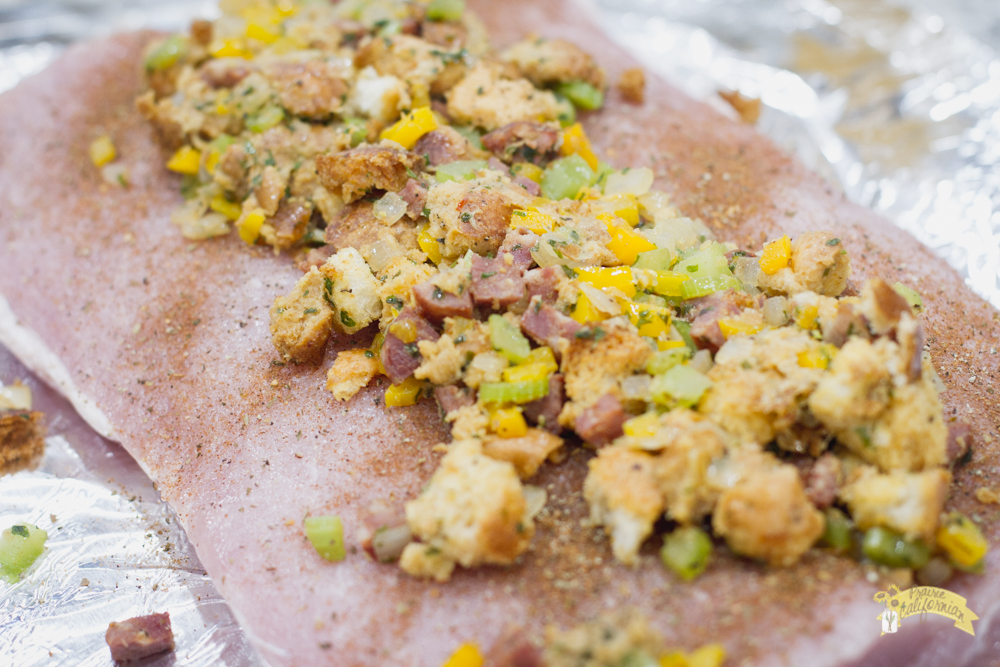 This stuffing would have been amazing with the addition of some sort of seafood! Feel free to experiment! And if you can't handle the heat of andouille sausage, using a cajun sausage works too!
Cajun Stuffed Pork Loin
2015-11-14 08:17:27
Ingredients
5 pound boneless pork loin roast, butterflied
2 cups dried bread, cubed
2 tablespoons olive oil
1 link andouille sausage, finely chopped
1/2 onion, finely chopped
1 stalk celery, finely chopped
1 bell pepper, finely chopped
1/3 cup white wine
1 teaspoon chicken base (or bouillon)
1 - 2 teaspoons cajun seasoning
pinch of parsley
salt and pepper to taste
butcher's twine
Optional: Tomato Cream Sauce
1 1/2 cup heavy cream
2 tablespoons tomato paste
1 teaspoon Cajun seasoning
1 teaspoon spicy mustard (more to taste)
1 teaspoon sugar
Instructions
Preheat your oven or grill to 350 degrees.
Start by generously seasoning your pork loin with salt and pepper.
Pour bread cubes into a large bowl. Set aside.
In a large skillet heat olive oil over medium high heat. Saute the diced sausage, onion, celery, and bell pepper for 5 - 7 minutes or until tender. Reduce heat, add the white wine and chicken base. Stir well to incorporate. Season with cajun seasoning and parsley and remove from heat.
Add the sauteed mixture to the large bowl with the bread crumbs. Toss to mix. If more liquid is needed, feel free to add more. Bread cubes should be moist but not soggy. Taste and adjust seasonings as needed.
Pour stuffing out onto seasoned and butterflied pork loin. Roll over and tie together with butcher's twine.
Heat large skillet over high heat. Add a little olive oil to the pan. Once hot, brown the pork roast on both sides. Once browned, roast in oven or on grill at 350 minutes for 20 - 25 minutes per pound. Periodically check your roast with an internal meat thermometer to ensure proper cooking temperature is reached. Pull roast once internal temperature reaches 145 degrees. Cover with foil and let rest for 10 - 15 minutes.
While pork is resting, start the tomato cream sauce.
Simmer the heavy cream in a small saucepan for about 8-10 minutes or until it has reduced and thickened.
Whisk in tomato paste, Cajun seasoning, mustard, and add salt or black pepper to taste.
If necessary, whisk in sugar.
To serve, slice pork and top with tomato cream sauce. Enjoy!
Notes
Feel free to make your own bread cubes with fresh bread, pop in oven at 250 for 10-20 minutes or until dry.
Prairie Californian https://prairiecalifornian.com/
This post is part of my Thirty Days of Food series where I am writing about food and farming for the entire month of November, to find out more about it all or how to follow along, visit my Thirty Days of Food page to find more great recipes with farmer features!