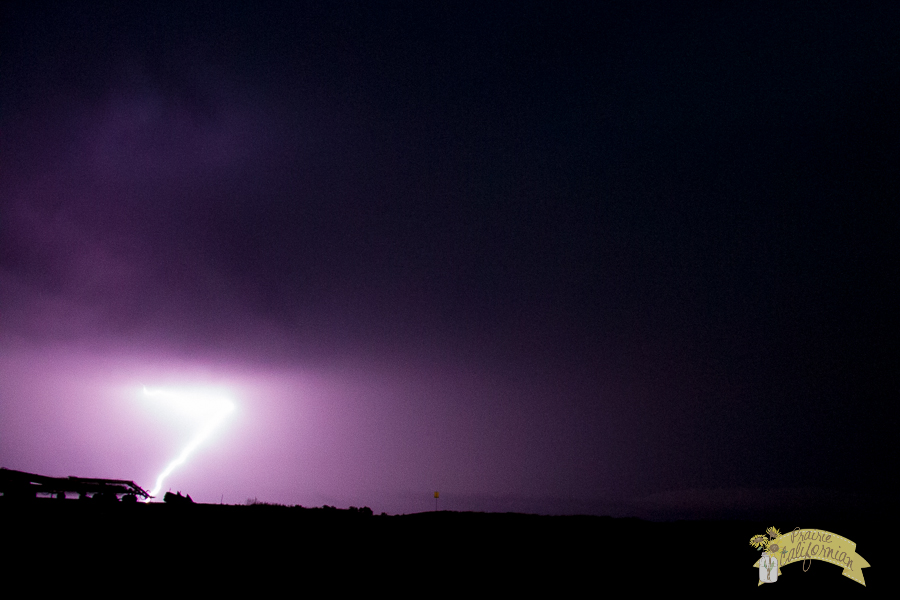 Since I moved to North Dakota, my list of "firsts" has increased exponentially. I mean it only makes since that North Dakota and California don't share very many similarities, I would be experiencing all sorts of new things. But last night took the cake on my lists of firsts. Last night we had a tornado warning.
Some of y'all who live in tornado country are like "PSH, no big deal… we live through that many times in a year." And you may be right, but you've got to understand. I grew up in California. There are no tornados in California. My fear of tornadoes is much like a Midwesterner's fear of earthquakes. I didn't know what to expect. I didn't know what to look for. And I wasn't entirely sure what was going to happen. After seeing the devastation a tornado can cause in several towns in NE and OK, I kept playing this image of Ashley flattened to rubble in my mind.

My husband was out checking fields and driving around north of town when the sirens in town went off. My phone lit up with warnings to seek shelter. So I grabbed a blanket, my phone, and of course some wine and headed down to the basement. Thankfully I have some amazing friends in town who made sure I was okay and safe via text and phone calls. I got ahold of my husband to know that he was north of it all and sought shelter in a farm yard. Although I wished he was home with me, I was at least glad he had cell service enough for him to ensure I had seeked shelter and to let him know that I loved him.
I watched the wind whip our tree outside from the basement window, rain came down in sheets, and lightning cracked. But thankfully a tornado never formed. There were several smaller funnel clouds that touched down to the south of town and to the east which wrecked some havoc but thankfully injured nobody. I have heard reports that some power lines came down, a barn roof was torn off, some calf shelters were lost, and many damaged trees.
The National Weather Service is conducting an investigation today to confirm damages and reports of wind speeds. At Maverick Ag, we had a door bust open from the wind from the west and lots of water came pouring in from the rain. We also had some things seriously blown around, like an 80 lb. metal lid to our seed treater which blew 50 ft. away. But there were no damages. We were lucky.
A small community (about our size) to the south of us about 170 miles, Wessington Springs, South Dakota, did not fare as lucky. A tornado came right through the heart of their town. Completely destroying three businesses and damaging approximately 43 homes with 11 homes damaged to uninhabitable. Luckily a timely warning allowed the entire city to take shelter and there were no deaths or critical injuries. Today the town seeks to organize and pick up the pieces.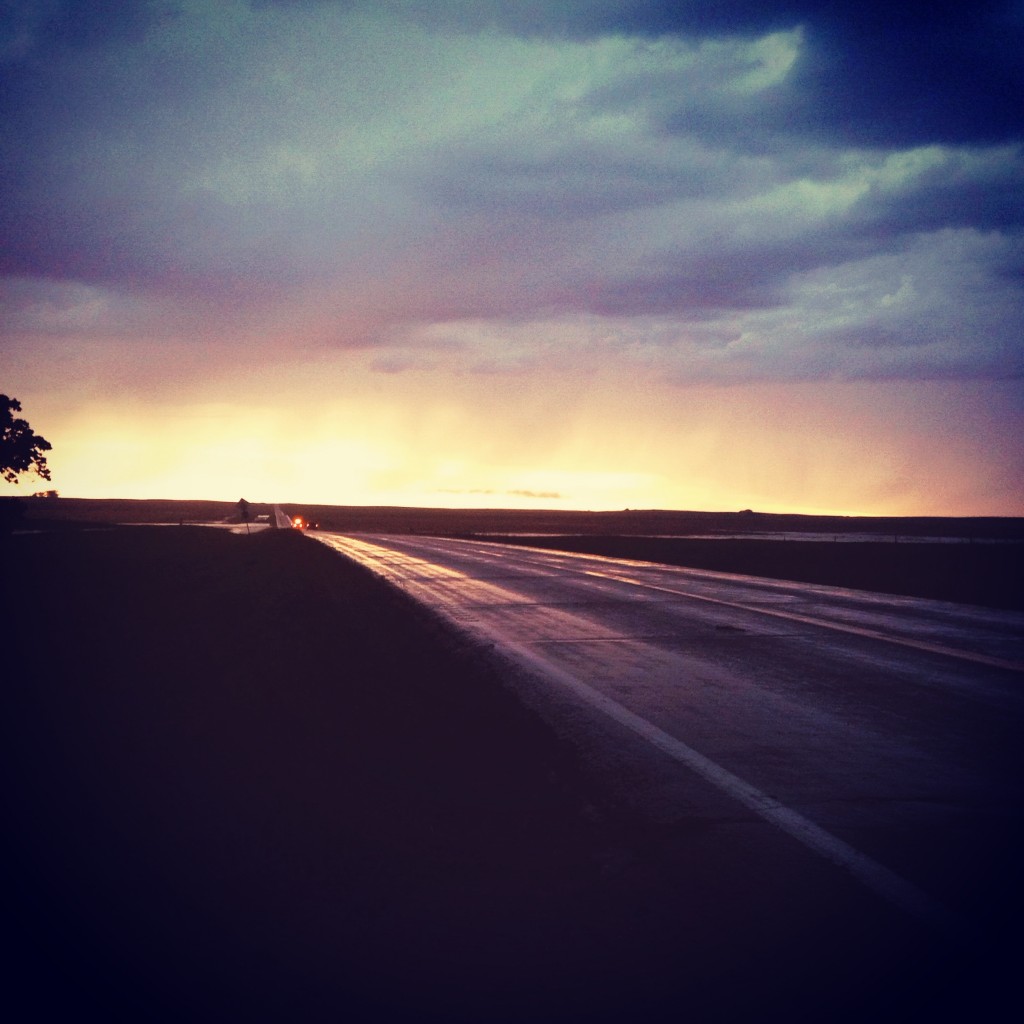 Once the storm had passed, my husband was finally able to drive into town. And our warning was lifted. I was so glad to have him home safe and sound. We spent the remainder of the evening driving around, assessing water levels and damages. The highway just outside of town about 3 miles to the west was shut down as water rushed over the road. In town we received about 1.5 – 1.8 of rain and at the farm 20 miles away, they received 1.8 inches with barely any wind. In between, however, did not fare as well. Some farmers and friends reported numbers anywhere from 4-5 inches with water rushing through their yards and fields looking like a lake. The photo below is courtesy Marisa Meidinger.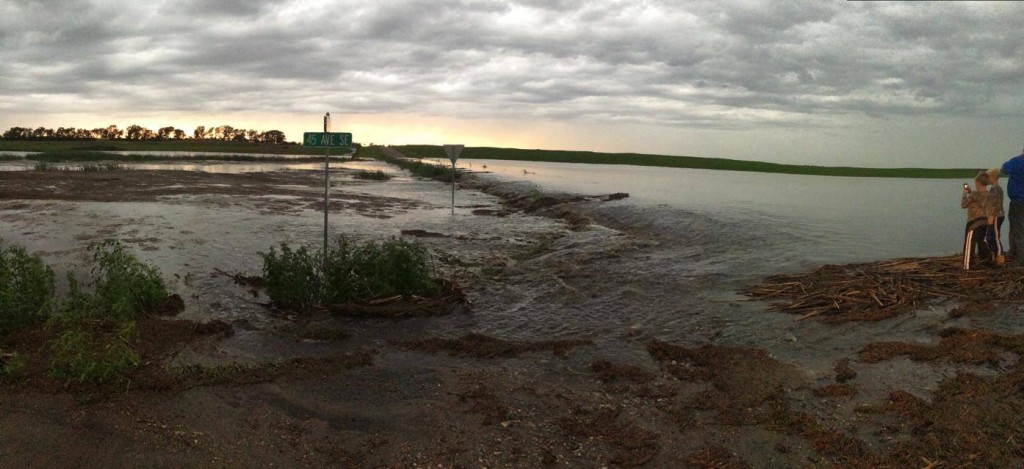 As the storm continued to the east of us, the hubby and I sat and watched the lightning crack. I caught some photos of the flashes. And we prayed that no more tornadoes would be forming. Luckily, it was fairly calm for the rest of the evening so we were able to go to bed and do the rest of the assessments today.
Now that I have experienced a scare of a tornado, I am hoping my next experience won't be nearly as bad. I am sure I will still be terrified. But at least I have lived through it once. Yes, we received a lot of water and that is detrimental to many farmers in the area as it will likely drown out crops. But I am just so thankful that we all remained safe, our homes and city intact, and that we aren't spending today picking up the pieces like the small community in South Dakota is. Please keep them and many other towns in your prayers as so many right now are suffering through the devastation that is Mother Nature. She is cruel, she is brutal, but sometimes you've just to to marvel at her beauty.
There's a first time for everything… And for this California born and raised girl, I am putting a big red check by tornado warning.