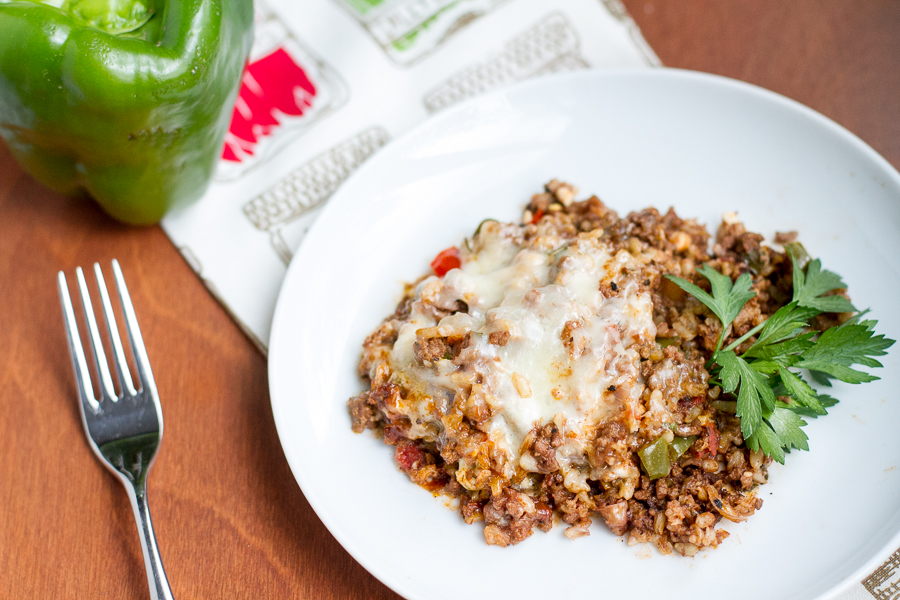 Growing up I wasn't a huge fan of bell peppers. I can still be somewhat picky about them. Raw, they aren't my favorite. I will eat them in some salads but just to grab a pepper and dip it in something to eat, no thanks. They are somewhat like onions in that in a raw form, they are just too harsh for me. It wasn't until I started cooking, I realized how sweet and delicious peppers could get when you cook them. It was then that I gained up the courage to try a stuffed pepper. It was delicious!
I came across this Stuffed Pepper recipe in the Food Network magazine and have had it in my recipe file for a while now. When I feel like being adventurous, I make stuffed peppers. But the other day, I got the idea from my lovely friend over at Harleys and Heels to deconstruct it. And make it into a casserole, or as it is called in these parts, a hot dish! It was super easy and I will admit, my husband liked it way better all deconstructed versus stuffed inside the pepper. We will be making and enjoying this again soon! p.s. the Food Network recipe uses ground turkey, I used ground beef. Because well, ground turkey or chicken is pretty much a sin in our household. 😉
Stuffed Pepper Casserole
2014-08-26 09:03:19
Serves 6
deconstructing stuffed peppers, simple and easy!
Casserole
2 cloves garlic, minced
1 onion, chopped
5 - 6 medium bell peppers (any color)
1 pound ground beef
1 1/2 to 2 cups brown rice (or white)
1/2 cup walnuts, chopped
2 - 3 tablespoons fresh dill
1/2 cup fresh parsley
2 cups shredded part-skim mozzarella cheese (about 8 ounces)
1/2 cup crumbled feta cheese
1 tablespoon fresh lemon juice
1 teaspoon grated lemon zest
Freshly ground pepper
Salt to taste
Sauce
1 15 -ounce can tomato puree
1 tablespoon plus 1 teaspoon packed brown sugar
pinch of cinnamon (optional)
Salt and freshly ground pepper
Instructions
Preheat oven to 350 degrees.
Make the Casserole: Heat up a large skillet with olive oil. Sautee the peppers, onions, and garlic until soft. Empty into casserole dish.
In the same skillet, brown the ground beef. Season with salt and pepper. Add to casserole dish.
While the peppers and beef are browning, cook the rice and add to casserole dish.
Add the chopped walnuts, dill, parsley, feta cheese, 1 cup of the mozzarella, lemon juice, and lemon zest to the casserole. Mix thoroughly. Add salt and pepper if necessary.
Make the sauce: In a small saucepan, combine all sauce ingredients. Bring the sauce to a simmer over medium-high heat. Simmer for about 10 minutes then pour over casserole dish. Stir well.
Top the casserole with the remaining mozzarella cheese and bake 25-30 minutes or until warmed through and cheese melted.
Serve and enjoy!
Adapted from the Food Network
Prairie Californian https://prairiecalifornian.com/
Next week I will be sharing those Greek Chicken Gyros with Tzatziki sauce with homemade pitas! You won't want to miss it!! It is one of my new favorites! And as always if you have ideas for recipes for me to share, feel free to contact me!