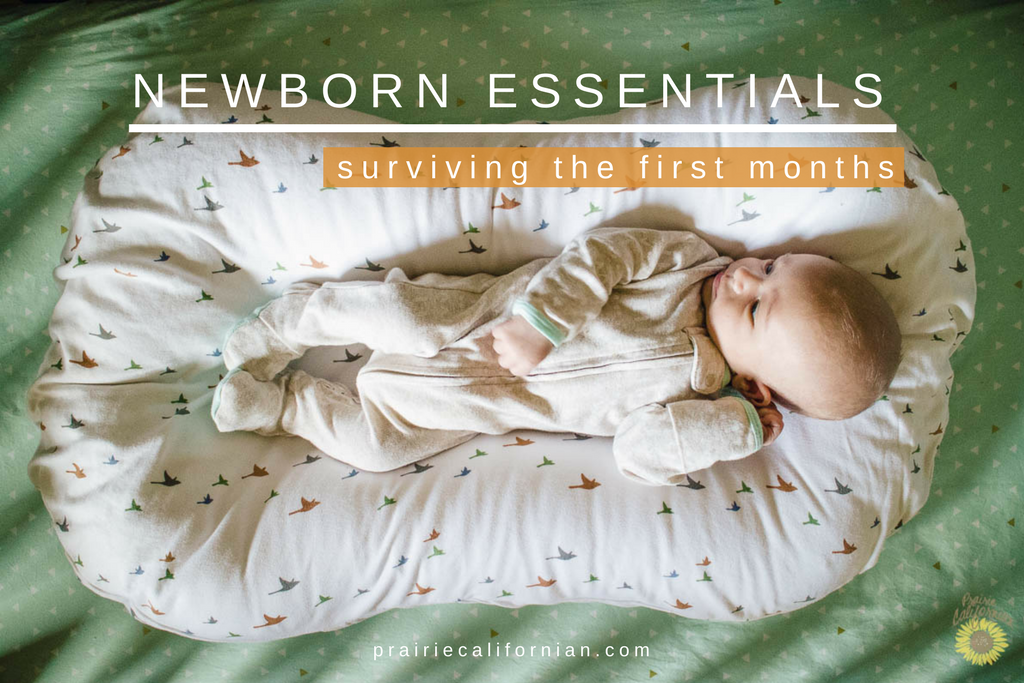 We are officially one month into the raising a newborn life and boy, what a ride! Some days it is up and some days it is down. They say the first couple months with a newborn is all about survival. You do what you need to to survive and if you are like most parents, you end up doing the things you say you'll never do. Anything to soothe a crying baby, am I right?
Even though when I was pregnant seems like forever ago, I remember back to when I first started figuring out what to register for when it comes to baby items. Some of the items seemed completely unnecessary and some of the items seemed like no brainer necessities. I joked with my friends that the baby product industry is a lot like the kitchen tools industry, there is way more "stuff" than you'll ever need even if it SEEMS useful. And to be honest, I really didn't want a bunch of STUFF lying around that we will only be using for the first year or so of his life and then be done with it.
I tried to go as minimalistic as possible, but of course the nesting bug kicks in and you end up buying all kinds of stuff. And not all of it has proved to be necessary for our little man. So I wanted to share our list of Newborn Essentials. In hopes that it helps some overwhelmed first time Mom out there!
Of course, it is important to note that all babies are SO different! So what works for Levi may not work for your little one and vice versa. A good example, everyone SWEARS by their Rock N Plays, however, ours won't even make the list. Levi hates it and has from the day we got it. We never turn it on and if we use it, we use it as an incline/upright place to set him down. However, several of these items are staples to any Mom's toolbox.
NEWBORN ESSENTIALS
** May contain affiliate links **
Snuggle Me Organic – I have heard time and time again how amazing the Dock-a-Tot is, but it comes at a hefty price tag. I found the Snuggle Me as an alternative to a sleeping "nest". Similar concept but for less of a price tag. We LOVE our Snuggle Me! We love it so much we actually have two of them. One lives in his crib and one lives in our bedroom. You can read all about how the Snuggle Me works, but we love it because it keeps Levi feeling snuggled and secure when he sleeps.
Love to Dream Swaddle Up Swaddle – Every single ultrasound we had (and we had a lot of them) Levi always had his hands in front of his face or by his head. I had a feeling when he came out that things wouldn't change and I was right. He LOVES to sleep with his arms or hands up so traditional swaddling did not go over well with our little man. This swaddle has been AMAZING, it allows him to still feel swaddled but he can keep his arms up! We now own three of them!
Baby Shusher – I didn't think we needed this until we realized that babies respond well to shushing and well, your voice gets tired of shushing endlessly trying to soothe a crying baby. This thing is portable, has multiple settings for noise level, and can run for 15 minutes or a half hour. It has seriously worked wonders sometimes and saves us from not having to sit next to him and shush him or hold him and shush him.
Aquaphor Baby– We got a recommedation for this stuff from my sister-in-law and honestly, it's the only "diaper cream" we've used thus far. I have used this stuff for everything. Any sort of dry skin, load it up on his bottom for nighttime, battle cradle cap. Aquaphor is really like baby duck tape as our peditrician calls it.
Probiotics Drops – We've battled with reflux issues with Levi and amazingly enough our pediatrician recommended we add these into our daily routine. It may be woo, but we've seen a huge difference since adding these in Levi.
Cloth Diapers/Burp Cloths – Babies are messy. Between milk everywhere, spit up, and who knows what else, it's been so handy to have burp cloths always around and on hand. Good ole old fashioned cloth diapers work great for this especially if you've got a spitty baby because they are much more absorbent, plus they are inexpensive. If you are looking for some cute burp cloths for a great price, I love the Cloud Island ones from Target.
Changing Pad Liners – Changing, especially with a boy, is unpredictable. It's only a matter of time before you WILL be pooped or peed on. These pad liners have saved having to rip off the changing pad cover and wash every single time. Instead you can pull off this liner and then put a new one back on for the next changing. They have a waterproof layer to keep whatever mess on top of them, not soaking into your changing pad cover.
Sleep N Plays- Loading up on cute baby outfits is tempting, especially for a new mom. I enjoy dressing Levi up when we go out, but most of these weeks we've just been at home. And at home, convenience wins over cute. Sleep N Play footies are like the yoga pants for babies. They are comfy and easy to take on and off and don't require a bunch of pieces. Many sleep n play footies snap all the way down, nobody has time to deal with snaps when you're half asleep trying to change the diaper got a squirmy kid at night. Invest in the zip ones! And the best part is that some zip from the feet up!
Baby Wearing Carrier – I think you could say I am already a bit of a carrier junkie.. I own several and I will go through the benefits of all of them!
Boba & Solly Baby Wraps -The wraps can be intimidating at first but once you figure it out it is super easy. Newborns tend to like these best. The Boba fabric is much thicker than the Solly (ie: much hotter) but they work the same way.
Tula Free to Grow – I like this carrier because I don't have to buy an insert for him when he's a newborn like the traditional Tula. This carrier will grow with him as it has multiple settings. This carrier is great, especially for going outside on walks and when you are going to be moving around a lot. It is also a no brainer carrier, it isn't wrapping fabric or using a sling. I will say though, that Levi tends to fuss more when being put in this one than the wrap. I don't know if that is just him or if that is normal given his age!?
Wild Bird & Hip Baby Wrap Ring Slings – Basically all ring slings work the same and I have yet to master getting him in it and getting the right seat. I honestly think it is just me because it looks SO SIMPLE in all the tutorials. I think I just need a hands on helper the first time so I get the feel. But I have SEVERAL friends that swear by these as being one of the easiest!
Kiinde Twist Feeding System – I watched several reviews on this system when I was registering for baby items and it seemed to good to be true, but it totally isn't! IT IS AMAZING!! So the system works like this: you pump directly into the bags, warm the bags, and then feed from the bags directly. Basically milk never has to be poured from bottles into bags and then vice versa. The neat thing about Kiinde is that they have adapters for most all electric pumps AND the bottles also will take any brand nipple your child prefers. We haven't had any issues with the nipples that come with the system though, they are very wide and breast-like. I got the gift set which includes a warmer, two bottles, a stash of bags, three different flow nipples, and a handy rack to store your milk in the freezer. For anyone who is going to be pumping and feeding, it is really a no brainer MUST HAVE!
White Noise Machine – White Noise can be magical for babies. Apparently when they are growing in the womb, it is like a rock concert in there. Then they come out and we want to keep them in these quiet rooms. I invested in the Hatch Baby Nightlight and White Noise machine. It connects via Bluetooth on your phone (which will come in handy later on) and you can also control it via the machine itself. There are four presets you can scroll through. You can also later on set the device to change color (or play a tune) when it is time for your child to get up! Genius! Right now I use it as a nightlight on my nightstand for when I am feeding Levi at night and will turn on the white noise if he naps in our room.
WubbaNub Soother – We have a love/hate relationship with the pacifier. Sometimes he really takes to it and sometimes he fumbles around with it and it becomes more work than if you were to just try and take a couple minutes to soothe him. Lately we have been foregoing the pacifier because it seems to make him more mad than not. But in the rare moment it works, I LOVE these WubbaNub versions. The little animals help keep the pacifier in his mouth because there is something behind it to keep it from falling into the abyss. Later on, Moms say it gives the child something to hang on to while they've got the pacifier.
NEWBORN APPS
Total Baby – When you first get home from the hospital, your life will be tracking feedings and soiled diapers to make sure your baby is eating enough to start gaining back their birth weight. And let me tell you, as a sleep deprived new mom, you WILL need some help remembering all of this! I found utilizing an app on my phone to be the best way for me as I carry my phone with me everywhere I go. Some people use an old fashioned notebook, but I lose stuff like that or leave it lying somewhere. Anyway, I loved Total Baby! I pretty much lived and breathed that app for weeks. I was able to track feedings (it also has timers you can use while you are feeding) and keep track of which side I had fed off of. I was also able to track wet and bowel movement diapers, sleep, pumping, baths, doctor visits, and pretty much anything under the sun. I also utilized it to track some of my vitals post partum as well.
Tiny Beans – A friend of mine recommended this app to me. It is a calendar photo app where I can upload a photo (or more for premium) a day of Levi and track any of his milestones. But the neat thing about Tiny Beans is that you can invite family and friends to subscribe as well. This has worked amazing for my parents and family living in California to be able to watch Levi grow daily from afar. The app also includes great blogs for parenting and other developmental information.
The Wonder Weeks – So I had no idea that babies go through LITERAL growth SPURTS where they do huge leaps physically and mentally in their development. Growing so suddenly can be really hard on their little minds and bodies. Levi becomes a BEAR when he is going through a growth spurt and when it first happened, I had no clue what was going on. My sweet, smiley little man suddenly changed into a crying, clingy, and grumpy bear. The Wonder Weeks app has been amazing for helping me track when he should be going through a growth spurt so I can expect it and plan for impact. The app also syncs with your calendar so you can be aware when scheduling things, etc. It has been much better being able to anticipate that there may be a couple rocky days ahead or days where he wants to eat nonstop so I am not planning too much and setting myself up for huge meltdowns while I am out and about.
These are the essentials that have worked well for us and are things we utilize DAILY! Every baby is different, so if you have a list of essentials you love (keep it simple), please leave a comment below!
SHOP THE POST
---