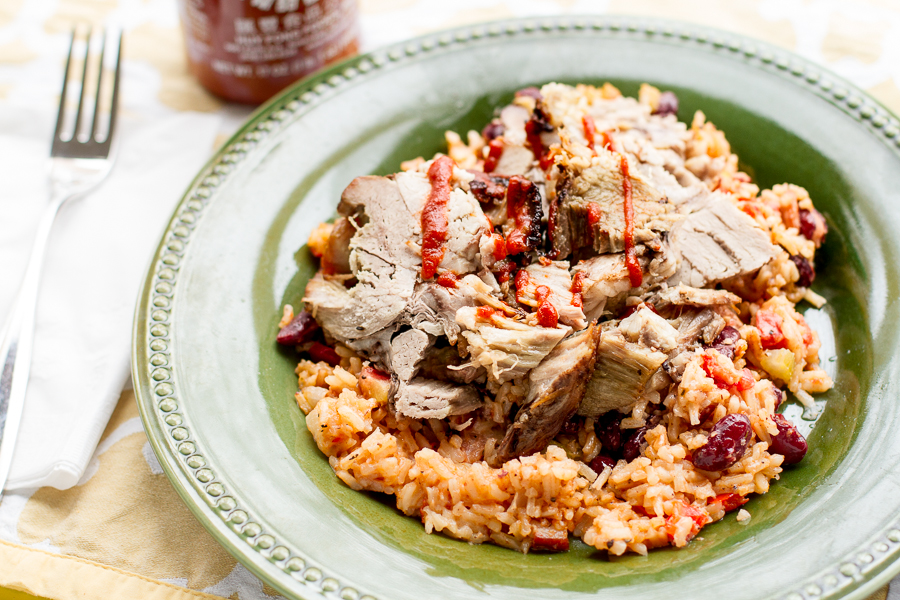 One of the reasons I love to travel so much is because I love to try new foods. I constantly am finding inspiration in re-creating new foods at home from our travels. We went to Jamaica last year. We enjoyed some amazing bbq jerk chicken all over the Island. And since then, I've been on the hunt to cook something jerk seasoned. Problem is the ingredients are hard to find. Scotch Bonnett peppers aren't something you easily come across.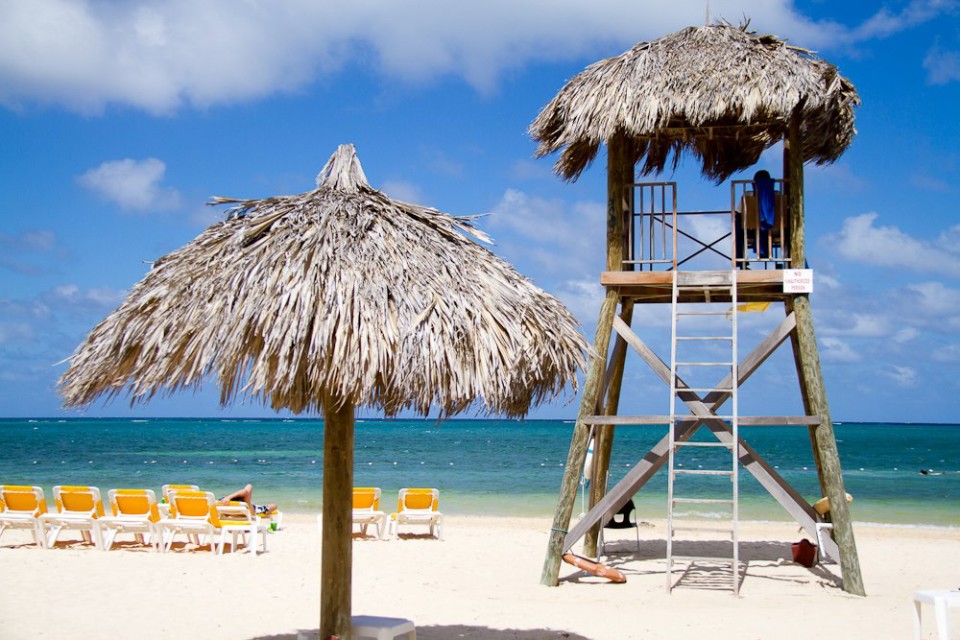 Can you feel the warmth?? Oh how I long for this beach during this time of year when it's been below zero for a week… Anyway, if you recall I gave spices away this year for Christmas so I placed a huge order from Penzey's Spices. I got a sample size of their Jerk Pork seasoning and decided to give it a whirl. I marinated the pork and then paired it with some jamaican rice and beans. This rice and beans recipe y'all… AMAZING!
I loved this recipe. LOVED it. Except for it needed a little more kick. I think next time I am going to try their Jerk Chicken seasoning with this and add a little more cayenne to the mix. I have amended the recipe to include some heat, feel free to kick it up a notch if you'd like. I used a pork shoulder and marinated it for half a day (about 12 hours) and then cooked it in the oven. This would be AWESOME on the grill and smoked to give the pork a nice crust. Feel free to try it out and let me know how it is.
Jerk Pork with Jamaican Rice
2015-01-12 10:55:15
Jerk Pork
3-4 lb. pork shoulder
couple tablespoons of Penzey's Jerk pork seasoning
2 teaspoons cayenne pepper or some hot sauce
4-5 cloves garlic, chopped
1 tablespoon olive oil
3/4 cup orange juice
Juice of 1-2 limes
Jamaican Rice
5 slices bacon, chopped
1 cup onion, chopped
1 cup red bell pepper, chopped
1 cup celery, chopped
1 teaspoon thyme
1/8 teaspoon crushed red chiles
2 cups white rice, uncooked
1 can diced tomatoes
1 can kidney beans
2 cans coconut milk
salt and pepper to taste
Jerk Pork
Mix all marinade ingredients together in a small bowl. Make several X's on the fat side of the pork shoulder. Pour marinade over pork. Cover and refridgerate.
Marinate it for several hours or overnight.
When ready to cook, preheat oven to 450 degrees. Cook pork uncovered for 20 minutes at 450 degrees. Lower oven to 325 and cook for 3-4 hour or until pork is fork tender. Shred or slice up and serve over rice.
Jamaican Rice
In a large skillet, brown the bacon and remove from pan. Save 1/4 cup bacon grease and saute onions, pepper, and celery until tender. Add thyme and crushed red chiles, stir well. Add tomatoes, uncooked rice, and kidney beans. Add coconut milk and a little water (about 1/2 cup). Bring to boil and then turn down heat to medium low.
Cover and simmer for 20-25 minutes or until rice is tender.
Prairie Californian https://prairiecalifornian.com/
What are your favorite foods you've discovered during your travels??