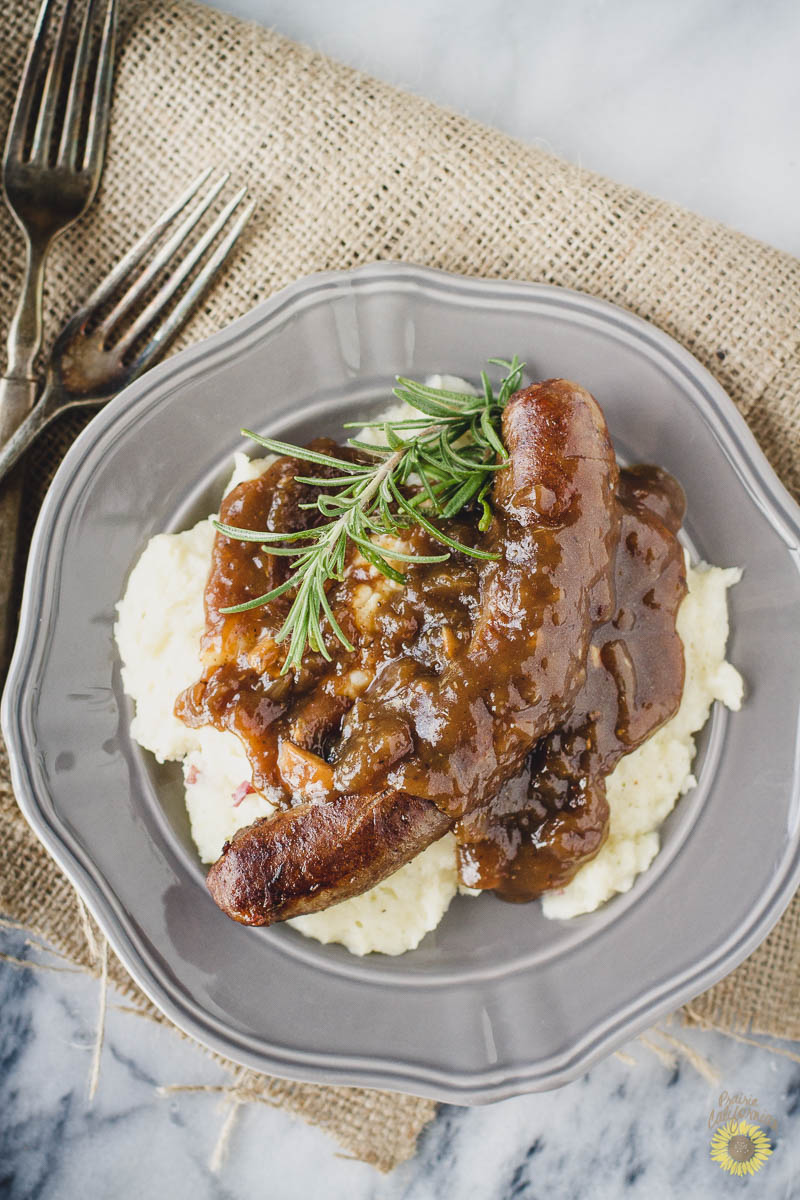 I have been working on perfecting bangers and mash for quite a while. I couldn't find the exact combination of flavors I was looking for and finally… I found it! And the best part, I found a way to cook it in my Instant Pot! If you are new around here, you may not be familiar with my love of my Instant Pot Electric Pressure Cooker!
I first purchased it over the Black Friday sale on Amazon because I had heard such amazing things about them and couldn't resist a good sale. However, I was incredibly intimidated to use a pressure cooker. Visions of my grandma's old manual pressure cooker clanging and my beautiful kitchen being blown up ran through my head. So, there it sat, in my garage… for three months. Until one day, I got brave. I brought it inside and gave 'er the maiden voyage…. I was hooked! And I could not believe it took me this long to muster up the courage to even try it!
Fast forward to now, I own TWO Instant Pots and use at least one three times a week, if not more. Since having a baby, we have utilized it almost nightly. It makes life with a newborn even that much more simple. And since I took some time to freeze some pressure cooker recipes, I can literally pull something out of the freezer throw it in the Instant pot and cook – all while I tend to my sweet little bundle of joy.
Anyway, back to the Bangers. This recipe is SO simple. You are going to love it.
Instant Pot Bangers and Mash
2017-10-27 12:40:21
Serves 4
pressure cooker bangers and mash
Ingredients
2 lbs. bangers (I love potato sausage)
1 red onion, chopped
2 cloves garlic, chopped
1/2 cup dark beer OR apple cider
1/2 cup beef broth
2 teaspoons worcestershire sauce
1 teaspoon spicy mustard
1 teaspoon balsamic vinegar
1/2 teaspoon dried thyme
cornstarch to thicken
Instructions
Using saute function, brown the sausages in the Instant Pot in a little oil. Once browned, remove from pot and set aside.
Add onions and garlic to the pot, saute for 2-3 minutes until softened. Deglaze the pan with the dark beer or apple cider, being sure to scrape up any bits from the bottom of the pot.
Add the beef broth, worcestershire sauce, mustard, balsamic vinegar, and thyme. Stir well. Add the sausages back to the pot.
Lock the lid into place and set for 15 minutes on manual. Once done, use a quick release.
Remove sausages to a plate and turn back on saute. Mix 1 tablespoon of cornstarch with some water and add to the pot. Whisk to thicken the gravy.
Serve on top of your favorite mashed potatoes (We use the Instant Pot for cooking the potatoes, 20 minutes!) and enjoy!
Adapted from Chef Alli's Farm Fresh Kitchen
Adapted from Chef Alli's Farm Fresh Kitchen
Prairie Californian https://prairiecalifornian.com/