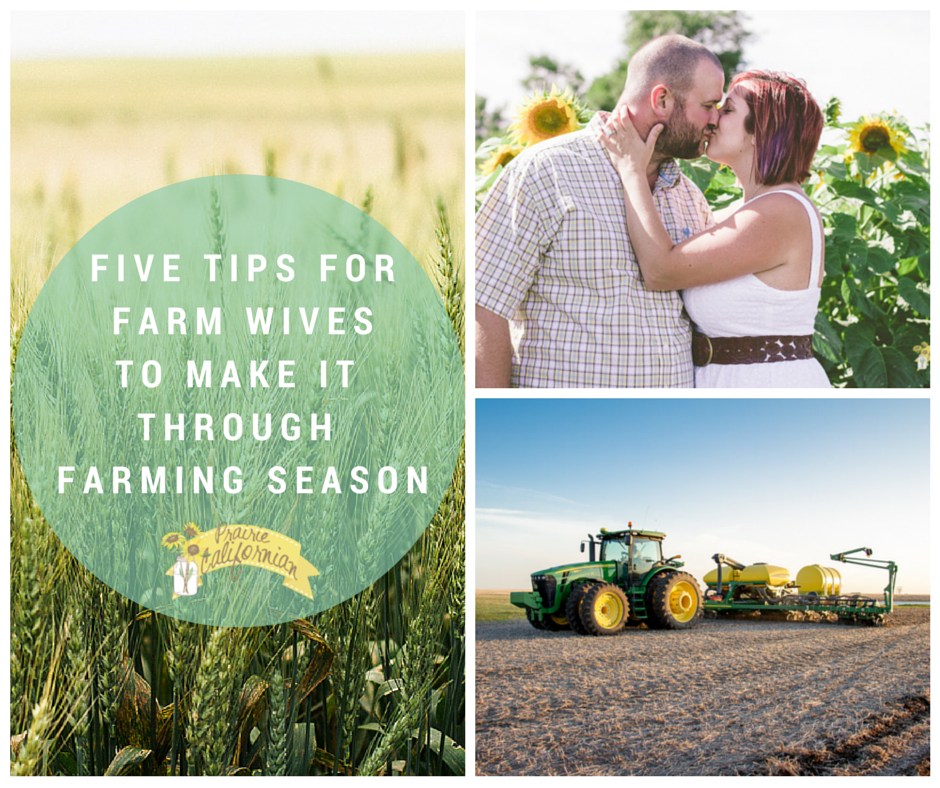 This week my husband looked at me and said the sentence I dread every single year: "You aren't going to see me much this week." To a farm wife, those words signal that a new season is beginning. And I know when he says this week, he means in the next couple months. A new season on the farm starts with planting and ends with harvest. And for those of us who have lived it, there's some rough transitions in between.
I've written before about how nobody ever said loving a farmer is easy. The truth is that it isn't. To help with this, I've given advice to new farm wives from the most seasoned of farm wives. And I've written plenty of silly posts poking fun at realities of this life on the farm as well as how marriage to a farmer will without a doubt change your life.
But all joking aside, I've had an influx of new girlfriends and wives to the farm who have reached out to me. They know that another year of farming lies ahead and they genuinely want advice on how to stay sane and make it through.
Well, this post is for you. I'm sharing five tips for farm wives to make it through farming season. Although this list could easily be much longer.
The transitions are the hardest
I am sure many other wives out there will agree, the transitions are the hardest. It takes some serious time to find a routine that doesn't include your husband (or boyfriend) in your life all the time. This is especially true if you have kids. Just be prepared that for a few weeks while the transition is still fresh: it may hurt, you may be cranky, and it probably won't be easy. But with time, you'll find a groove and it will be much smoother sailing. Usually it will be right in time for him to be home and disrupt that routine. Then it's back to finding a new routine that includes him once again. The transitions from having him farming to having him home once again, they are the hardest, I promise.
What you are feeling is normal
I know right now it may feel like you're losing your mind. It may feel like you're alone and completely abandoned. Or it may feel like there isn't anyone else in this world who understands how you're feeling. I'm here to tell you, what you're feeling is normal. And most importantly, it is OKAY that you're having a hard time adjusting. Even the most seasoned of us still have feelings of isolation and angst during this time. The important part to remember is that it isn't forever. And this life is truly beautiful once you make it through the rough patches.
Don't stew, keep your mind busy
I don't know about everyone else, but my first response when I am feeling lonely, cranky, or sad is to hole up in the house completely alone. This is the worst idea you could have because most of the time it solidifies your already heightened emotions. The more you stew on how you feel, the more it will keep haunting you. Keep your mind busy. Find a routine that includes a hobby or establish a new healthy habit such as exercise. Maybe you've been neglecting your girlfriends to spend time with your hunny, call those girls up and have a ladies night. Bottom line: the more you're filling your days and nights with things to do, the less your mind will dwell on the fact that your sweetheart isn't there.
Communication is key
This is usually where I say "Thank you GOD for technology". I cannot imagine farming in the days before cell phones. Text messaging will be your life saver. Or even a quick phone call. Knowing that my husband is out there and okay keeps my mind at peace. It's even better when he reminds me that he loves me. Having an outlet to get ahold of him in the case of an emergency (both physical and emotional) is a huge sigh of relief for me. I know my husband is busy, but we make it a point to check in with one another throughout the day. This may seem petty but when you're in full swing of farming, these small tokens make all the difference in the world.
Make friends with other farm wives
Honestly, nobody understands what you are going through except the very ladies who have been through it. And if you're married to a farmer, you've been shaking your head at all of these points. We can all relate. So to my seasoned farm wives, take a new season of farming as the chance to reach out to a newer farm wife. She may be feeling vulnerable and shy, make the connection and let them know that you're there whenever she needs to talk. And to my new farm wives, don't be afraid to reach out to a more seasoned lady when you're feeling like you're drowning. I can guarantee you she remembers her own time trying to find a way to make it through the first years. And thankfully for all of us, the internet makes this so much easier. Sometimes all we need is someone to listen to us for what seems like the umpteenth time when we're feeling sad. That is what friends are for.
I hope that whether you've been married for twenty years or one year. Or maybe you aren't even married yet, that you're able to take something away from this post. Whether it be encouraging and reaching out to someone or finding some inspiration from fellow farm wives on how to handle this time of the year.
If you don't have someone to talk to on those lonely nights, find me on Facebook, tweet me, or email me. I am here for you. You're not alone and there's a whole support group of us who know exactly what you're going through. And believe me when I say that I have the utmost faith you'll make it through too.
Together, and maybe with some wine, we will make it through yet another farming season! So here's to it ladies! Cheers!