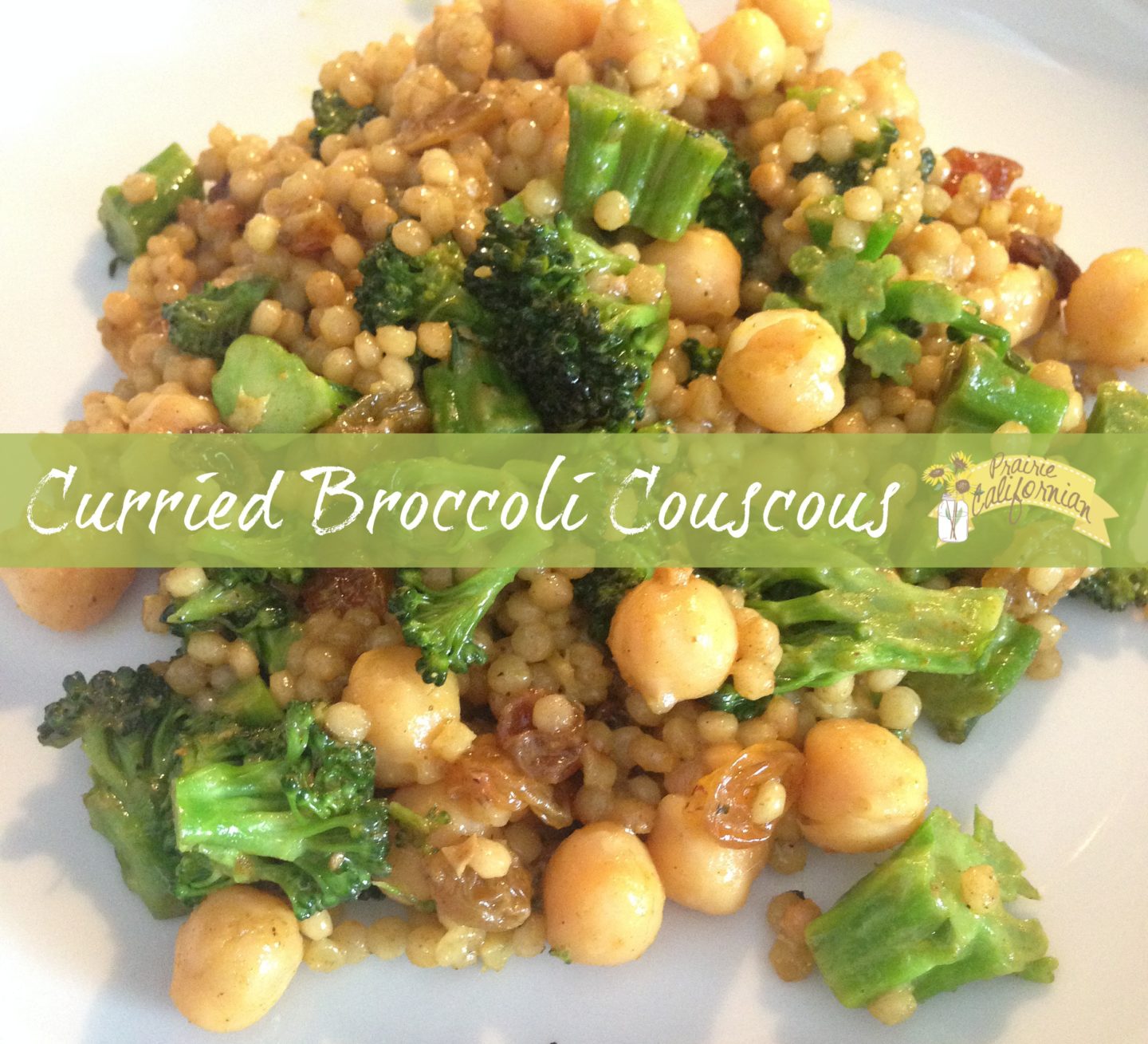 As a child I was alright with eating vegetables. Except for one. I hated broccoli. I am not sure if it was just because most of the time I ate it overcooked or what. But it was like pulling teeth to get me to eat my broccoli growing up. I kept this intense hatred of broccoli into my semi-adult life. I avoided broccoli in fear that I just wouldn't like it, still. Having not tried broccoli for years, a few weekends ago, I got brave. I bought some. And was on the hunt for the perfect recipe for it when I came across a recipe for Curried Broccoli Couscous. It sounded interesting and plus I LOVE anything curry, so I figured I'd give it a try. As usual, I spiced the recipe up quite a bit. It was DELICIOUS, you guys… DELICIOUS! I seriously will be making this again and maybe even adding chicken into it or some sort of meat.
It's kind of an odd combination, but I hope you will have an open mind and try it! The spiciness of the curry + the sweetness of the raisins + the creamyness (yes, I am now making up words) of the coconut milk. It's simple, it's easy, it's delicious! And for those of you who aren't a huge fan of broccoli, the curry helps hide that typical broccoli flavor. It's an easy way to ease yourself into broccoli. At least it was for me. For the record, I did roast some broccoli later on and found that I like it! Now broccoli is no longer on the "cannot eat list"… It's amazing how your tastes change. Or the things you find you like when you keep an open mind.
Curried Broccoli Couscous
2014-04-08 09:17:29
Serves 4
a simple and easy dish involving broccoli
Ingredients
• 2 tablespoons olive oil
• 1/2 bunch broccoli, chopped (1 1⁄2 - 2 cups)
• 1 tablespoon minced garlic
• 1 tablespoon minced ginger
• 1 tablespoon + 1 teaspoon curry powder
• 1 teaspoon cumin
• 1/2 teaspoon cayenne (less if you don't like spicy)
• 1/2 teaspoon garam marsala
• 1/2 teaspoon tumeric
• 1 cup canned chickpeas, rinsed
• 1/3 cup golden raisins
• 3⁄4 cup couscous (I used Israeli bc that's what I had on hand)
• salt and pepper
• 1/2 cup chicken stock
• 1/2 cup coconut milk
Instructions
1. In a large saucepan, heat the oil over medium-high heat. Add the broccoli, garlic, and ginger. Cook, tossing occasionally, until tender, about 5 minutes.
2. Add the spices and stir to combine. Stir in the chickpeas, raisins, chicken broth, and coconut milk. Stir in couscous.
3. Lower heat, cover, and cook on low for 5-10 minutes depending on the couscous you are using. Remove from heat, let sit then fluff with a fork. Enjoy.
Notes
This would be great with any sort of grain as well. Rice, quinoa, etc.
Adapted from Real Simple
Prairie Californian https://prairiecalifornian.com/