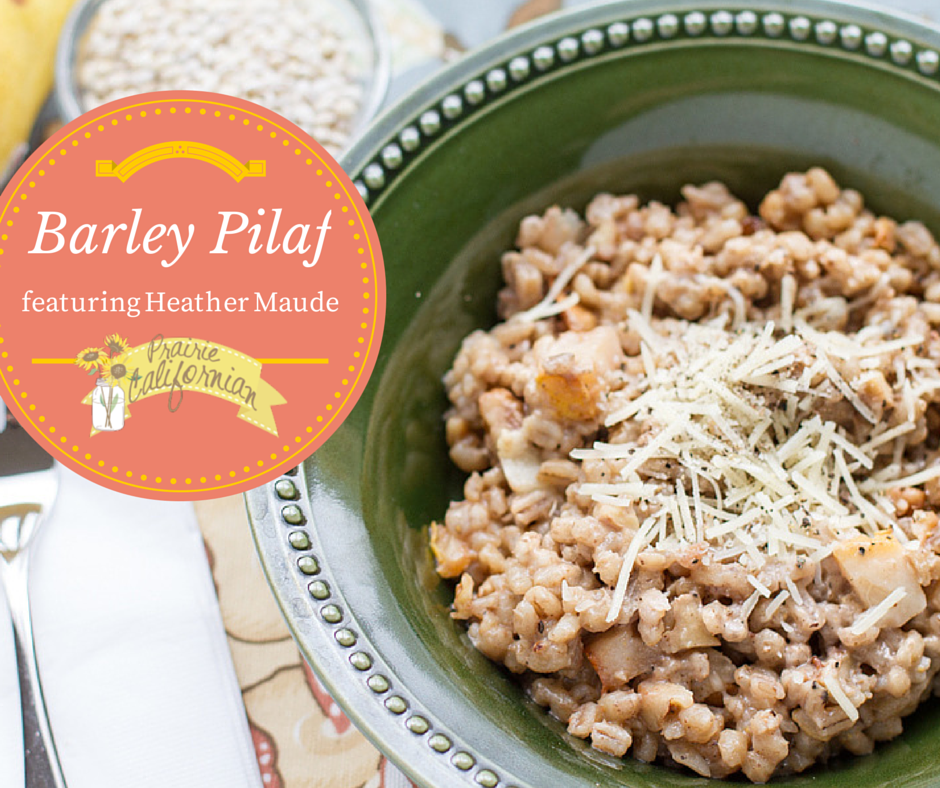 I was very excited to get a fellow Dakota lady in this series! Heather is originally a Wyoming gal, but now calls our lovely neighbors to the South, (South Dakota) home! Heather has some beautiful things to share with us about life in South Dakota, growing barley, as well as ranching cattle! And later I will share with you the unique barley pilaf I made! Enjoy!
Heather Maude
Western South Dakota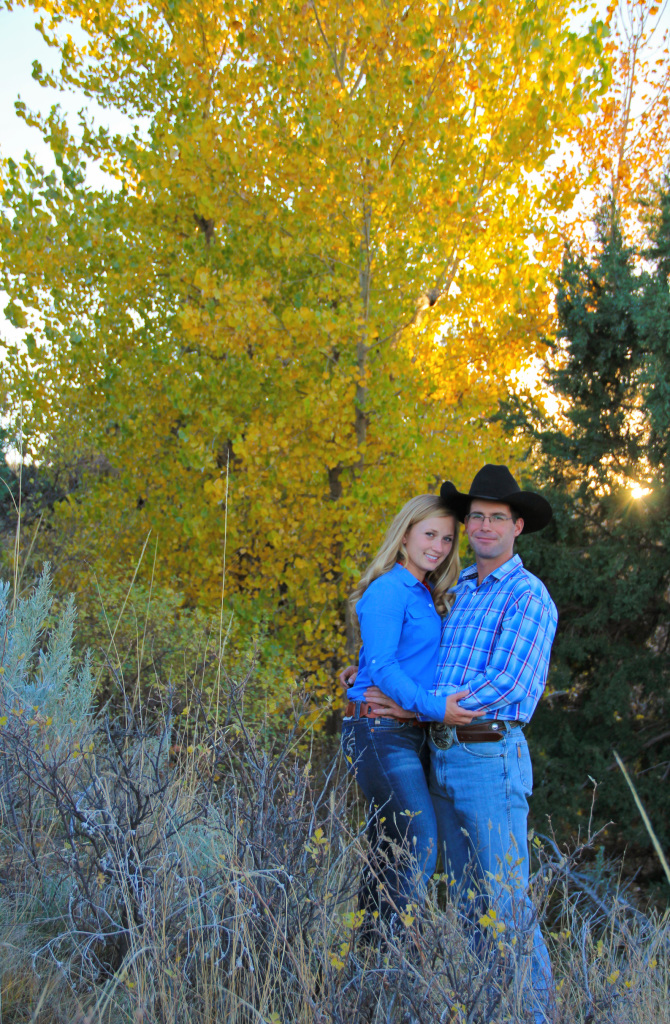 Personal History
When did you start farming? What brought you into farming?
I was raised on a ranch in eastern Wyoming, and am the 5th generation of my family to ranch. When I was an infant my family raised some small grain crops and hay, before my immediate family moved to a new part of our operation that did not include any farming, or running water of any kind. My husband Charles introduced me to farming in western South Dakota when we were married in July of 2013.
What chores did you have growing up on the farm?
Ranching doesn't include nearly the chores that I'm learning farming does. My brother Kyle and I would have a bottle calf or two to feed morning and night, and we were not allowed to eat until they had been fed. We were also responsible for the care of our chickens: gathering eggs, cleaning the chicken house, letting them out and locking them up at night to prevent rodents from eating them. We were also responsible for helping with all livestock tasks, including feeding our cattle daily or every other day in the winter months (we would drive our own feeding vehicle from about 8 years old on), checking water, putting out salt, moving cattle, fixing fence, tagging calves, and the list goes on.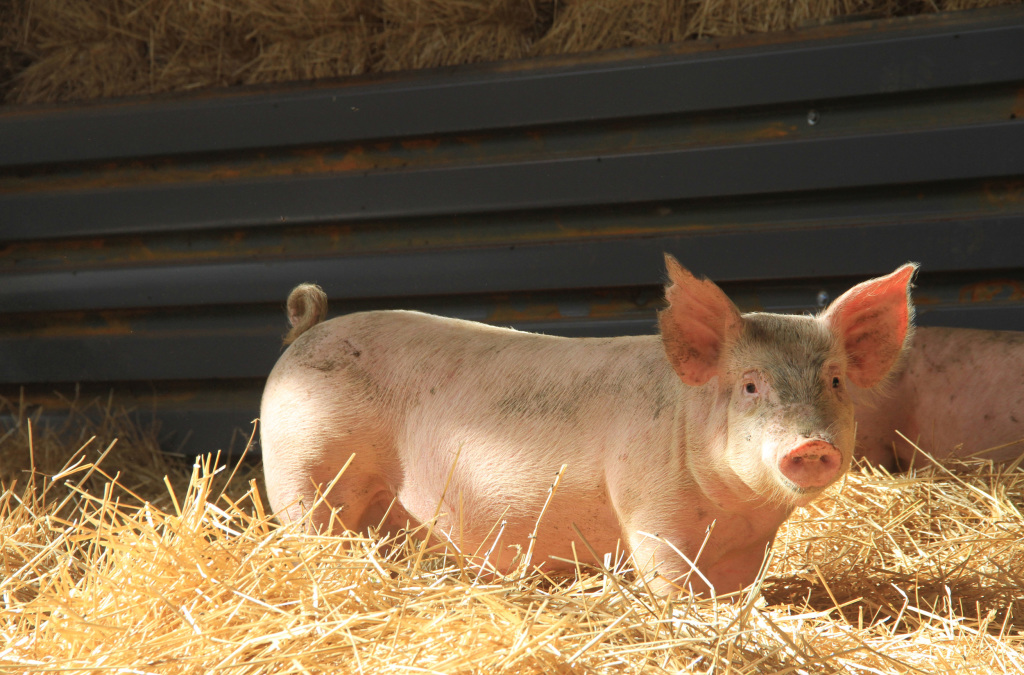 Are there any differences between your farm now and your farm when you were a kid?
Oh yes! The biggest being that we do actually farm on my husband and I's operation, in addition to raising pigs and cattle, and operating a small feedlot, versus strictly raising cattle and sheep where I was raised. My husband and I have a lot of chores – all the pigs and feedlot cattle have to be fed daily, watered, and otherwise cared for, and that is a big difference. Where I live now is also considerably more productive than where I was raised. It takes 50 acres to run one cow where I grew up, and it's closer to 20 where I live. Operations are smaller and closer together in western South Dakota, and most consist of a combination of pasture and hay or cropland.
Who farms with you and what are their roles?
My husband and I take care of most daily activities. Charles does the farming, with the exception of mysteriously having me run the manure spreader most of the time… I do a lot of the animal stuff, like watering pigs and checking and feeding cows. But, we both help each other with everything. It's a true family operation. Charles parents and sister also help us with a lot of stuff, like haying and moving cattle, and we help them in the same manner. My parents and Charles second sister and her family come on occasion for bigger jobs, such as branding, weaning and shipping, and lend us machinery from time to time. We in turn assist them with their major cattle jobs of the year.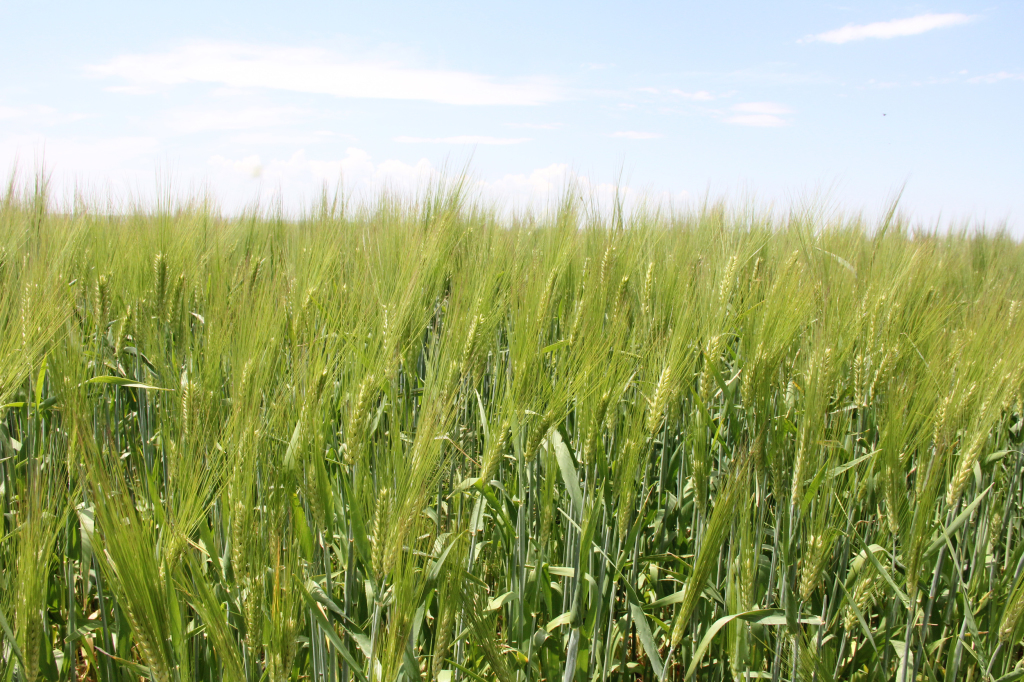 Farming
What has been the hardest part of farming (or ranching) for you?
The price of inputs relevant to our return on investment. For example, there are some pieces of farm machinery we will have to replace or purchase at some point. The prices are incredibly high, particularly considering we aren't large-scale farmers on highly productive ground compared to other areas of the country. To make a single piece of machinery that costs six figures pay is daunting.
The hours, my husband has been in a tractor every single hour of the day and night at some point in just over the year we've been married. The same is true with cattle – we have both worked at that job every hour of the day at some point, but that is more ingrained in my mind, so I don't even think about it.
Another has been adjusting to the difference in attitude regarding weather between farmers and ranchers. Where I'm from, if it rains/snows/moisturizes in any way, we are thrilled. We even joke that we'll even take a little hail with rain, the pellet stuff preferable, just to have the moisture. In contrast, I am convinced a farmer is never, ever happy with the weather, and it can mess up his ability to complete a necessary job with much greater frequency than it can a rancher.
What has been the most satisfying part of farming for you?
Part of our place was originally homesteaded by my husband's ancestors six generations back. The history and love of the land that has lasted a century is inspiring and incredible to think about, and the stories he and his parents can tell about how the use of the land has changed and improved is fascinating. It takes a lot of make it 5 or 6 generations in any occupation, but our families have each done so in agriculture, and to be able to make our living on a piece of that history is satisfying, humbling, and creates and standard of excellence hard to describe.
I also love seeing the crops mature, and the joy, happiness and pride my husband has in growing quality crops. He genuinely loves deciding what to plant, nurturing it, and seeing it mature, in addition to utilizing new technologies and ideas to improve our operation. I enjoy the feed it produces for our livestock and the fact that we grow so many things necessary for human life. One of my greatest joys in life are animals, and being about to surround myself with cattle and hogs in a primarily outdoor occupation has always made me happy. Feeding our animals the crops we raise is another very satisfying aspect of our job, as is seeing the improvements we make to the quality of crops and livestock we raise each year.
What crops (or animals) do you grow and why?
We raise cattle because some of our land is not suitable for farming and because we both enjoy the cattle business and were raised in it, plus diversification is key in our area, and cattle make economic sense in combination with the other things we can grow and raise. We also have a small, farrow to finish niche market hog operation that supplies BBQ and butcher pigs to local parties and individuals. This is what my husband describes as his "FFA project gone mad." His dad had hogs too, and that's how he got started. We are the only hog operation of our size (50 sows) within hundreds of miles, and the extra income they provide helps us cash flow throughout the year. Plus, they are an easier part time job than driving 40 miles one-way to town for extra income would be. We have hay ground, both grass and alfalfa, that provides a winter feed base for our cattle, and also plant Sudan grass to feed our livestock. On the farming side, barley and wheat are our biggest crops, but we also raise oats. The wheat is a cash crop used to diversify income throughout the year, the barley is either sold or fed to our hogs as a substitute to corn when it's high.
Barley works really well for us because of its ability to go toward livestock feed or a cash crop. That diversity enables us to keep our rations cheaper on years corn is high, or add to our cash flow throughout the year when corn is cheap. Being a spring crop is also an advantage as we can adjust acres planted to barley based on what the winter did to our feed supplies. We always have at least one bin of barley to be ground into hog or calf feed, or to be sold if needed.
What do you think was the most useful advance in farming such as machinery, genetics, chemicals, etc?
Technology, hands down. It has enabled us to increase our efficiency ten-fold in practically every area while often reducing the workload in some way. We are always looking at ways to improve our efficiency and increase our productivity, and find that many times technological improvements are our best investment. For example, right now we are working on a solar well to pump water to our home, corrals and hog operation. We also hope to pivot on a river bottom someday to improve yields and crop options. Recent technological advances that enable a person to check a pivot remotely through a phone, tablet or computer make this a workable option for us because the road to our river bottom is not passable when it rains. There is no way we could run a pivot in such a location if there was no way to check on it whenever it rained. But, now we have options to improve the productivity of that area of our operation thanks to technology.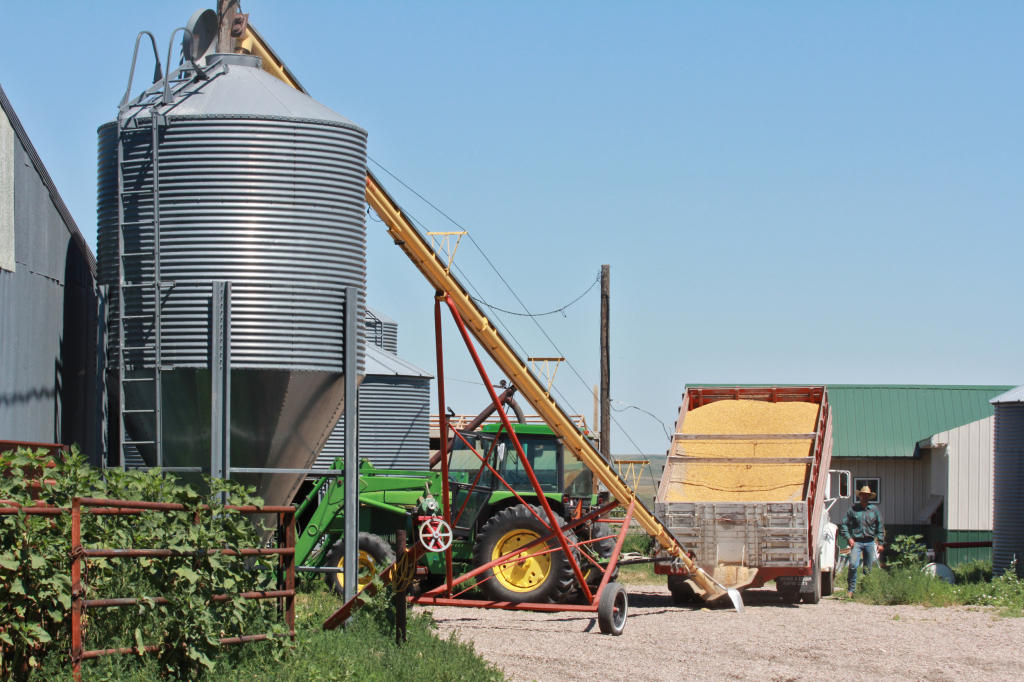 Food
What is your favorite thing to do with a food crop you grow?
I love to feed it to people who are skeptical of whether it will taste good. There is nothing better than grilling an awesome, home raised pork chop or steak, and explaining to people how it was raised and the fact that the majority of its diet was also comprised of ingredients we raised. We've sat on our deck more than once, feeding guests, and had them ask why the meat tastes so good. Just south of our deck is a field, and we get the opportunity to explain not only what goes into our animals from a genetic and management standpoint, but also highlight the crops and forages grown right there that comprise a large portion of their diet. From there the conversation can go in any number of directions from the additional advantage our place provides in maintaining open space and wildlife habitat to the personal decisions we've made, such as no-till drilling, and how that has improved our land in recent years.
Future of Farming
What is one message you'd like to get across to the general public about what you do?
That this is both a lifestyle and an occupation, and that the mixture of love and economics that goes into a life farming or ranching is often unexplainable. We base every decision not only on our own understanding, but on the experiences of our forefathers that made a living here before us, with goal of providing that same opportunity to generations who follow us. We never make a decision that is not serious, and the only way we survive is by consistently improving our land, water, crops and animals. We work toward that every day, and a wonderful product of our work is the opportunity to not only feed our family, friends and neighbors what we raise, but people we have never met from around the globe. We take that responsibility very seriously, and also find it fulfilling and humbling.
What advice would you give to anyone interested in getting into farming?
It's probably going to be harder than any job you've attempted before, but it is also likely to be more rewarding than you ever imagined an occupation could be.
Did she provide some incredible answers? THANK YOU so much Heather for giving us such honest insight into what it is that you do! To find more of Heather, you can visit her website at Double H Photography, can find her on Facebook, or tweet with her on Twitter @heather_maude85.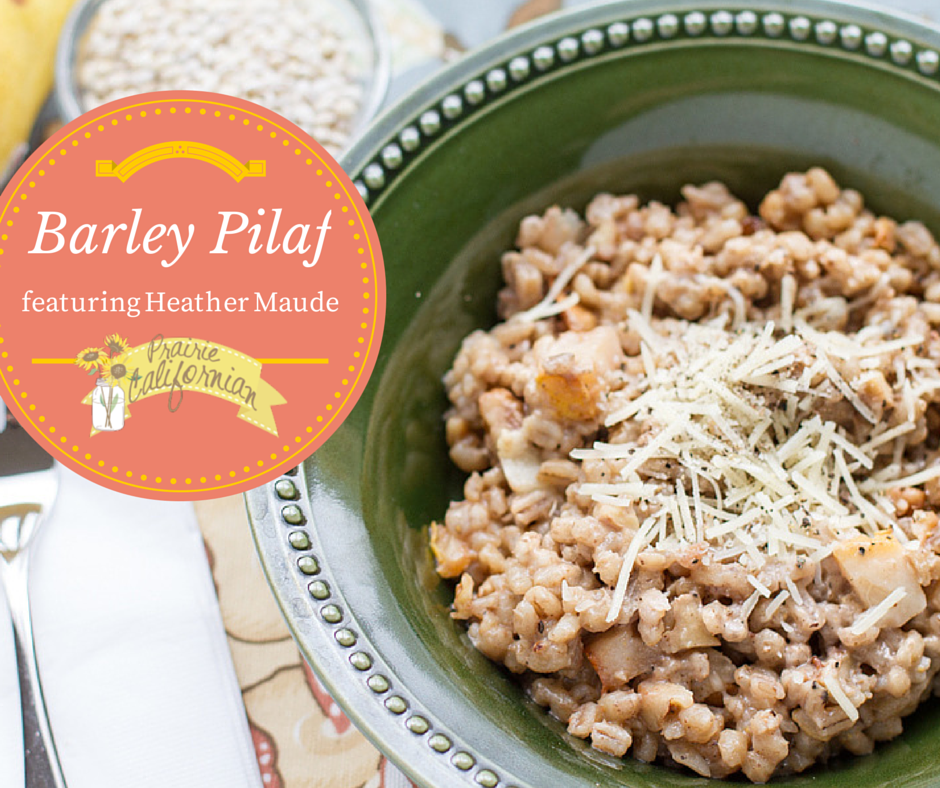 Since I love risotto so much, when I found the recipe for this Barley Pilaf I figured it would be very similar. I adapted this recipe quite a bit and this served as the perfect side to a delicious steak or even some pork chops. If you are looking for something different and out of the box to do with barley, this recipe is for you!
Barley Pilaf
2014-11-13 10:33:46
Ingredients
2 shallots, chopped
2 tablespoons olive oil
1 cup pearl barley
1/2 teaspoon ground coriander
1/8 teaspoon nutmeg
1 teaspoon worcestershire sauce
2 cups vegetable broth (or chicken)
1 cup pears, chopped into 1/2 inch pieces
2/3 cup walnuts, chopped
1/2 cup parmesan cheese, shredded
1/2 cup heavy cream
Instructions
Cook shallots in medium skillet over medium heat for about 5 minutes. Add barley, cook and stir for 5 more minutes. Stir in spices and worcestershire sauce.
Add broth and bring to a boil, reduce heat and simmer, covered, for 40 minutes or until barley is tender.
Stir in pear, parmesan cheese, and heavy cream and cook for 5 minutes. Cover and let sit for 10 minutes before serving. Stir in walnuts just before serving. Enjoy!
Adapted from California Walnuts
Prairie Californian https://prairiecalifornian.com/
This post is part of my Thirty Days of Food series where I am writing about food and farming for the entire month of November, to find out more about it all or how to follow along, visit my Thirty Days of Food page or click the photo below to find more great recipes with farmer features!