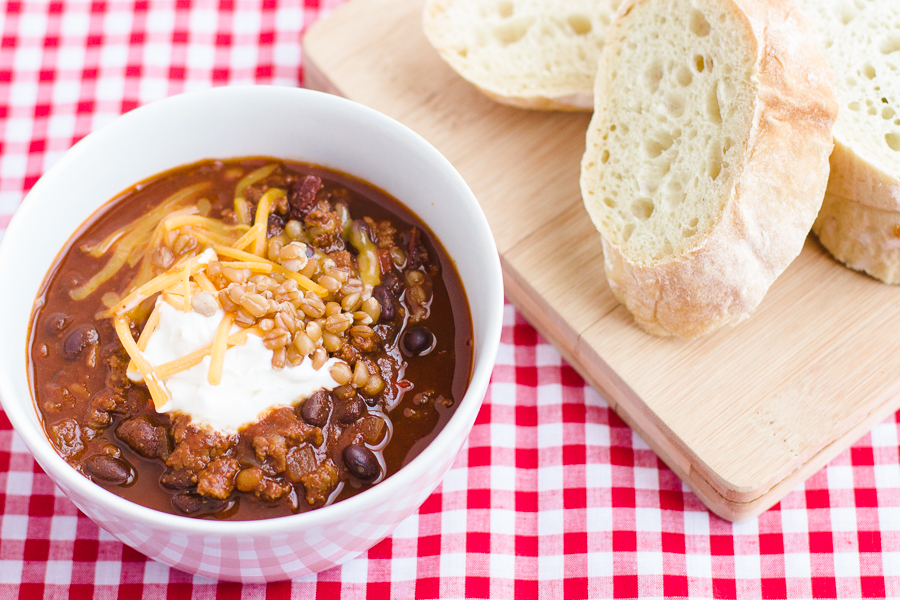 Last month my husband and I traveled to one of our favorite states, aside from the one we live in of course, Montana! It's no secret we love Montana, I mean we got married in Montana. Anyway, we haven't been back there since we said "I DO" so we figured a trip was in order.
During the trip, we happened to stumble upon Wheat Montana Farms & Bakery. Actually, I think I smacked my husband and told him we MUST stop. I mean, they've got a grain bin outside of their bakery! Thankfully for me, my husband obliged me and stopped.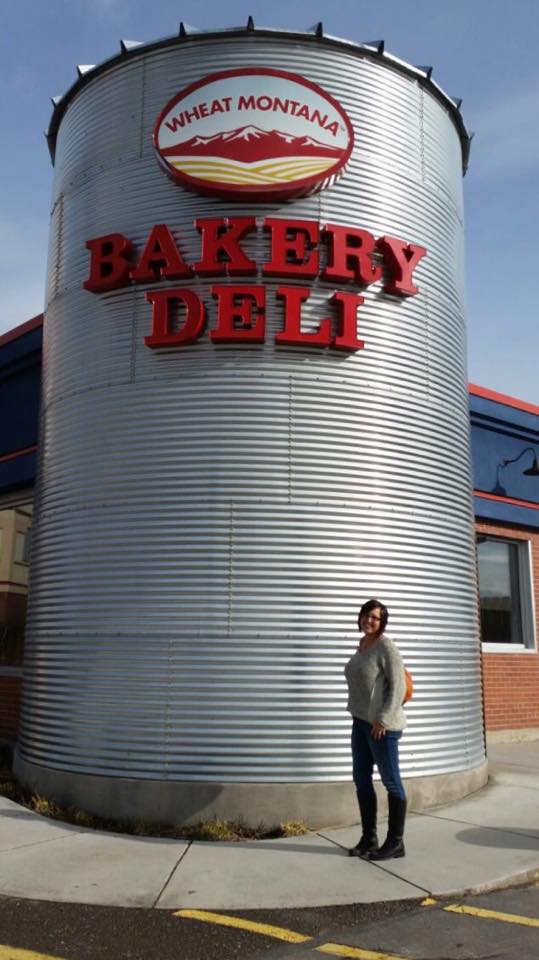 If you are a bread lover, you MUST stop. Honestly their cinnamon & caramel rolls were as big as plates I had to force myself not to order one. Instead I ordered their reuben sandwich along with a bowl of wheat berry chili. I had never heard of such a thing but it sounded intriguing. The minute I tasted it, I knew I needed to re-create it. The wheat berries added this unexpected texture to chili. Come to found out, many people sub things like wheat berries for beans. Genius! So once we got back, I decided to give it a go.
Because I am a rebel and like to live dangerously, I added wheat berries to my typical chili recipe. But you could certainly omit the beans and just use wheat berries. To cook the wheat berries, simply rinse them well and then boil them in water for an hour. I used this recipe from Eating Well.
Wheat Berry Chili
2015-03-17 13:11:49
Serves 6
Ingredients
1 1/2 pound ground beef
2 tablespoons butter
1 medium onion, diced
1 red bell pepper, diced
4 cloves garlic, minced
1/4 cup chili powder
1 tablespoon cumin
2 teaspoons smoked paprika
2 teaspoons oregano
1 - 6 ounce can tomato paste
1 Brown Ale beer (any brand works)
2 tablespoons cocoa powder
1 - 14 ounce can tomato sauce (or) diced tomatoes
2 cups beef broth
2 cans black beans, rinsed
2 cups wheat berries, cooked
2 chipotle peppers in adobo sauce, chopped
juice of 1 lime
Instructions
Heat a heavy bottom pot or dutch oven over medium high. Add the beef and cook, breaking up, until browned. Transfer to a plate using a slotted spoon; wipe out the pan and discard any grease.
Heat 2 tablespoons of butter over medium-high heat. Add the onion and bell pepper and cook about 5 minutes. Add the garlic and cook for about 2 minutes. Add the chili powder, cumin, paprika, oregano and tomato paste. Add the beer and simmer until almost completely reduced, about 3 minutes.
Add the cocoa powder, tomato sauce or diced tomatoes, beef broth, beans, wheat berries, and chipotle peppers. Bring to a simmer over low heat. Cook, stirring occasionally, until the chili thickens slightly, about 45 minutes.
Before serving, add the juice of 1 lime. Stir well. Ladle into bowls and top with desired toppings: cheese, sour cream, etc.
Prairie Californian https://prairiecalifornian.com/