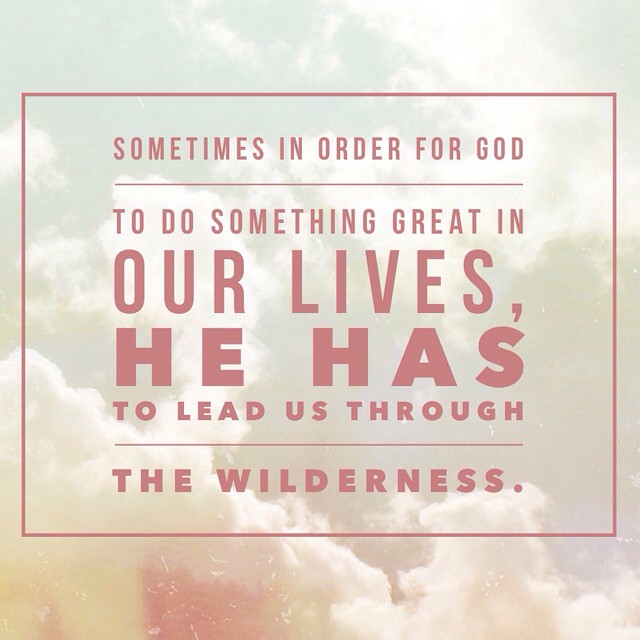 Do you ever have one of those moments were a simple phrase hits you like a slap in the face? The words uttered by someone in your life have the ability to bring you full circle? That happened to me this week.
This last Sunday while sitting in church during the sermon, the words "sometimes in order for God to do something great in our lives, he has to lead us through the wilderness" came out of the pastors mouth. And it spoke to me as if we were the only two people in the room.
Now I am not really sure why God chose to bring me back to my time in the wilderness, maybe it was to share my story, or maybe it was to reflect on this beautiful life I have been given after my time in the wilderness. But I want to share a little bit about my time in the wilderness…
I've written a little bit before about my past relationship. For a long time, I felt like it wasn't PC to share about my personal relationships online, especially those that have passed. But for some reason, it feels like the time is right. Like I have been called to share my own personal testimony with my time in the wilderness. In order to understand how I got to the wilderness, let me talk about my life with our Lord. I have shared bits and pieces of this story in several different posts, so here it is together in one post.
I was one of those kids who spent her entire childhood in church. Up until 6th grade, I attended a private Christian school. I could recite you Bible verses, stories, and parables. I came to know our Lord and accepted him as my savior around age six or seven. My cousin (who is several years older than me) and I were playing Barbies. Right there amongst the Barbie RV, I prayed to accept Jesus as my Lord and savior. And so begun my life in the Lord.
Our relationship went well until about 6th grade when I moved from private school into public school. I don't blame my school system for degrading my relationship with the Lord that is my own fault. I will be honest when I say that I often hid the fact I had attended Christian school in fear of getting made fun of. Most of my new friends in school didn't attend church, but when they spent the night at my house, we always had to attend church together.
It didn't help that I was a teenager: that time when suddenly my parent's sweet little baby girl becomes a reactive ball of emotions who sometimes throws temper tantrums reminiscent of the days when I was a toddler. But what didn't help matters even more, was that I defied my faith. It was a constant battle between me, my parents, and God. Forcing me to get up and go to church every Sunday. I look back on those days with so much thankfulness that my parents dealt with the evil, selfish, immature young woman I was in hopes that one day I may become the woman I am today.
Here's where it's going to get real…. Through high school, I did many, many, many things I am not proud of. I lived my life for myself, giving into many desires that young people face these days: drinking, sex, and defying the established order. I will admit, there were times I woke up Sunday mornings hung over, sitting in church with my parents, just trying not to be sick.
My downward spiral and rebellion against my faith continued out of high school. Yeah, I maybe became a little more appreciative of my parents once I realized all they do for me before I entered into college. But my personal relationship with our Lord was still estranged.
I re-connected with a guy I went to high school with. He was several years older than me and had graduated a few years prior to me. It was late one night; I got a phone call from him. He had been drinking and was inviting me over to a party. I was writing a paper and knew I probably shouldn't, but I got up and left that night. And that's where things really started going south.
It was a whirlwind meet and profess love. I was swept off of my immature feet and he fueled my romantic at heart fire with poems and writing me songs. It was a honeymoon stage of desire on drugs. But as soon as that stage ended, our entire six years together was a roller coaster. When we loved, we loved hard, and when we fought, we fought hard. During those years of my life, I was extremely reckless.
I lived my life and acted in my relationships like there were no consequences. It was truly all about me, what I wanted, who I wanted, and I hurt many people in the process. And that's when I found myself in the wilderness…
God had finally had enough and this feeling started eating me from the inside out. It was like a virus. At first I couldn't recognize what was going on. All I knew is that I felt utterly and completely unhappy and alone. In an attempt to try and fix how I was feeling, I purged parts of my life. Ridding myself of friends, hobbies, passions.. Anything to make that feeling stop. I can distinctly remember there were days when I came home from work and I just bawled. Uncontrollably cried. And when someone asked me what was wrong, all I could say was "I don't know". I felt like I was drowning in a lake full of people but yet when I tried to scream, nobody could hear me.
The sad part about it all.. Is that I was so good at pretending everything was okay. Nobody could see it. I smiled and I latched onto my boyfriend at public events. And I said the words everyone loved to hear. When deep down, there was a virus in my heart that was eating me alive. I've written before about the toxicity of my relationship, but honestly, the true toxicity was me. It was me all along. Certainly my unhealthy relationship didn't help that any. During that time, my friends, my relationship, and my life at the time were completely and one hundred percent void of God or any sort of faith.
Breaking off that relationship was a step in the right direction. After nearly six years together, breaking his heart and walking away from that continual cycle of love and hate was the hardest thing I ever had to do in my life thus far. And I remember the day after we broke up, it felt like I had lost ten pounds. The emotional baggage was lightening. Accepting the fact that I was newly single, I took a vow to myself to repair myself to heal the places in my heart where the virus had eaten away. I vowed off dating and relationships and gave myself a year to work on me. To find that person who I once was because all I knew was that I didn't like the person who I had become. I started going back to church with my parents and actively flirting with re-igniting my faith.
Less than one month into the breakup, I started becoming friends with a farmer from North Dakota, who had also recently broken off a failing relationship. We connected over that. Even though, I regularly told this farmer that I wasn't looking for a relationship, but we could be friends… He still pursued me. He wouldn't take no for an answer and eventually he ended up coming to California to meet me. In reality, I think I was honestly afraid. I was afraid of going down that same road that I had in my previous relationship. I did horrible things and I didn't want to repeat that.
But God knew that, and eventually he addressed it. He has given me faith and hope. And he reminds me constantly that I couldn't have hand picked a better man to marry. A man who values faith in his life, a man who works ever hard to provide for his wife and eventually his family, a man who has a deep love and passion for his family, a man who had never been married (not that that is a bad thing, but it is certainly something that was on my list), a man who was a whole person to begin with. Not a broken man looking for a woman to make him whole.
If there is one thing that I will forever know to be true in my life, it is that meeting my husband was by the grace of God. God brought him into my life, God nudged him to not take no for an answer from me, God knew He was what I needed in my life. It was my miraculous sign from our Lord that I was on the right track. And meeting my husband is something that I will forever be thankful for, even when the man makes me want to rip my hair out.
But more than my husband and my eventual marriage, God also knew that North Dakota was where I needed to be. And the best part is that God has a plan for me here.
If it wasn't for my wilderness experience, it is possible that I may not have appreciated my husband like I did when I first met him. It's possible that my outlook about moving may not have been as favorable. It is even possible that I may have written the whole experience off.
But is it because of that wilderness experience, that I truly believe, God is doing great things in my life. He has given me a blessed marriage, a wonderful community full of loving people to call home, he has helped me find a church home and family, he has given me an amazing family of in-laws who love me like their own. And I can't wait to see the amazing things God has planned for my life, my community, my family, and this state.
Sometimes in order for God to do great things in our lives, he has to lead us through the wilderness. Amen.