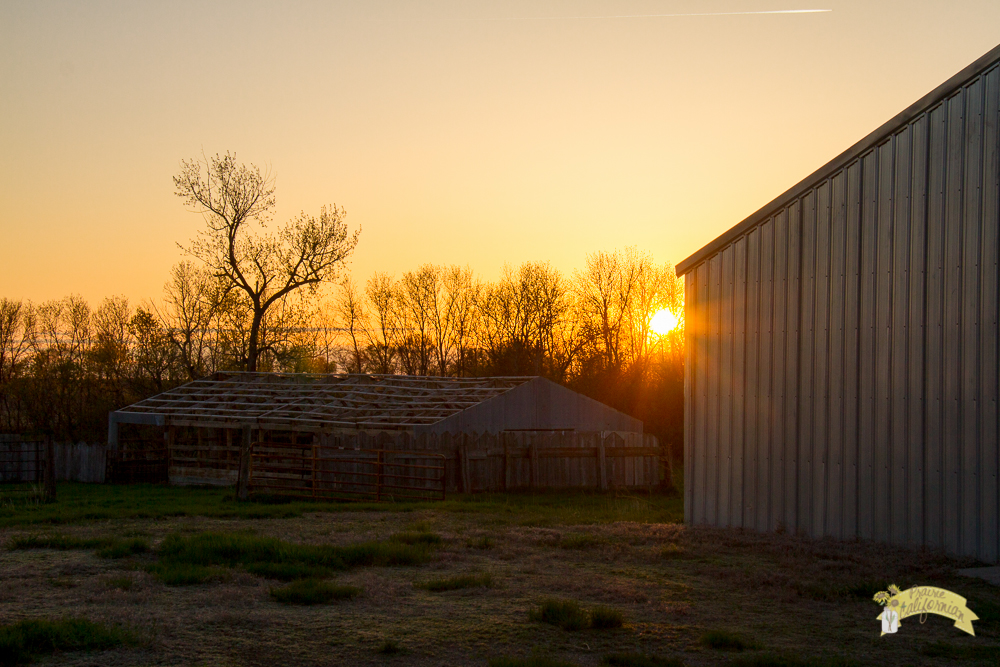 I want to preface this by saying that this blog isn't written with anybody in mind or directed toward anybody. I have just been having a lot of conversations lately about priorities and it seems like God is trying to put the question "where are your priorities?" in front of me lately. It keeps popping up in my life, my reading, and my conversations time and time again.
So much so that I even tweeted about it.
I struggle with the idea that I am married to a farm and a husband… I GET that he has to work. And I don't hold that against him.

— Jenny Dewey Rohrich (@PrairieCA) May 29, 2014
But I don't agree that my husband should ever put the farm before our marriage in times where we will struggle in our marriage.

— Jenny Dewey Rohrich (@PrairieCA) May 29, 2014
God doesn't tell us to put Him first, then work, and then our marriage. That is making an idol out of your work. #justsayin

— Jenny Dewey Rohrich (@PrairieCA) May 29, 2014
And boy did I open up a can of worms. I guess my tweet didn't come across well in 140 characters as it would have in a post. So here I am to expand on it. Some farmers took offense to what I tweeted, and for that, I sincerely apologize. Those of you who have followed me on Twitter for quite some time know the deep love and respect I have for agriculture and what it is my husband, his family, his friends, and all the rest of you do out there. I wouldn't spend my time writing about agriculture if I didn't.
But at the same time, my social media is just that. It is mine. It is where I post musings, ask questions, and interact with many people across many different boards. I fully get that you won't agree with some of my tweets or that maybe you aren't a believer in God. I just ask that you remain respectful. Anyway onto my musings about work, God, and family…
I will admit as wife to a farmer I struggle a lot with finding balance between life and farming and also helping my husband find a balance between life and farming. And I will also acknowledge that I am very open and public about where I struggle in life and finding balance. But when I say life I don't mean life in the sense that my husband and I need to spend time together or that he needs to be home with me. Not at all. I appreciate the hard work and sacrifices he makes for our future family and me. I mean it in a sense that life is short and things like family, faith, and loved ones are important.
I want to share an experience with you. My parents own a business. I equate the meat business a lot with farming because it's much the same. When you are busy in the meat business, you can't just walk away. You can't just stop. Because guess what, all those hog carcasses you've got in the cooler go bad. Things are perishable so you have to get the work done. My dad is much like my husband in that he is a work-a-holic. He has worked hard and sacrificed so much of his life for us kids and my mom. And as a young girl, I can remember the times when dad wasn't there. I can remember that. And then one day, something changed. He was there a lot more. He made time for us kids when he could. What changed? My dad's heart. His priorities. Maybe it was mom's influence or maybe it was God working on his heart. But there is a clear distinction in my mind the exact time it all changed.
I know as farmers many of you struggle with finding a balance between your family, your life, your work, and your faith. That whole mentality of make hay while the sun shines is taken quite literally. And for good reason, there is a time and a season for everything and when the season for growing and spraying and harvesting is in full swing, it simply has to get done. It feels like the whole world hinges upon that work getting done. And maybe your finances indeed does hinge on it all. And yes, money in this life has blessed my husband and I in many ways through his hard work.
But I sat in church on Sunday and listened to the sermon that day… And it spoke to me. I couldn't help but think about the words as our pastor spoke the words "success, work… it can become an idol in your life". He talked about how society we have now come to define success is what makes us in life. We define ourselves by the success we experience in life. He even went as far as to say he believes it is one of the reasons divorce is so prevalent in our society. He talked about how this is especially dangerous in a community such as ours, where work ethic is so valuable, as it should be! It is true that we talk a lot in this country about hard work and how the value of hard work is dwindling away. The vast majority of our country doesn't know what hard work is anymore.
And if we look back on our elders, we see the true definition of hard work. They got more done before 9 AM than most people do in a day. But the interesting thing about it is that if you also look back at those people, they also valued things like family and they put their faith above all else. You need an example of this…? Take a look at the churches built at that time. The people of that time poured their every precious resource into their churches.
They knew where their priorities laid and they didn't need reminding of it. God came first then their marriage and then their children and then yes they did work hard. And yes, our world has changed so much since those times. It's hard to compare then and now. When I tweeted my tweet, I wasn't suggesting that we don't work hard or that farmers don't work hard. I wasn't suggesting that my husband quit what he does to spend time with me. I was suggesting that sometimes we ALL need a reminder about balance and priorities. Sometimes we need to hit that refresh button. We need to look into ourselves and ask ourselves, "have our priorities gotten out of line?"
Have we let work become an idol in our lives? I don't know. I don't have the answers. And I fully acknowledge that you don't have to agree with me. I am just putting it out there… Take a look inside and maybe need to hit refresh every once in a while.
If you are interested in listening into the awesome sermon I referenced earlier, here's the link (click on May 25: He Will Make Your Paths Straight). And to those farmers who I upset, I want you to know, I am praying for you. Individually. For those long nights, the sacrifices you make, I am praying for rest for you, wisdom for you to make the right choices, and for your families to have understanding during the hard time of planting and again in harvest.