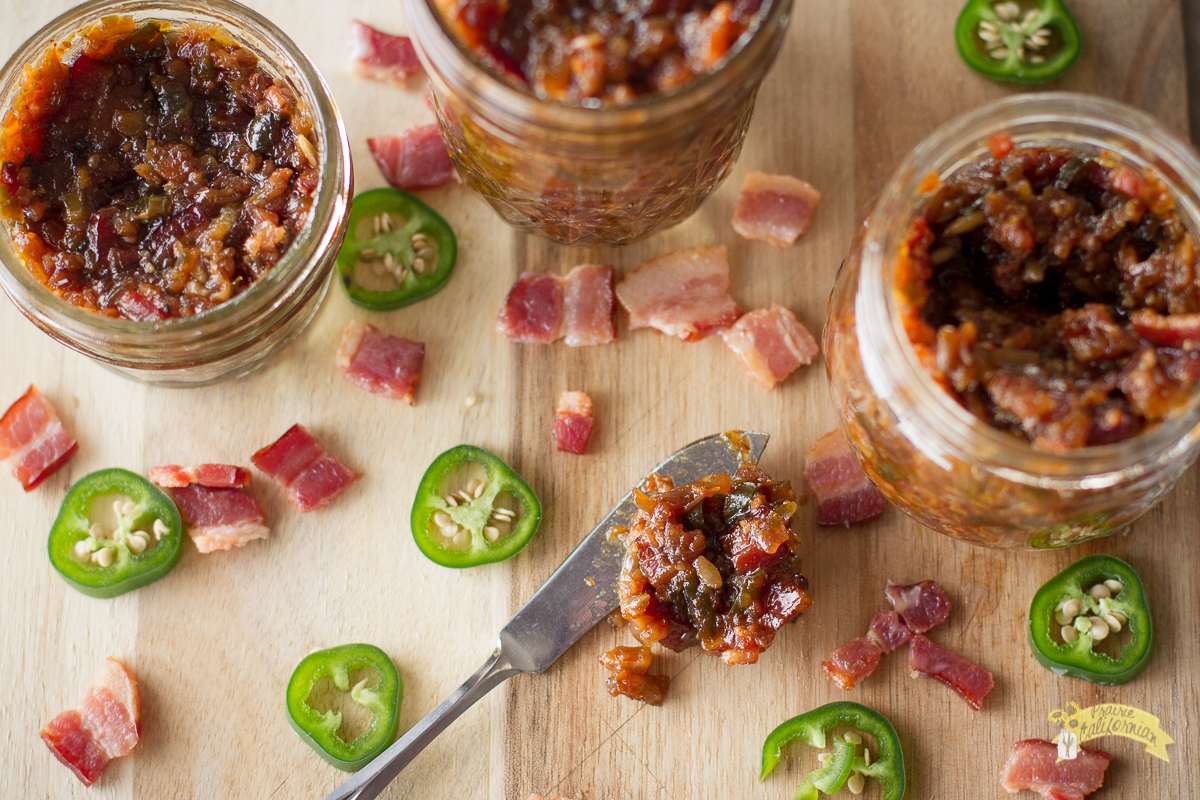 When we were in Thanksgiving for California, my mom pulled a jar out of the cupboard for me to use in some sort of toasted baguette appetizer… It was jalapeno bacon jam. And it was glorious. I knew I need to re-create it at home. If you know me, you know my addiction to jams with jalapeno so this one was right up my alley.
Disclaimer: if you aren't someone who can utilize self control, this jam may not be for you. I honestly could have eaten a whole jar of this stuff with a spoon. You're welcome in advance.
For this recipe, I highly recommend you use a good quality bacon since bacon is the star of the show! I, of course, used my dad's bacon from our butcher shop in California. The uses for this jam are endless. Tossed with roasted potatoes, on crackers or toasted baguette slices, on top of cream cheese for a dip, as a condiment on a burger or sandwich, with scrambled eggs, give as gifts… I could go on and on. Basically, just do it.
Jalapeno Bacon Jam
2016-01-21 11:15:31
spicy and sweet jalapeno bacon jam
Ingredients
1 pound bacon, diced
2 2/1 cups red onions, diced
4 cloves garlic, minced
1/4 to 1/3 cup jalapenos, deseeded and diced (I used 1 poblano too!)
1 - 1 1/2 cup coffee
1/4 cup apple cider vinegar
1/4 cup real maple syrup
4 tablespoons brown sugar
1 teaspoon ground red chipotle powder
1/4 cup toasted sunflower seeds
salt and pepper to taste
Instructions
Heat a heavy bottomed pot or dutch oven over medium high heat. Cook the bacon stirring frequently until the bacon is browned but not yet crispy. Use a slotted spoon to remove bacon to a paper towel lined plate. Drain the bacon grease, reserving about one tablespoon in the pot.
Add the onions, jalapenos, and garlic to the pot, cook until the onions become softened. Reduce heat to low, add the rest of the ingredients and the bacon. Simmer on low for 1-2 hours, stirring occasionally. If the jam gets too dry, add some extra coffee or water 1/4 cup at a time.
Once jam is thickened, remove it from heat. Add 2/3 of the jam to a food processor and pulse a few times. Mix with 1/3 of jam left in pot.
Transfer to a jar with a lid. Store in refrigerator. Enjoy!
Adapted from Big Eats Tiny Kitchen
Prairie Californian https://prairiecalifornian.com/