When I left you last on our home building, I left you with some basement walls being poured… Well you're going to be shocked when you see this next photo!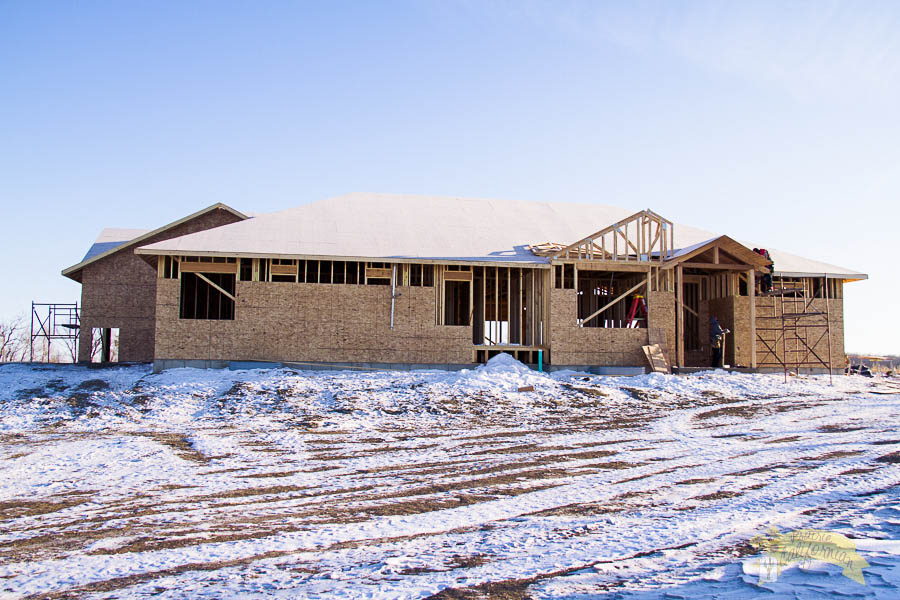 She's almost closed up! I know… A HECK OF A LOT has happened since I last posted! The framing went very quickly and they've been working on putting shingles on this week. All of our construction crews have been troopers bearing the frigid temperatures every day!
Anyway, everyone keeps saying to me… "Oh you must be so excited to start picking things out!" Truth be told, nearly every single thing that is going to go into this house (besides paint color) is picked out.
Remember when I said we planned for nearly five months? Yep, that was a part of the planning. In emphasized in the last post, whether you are working with a designer or not, be sure that you have all your materials, finishes, appliances, flooring, and any other decision PICKED OUT before you break ground or tear down walls. And I want to be sure I said it again in this post.
Let me tell you, whether it's a remodel or new construction, the construction and demolition process is plain stressful. And having to make decisions and pick out materials under stress is not fun on anyone. Yes, there will be decisions that come up during the building process, but as far as making product selections, make the choices beforehand. It will save you a lot less stress.
Making Choices….
There are endless choices! Choices we have never even though about! "What pitch do you want your roof? HUH?" How in the world did we make the choices we did in our home!?
Well we made choices based on several different methods. Some of the choices came very easily and some of them were more a struggle. Luckily both my husband and myself are decision makers when it comes to what we like and don't like, that certainly helped.
Consulting Friends & Family
When we were looking at a material or selection, the husband and I would often ask one another. Who do we know that has this? Hands down you will get the most honest and up front reviews of products and materials from your friends and family. Often times a building center won't tell you how the product will REALLY wear in order to sell you on a product.
Friends and family will tell you how soon a product scratched or scuffed. They day-to-day activities that the product has stood up to. They will be honest about what works in their home and what doesn't work. Maybe they made upgrades that didn't pay off in their home. Learn from other's mistakes. All that information may seem overwhelming at first, but it can really help narrow your choices down.
And even more of a bonus, if you live close enough, you will be able to see the product installed in their own home. Do it! Test out and try out as many materials as you can in an installed home, it's the closest experience you will get to how it should perform in your own home.
Consulting Building Professionals
In the previous post, I briefly spoke on how important it is to work with good companies during your building process. If there is someone in the mix that you simply don't like or get along with well, DON'T work with them. When I was in design school, we often related meeting our clients as dating. If your first date doesn't go well, chances are the next ones aren't going to as well. So save yourself the heartache and the trouble and work with people you trust, people you like, and people who you believe will deliver.
This is especially important when selecting fixtures and materials. You've got to trust the person who is selling you on these products. They are the true experts in their fields, they work with the products every single day, they've seen hundreds of installations of the materials. They know how it should perform in the lifetime of a home. Luckily for most of our selections, we were able to find people we trust so we felt comfortable consulting our building professionals. It also helped that one of our professionals just recently built his own home so he was able to advise on what he likes and doesn't like in his home much like a friend or family member would.
Conducting Online Research
Thankfully the Internet has become a huge tool when it comes to Interior Design. There are ENDLESS resources for review after review of materials and products that go into your home. Google products, visit manufacturer websites, visit some of the Resources I listed here. Online research is also great for finding new products you may not even know is on the market or finding products that are outside of your area. I was able to source a backsplash tile I simply HAD to have from California from looking online for it.
Pinterest and Evernote has been a huge help for organizing my online research when it comes to making choices and selections. We are ordering almost all of our lighting online. I have each light fixture designated by room and quantity needed in its own board or note.
Taking Ques from Current Home
Is there something you really like about your current home? Plan on putting that into your new home, if available! Taking cues from your new home is the easiest way to make decisions. We designed parts of our home based upon things we like in our current home now. For example, we have this great DuraCeramic tile in our kitchen and bathroom right now. It holds up extremely well, doesn't scratch easily, and cleans easily. So we decided to stick with what we know and what we like and will be putting that tile in all the bathrooms of our house.
There are endless choices that can be made simply based upon what you like or even what you don't like in your current home. Make a list and when it comes to making those endless choices, the list will give you some sort of direction on where to go.
What Works in the Budget
Kind of like when a bride goes to buy a wedding dress, you don't want to try on a dress you can never afford. Because you WILL end up falling in love with that dress you cannot afford and no other dress will compare. Don't fall into the trap of selecting materials or products that simply won't work in your budget. Pencil some allowances out for things like cabinetry, flooring, bathroom fixtures, lighting, etc. and try to find products that work in those allowances.
Budgeting for our house was a huge give and take. For us, we were more willing to spend the money on structural parts of our home versus the highest end finishes one can afford. There are some things we've chosen to "splurge" on, but they are things that are important to us and our home as well as places we spend a lot of time in like our kitchen.
Get Samples
Don't simply rely on taking a brochure or booklet home to make your selections. Sure it is a great first step to get an idea of what is out there, but before anything gets installed make sure you've seen a sample of it. Being able to see and touch the actual product itself is so important. Often times when you visit the showroom of your building professionals, they will give you samples to take home and try in your space. If you're ordering anything online, check and see if they have a sample of it BEFORE you order. Online colors are so deceiving, you cannot trust your screen to render the true color correctly. Most reputable online companies will give you the option to order a sample.
Having samples makes the choices much easier. You will be able to see how all the various samples work together both in color and texture. And should immediately be able to throw out colors or textures that just aren't working in your space. When I am building a room, I lay down all the samples together. Let's say our kitchen. I would put the countertop sample(s), the cabinet color sample(s), the paint chip color(s), the backsplash, and the flooring. Seeing all these samples together will give you a really good idea of what your finished room is going to look like.
And finally…
Remember You Will Learn to Live With What You Choose
I think one of the reasons why some people get so stressed out about making choices when it comes to their home is that they view it as having two options "right or wrong". For me, there are no right or wrong choices in home design. There are certainly informed choices that can be made, but nothing about YOUR home should be wrong. It is yours and it should be built based upon how you live!
But even if after all is said and done, go into this whole process knowing that there will be some things you wish you did differently. There will be some products you may end up not liking. It will happen. But the important fact to remember is that.. you will learn to live with the choices you make.
Here are some of the updated construction photos from our home the last couple of weeks…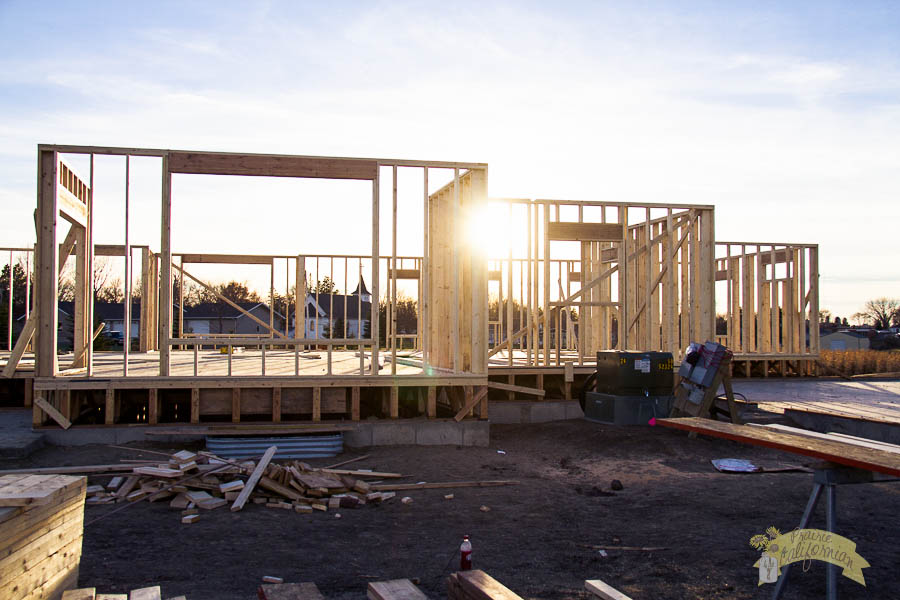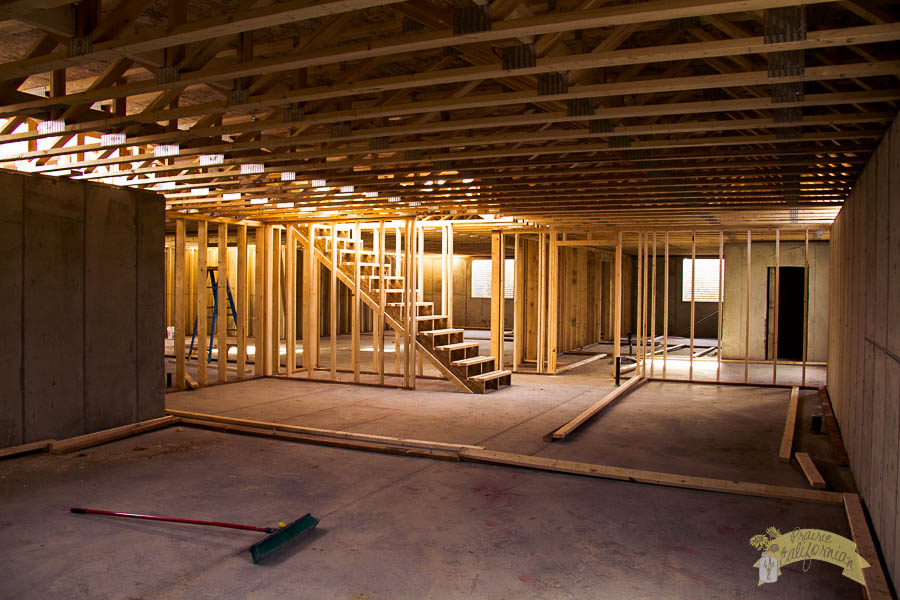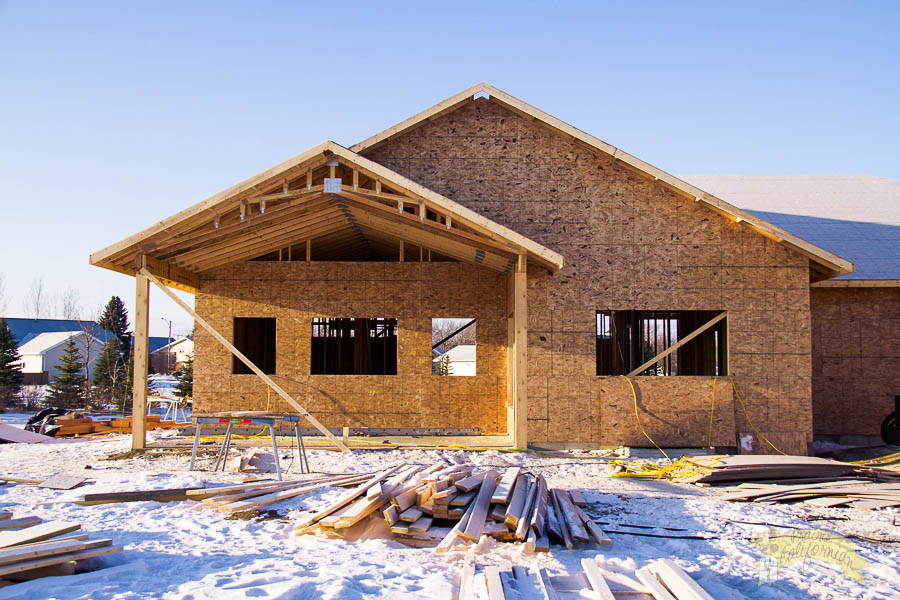 Have anything to add when it comes to making choices? Anything else that helped you with making choices in building your home?
There is still lots more to come in building our home, I hope you will check back in for an udpate next week!