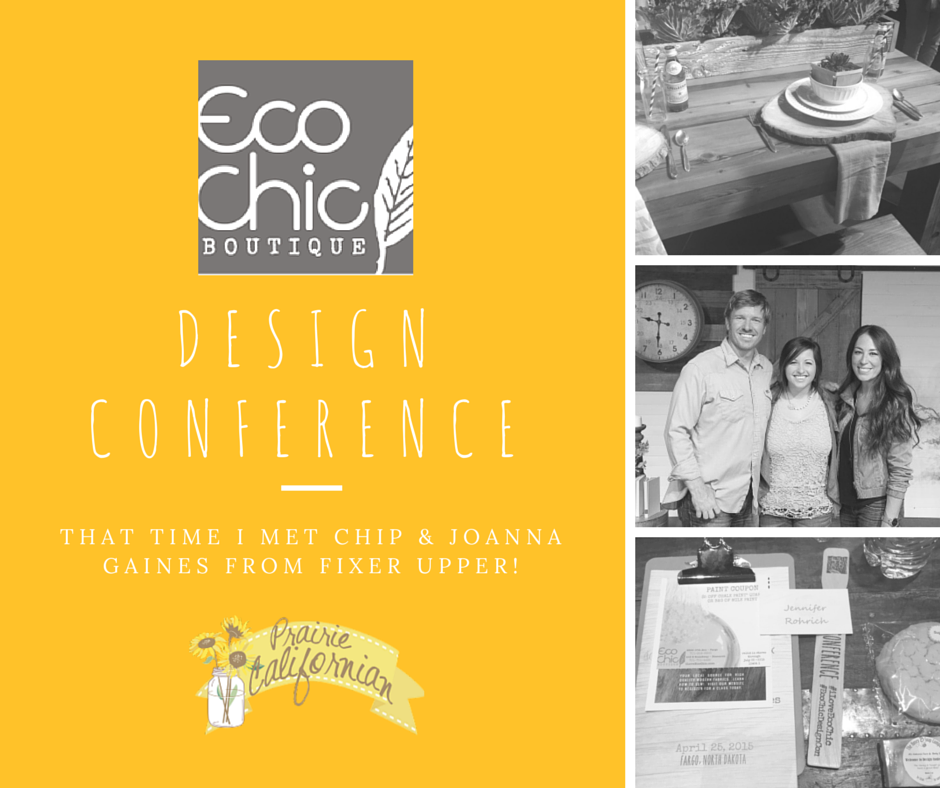 So it has taken nearly a month for me to sit down and put into words the excitement and for me, life changing experience that was attending the first annual EcoChic Boutique Design Conference. When EcoChic Boutique out of Fargo & Bismarck announced it was having its' first annual design conference, a friend of mine sent me the video and said, let's purchase tickets! So I did. I purchased VIP tickets on a whim. The kicker was that, in a pretty amazing series of events, Chip & Joanna Gaines from HGTV's Fixer Upper were coming all the way to Fargo to be the keynote! While I know I am not their biggest fan, I was pretty excited to hear from them as I had watched several episodes of their show. But to be honest, life was hectic and chaotic with life, travels, and building a house so I really didn't give too much thought to it until about two weeks before the conference….until I came across this video of Joanna.
This message from Joanna spoke to me on a very deep and personal level that someday I may share the background behind on this blog. But more than just speaking to me, it sparked an excitement to hear from this not only beautiful and talented woman, but also a woman deeply rooted in faith.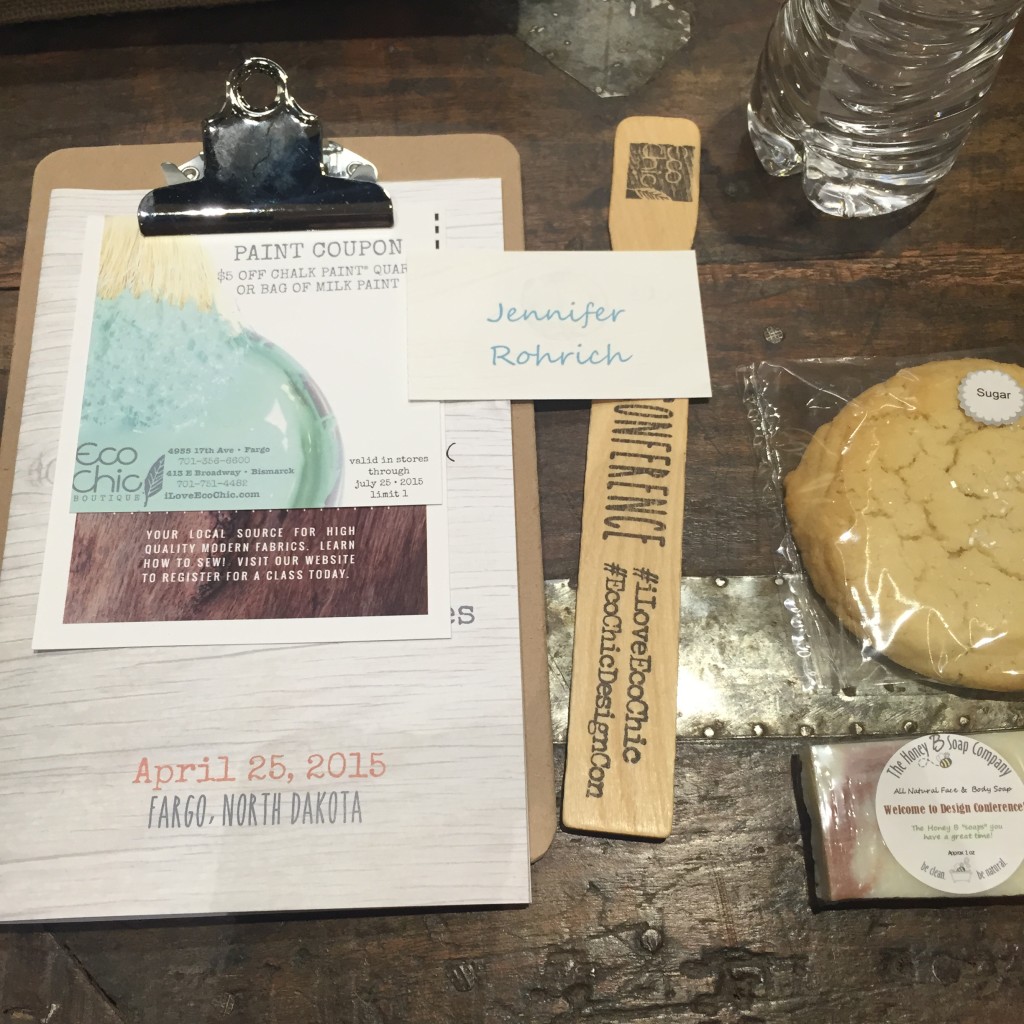 I wasn't sure what to expect out of this event, but I have to say EcoChic did not disappoint with setting the stage for this event. It was beautiful! Since I purchased a VIP ticket, I got to sit at these awesome farm house tables (I ended up taking one home with me.. when in Rome) and I was about four rows from the stage.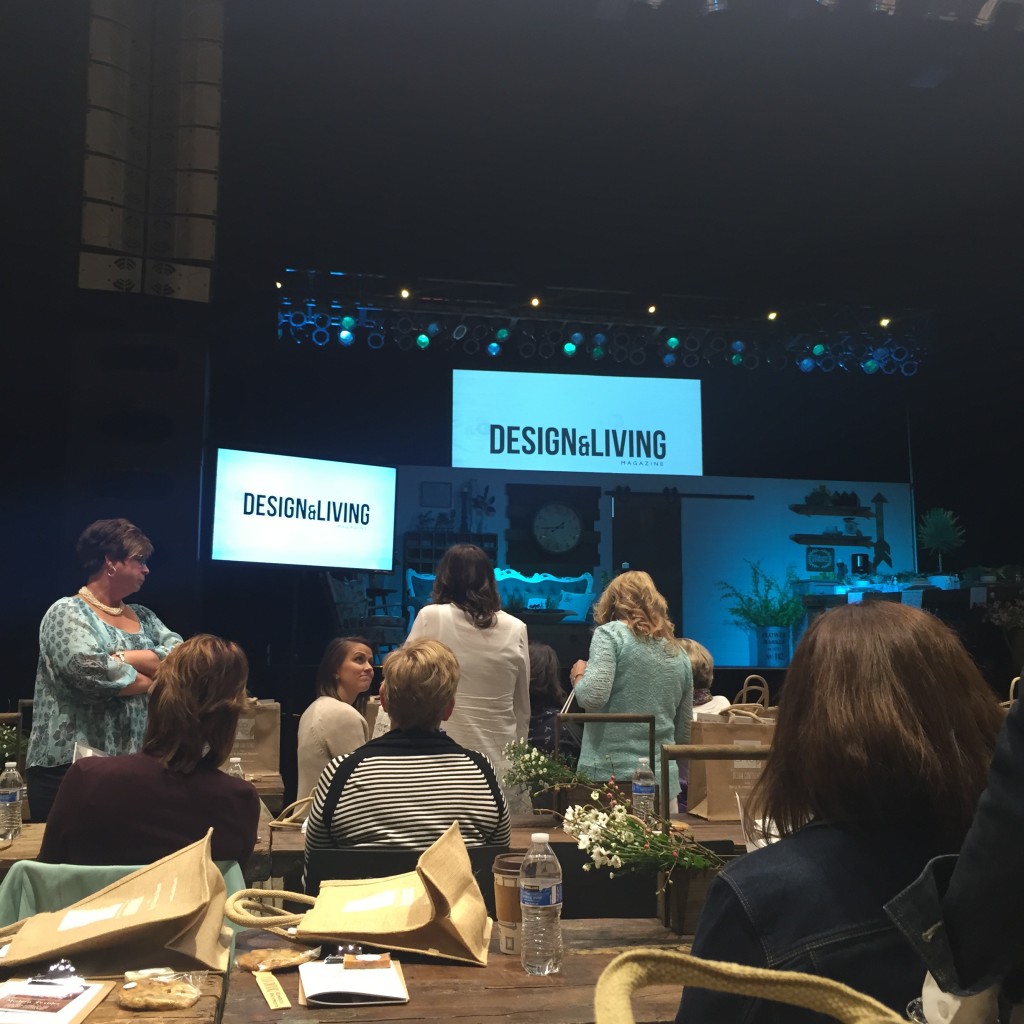 The event kicked off with Carrie Brusven, who is the Creative Director and VP at EcoChic Boutique and also owns her own event design business called Rustic Trunk, speaking about ways to Design Your Life Lovely. Carrie started off by reminding us, "the joy is in the journey". The path towards creating a beautiful home doesn't happen overnight, so find fun in the journey. Her first tip before you add anything else into your home, "Sometimes we need open space to let inspiration come in". Removing unnecessary furniture and decor that doesn't make sense in a room will clear physical and emotional space for inspiration to come in. Carrie also showed us how to use unique pieces in unexpected ways – "Find a situation in your home that needs a solution. Good design solves problems." Carrie also showed us some easy ways to add unique your own personal style to your home, without breaking the bank or remodeling your home through utilizing cotton stems in a vintage flower bucket, lavender in a zinc trough, or with wire baskets.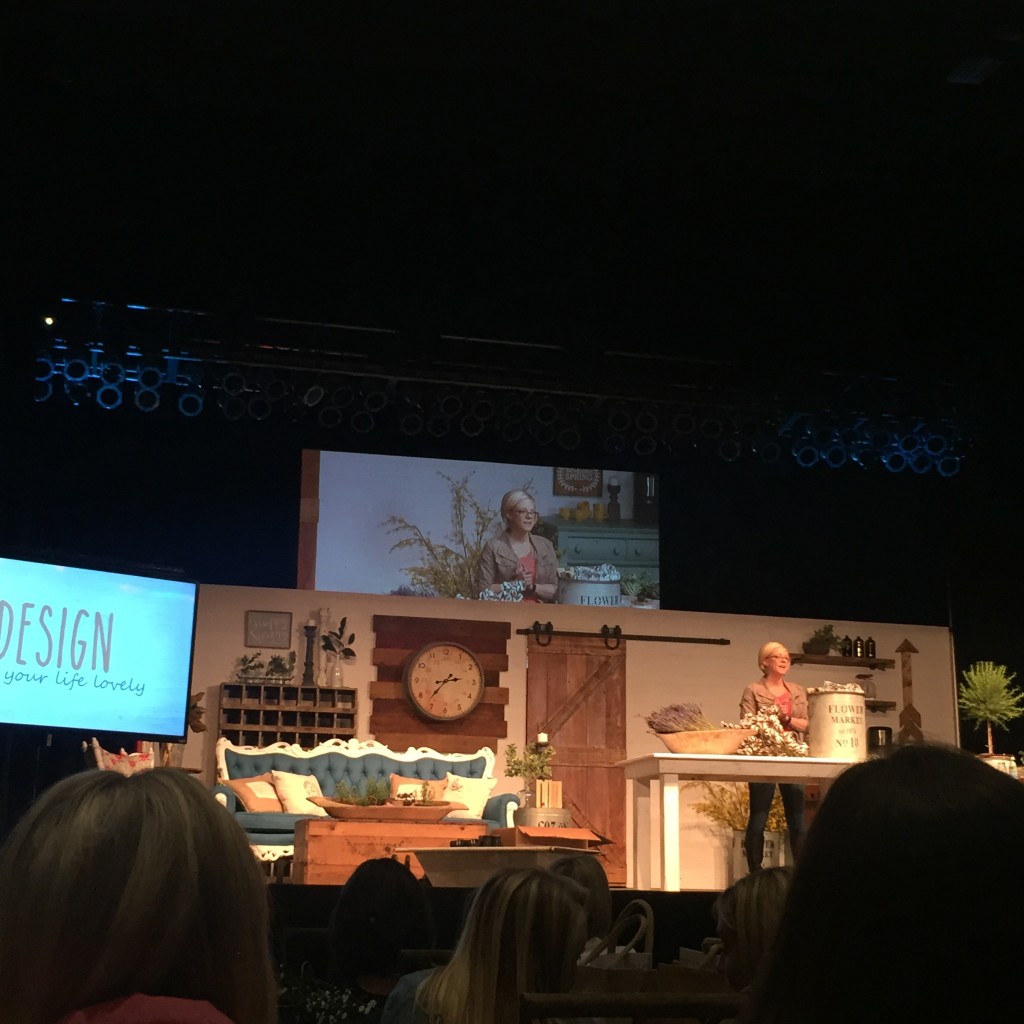 Next up was Grain Designs from Fargo. Grain Designs specializes in furniture and other custom decor made from reclaimed wood. Their style is very industrial mixed with a modern twist. The minute I laid eyes on the furniture they put out, I fell in love. I also knew I needed to start talking my husband into a custom piece for our new house (which is in the works! HA!). Seriously, you guys, check out this amazing table that was on display on the stage made by Grain Designs. These guys are crazy talented!
In a room full of mostly women, there were lots of "stud" jokes while they discussed using a stud finder to hang a pretty cool industrial shelf they taught us to make. They also showed us how to make an awesome planter like the one on the table in the photo above… Needless to say, it is now on my "t0 do" list! They also showed us how to utilize reclaimed wood for a SUPER simple wood decor like the one behind the clock in the photo below.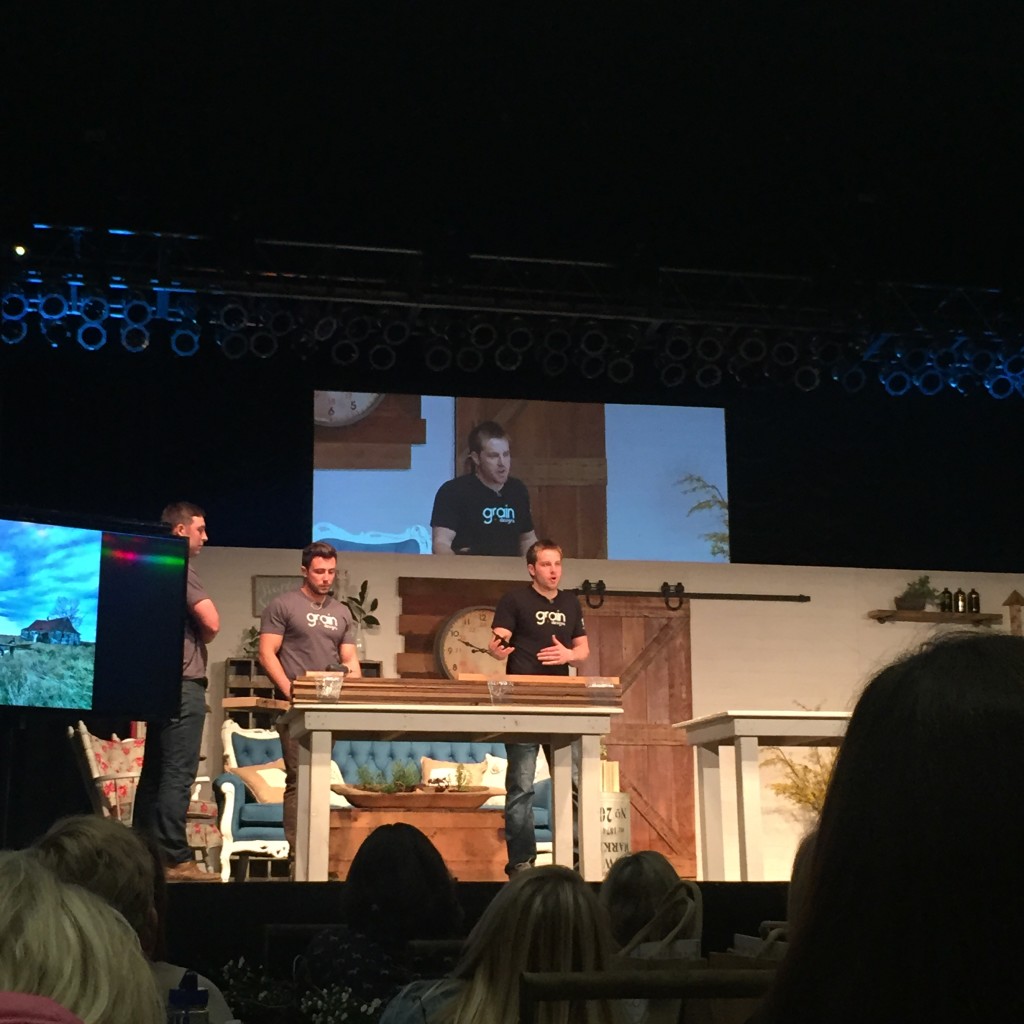 Next up was owner and founder of EcoChic Boutique and the Queen of Chalk Paint, Maria Bosak. Maria showed us all sorts of tips and tricks for using chalk paint. One of my favorite was using the dark wax on a unfinished board as stain! Genius! Another great trick was for light paints, utilizing a mixture of dark and light wax in order to antique it without changing the color too much. Maria also showed us how to "weather" a regular unfinished board so it has the look of reclaimed wood by thinning down Annie Sloan's Graphite (gray/black) with water and wiping it on the board.
Maria also shared with us many of the projects done by EcoChic and basically cemented the fact that you can paint anything with chalk paint. She also re-affirmed those of us with chalk paint addictions as being completely normal! Thanks Maria! It helps to know I'm not the only one! (p.s. note to self, share your chalk paint project on the blog… blogger fail).
Finally, it was the moment many of us had been waiting for… We were thoroughly inspired and ready to tackle our own home projects, now it was time to hear from Chip & Joanna Gaines. The minute they walked out onto the stage, the crowd went wild. But I was amazed once everyone settled down and they began talking, how much it really felt like we were sitting in their living room, just chatting.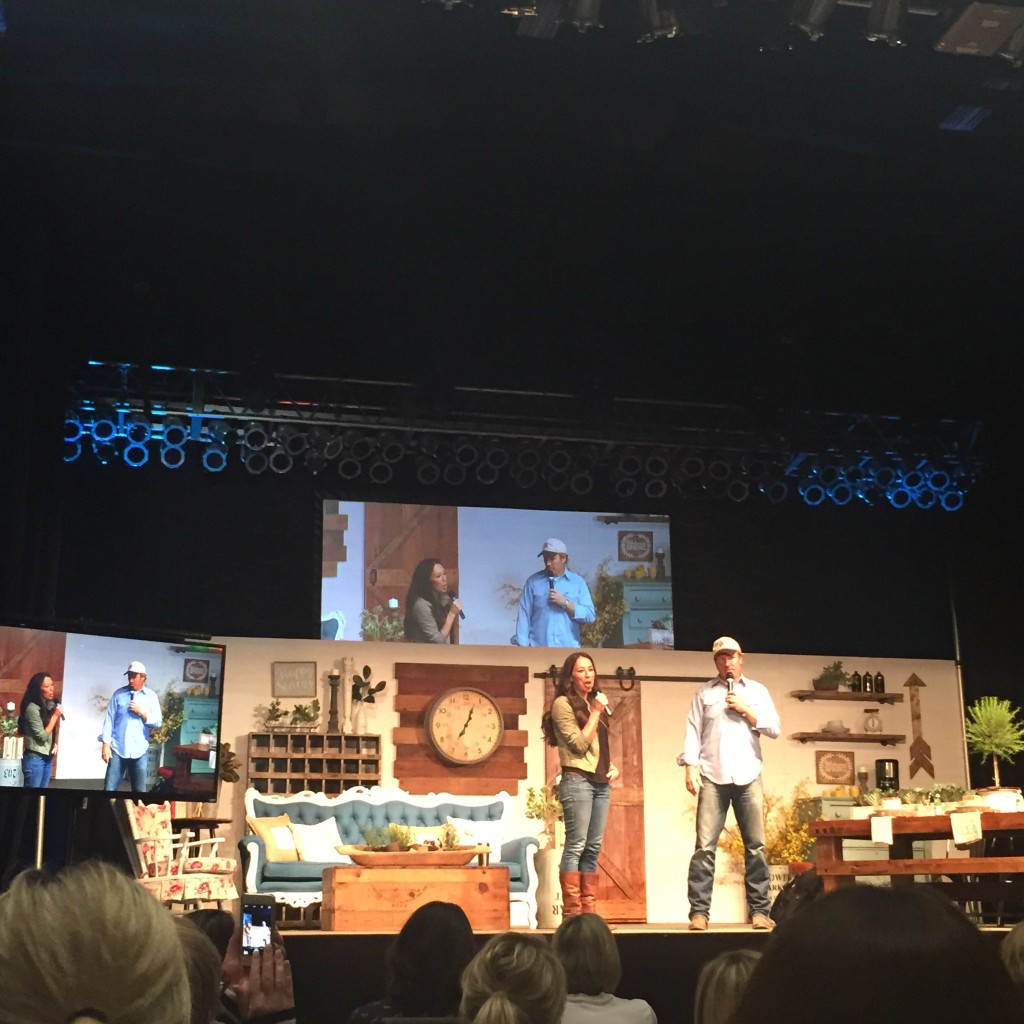 The two are honestly some of the most down to earth and genuine people you'll ever meet. This couple has amazing drive to pursue dreams, but also amazing faith to guide them in their decisions. The two basically spent the first hour discussing their lives and the journey that has led up to where they are today. It was amazing story filled with laughs but also perseverance and an example of deeply rooted faith.
Chip talked about what a journey it was to finally get to having a show on HGTV which included them being denied TEN times before HGTV finally picked up their show! Amazing testament to the fact that perseverance pays off. Chip also talked about how he and Joanna first met and how their first years of marriage weren't at all like they envisioned after Chip brought Joanna home to their first home, an ex-college rental where they spent their first night on a mattress on the floor.
Joanna talked about when they finally moved into their dream home and realizing it didn't fit their family. Joanna shared this nugget of wisdom with us: "Be intentional with your space." That doesn't mean your home can't be pretty, but pretty shouldn't define your home. Your home needs to be a reflection of who lives in it. Joanna also touched on many of the things she discusses in the video. How God led her to her dream, but also told her to walk away from her dream for a time because she really felt called to be at home with her children. And through her obeying that calling, God has blessed them with not only re-opening her store, but also giving them a show on HGTV.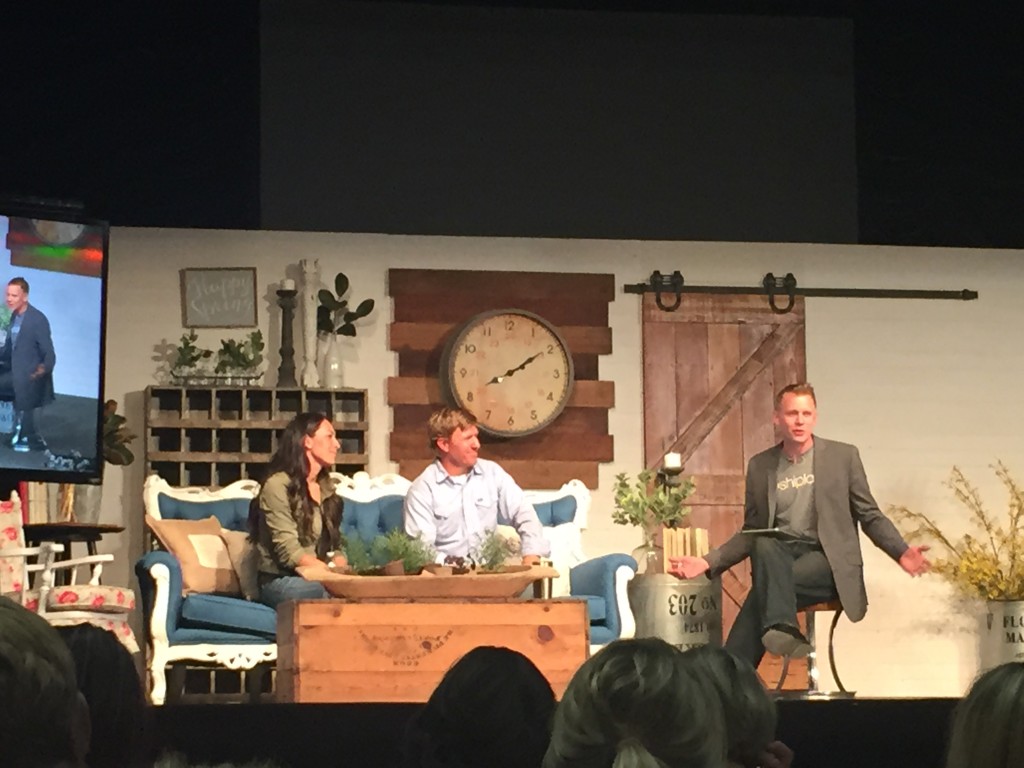 They ended it all with a little Q&A session made up of questions from the audience. Many of the questions pertained to their show, my friend Jess of Bright Green Door did a fantastic recap covering many of the questions, you can check that out here. Chip ended it all with a pretty spectacular montage of singing and dancing and he also ripped his shirt off and threw it into the audience. For those of you who don't watch the show, Chip has a thing about always wanting a reason to take his shirt off. It was hilarious and had us all in stitches as Joanna even filmed the entire thing to embarrass Chip later on.
Much to my surprise, as VIP ticket holders we got the opportunity to meet Chip and Joanna in person. I got to shake their hands and I told them both how much their personal testimony spoke to my heart and my situation. And how much I appreciated them openly sharing not only about the successes of their life, but also of the struggles they've been through. I also told them I was certain that God wanted me to be there to hear it all. Chip gave me a big huge "Amen!" And I got to take a photo with them!!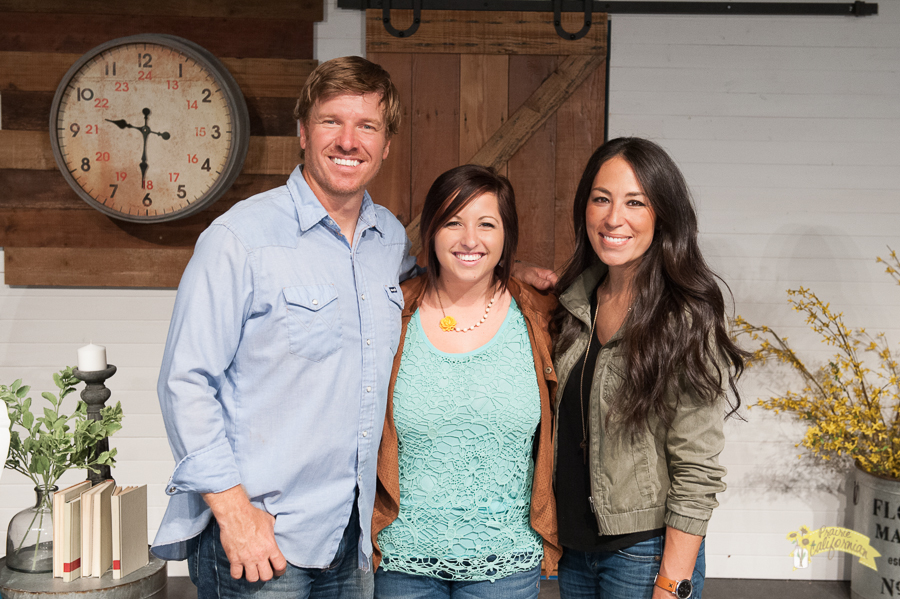 I hate to admit this, but I honestly had not paid all that much attention to EcoChic Boutique prior to this conference. But after getting to meet many of their staff and walking away from this conference, EcoChic is now on my radar. Such an amazing group of humble people who simply love to teach others how to make their homes beautiful. It is no question why Chip & Joanna chose to make the trip up to Fargo, North Dakota (first time ever!) to speak to all of us at the first ever EcoChic Design Conference. EcoChic Boutique and the people behind it embody many of the same principles as the Gaines. It was a perfect fit!
It is safe to say, even without a big name guest speaker, I will be attending the EcoChic Boutique Design Conference again next year! It was such a blast and honestly inspired me so much to get to work on decorating the home we are building. Hope to share some of my inspirations and projects with you as we begin the finishing touches on our home!
For more photos from the Conference, you can visit EcoChic Boutique's photo gallery!