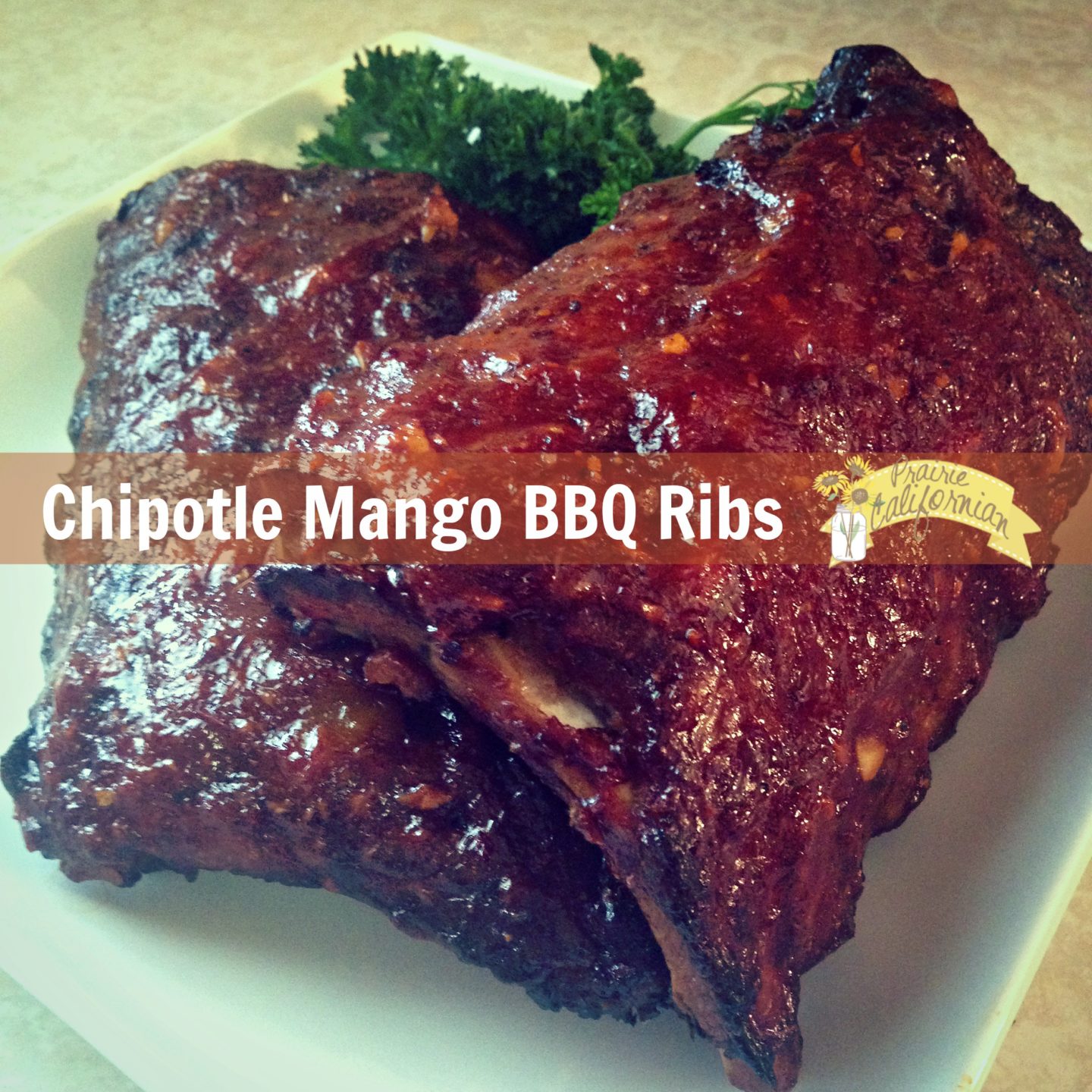 This week, Ribs Two Ways: Chipotle Mango & Cola BBQ… Ribs for some people are a science. They have it down to the minute, the ingredients, the method. Ribs for me have always been a just try it. Let's throw this in. Cook it a little more. Ribs don't have to be one of those daunting foods you skirt because you are afraid you will mess them up.
The key to ribs is ensuring your cook them long enough to get them nice and tender. It can vary from rack of rib to rack of rib… Beef ribs maybe take a little less time, pork ribs may take a little more time. It is important to give yourself enough time to cook your ribs because trying to rush them will end up with them becoming tough.
My husband LOVES ribs and he requires the meat to almost fall of the bone before he declares them "good ribs". I pre-baked (or pre-boiled) these ribs and then finished them in the oven. You can finish them on the grill too. Since I had the time, I let my ribs cook on low heat (300) for about an hour and a half making sure to sauce them every 15-20 minutes. Since the method of cooking can vary, I'm not going to try and write a definitive recipe. Just be sure to follow some basic rules for ribs. I've shared my basic rules below!
Basic Rules for Ribs of Any Kind
Basic Rules for Ribs
2014-05-13 10:35:08
Ingredients
Ribs of any kind.. Pork, beef, wild game...
Instructions
Marinate, Pre-cook, OR Cook Low and Slow: Marinating will help improve tenderness as will pre-cooking your ribs. If you choose to simply cook the ribs straight out of the package, you will want to cook them low and slow.
Season Well: Don't underseason your ribs. Meat in general can usually take quite a bit of seasoning. Be careful with salt, otherwise be generous with the spices.
Indirect Heat: Using a grill? Don't place your ribs on the hottest part of the grill. Ribs do best on the cooler parts of your grill.
Sauce Throughout: Using a bbq sauce or mop sauce? Make sure you put it on in intervals. By doing this you will add different layers of flavor as the sauce thickens and caramelizes.
Prairie Californian https://prairiecalifornian.com/

Chipotle Mango BBQ Sauce
2014-05-13 12:00:09
Ingredients
1 mango, chopped
1 chipotle pepper in adobo sauce, plus 2 teaspoons adobo sauce
1/2 cup ketchup
1/2 cup coke or any sweet drink
1/4 onion, chopped
Juice from 1/2 lemon
2 Tablespoons rice vinegar
2 Tablespoons brown sugar
1 Tablespoon canola oil
2 teaspoons paprika
salt and pepper to taste
Instructions
Combine all ingredients for Sauce into a saucepan.
Bring to a boil, then lower heat and simmer for 15-20 minutes, stirring often.
Either use immersion blender to process until smooth OR let cool, transfer to a food processor, and process until smooth.
Adapted from Iowa Girl Eats
Prairie Californian https://prairiecalifornian.com/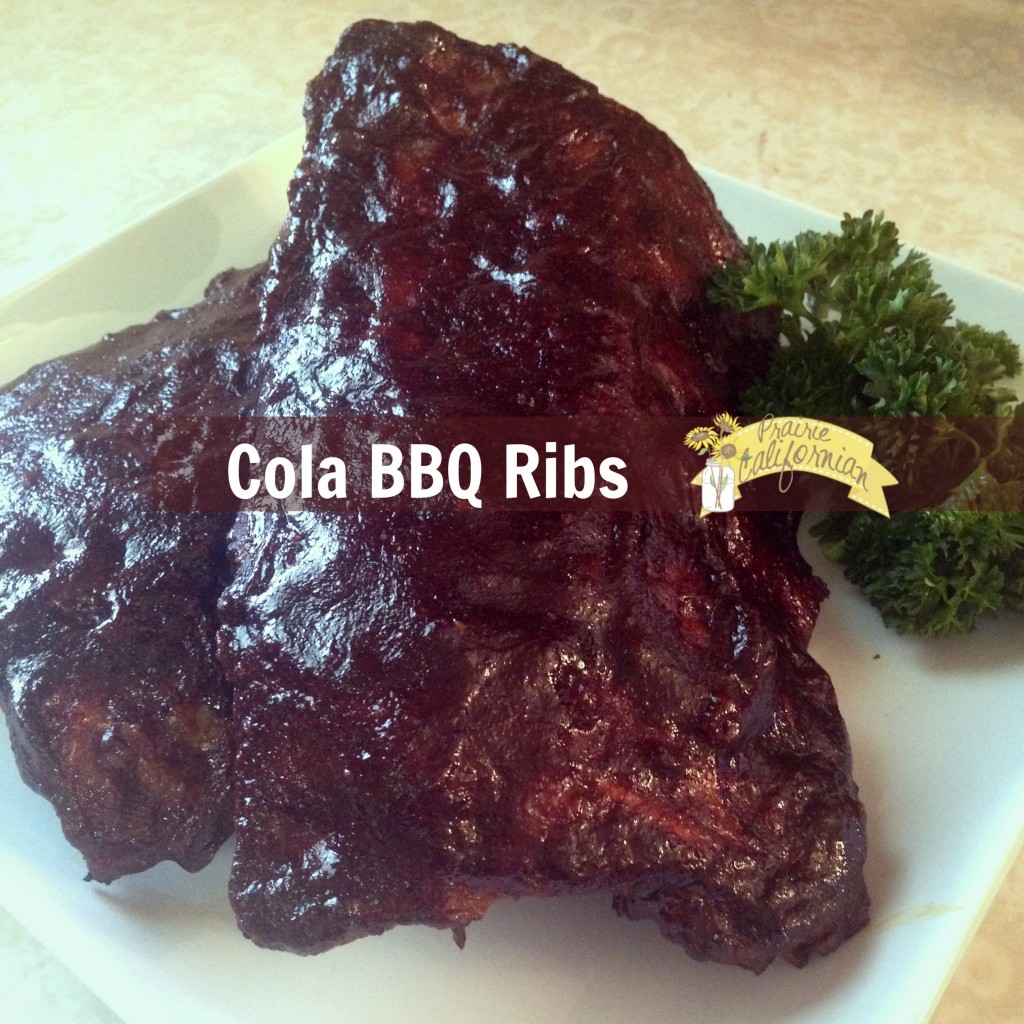 Cola BBQ Ribs
2014-05-13 12:36:26
Ingredients
1 - 1 1/2 cups Coca Cola
1 cup ketchup
1 cup brown sugar
2 tablespoons chili powder
1 tablespoon dry mustard
1/2 tablespoon garlic powder (or chopped garlic)
salt and pepper to taste
Instructions
Combine all ingredients for sauce in saucepan. Bring to boil and then simmer low for 15-20 minutes. Stir frequently to avoid the bottom burning.
Use immediately or cool for storage & later use.
Prairie Californian https://prairiecalifornian.com/